Facebook launched Business Manager to help companies manage and organize their Facebook Pages and advertising accounts without being tied only to an individual personal account.
Facebook Business Manager is a free tool developed by Facebook to allow businesses and agencies to securely manage their company's Pages, ad accounts, catalogs and pixels in one place, without sharing login information or being connected to their coworkers on Facebook.
In this guide, we will cover how to set up Facebook Business Manager and explore its many features and benefits for your company or agency.
Top 10 Facebook Business Manager Benefits
Facebook created Business Manager to help solve pain points for companies. It has numerous advantages over the previous system.
Here are the top 10 benefits for setting up your company's Business Manager.
Manage multiple Pages and ad accounts from one Business Manager.

Securely share and control access to their ad accounts, Pages and other assets on Facebook.

Easily add or remove employees and agencies to your account.

Grant different permission levels based on business objectives.

Access valuable pixel data

Quickly build custom audiences for your advertising efforts.

Access the Catalog and build product sets with ease.

Business level reporting for multiple accounts.

FB Support will refer to business manager when troubleshooting issues.

Manage billing details and see spend thresholds.
AGENCY TIP: If Facebook is a major place for client advertising, be sure to thoroughly train your team and communicate with your client as to how you'll be using the platform.
We're going to walk you through how your company can take advantage of all these features by setting up your Business Manager account.
Facebook Business Manager – Part 1
The setup process is only a few steps, but you need to make sure you have the right person setting it up. Facebook recommends the primary admin be in charge of setting up the Business Manager.
For smaller companies, this may be the CEO, and for larger companies, this may be the CMO, Marketing Director or Social Media Manager. This person will be responsible for inviting users, granting them access to manage work Pages or accounts, and getting the billing information set up (if needed). It's also recommended that you have more than one admin on an account in the case of a person leaving a company or unforeseen issues.
Step 1 – Getting Started
Facebook is great about moving you through the process, so carefully follow their instructions. Here is the information you need to get started. Navigate to the Business Manager home page and Create Your Account.
Step 2 – Info About Your Business
Add Your Business Details. If you are creating this for your own business, then select "Promote its own goods or services" at the bottom. When you have populated the information, click submit.
Once you click Submit, you will need to verify information via the email you input to receive full access to the account.
Step 3 – Connecting Pages and People
Congratulations! Now that you have your initial Facebook Business Manager set up, you should see be brought to a page that looks like this:
At this stage, you will need to add your Facebook Business page. This is required for most types of ads on Facebook. Remember, this is your Business page, not your personal page. Remember that you must have access to at least one business Page or you will have to create one.
The next step is to Add Ad Accounts.
The next step is to add the relevant People who will need access to your Business Manager. By default, it will assign the person to the role of Employee access. If you want to grant someone Admin access, you will need to manually flip that from off to on.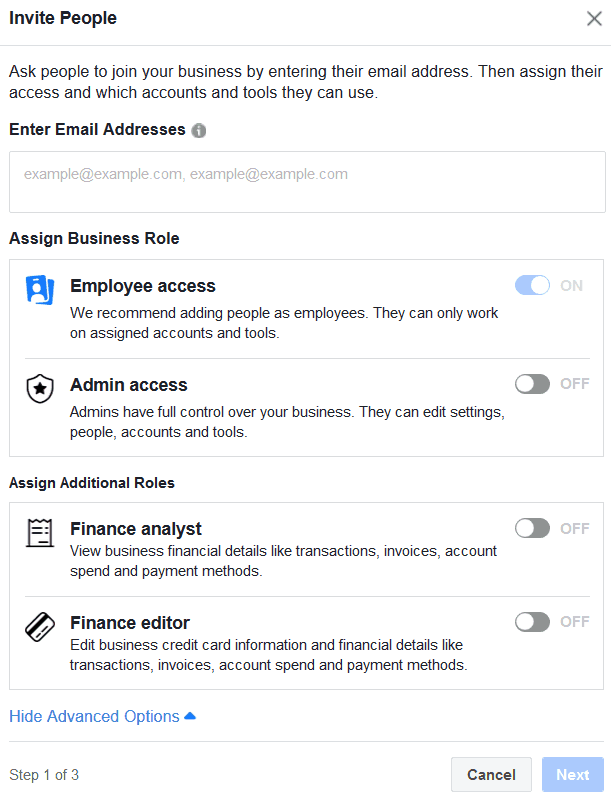 RO TIP: Only provide admin access to those users who really need it.
Here's more detailed information on the roles.
Business Manager Setup – Roles
It's now time to finish setting up your Business Manager and familiarizing yourself with the layout. Start by clicking on the Settings Tab in the upper left corner next to the Home Tab.
You should see your account navigation with People at the top. I'm going to walk you through each tab so you can know what to expect and where to find certain information.
This is where you can add people who will be working on your Pages and ad account.
AGENCY PRO TIP: Have a process in place with your agency team and the client as to how people are added or removed.
To add someone, click on Add New Person and you will see a pop-up that gives you the option to add someone as an Admin or Employee by entering their email address. Facebook recommends adding work email address. This is good advice, especially if you don't know the person's personal Facebook email.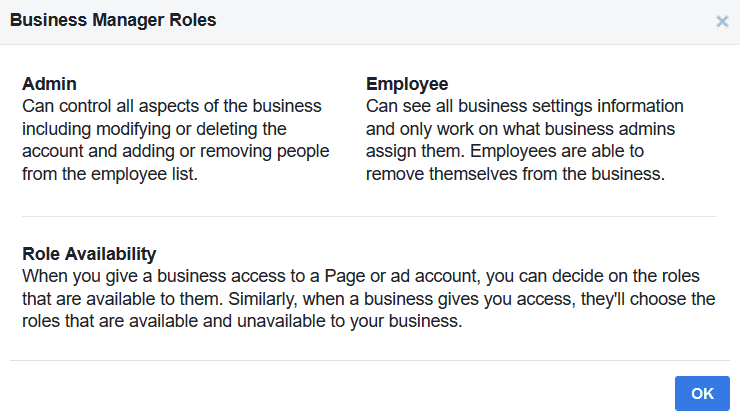 Once you make your selection, you can choose which pages and accounts this person can access. Keep in mind to pick the proper role that will allow that person to do their job.
PRO TIP: When setting roles, be sure to pick a role that allows the job to get done, but is not more than what is needed. This helps protect the account from potential liability.
Pages
Facebook has made it easier for you to manage multiple Pages without having to switch between different profiles. The major benefit of adding Pages to your Business Manager is so you can have everything you work on in one place. Another advantage is seeing who has access and what permissions they have for the company's Facebook Page(s).
Again, you can assign Pages to people by picking through a couple options that best fits that person's job duties. Here is what each role can access on a Page. Remember, you can always change this later.
Ad Accounts
The process here is just like adding people. You will need to click on Add New Ad Account. From here, you are presented with three options:
Create a new account – do this if you have never set up an ad account before.
Claim an ad account – do this if you already have an existing ad account and you just want to pull it into this Business Manager. Keep in mind you can't claim an ad account that's owned by another Business Manager.
Request access to existing ad account – this is mainly for agencies or businesses that need access to an existing ad account.
Another feature to the ad account is the ability to once again assign people with varying access levels. Here is what each role can access on a business ad account.
Product Catalogs
Another cool feature of Facebook Business Manager is uploading a product catalog. The catalog is essentially a product feed very similar to Google Merchant Center. Once you set it up, you can serve ads based off your website products to potential customers.
Here's how Facebook defines a catalog:
"A catalog holds information about the items in your inventory. You can use the information in a catalog to promote your inventory and business across Facebook, Instagram, Audience Network and Messenger. There are different types of catalogs for different businesses, including e-commerce (businesses that sell products), travel (businesses that sell flights, destinations or hotels), real estate and auto."
AGENCY PRO TIP: Combine your product catalog with your Facebook custom audiences to serve dynamic product ads to previous website visitors.
Pixels
The Facebook Pixel is a "piece of code for your website that lets you measure, optimize and build audiences for your ad campaigns." This is a critical part of being able to run successful ad campaigns once you have Business Manager set up. It is easy to set up, and at Inflow we recommend using Google Tag Manager to install the pixel if you have already have a container set up on your site.
PRO TIP: Install the pixel on your website as soon as you can, even if you aren't running ads yet. This will allow FB to collect valuable data on your website visitors, and give you a running head start when you do start advertising.
Final Thoughts
Business Manager solves a lot of companies' concerns with user access and permissions by having everything in one central location for the company admin.
While Facebook has made parts of management a lot easier and streamlined, it does have a steep learning curve for a new user. However, the benefits far outweigh the difficulties. Namely, for companies that have lots of moving parts and just need one central place to manage their Facebook operations.
One of our great hopes for the platform moving forward is a central location for agencies to run multiple reports across several ad accounts at once.