YouTube is a uniquely powerful platform for your brand. It's the second-most-used search engine in the world after Google and the second-most-popular social media platform after Facebook.
It's also a really competitive space. Every hour, 30,000 new hours of video are uploaded to the platform.
In this torrent of content, how can you possibly stand out?
Good news: You don't need 12 billion views (eh hem, "Baby Shark Dance") to make YouTube work for your brand. You can make your YouTube videos profitable with thousands of views, even hundreds — as long as they're the right ones.
This blog won't tell you how to be more popular than "Gangnam Style." Instead, it will tell you how to make video content that gets in front of potential customers who will see it, follow it to your website, and hopefully make purchases.
With this thoughtful approach, YouTube can definitely be a profitable addition to your overall marketing strategy. (And, if you need help making it happen, our SEO team is always here to help.)
Table of Contents
What Is YouTube SEO & How Does It Work?
It may not seem like much, but that little search bar over your YouTube videos can be very powerful.
In principle, it works similarly to the one on Google. Just as search engine optimization (SEO) can help your content rank on Google and other search engines, you can use similar strategies to help your video show up in the YouTube search results.
As with Google, YouTube has a specific algorithm that determines the rank of videos in the search engine results pages (SERPs). If you understand the ranking factors, you can use them to help your video show up higher when people are looking for videos related to your products and services.
As with Google, YouTube doesn't tell us exactly what ranking factors it uses to determine the order of the search results. However, we get hints, and we can infer many of the ranking factors from the search results themselves.
Some of the top ranking factors include:
Watch time
Audience retention
YouTube click-through-rate (CTR)
Upload frequency
Session starts, ends, and duration
Video keywords
View count
We'll reference these different ranking factors and how to balance them below. (For more context, you can also read our complete guide to eCommerce video SEO strategy.)
YouTube SEO Best Practices for Increasing Views & Website Traffic
As an eCommerce SEO agency, we've helped many clients build comprehensive online marketing strategies using a diverse array of tools, including YouTube. Our digital marketing agency is older than YouTube itself, and we've watched the platform evolve, grow, and change as part of the dynamic online content ecosystem.
Along the way, we've also seen plenty of brands try (and fail at) YouTube efforts. The common thread: using the wrong strategic approach, if they had one at all.
Videos can be expensive content marketing to invest in (though they don't need to be). Poor decisions can lead to videos that don't justify the investment.
But, by using smart YouTube SEO strategies from the start, your company can take advantage of the channel's 1.7 billion unique monthly visitors and unlimited branding potential.
Keep in mind: All of the YouTube video SEO tips below are one step removed from your website. Like other organic social media campaigns, engaging users on YouTube doesn't translate directly into website visitors.
However, it can give you precious minutes of a potential customer's time — minutes that let you establish the value of your product or service and your authority in your industry.
General SEO Tips for YouTube
1. Be strategic with your videos.
Don't create videos just for the sake of getting views. Unless your primary strategy is using your videos to get ad revenue, simply getting a lot of views won't help you.
Instead, you want to choose video types that complement your existing SEO strategies and will speak to your target audience. In general, we find that three types of videos have the biggest impact for our eCommerce clients:
Product reviews
Buying guides
How-to videos and tutorials
Product reviews are a great way to add user-generated content (UGC) to your YouTube marketing channel. You can also produce your own product reviews if you can credibly position yourself as an end user and not just a retailer of the product.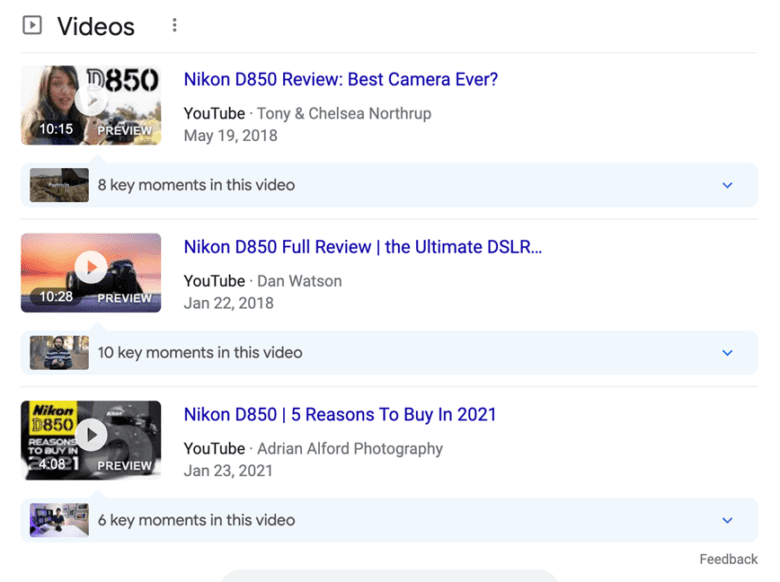 Buying guides can help you demonstrate the relative value of some products compared to others.
As with reviews, an appearance of impartiality helps here. Even if you're just comparing your own products to each other, this can help you improve your average order value (AOV) by showing why higher-ticket items are worth the investment.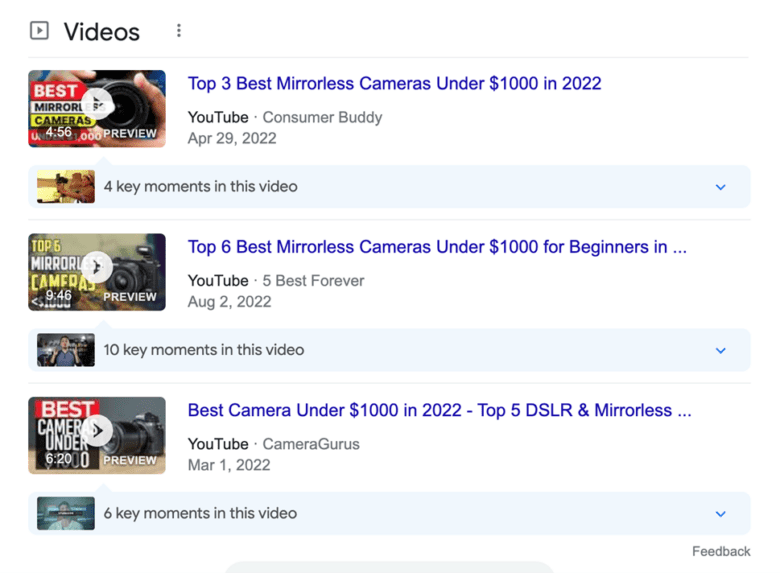 How-to videos and tutorials serve multiple important roles in your marketing strategy (and are perhaps the biggest opportunity, given that a third of internet users watch a "How-to" video every week).
Because they're so popular, they help you get your name out, improving brand awareness. In addition, they let you demonstrate your authority in your industry. Finally, they give you the opportunity to demonstrate the value of your products in use.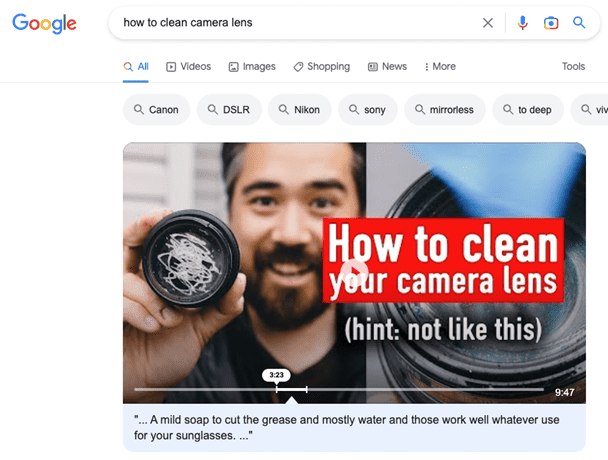 2. Be smart with your keywords (and don't keyword stuff!)
Before you start making videos, take the time to research the best keywords to target.
If you already have a keyword research tool such as Ahrefs or Semrush, these can be just as effective for video SEO — because they show YouTube search volume as they do for Google and other search engines.

If you don't have paid SEO tools, there are free options, like KeywordTool.io, KeywordKeg.com, and Ubersuggest. The research tool in the YouTube Creator Studio can also help you find the right keywords for your video.
You can even use the YouTube search bar itself for your keyword research.
Start by typing a broad phrase into the search bar, then look at the topics YouTube fills into the auto-suggest. Click on a few of these suggestions to find out which ones have lower-quality YouTube search results that you might be able to top.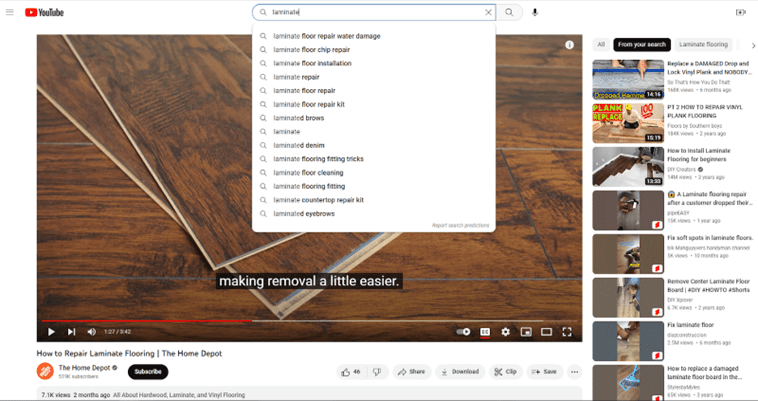 As with all keyword research, don't forget the value of long-tail keyword searches. Instead of "cameras" for example, consider "best cameras for beginner photographers."
Long-tail keywords not only have less competition, but they can also be more valuable because the searchers are further along in the buying process, and your video can meet their needs more effectively to trigger sales.
3. Engage with your audience and community.
Don't forget that YouTube is a social media platform. People don't just come to watch videos; they often come to engage with other people who have similar interests.
Follow other leaders in your industry, subscribe to other channels, and comment on other videos. Try to limit yourself to positive comments. To the extent that you find another video lacking, don't be critical or negative. If there are omissions, frame your comments as helpful additions. If you have other problems with the video, present them in a constructive way to help both the video producer and their audience.
Above all, you don't want to seem petty. The audience for these videos is your audience, too. You don't want to give them a negative impression before they even see your videos. Plus, you'll be inviting more negative comments on your own video in the process.
4. Share your videos across your marketing channels.
You invested time and money in producing this video, so why use it just once? Instead, make sure it gets the exposure it deserves.
Share the video on your social accounts. Post it to forums, Q&A sites, and in relevant interest communities.
Don't forget to maximize the value of your videos on your website, too. Transcribe the video, then edit it into a blog post with the embedded video. Add the video to other relevant blog posts, product pages, or category pages. Include video schema markup to flag your content addition to search engines.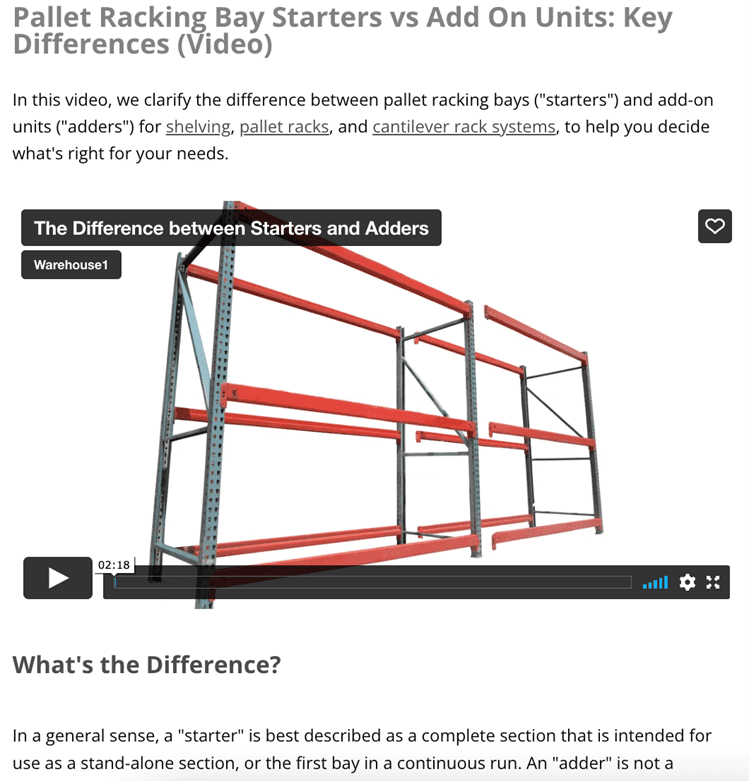 You can even add videos to your email marketing when appropriate.
Your YouTube Channel
5. Upload videos regularly
Demonstrate that your channel matters by uploading new videos to it on a regular basis.
There's a tradeoff here. While more frequent uploading can help video ranking, it doesn't help you to upload more videos if they're poor quality.
While many creators recommend adding videos on a weekly basis, it's best to set up a video production schedule that gives you enough time to create properly targeted and optimized high-quality videos.
6. Update your profile picture.
It seems simple, but don't forget to update your profile picture. Use your most current company logo; don't let an old logo hang around negatively impacting your brand recognition.
7. Add featured channels.
Featured channels are another way to participate in the social media aspect of YouTube. This is a place to link yourself to other authoritative voices in the industry.
At a minimum, make sure to feature other YouTube channels controlled by your brand. You should also feature channels that provide useful insights in your industry but aren't direct competitors, such as influencers and content creators your potential customers might find valuable.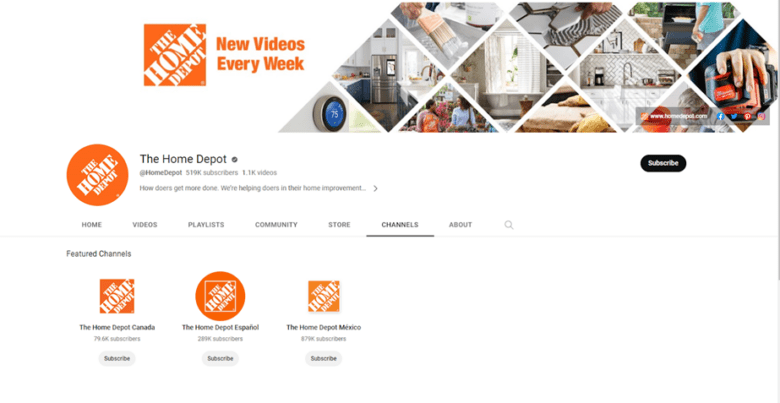 8. Add content to your About page, including a few top keywords.
It's important to establish your authority and expertise on your YouTube channel.
Tell your audience (and YouTube) why they should value your opinion on the topics featured in your videos. Throwing in a few keywords doesn't hurt here; it helps show that your authority is relevant for searches related to those keywords.
As with any place you're representing your brand, make sure your YouTube About page captures your brand ethos.
Check out the aspirational tone and core values on KEH's About page. They're not just selling cameras; they're selling a sustainable way for their customers to achieve their personal vision.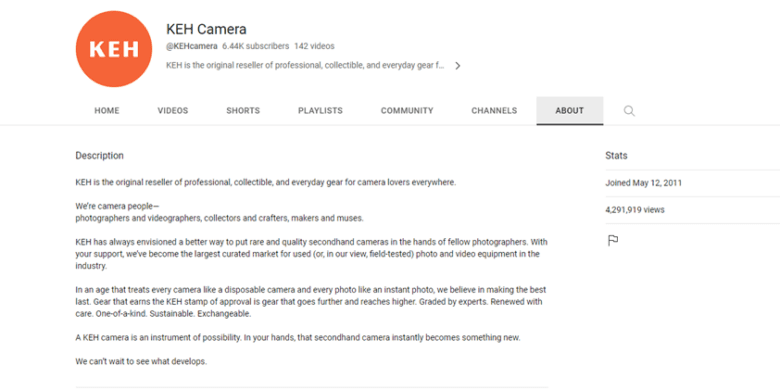 9. Add channel keywords.
A formal way to link your channel to particular keywords is to add them to your channel specifically.
You can do this in the YouTube Creator Studio. It's an advanced option under the Channel menu.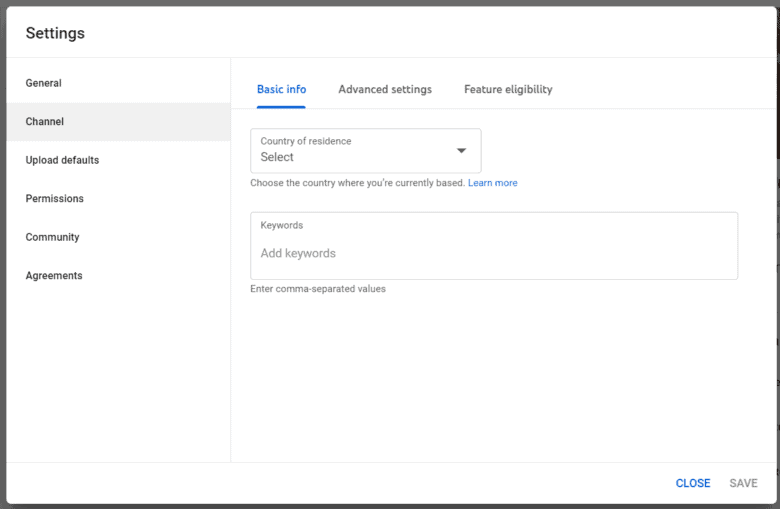 10. Create YouTube playlists.
Playlists help your YouTube channel the way category pages help your eCommerce site. They help potential customers navigate to the videos they'll find most useful. In addition, they help the algorithm see your videos' relevance to your other videos and to important topics.
If you have an entire playlist related to a keyword, it can help establish the relevance of your videos to that and related keywords, as well as highlight how much you've created that's relevant to the keyword.
Link related videos together into playlists, then add the playlists to your channel homepage where visitors and the YouTube algorithm can find them.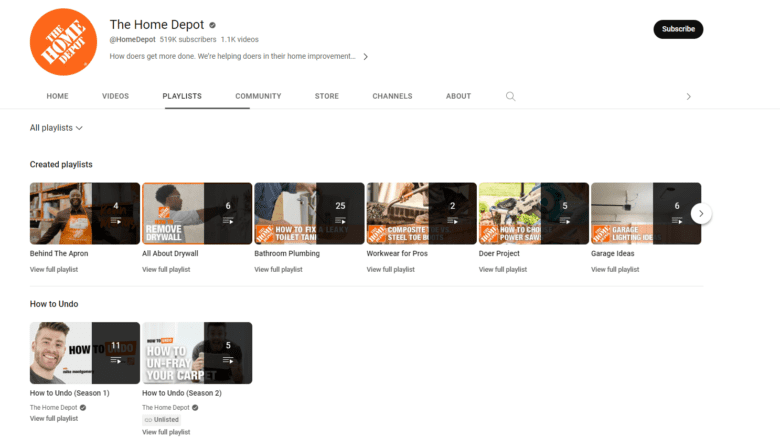 Your YouTube Videos
11. Create compelling thumbnails.
Remember, CTR is an important ranking factor. One powerful way to boost clicks on your video is to create compelling custom thumbnails for your videos.
What "compelling" means depends on the video and your audience. It might be an informative slide with a bulleted list, a picture of a key step in a how-to video, or even a title card with an engaging relevant question on it.
Play around with a few different options to find the video thumbnails that entice your audience to click.
12. Transcribe your videos.
Transcriptions increase the marketing value of your videos.
First, transcriptions let you add correct closed-captioning to your video. You can even add subtitles in English and in other languages. YouTube has a built-in transcription program, but it's prone to errors.
Second, having a transcription makes it easy to create a video description that's complete with time stamps, helping viewers and YouTube find key moments in your videos.
Finally, it's easy to turn a video transcription into a blog post. Sometimes you can post the transcription along with the video and call it a day. Other times, it might make sense to add an intro or outro, or edit the transcription to make it read better.
13. Optimize for watch times.
Watch time is one of the big ranking factors for YouTube's algorithm.
YouTube wants content that encourages people to spend more time on the platform. Therefore, its search algorithm rewards videos for this.
Your playlists will help by encouraging visitors to view multiple videos on your channel. However, you can also improve video watch time by keeping people engaged in each video for longer.
Obviously, no one can watch your video for longer than it is, so your video length defines your max video watch time. Ideally, you should publish longer videos, about 10–15 minutes in length. Overall, the average video length on YouTube is 11:42, but the typical length varies by category.
With a long video, your challenge becomes how to maintain the interest of your audience. Like any piece of content, you want what you cover in the post to be engaging and helpful for the user; if it doesn't make sense to have a longer run time for the topic, don't force it!
Use a script (or at least an outline) to help you stay on track, so your audience can follow what you're saying. Go back and edit out rambling, unnecessary, or confusing asides.
If it helps, shoot your video in short segments, then edit them together. This also creates natural chapters in your video where you can introduce graphics like title cards, different camera angles, and changes in background to make the video more interesting. Sound effects, animations, and B-roll footage can all help increase focus and watch time.
Work hard to develop a snappy intro that engages your audience in the first 15 seconds. However, be prepared for Google's SERPs to encourage people to jump into the middle of your video.
While you're doing your community engagement, look into what other video creators do to engage their audience. Don't just learn from your competitors. Bringing innovations from other communities can pay big dividends if you do it right.
14. Optimize your video titles.
Place your main keywords at the beginning of the title. This helps the algorithm and viewers see the relevance.
Experiment with different phrases that can improve CTR. For how-to videos, popular phrases include "DIY," "easy," and "quick." For buying guides, emphasizing that something is available now may help improve clicks. Whenever possible, be specific to your product.
On the other hand, there is a certain alchemy to video titles, and you shouldn't change titles of videos that are already performing well.
15. Optimize your video descriptions.
YouTube uses your video description to decide whether it's relevant to searches. The official recommendation from YouTube is that your description should be 1–2 full paragraphs. We say you should make them at least 250 words, but more is better.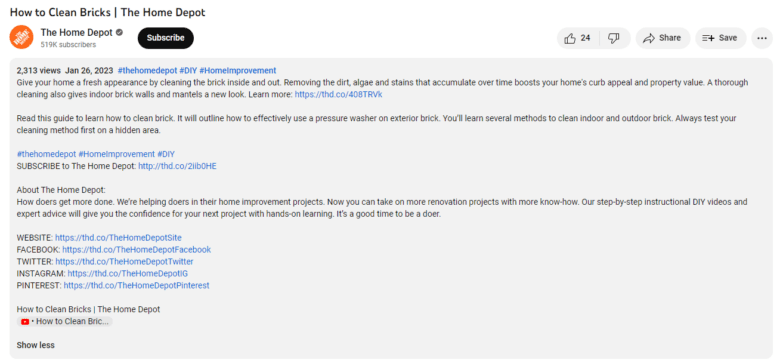 Include keywords in ways that make sense (don't keyword stuff!). Think of this as a mini blog post, and add relevant links to your site and even other videos and playlists.
16. Use keywords in your tags.
Add tags to your videos that will help identify relevant keywords. Make the tags appropriate to the video, and don't make them spammy.
This should be easy if you're creating your videos strategically; you will know the target keywords even before you create the video. Hashtags can also be effective here.
17. Don't use every video to drive traffic to your site.
We know this sounds counterintuitive. What are these videos for if not driving traffic to your website?
However, remember that YouTube values videos that keep people on YouTube. If every one of your videos just serves to drive clicks off YouTube, you'll find they sink in the YouTube rankings.
Instead, some videos (maybe even most videos) should drive clicks to your channel, your playlists, and your other videos. It's especially useful for top-of-funnel videos to convert traffic this way. It's only your bottom-of-funnel videos that need to drive traffic to your site.
18. Encourage subscriptions
You don't have to have millions of subscribers to rank in the YouTube SERPs. That said, when someone decides to subscribe to your channel after watching a particular video, the YouTube algorithm takes it as a vote of quality for that video and will bump it up in the rankings.
Don't miss out on this opportunity to improve rankings for your videos. Encourage subscriptions with a call-to-action at the end of your video utilizing cards and end screens.
19. Track Your Analytics
Remember that YouTube, like Google, is constantly revising its algorithm. You should also keep in mind that every industry is different — and what works for other eCommerce shops might not work for yours.
Use key metrics such as total traffic, conversions, and revenue to make sure you're getting the best possible results from your YouTube videos. Pay attention to what works and what doesn't.
Build your strategy around successful videos, and revise your strategy when what used to work doesn't anymore.
Create a Video SEO Strategy That Goes Beyond YouTube
There are very few businesses that can live on YouTube alone. However, almost every business would benefit from having a YouTube arrow in their quiver. It will help you spread brand awareness and target customers you couldn't otherwise reach.
Built properly, your YouTube SEO strategy won't just generate views for your videos; it will bring people to your website — and encourage them to buy your products and services.
When you integrate your videos onto your site, you see more organic search traffic come through, as well. Traffic will come from social media as your targeted videos improve brand awareness and entice customers. And it will come from YouTube, from among the 1.7 billion unique visitors to the platform every month.
Whether you've tried video marketing unsuccessfully before or you're not sure where to start, our experienced marketers at Inflow can help. We can help you generate traffic and revenue from existing videos or help guide your production of new videos to bolster your overall SEO strategy.
Request a free proposal today to see what Inflow's SEO experts can do for you.