When it comes to digital content, video has undoubtedly taken center stage. We've all seen the meteoric rise of TikTok and the emulation of platforms like Instagram and Facebook trying to replicate its short-form video features.
However, long-form video isn't going anywhere. It continues to dominate the second-most-popular search engine in the world: YouTube.
Gone are the days of cat videos and song lyrics. YouTube has evolved into a hub of learning and self-education, full of comprehensive, detailed videos of all lengths that answer a variety of questions from its user base.
This hasn't gone unnoticed by Google, which now frequently serves up YouTube videos as high-ranking answers to user queries in the search engine results pages.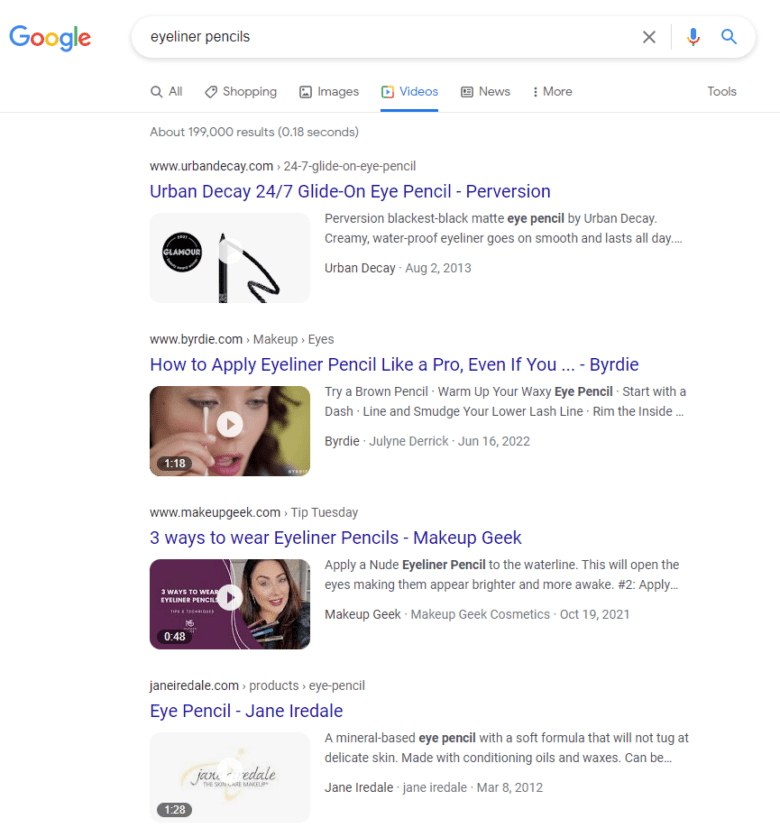 As you can imagine, this is a great opportunity for eCommerce businesses.
Video content is a critical part of an omnichannel marketing strategy, helping brands boost organic performance and augment written content offerings. And, here at Inflow, we consider video SEO to be a valuable building block in a comprehensive online marketing strategy for our clients.
But, if you're like many eCommerce brands, you may not know where to start. How do you use existing (or invest resources into new) video content to complement your SEO and overall eCommerce content marketing strategy?
This blog will help you get started, by covering video SEO best practices for eCommerce stores and diving into topics such as:
How YouTube can drive traffic and benefit SEO
How eCommerce companies can best leverage video for organic search
How to create a comprehensive video SEO strategy
Table of Contents
YouTube SEO: A Primer
It's no secret that YouTube is increasingly popular, with more than 2.6 billion active users and 1.7 billion unique monthly visitors.
But the question remains: Does YouTube video help eCommerce SEO?
There are plenty of other articles that answer this question in more detail, so we'll just tackle the basics here.
As mentioned above, YouTube is now the second-most-popular search engine in the world, making it an integral part of any eCommerce video SEO strategy. While a YouTube video click in the SERPs won't be a direct click to your website, it will still allow you to reach potential customers, provide value, and create an online reputation as an authority in your marketplace.
Because YouTube is treated like a search engine, it gives you the opportunity to double down on your brand's valuable target keywords. You can use a program like Ahrefs to research your industry keywords and see how they differ on YouTube vs. other platforms.

Video SEO Opportunities for eCommerce Brands
Just as online shoppers use Google search to view "traditional" eCommerce content like product pages, category pages, and reviews, YouTube searchers are all about the knowledge they can gain.
According to a Pew Research Center survey, 51% of YouTube users use the platform to figure out how to do things they haven't done before, and 19% use the platform to decide whether to buy a particular product or not.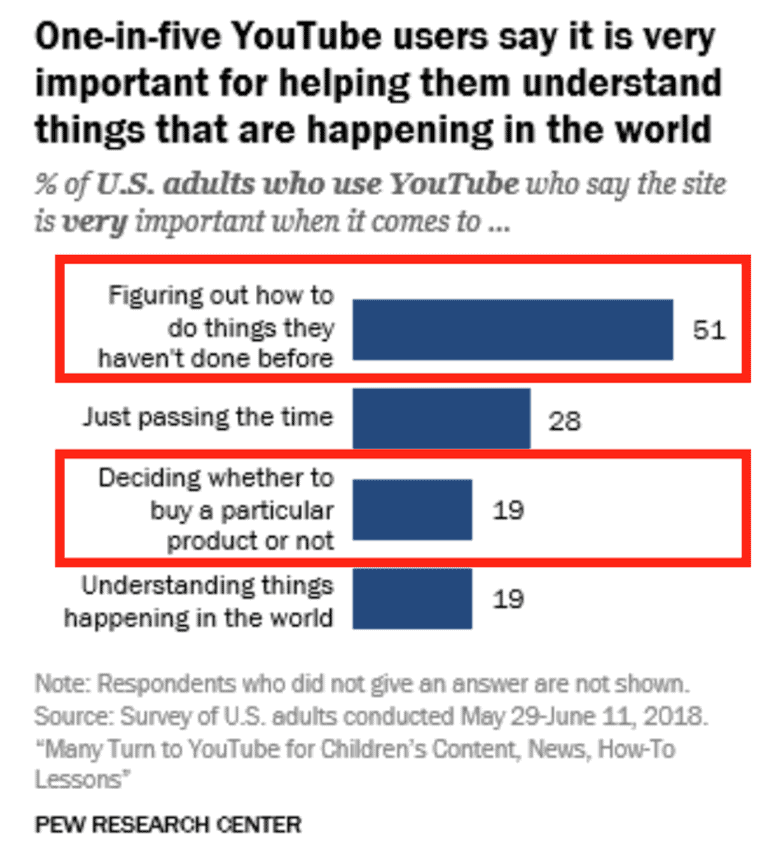 Think With Google notes that "users are three times more likely to prefer watching a YouTube tutorial video than reading a product's instructions," and that "80% of people say they typically switch between online search and video when researching products to buy."
All of this indicates ripe opportunities for eCommerce brands.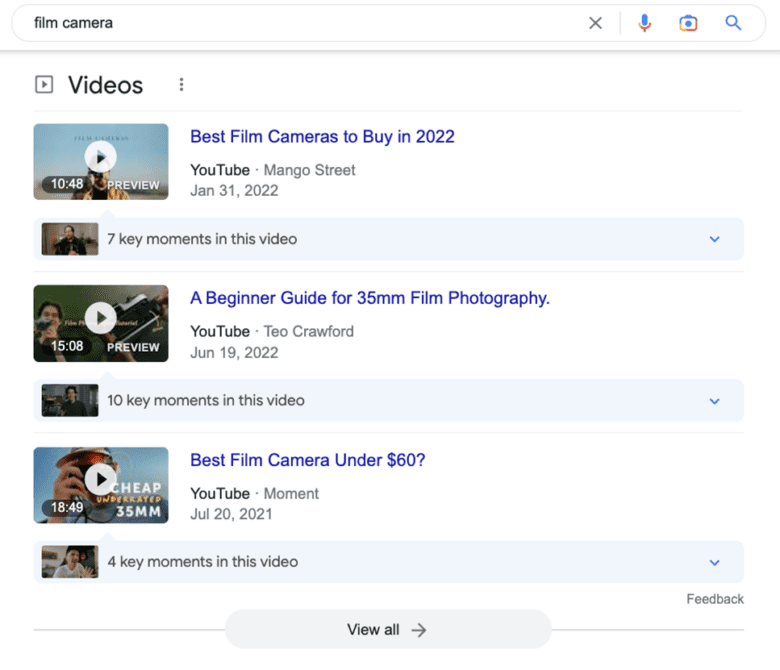 eCommerce YouTube channels do not need to go viral. You don't need narrative vlogs or catchy theme music or comedic antics.
What you do need?
To show up where your customers are researching your products, have answers to their questions, provide value-forward content, and be present during their buying journey.
Our Real-Life Client Example
Let's look at a client example to see how many SEO opportunities are available to an average eCommerce business.
One of our favorite clients sells new and used camera equipment. As part of their holistic SEO strategy, we're dialing in on the right video opportunities to support an overall digital marketing plan.
We can see in Ahrefs that there is monthly search volume on YouTube for buying guide content, a priority focus for their overall SEO content strategy: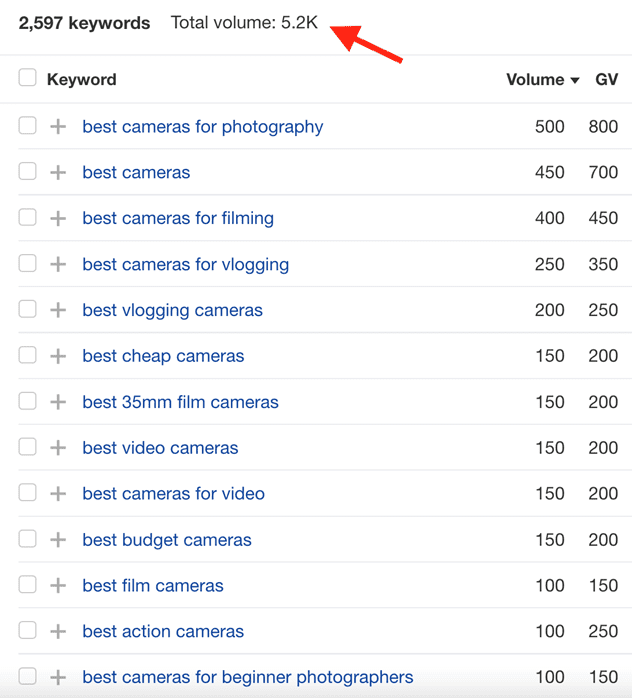 There's also search volume around "how-tos" related to using cameras — a great topic to assert the brand's authority in the space and especially to reach beginners interested in photography: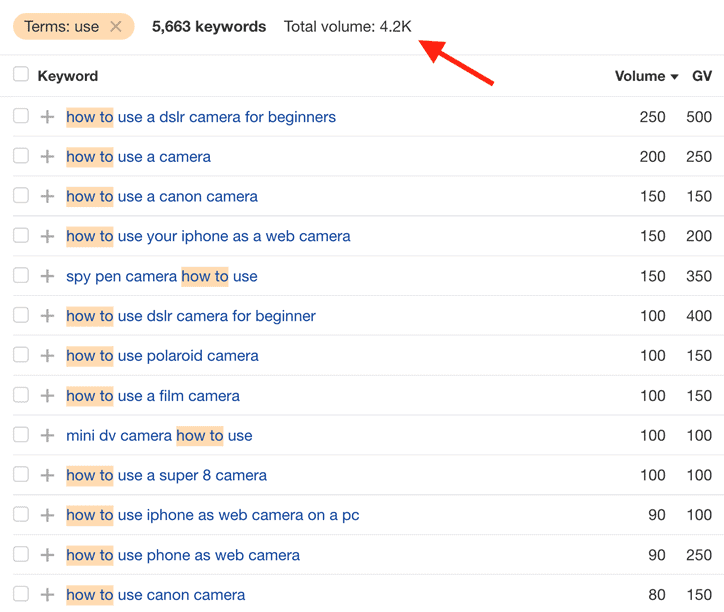 For this client (and most eCommerce brands), this kind of educational video content will typically provide a higher return than sales-forward content reminiscent of TV commercials. Not only will they take advantage of the existing search volume around these topics, but they'll also be able to attract a whole new audience and position their brand as a trusted authority in this space.
Creating a Video SEO Strategy that Complements Your Existing Marketing Efforts
When incorporating video into a client's existing eCommerce marketing strategy (especially their search engine optimization efforts), there are a number of things we consider.
As an eCommerce SEO agency, we've been developing our strategies for decades. We have a system that we use to carefully consider a brand's goals, current assets, and industry specifics as we develop the perfect recipe for their needs.
In other words, it's not effective to jump from trend to trend in digital marketing; you need to leverage current popular methods with more evergreen marketing efforts to build a successful foundation.
Our experts layer each piece of the process into a comprehensive, holistic digital marketing playbook that takes into account the nuances of each client's business and customer base.
Using that approach, here are a few of the things we recommend you review when developing your own eCommerce video SEO strategy:
Prioritizing Written vs. Video Content
Most clients who are thinking about adding video ask us about which they should "prioritize": written or video content. They want to know which is going to be the most helpful for their organic search efforts.
Truthfully, this is not an "either/or" situation.
Both video and written content are important to your overall SEO strategy. You shouldn't forgo one for the other; instead, you should weigh their importance equally. For example, you can use a video to supplement an existing blog post — or use a comprehensive video for the foundation of a blog post and then include more relevant content as makes sense.
(We'll revisit this tactic later in the blog.)
But, when starting from scratch, we know that some kind of guidance is helpful. Therefore, video can be prioritized in relation to any other piece of SEO content by looking at the organic and business opportunities around it, including:
Monthly search volume for target keywords
Search intent behind the target keywords
Target audience
Stage in the customer journey
We recommend starting with the search queries and topics you've already prioritized for your written content, and incorporating video as makes sense within those priorities (and your available resources for video creation).
Remember, your customers are most likely bouncing between written and video content as they search the internet for answers to their questions. Having information available in both formats boosts your chances of discovery.
Choosing the Right Video Topics
Finding the intersection of YouTube's main use cases and your product offerings is the key to prioritizing which videos your brand needs to create first.
Start by asking yourself the following questions:
What are my customers' FAQs?
How are they going to be using our products?
What questions (keywords) are they searching and hoping to find answers for on Google and YouTube?
In our experience, there are a few video topics that online shoppers look for:
Product Reviews
Buying Guides
How-Tos or Tutorials
These can all be hosted on YouTube and/or directly on your site, depending on the purpose. They can live in multiple places, including relevant product pages, category pages, marketing materials, and across social platforms.
By sharing these videos and creating backlinks within your written content, you can boost your ranking in the Google search results, as well as on YouTube directly.
Using the camera company from above, let's dive into each of these opportunities to see how your eCommerce brand might carve out a slice of the video market for itself.
Product Reviews
According to Google, more than 50,000 years' worth of product review videos has been watched on YouTube over the last two years. That's a massive opportunity ring to throw your hat into.
And, when you look more closely at your industry, you can see how much of that watch time pertains to your product market.
In researching search queries with "camera review" in them, for example, there's an opportunity to drive traffic from 1,160 keywords — a total monthly search volume of 82,000 — that are also displaying videos in the search results.
To get even more granular, we can see that the keyword "nikon d850 review" also serves up videos in Google search results.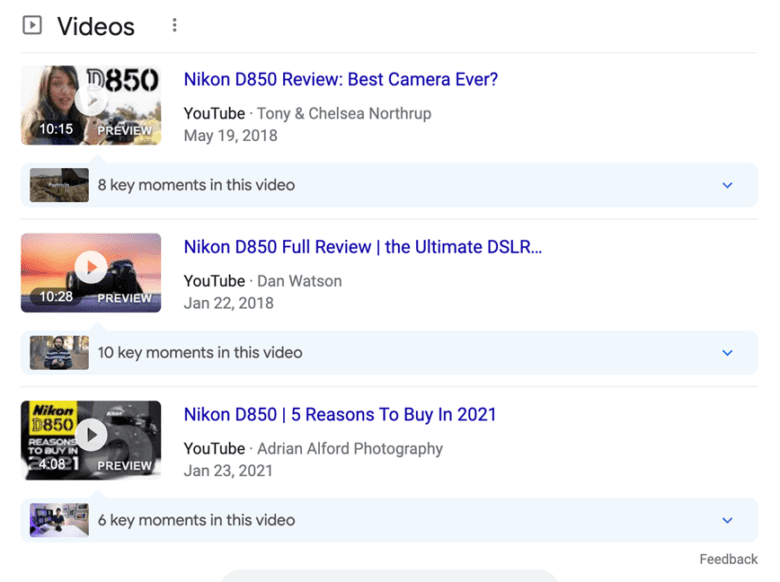 When it comes to prioritizing these product videos, search your target keywords and see which ones are already serving videos as part of the search results. These are usually the best places to start.
Of course, once you've decided to add product review videos to your strategy, you'll need to brush up on what makes a good review. Our product review guide includes a lot of helpful details, but in general, follow these guidelines:
Be authentic and honest
Include detailed product descriptions and what the product is used for
Address any product shortcomings
Include an overall product rating
Keep your videos between 3–8 minutes in length
Buying Guides
Customers love a buying guide.
Pitting products against each other and seeing how they compare on important attributes? Yes, please. Watching someone else experiment with and share feedback about products you're considering before you spend your time and money on one? Absolutely.
At the beginning of the buyer journey, these guides can be more general — for example, "best cameras." Of course, that also means there's more competition in the SERPs.
As the customer gets closer to purchase, they may start searching based on price or function or brand.
We can see that, while looking at price-based buying guide opportunities, one valuable term that has videos in the search results is "best mirrorless cameras under $1,000" — a great opportunity for our used camera client.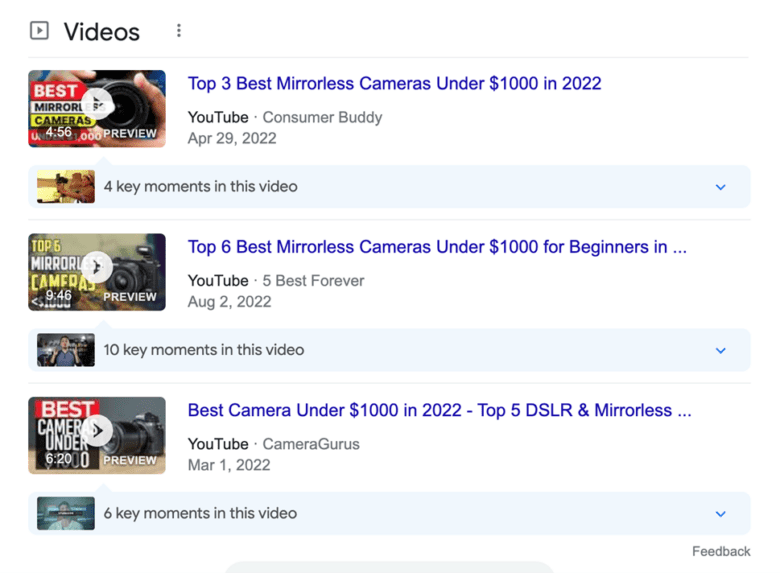 To prioritize buying guide videos, rely on your keyword research, and bump higher-volume (or higher price) keyword topics to the top of the list.
After the guide is created, leverage it with these six tips to ensure you're getting the best return on the investment of those resources.
How-Tos & Tutorials
With more than half of YouTube users searching the platform to learn how to do things they haven't done before, the platform has become an encyclopedia in your pocket — full of knowledge for everything from basting an egg to repairing a 1978 Ford.
You can leverage this edu-tainment niche by creating video content that teaches your customers something. Maybe they can use your product for a specific activity ("How to Take Better Photos") or perhaps they need some guidance on one of the features of your product ("How to Set the Aperture for Low Light on a Canon DSLR").
When looking at keywords with "how to" and "camera" in them, videos, again, ranked in the search results. One example: "how to clean camera lens."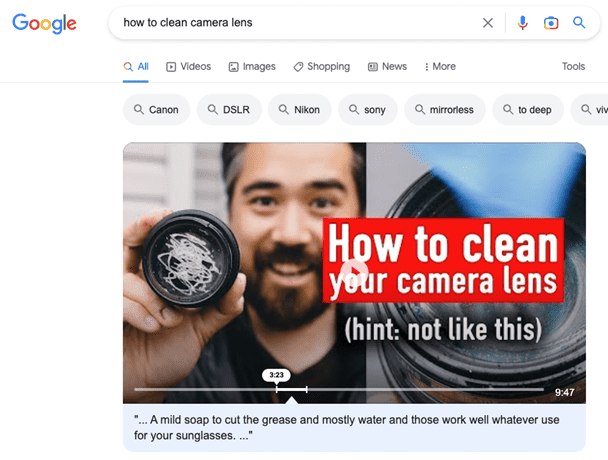 Complementing Your Existing SEO Strategy
Leveraging videos on your website for organic search can be hugely valuable — and easier than you might think.
Let's go over some of the ways to do this.
Enhance Content with Schema Markup
Technical SEO can be enhanced by adding video schema markup to your online store. This structured data increases the likelihood that your video (and any accompanying descriptions, thumbnails, and other details) will appear in Google search results — and that Google better understands the context of your video on your site.
For this reason, we recommend adding video schema markup to any video you embed on your site.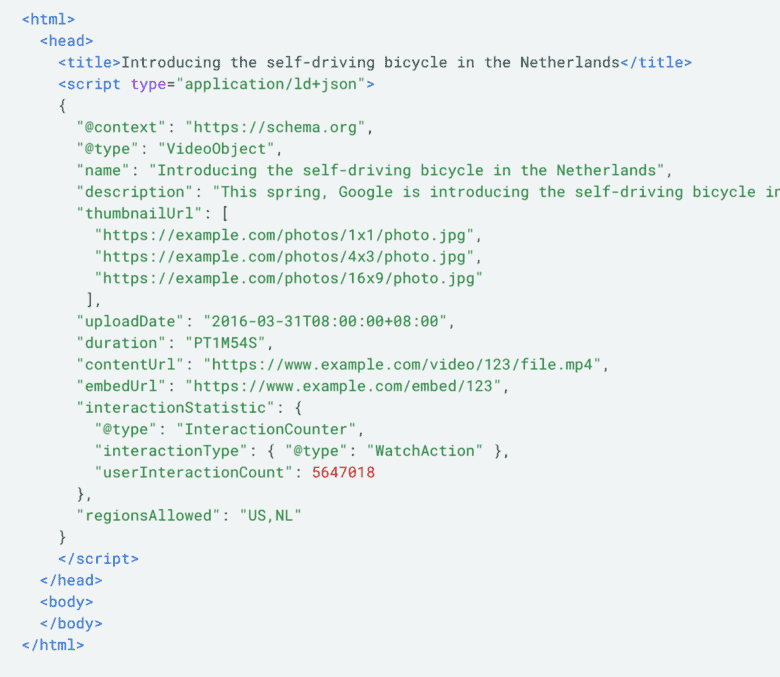 Build E.A.T.
E.A.T. (Expertise, Authoritativeness, and Trustworthiness) helps determine whether a website and its individual pages are credible sources of information about a specific subject.
Based on Google's own Quality Raters' Guidelines, E.A.T. is an important factor in the search algorithm (although not a ranking factor!) We've also seen many cases with our clients where it positively affects organic search performance.
If you have a video created by experts in the field, and you use that video on the site (perhaps as a blog post with a transcript), name the experts as authors of that post. This will convey value and authority not only to Google but also to your users.
Create Dedicated Pages for Videos
If you have a longer-form video that covers a topic in its entirety, you can repurpose this as a blog post — simply by publishing the video on the site and pulling in the transcript.
Of course, you'll want to clean up the transcript and consider building the page out further (depending on the topic). But this is undoubtedly a quick and easy way to leverage your video content on your site for organic search.
Google has previously recommended dedicated web pages for videos to maximize their exposure in organic search (though they also note that if videos add value to other pages, they can be used on multiple pages, too).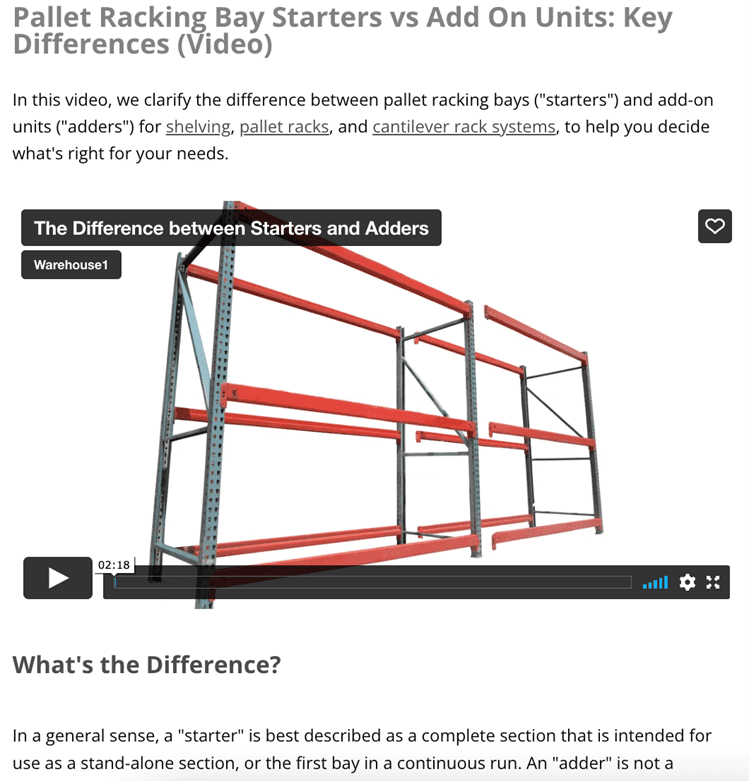 Supplement Existing Content
Even if a video isn't robust enough to stand alone as a blog post, it could provide value to other blog posts or potentially even product detail pages (PDPs).
Google has consistently released algorithm updates specifically aimed at rewarding high-quality content, especially content that delivers unique value to the user. Videos are a great way to do this.
Repurpose Existing Content
If an eCommerce website has a blog post that's performing well organically (and potentially bringing in revenue), our team looks for ways to further leverage it.
If videos are ranking in the search results for that blog's target keywords, we'd recommend creating a video to add to that post. Because the blog content is already performing well, you can use it as a foundation for the video script, lessening the level of effort involved in the video creation process.
When it's done, publish the video to YouTube, embed it to the existing blog post, and add video schema markup.
Making Your eCommerce Video Strategy Your Own
There is no one-size-fits-all video strategy. With our eCommerce clients, we design a strategy to suit each brand's unique and specific circumstances.
When you're outlining your video strategy, keep these factors in mind:
Your Product Inventory & Target Customers
To create the best video content for your customers, you'll want to know the details and demographics of your target audience. You can then use that data to research their keyword practices and gather a list of frequently asked questions.
Pairing up your inventory with your customer's questions, desires, and preferred learning tools (how-tos vs. buying guides vs. product reviews), you should have some idea of where to point your sails to set off on the video journey.
Your Existing Content
To make the best use of your resources, start with the path of least resistance.
You've already created content, so repurpose what has already demonstrated itself to serve your audience.
If you sell clothing, and you notice that customer reviews with photos or videos of the recipient get the best traction, flip this value around. Create a video fit guide to show your customers how different sizes fit on different bodies and how the pieces move as the wearer moves.
You can take the same approach with your social strategy, too. Repurposing a long, popular blog post into snippets of video that quickly introduce new concepts or answers to common questions can be a great way to incorporate short-form video (which will be a hit on almost all social media platforms).
Because video content requires additional resources, it's smart to reuse, repurpose, and recycle any work you've already done to create quality, converting content.
There's no need to reinvent the wheel and make more work for your team.
Your Competitors' Strategies
Understanding where you stand in comparison to your competitors is important in building an effective video strategy for your eCommerce site.
Start by looking at your top competitors and evaluating their digital marketing strategy to the best of your ability. Can you determine which keywords they are going after or ranking for? (Programs like Ahrefs and Semrush can help.)
Take an inventory of what kinds of videos they are creating and how many subscribers, videos, views, and other metrics they have.
Using your resources wisely means taking in the data and finding the most sustainable, straightforward trajectory to follow in your own video creation strategy.
Your Team's Capacity
Video content does take a significant amount of resources. This can often be a sticking point for a small business venturing into this medium.
Think about who will shoot, edit, and produce your videos. Do you have an internal marketing specialist who can devote substantial time to this medium? If so, you may be able to do more in-depth videos.
If you don't have an in-house team, there are a multitude of ways to develop video content that fits every budget.
If your resources are minimal, reach out to product review bloggers, offering them free products in hopes that they'll review for their YouTube channels. You could also hire them (or other influencers) outright to help produce content in a co-branded product review video.
Your Brand Goals
Your specific brand goals will also heavily dictate the direction of your video content.
By this point, you've likely assessed how video is going to fill in the gaps, flesh out the best content, and provide new ways of connecting with your customers.
But don't forget to narrow down your goals, too: Are you shooting for increased revenue or increased traffic? Are you focusing on views or click-through rates?
That way, you can verify that the investment will garner a return — and know which metrics you'll want to keep an eye on.
For example, if the goal of your video content is to increase brand awareness and reach new key audiences, the metric for success would be organic traffic (vs directly organic revenue, like we'd expect on a conversion-focused page like a product listing page [PLP] or PDP).
Determine how you will measure success; that will show you what to focus on in your strategy.
Video SEO: The New Frontier
Investing in video content is no small endeavor. Because it uses more resources than written content, you'll want to leverage it as much (and in as many ways) as possible.
Video content is a great way to build brand awareness across many different channels. And, as shown above, there's a whole lifecycle to the video process, where it can be utilized for social media, YouTube, and your site to bring in organic search traffic.
Our recommended first step: Start by testing out a video or two that is geared toward video SEO queries. Track progress for three to six months to see what value comes from it vs. the investment in resources.
This will give you a starting point for a more comprehensive eCommerce video SEO strategy.
If you want help incorporating your existing video efforts into a traffic- and revenue-driving strategy for your brand, our team can help. Request a free proposal today to see what Inflow's SEO experts can do for you.