If you have an eCommerce business, odds are you'll likely be staring down a site migration at one point or another.
Maybe you need a new hosting provider or you're looking to switch to a better eCommerce platform for your SEO needs. Perhaps you're rebranding and need to change your domain name or complete a website redesign.
Regardless of the reasons, a site migration can be crucial to scaling your growth and best serving your customers and overall business goals.
But there's more to completing a successful website migration than working with a web development team. In fact, if you don't work with a search engine optimization expert, your migration can derail your entire SEO strategy — leading to lost traffic, backlinks, and more.
Trust us: We've seen it happen.
Today, we'll explain the difference between traditional website migration services and SEO website migration services (and why you need the latter) by covering:
What's involved in a site migration
How SEO experts can minimize the organic effects of your migration
And what to look for in website migration services
What's Involved in a Site Migration?
You don't need us to tell you how complex a site migration can be, especially when your online store houses thousands of product pages, category pages, educational content, and more.
Moving all of this from one content management system/design/etc. to another requires detailed planning and the right professional. Otherwise, you'll see your site migration process miss deadlines, fail to preserve organic traffic, or worse.
Depending on the reason for the migration, the process could involve:
For a full catalog of what's involved in a typical migration, review our comprehensive eCommerce migration checklist.
Web Development vs. SEO Website Migration Services
Many of the services above can be accomplished by a website developer, especially those who specialize in migration services.
However, not all website developers are well-versed in how these migrations can affect a site's organic performance — which is why we see so many eCommerce sites tanking organically shortly after a migration is complete.
(No dig at web developers: We'd expect to see the same spectacular rate of failure if you asked the common SEO marketer to build a staging site from scratch!)
By hiring separate web developers and SEO experts, your teams can work in tandem, identifying any gaps or errors in your staging site that the other may not consider.
This approach minimizes the cleanup that you'll have to do after launch, setting your new website up for the best chance of success from the get-go.
Web Developers
Web developers' main goals are the presentation and functionality of the website — and there's a lot to be accomplished on that front alone in a site migration!
While some may also know about SEO, oftentimes their knowledge is limited or even out-of-date, and they may not know what priority level an issue is from the SEO side, leaving them to push off fixes on critical issues until after launch.
Web developers remain essential partners for SEO consultants, because they can help implement any needed fixes or optimizations from the SEO side.
However, at the end of the day, it's essential to have someone on your team who is looking out for SEO — and only SEO — from start to finish.
SEO Site Migration Services
And that's where an SEO consultant comes into play.
These professionals are crucial in helping to identify, prioritize, and consult on fixes related to SEO performance. Here's how:
Identification: When you've done enough site migrations (like we have), you know there's rarely a time when you review a staging site and find no issues at all to be fixed. From noindex tags on pages that were previously indexed on the old site, to meta titles and descriptions that have dropped off, there's no shortage of SEO issues to consider. By completing an in-depth crawl and analysis of both the live and staging site, an SEO expert will make sure all your bases are covered.
Prioritization. It's not helpful for anyone to throw a bunch of issues at a developer and say, "Fix these!" There's a difference in the impact of having a noindex tag on a previously indexed page vs. one missing meta description. Your SEO team will understand what the varying levels of impact are — and can prioritize them accordingly.
Consulting. Just as it's not helpful to throw a bunch of issues at a developer, it's also unhelpful to identify the issues without coming to the table with solutions. Experienced SEO consultants should be able to not just identify and prioritize issues but also consult on the fixes. And, if those solutions aren't feasible for certain reasons, they'll work with web developers to identify workarounds and other options.
Why You Need SEO Site Migration Services
There are two main goals of any site migration project:
Short-term: Mitigate the negative impact of the migration and maintain traffic/rankings as much as possible
Long-term: Improve website visibility and growth
SEO migration services aim to achieve those with an approach focused on search engine optimization.
The smoother the migration process (correct redirect mapping, replication of the live site as needed, etc.), the smaller the negative impact on organic performance. In addition, the more work your team puts in up-front to improve your technical SEO efforts, the more growth your new site can experience in the months post-launch.
One example: By focusing on new content during Simms Fishing's migration, we helped the new domain achieve a 5,642% increase in non-brand category page traffic, a 1,095% increase in non-brand keyword footprint, and a 52% increase in organic traffic.
Below, we've detailed a few of the common hurdles that specialized website content migration services like Inflow's can mitigate to achieve both short-term and long-term SEO success.
1. To prevent lost organic traffic
The most common negative effect of a site migration project is a hit to organic performance and resulting traffic loss. It makes sense: A search engine has to recrawl your migrated site before it can understand and rank your content in the SERPs.
While this is often an unavoidable effect, the right SEO experts can help minimize the worst of your traffic losses.
If your site migration is successful, you can expect short-term declines in organic search performance of around 15%–30%. Recovery time varies for each project, but we often see eCommerce sites return to pre-migration traffic levels within three to six months.
On the other hand, if the migration is not successful, your organic traffic may never fully recover. This is the unfortunate result for many eCommerce brands who try to conduct their migrations themselves or rely solely on an unqualified web development team to help them.
One of our clients came to us post-migration for this exact reason. Almost immediately following the launch of their new site, they saw a 50% drop in organic users.
Yet another client experienced the same thing, with an almost 100% drop in their keyword footprint after their migration.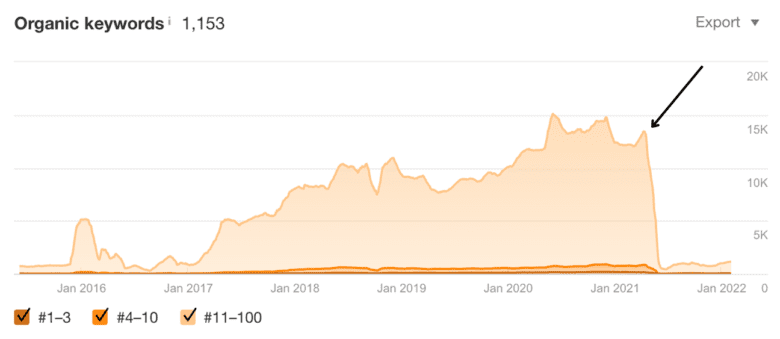 The common thread: Neither had employed an SEO team experienced with the migration process, which left their organic performance vulnerable to repercussions like these.
2. To make sure nothing slips through the cracks
If you've never migrated a site before, or you don't have the extensive SEO experience to understand how all of your site changes work together, it's hard to know where to start.
An SEO website migration checklist that you find online can only go so far, especially if you have a complex eCommerce site. Each migration is unique, which means you can't approach yours as a "one-size-fits-all" project (and you should avoid professionals who do the same!).
Each migration is its own animal. Some are more complex than others, some require sitewide changes to content, URLs, and structure. The more moving parts there are, the more likely it is that something will get missed.
When you seek out an SEO-specific migration team, you'll get the benefit of a comprehensive checklist based on years of experience. They know all of the small (but essential) SEO factors your web developers don't, and they can apply a detailed roadmap to ensure nothing gets missed during the migration process.
The best part? Hiring SEO website migration services means you get another pair of eyes on your staging site — an invaluable resource when your migration can last for months.
3. To solve issues before they are migrated
When migrating sites, it's not a copy-paste process. Because so few platforms have a like-equals-like structure, even the most qualified of development teams can overlook important sections of a site.
Web developers are usually very good at working on the platform they specialize in — but that doesn't mean that they know the ins and outs of the platform you're leaving behind, too. Combine that with most web devs' rudimentary understanding of SEO (in comparison to agencies who work this field day in and out), and more technical issues can often be overlooked due to inexperience.
Some examples include:
Changes in site URL structure that necessitate redirects and other extra steps
SEO-friendliness and usability of new site design
Potential for future code bloat and JavaScript errors
Missing metadata (titles and descriptions), filled mistakenly with default data
As mentioned above, bringing an SEO expert into your migration process allows for an extra eye on these potential errors — and the expertise to quickly and efficiently solve them before a new site is launched.
For those issues that can't be solved beforehand, your SEO team can create a prioritized post-launch plan to address them as soon as possible, reducing the time it takes for organic performance to recover (more on this later).
4. To ensure proper indexing — at the right time
During a migration, web developers create a staging site for testing before going live. This way, your developers (and SEO team) can check for bugs and errors — like poor site speed, broken internal links, incorrect redirects, and more — before sending the live pages out into the world.
But, if you're not careful, Google could end up indexing pages on the staging site.
On the flip side of things, a web developer may forget to reindex your pages after launch, preventing search engine spiders from crawling your new site.
Both of these errors can be extremely detrimental to your organic traffic and your revenue.
If you're not technically minded, you may not know when and how to properly index and noindex these pages. An experienced SEO team can take care of this for you, ensuring the right steps are taken to reindex your pages for maximized organic performance.
5. To better stay on budget and on time
Site migrations are notoriously long projects. Even with the guidance of professionals, it's common to go over budget and miss deadlines as teams address every last detail and new issue that pops up before migration.
While it's better to push back a launch date than to launch prematurely, this continually moving finish line can be stressful for internal marketing teams (not to mention stakeholders).
With the combined oversight of a dev team and an SEO team, you're theoretically more likely to hit your original deadlines and budgets (although that, of course, depends on the scope of your project and your team's workloads).
From the start, your SEO website migration services team will provide a recommended project timeline and a fine-tuned approach to the project as a whole. They'll work closely with your web developers to support and assist where they can.
In addition, SEO teams can help with prioritizing issues. If your team doesn't have the time to fix every existing issue before a launch date, your SEO experts can pinpoint which critical issues need to be fixed before going live, which need to be addressed as soon as possible after launch, and which can wait to be resolved.
Of course, this isn't a guarantee that deadlines will be met; site migrations come with many unexpected delays. But having two teams on your project will go a long way toward assuring that your migration moves along swimmingly — and perhaps even within the desired scope.
6. To complete post-launch checks ASAP
Even the smoothest migrations can lead to some errors and mistakes after the launch is complete. It's not how many issues you can expect; instead, it's about how your team can address them as quickly as possible after launch.
By hiring and retaining an SEO agency throughout your migration process, you avoid the lost time spent looking for a professional after identifying your post-launch errors. Instead, you have a team ready to jump into action right away, reducing the possibility of those issues affecting your organic performance.
Look for an agency that includes a post-launch review process as part of their migration engagement, reviewing issues like:
When a team has plans and solutions for these problems ahead of time, you can trust they also have the knowledge to swiftly identify them and provide recommended solutions ASAP after launch.
Finding the Right Website Migration Services for Your Site
Not to beat a dead horse, but to ensure the best migration possible for your website, we recommend hiring two professional teams to help you out: web developers and SEO consultants.
Together, they can create a multi-faceted migration strategy that crosses every i and dots every t — improving your chances of emerging with as little lost organic traffic as possible.
With so many choices out there, you can use the following questions to identify the best professionals for your needs:
How many migrations have you completed to date?
Can you provide examples and case studies of post-migration results?
How thorough is your migration checklist?
Do you specialize in certain website platforms?
What post-migration support do you provide?
Look for digital marketing teams who can prove their experience, describe their migration plan to you, and otherwise answer any other questions needed to put your mind at ease before embarking on this journey.
Make your search easier by starting with Inflow. Our experienced SEO strategists will help you maintain your organic performance with our five-phase migration process, tested and approved on dozens of eCommerce and non-eCommerce websites.
Request a free proposal today to learn more about our website migration SEO services and how we can assist with your upcoming project.