As you prepare your digital marketing budget for the new year, don't forget about social media advertising. It's a great way to reach new audiences, build brand awareness, and, with the right approach, drive buyers to your website.
But, as you incorporate this channel into your upcoming initiatives, you need to know how much you should expect to pay to make it really worth the investment.
This guide is here to help.
Today, we'll explain everything you need to know about budgeting for these efforts, including:
The average cost of social media ads
The amount you may pay for the ad spend
The amount you'll spend on ad management
We'll also help you understand why you might end up paying more or less than the average brand for your campaigns, especially if you're managing an eCommerce brand.
Keep reading to learn more, or contact our team for a free, customized proposal today.
Table of Contents
How Much Do Ads on Social Media Cost?
Your total social media marketing cost is made up of two parts:
Your ad spend, or what you pay to a social media company (Facebook [Meta], Twitter, Pinterest, etc.) in order to run ads on their platform
Your management costs, or what you pay for an advertising company (like an agency) to manage your ongoing campaigns.
Below, we'll talk about each of these factors in more detail. While we've done our best to include average values for both types of cost, know that many agencies play this information close to their vests — and that your most accurate cost estimate will come from a customized proposal from specific professionals.
However, these averages can serve as a baseline to help you better understand what your actual advertising costs could be when investing in this channel.
(Later, we'll discuss more variables that will influence your unique costs, including why you might end up paying more or less for your eCommerce social media advertising.)
Average Social Media Ads Cost: eCommerce Campaign Budgets
When predicting how much your company may spend on social media ads, start by looking at how much other companies are spending in this space.
The September 2022 CMO (chief marketing officer) survey reports that brands spend an average of 8.7% of revenue on all marketing efforts. B2C product companies spend more on marketing than other sectors (an average of 15.1%), and eCommerce companies that make 100% of their sales online spend the most — an average of 18.5% of total revenue.
Of this marketing budget, the average company spends 14.5% on social media. (This reflects all social media spending, including managing their various accounts.)
In general, companies spend about 44.0% of their marketing budget on paid media (as opposed to owned and earned media), which means that companies likely spend an average of 6.4% of their marketing budget on paid social media.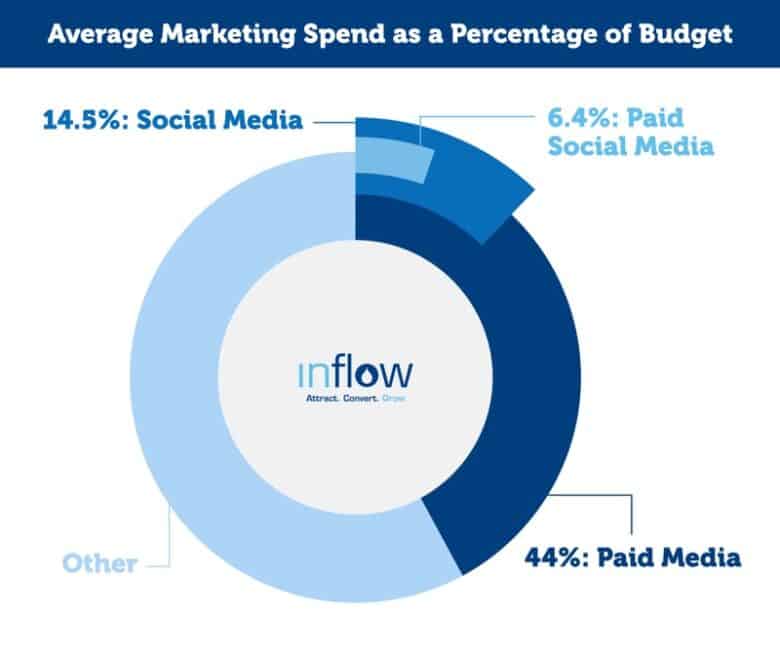 However, B2C product companies spend more on social media — an average of 18.5% — and spend about 65.6% of their marketing budget on paid advertising. This means that a B2C product company will likely spend 12.1% of their marketing budget on paid social media.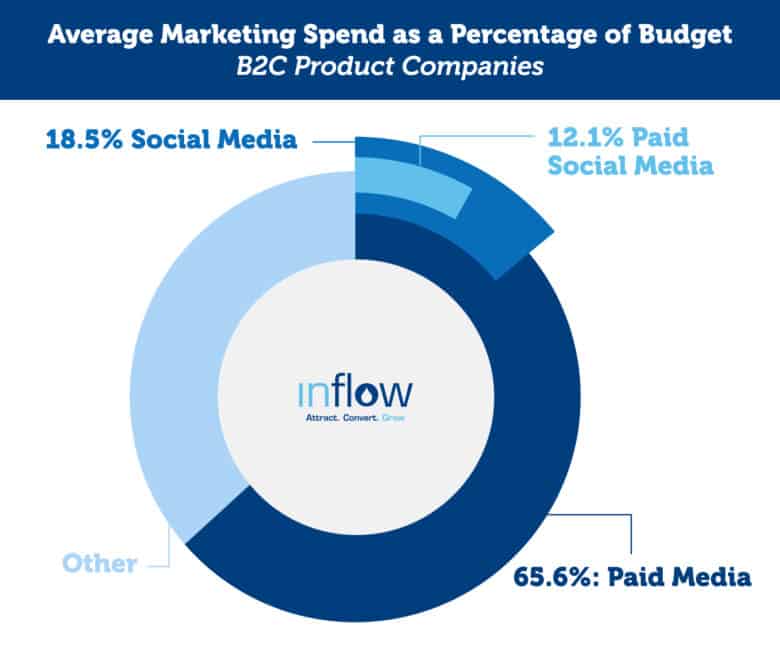 Let's break it down by dollars, comparing two hypothetical brands, both with a gross annual revenue of $2 million — an average company and an eCommerce business.
The average company has a marketing budget of around $174,000 per year. Of that total budget, they would spend about $25,000 per year on social media, with around $11,000 spent on paid social media advertising.
In contrast, the average eCommerce company that makes 100% of its sales online would have a marketing budget of $370,000 per year. Of that marketing budget, they would spend an average of $68,000 on social media, with about $45,000 going toward paid social media.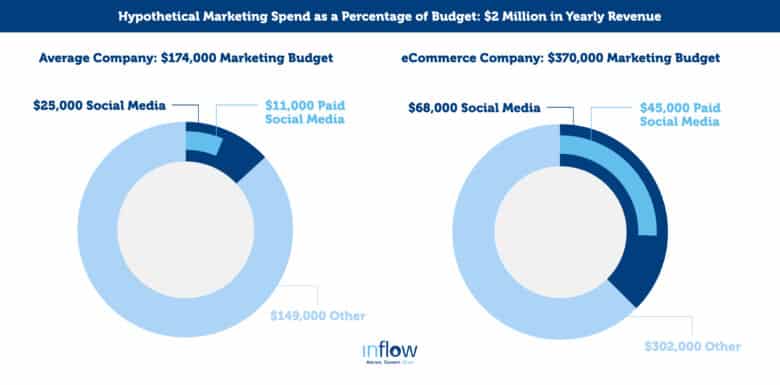 Of course, your social media spending is further broken down into your ad spend — how much you pay to the social media platform — and your management fee. In general, your ad spend will be 80–90% of the spending, with 10–20% spent on management.
Average Costs of Social Media Ads Management
If you hire an agency, there are two major contributions to your social media management costs.
First, many companies will charge you a start-up cost that covers an initial audit of your social media accounts and ads. (Other companies may provide audits as part of their monthly rates.)
In addition, you can expect to pay monthly fees for marketing services. These might be made up of up to three separate charges:
A monthly retainer
A percentage charge for managing your ad spend
An hourly charge for projects that don't strictly count as management (such as ad creative or copywriting, see below)
Typically, these fees depend on the size of the project (ie. how many products you sell, how many ads you wish to run, how much account cleanup is required). We've broken these down into the tier estimates below:
Tier 1: No minimum project size

Audit Fee: $500 or less
Monthly Retainer: $1,000 or less
Management Percentage: 5–10%
Hourly Rate: $50–$99

Tier 2: $1,000 to $5,000 minimum project size

Audit Fee: $500–$1000
Monthly Retainer: $1,000–$3,000
Management Percentage: 10%
Hourly Rate: $100–$150

Tier 3: $5,000 to $10,000 minimum project size

Audit Fee: $1,000–$2000
Monthly Retainer: $3,000–$10,000
Management Percentage: 10–15%
Hourly Rate: $100–$200

Tier 4: Minimum project size of more than $10,000

Audit Fee: $2,000+
Monthly Retainer: $10,000
Management Percentage: 15–20%
Hourly Rate: $200+
Remember, not all companies will charge you an audit fee and/or all three types of monthly charges. They might bundle them in different ways, such as folding your retainer into your management percentage if you hit a certain target spend.
Understandably, this can make it hard to compare price quotes.
If you receive two or more quotes that express their fee structure differently, ask the companies to put their quotes in the terms used by their competitors. This will help you make a more straightforward comparison and give you a sneak peek into how it will be working with a company.
After all, if a company won't do a little extra work to win your business, how much work are they going to do to retain it?
Beware These Pricing Red Flags
Social media ad management proposals will naturally vary based on the pricing structures that companies use. However, there are some warning signs a company might not have your long-term interests at heart.
The "Too Good to Be True"
If you get a quote that seems like a bargain, think twice before signing.
A surprisingly low fee usually means that a digital marketing company is not providing all the essential parts of ad management that your eCommerce business needs to thrive. Perhaps they will assign an underpaid and/or underqualified social media ads expert to your account, or they won't give your account the attention it needs.
In our experience, with the exception of short engagements, any relationship below $1,500 to $3,000 per month is likely not enough to deliver lasting results, given the competitive nature of the online marketplace.
The "Cookie-Cutter" Quote
Some companies will give you a flat-rate paid social package. You'll pay a certain amount, and, in return, you'll get a promised number of ads run for a certain amount of time, with a specified number of bid adjustments or other changes.
While this makes the engagement easy on your social media company, it isn't likely to deliver good results for your brand.
The social media environment is highly variable and ever-changing. There's no guarantee that what works for other companies will work for you — or even that what used to work for your eCommerce business will keep working.
You want a social media ad manager who will adjust your campaigns as necessary to maximize the value of your daily budget and achieve the results you desire.
The "Guaranteed Results" Quote
Some companies will try to sweeten their quote by promising guaranteed results. However, when it comes to digital marketing, nobody can guarantee results in any meaningful way.
Agencies use this tactic because it works well for sales. They can rope you in with promised results. If they happen to achieve them, great. Otherwise, they count on their account manager to stall you long enough to profit from your monthly fees.
A social media marketing company should give you a range of realistic results, demonstrating their expectations but also acknowledging that the future is uncertain.
The "Budget-Dependent" Quote
Although it's common for agencies to charge you a monthly fee based on your total ad spend, this isn't always a good pricing structure.
Charging a percentage disincentivizes a company from seeking more efficient ways to spend your money. They want you to spend more, even if it's not improving your results.
In addition, it neglects that social media advertising scales powerfully.
With efficient tool use, it doesn't necessarily take more time and effort to run a multimillion-dollar ad campaign than it takes to run a few-thousand-dollar ad campaign. In fact, it can be easier to run larger campaigns because the statistical averages work out more reliably.
Pricing reflects priorities. Make sure you work with a social media marketing agency that prioritizes your success, not theirs.
Why eCommerce Paid Social Pricing is Unique
Let's go back to our hypothetical companies mentioned earlier in this guide.
Did you wonder why the paid social budget of the eCommerce company was more than four times the size of the budget for an average company with the same annual revenue?
That's because, in many cases, social media may be the lifeblood of your eCommerce company.
It's not just that it's where the customers are (Americans spend an average of 2.25 hours a day on social media). It's also that social media provides your eCommerce brand with its best opportunity of building a relationship with your customers.
Compared to pay-per-click (PPC) channels like display ads or search engine ads, social media is much more interactive. This interactivity is both an opportunity and a challenge.
To maximize your social returns, you might have to use eCom-specific strategies, like Facebook Shop Listings. You'll also have to run dynamic campaigns that are sensitive both to the fickle trends of social media and the variability of your inventory.
A "set it and forget it" campaign can be a disastrous waste of money for your eCommerce brand. Worse, it can squander your customers' goodwill.
It's not just critical that your eCommerce brand does social media — it's critical that you do it right.
Factors Affecting Your Overall Social Media Advertising Costs
Up until now, we've focused mostly on average costs in this guide. However, it's highly unlikely that your costs will actually be average.
So, what will impact your brand's specific costs for these marketing initiatives?
Often, it's up to a few important factors:
1. Industry & Competition
One of the biggest factors for your social media ads cost is your industry.
In general, if your industry sells more expensive or less popular products, your cost per click (CPC) will be higher. For example, one analysis showed an average cost per click of $3.77 for the finance and insurance sectors, compared to $0.45 for the apparel industry. In fact, some industries can have nearly 10 times the CPC rates as others!
Depending on your audience, you might also have much higher competition than the industry average. For example, competition can be especially fierce around trendy or seasonal items that are in demand now but might not be in the future.
Don't forget to factor in the cost of your products, too. The higher your profit margin, the more you'll need to spend to get a return on your investment.
2. External Tools & Resources
Some additional resources and tools can make a big difference in the success of your social media advertising campaigns, but they don't come free.
If you are managing your own social media ads, you will need to acquire these resources separately. If you have an agency, they will either include these services in your management fees or will put you in touch with providers they know and trust.
Ad Creative & Graphic Designers
Well-designed ads are essential to getting your customers' attention. Graphic designers typically charge from $15–$300 per hour, with the national average being $30 per hour, according to the Bureau of Labor Statistics.
In addition, your designers might need images to work with, which means purchasing stock photography, commissioning professional photos, or collecting user-generated content (UGC).
Copywriters
Copywriters are crucial for creating the messaging that leads to ad clicks. According to the Editorial Freelancers Association, you can expect to pay $61–$70 dollars per hour for quality copywriting.
Don't forget that copywriters also play a vital role in content marketing, which can also provide essential material for organic and paid social media efforts.
Customer Data
Successful ad campaigns depend on data-based audience targeting — so you're not paying to put your ad in front of people unlikely to buy your product.
While you can collect some of this data on your website and through email lists, purchasing data gives you access to more information quicker. This is often sold in CPM lots, with a price per mille that can range widely from $1 to $50 (or more). The cost depends on the perceived lead-generation value of the data and the number of demographic data points included in each record.
Note: In recent years, measures designed to improve consumer privacy have reduced the quality and supply of third-party data. (Check out our suggestions for dealing with these changes to third-party data policies.)
3. Social Media Channels
Different social platforms have a different average cost per click (CPCs) and costs per thousand impressions (CPMs) — both of which will impact your cost per acquisition (CPA) and paid social ROI.
For example, LinkedIn's average CPC is significantly higher than other popular channels. But, when you look at CPM, LinkedIn's costs are average, especially in comparison to more expensive channels like Pinterest.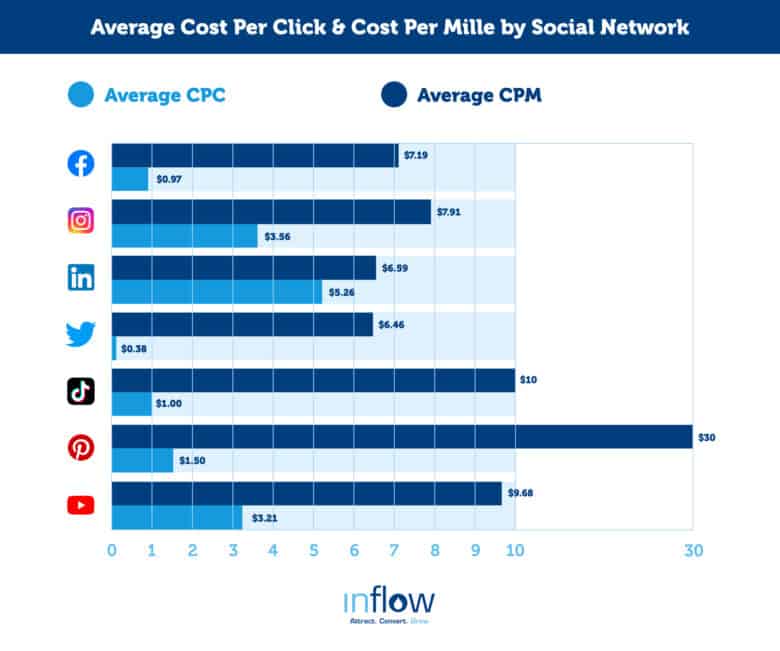 But there's even more to compare across social networks than just CPCs and CPMs.
For example, while Twitter and Facebook ads can include just text, Instagram ads require images, and TikTok requires video ads. These ad formats can be more or less expensive to produce.
Don't let the CPC or even product costs lead you to the cheapest social media channel. You want to be where your actual and potential customers are. For example, LinkedIn ads can seem expensive, but they might be worth it to reach reliable customers within your demographic.
A good social media strategy is to launch ad campaigns on platforms where you've already found success with organic social media efforts.
4. Social Media Professional
Your social media costs will also depend on how you choose to manage your social media advertising.
Below, we've detailed the pros and cons of three popular options:
Agency
Hiring an agency to run your social media ads means getting access to a team of experts and support personnel. (Review our average agency costs in our tiered section above.)
Advantages:
Provide a team of top professionals
May bundle services like ad design and copywriting
Have a proven track record
Stake their reputation on your results
Often offer access to related services (organic social media management, SEO, etc.)
Use the best tools in the business
Come with extensive training, experience, and resources
Disadvantages:
Can be expensive to hire
May be slow to start work if they're in demand
Contractor/Freelancer
Freelancers and contractors have the widest range in costs. They might charge $25–$250 per hour, or they could have a retainer from $0 to more than $10,000 per month, depending on their expertise and how much time they expect to devote to your account.
Advantages:
Usually cheaper than an agency
May be a top expert in their field
Easy to hire and fire
May be an efficient and focused specialist
Disadvantages:
May juggle multiple clients
Often don't have access to the best tools
Offer limited oversight of their work process
Don't offer additional services
May not have access to copywriting, design, and other resources
In-house Expert
Instead of hiring outside experts, you could hire an in-house social media ad manager. On average, this position costs $68,000 a year in salary plus benefits.
If you want to do this right, you will want to make this a dedicated employee. Asking them to do multiple jobs or counting on a different type of marketing person to do the job will reduce your effectiveness.
Advantages:
Knows your company
Provides consistent work
Works full-time on your social ads
Gives you good oversight of their work process
Disadvantages:
Can be subject to job creep that diminishes effectiveness
Only provides the expertise level that you hire
Can have an expensive learning curve
Requires company investment for any additional training
Only has access to the tools and resources you pay for
Can be expensive to replace
5. Goals & Desired Results
Finally, your goals will perhaps make the biggest difference in your overall costs.
For example, a brand trying to get the best return on ad spend (ROAS) will likely spend less than a brand targeting maximum overall revenue. It can also be more expensive to outperform a specific competitor, especially if that competitor is the leader in your industry.
Focusing on long-term goals is often more cost-effective than chasing a series of short-term goals. Putting money toward testing early on might seem like an added expense, but it can be less expensive than fixing a campaign after it breaks.
Is Your eCommerce Brand Ready for Social Media Advertising?
Before you decide to invest your hard-earned money into social media advertising, you should understand what leads to success — and the signs that paid social is right for you.
Start by asking your team these questions:
1. Do you understand the budget requirements for your industry?
Social media has become a very crowded and competitive environment, which means there's often a steep curve (and a high required investment) for achieving positive results.
For this reason, we recommend a starting ad budget of $5,000 for about 90% of the industries and verticals we work with. If your ad space is competitive and you don't have other resources for sales (such as a well-established email list), you may need to go as high as $10,000 per month to see significant results.
If you aren't prepared to make this investment, you might not be ready for social media advertising.
2. Are you ready to invest in testing?
Testing is the key to campaign optimization. However, it does take time and money, which is why working with experts can be critical.
Know that it typically takes two to three months before ad campaigns successfully target the most profitable customers and bring in significant results.
Therefore, make sure you have the resources to invest in this testing period without relying on immediate results to keep you afloat.
3. Do you have an established social brand?
While there is a big difference between organic and paid social media, the two feed each other. Your social media ad campaigns have the best chance of success if you've already established brand awareness and engagement via organic social media efforts.
This not only gives you a good pool of targets for remarketing, but it helps your management team understand what images and ideas galvanize your current and potential customers.
If you don't yet have a good social media presence and reach, we recommend working on your organic social media efforts before hiring a social media marketing firm.
4. Do you have existing customer data?
Because privacy rules are making it harder than ever to collect third-party data, your first-party customer data is critical.
If you don't have customer data from extensive site visits, email list subscribers, account holders, and previous customers, it will take longer to find your target audience.
5. Do you understand the realities of modern social media advertising?
Internet marketing grew rapidly in part because it was possible to attribute sales directly to marketing efforts. You could clearly see this person clicked on this ad and bought this product.
Today, it's much more difficult to show direct sales attribution with social media advertising. Reporting on these efforts requires a more nuanced touch, plus the analysis of multiple data sources to best understand how much it's improving your bottom line.
Your agency should clearly detail how they'll measure the impact of their efforts by looking at these varied data points. Internally, your team should be prepared to not see a direct return on investment from these channels — and instead rely on a combination of metrics to understand whether or not paid social is profitable for your company.
If you need to see that direct ROI and can't rely on trends and overall revenue as a measure of growth, then social media advertising may not be right for you at this time.
Get Custom Social Media Ads Pricing Today
In this guide, we've tried our best to lay out the costs of social media ad campaigns, including all of the factors that will impact your total investment.
However, the truth is that these costs can be highly variable — and it's near impossible to estimate what yours will be until you've spoken with a social media ad expert.
Before you do that, ask yourself the questions, look at your current revenue, consider your revenue targets, and assess your organic social media efforts and success.
Then, if you're truly ready to test these advertising platforms, get a custom quote for your business from a variety of professionals, including our team at Inflow.
Request a free proposal — including a customized marketing strategy for your eCommerce business — by contacting our team today.