While the way we do social media marketing is continually changing, one thing stays the same: It can be the factor that makes or breaks your online store's success, especially during the busiest shopping season of the year.
To help you get ahead of the competition, we're sharing our top 10 strategies for making sure your social media holiday ad campaigns reach the right customers and convince them to add your products to their shopping list.
Keep reading to check out the full list, or jump to any of our individual tips below:
10 Tips for Engaging eCommerce Social Media Holiday Ads
We've worked with dozens of eCommerce retailers over the last decade. Along the way, we've uncovered a few key strategies to make your holiday social media marketing stick. 
So, without further ado, here's what we recommend for your Black Friday/Cyber Monday Instagram and Facebook advertising campaigns:
1. Use seasonal ad creative.
While this tip may seem like a no-brainer, it's the foundation for successful holiday ads for social media: Use holiday-themed copy, images, and video ads to connect with your customers and motivate them to purchase.
Your seasonal touches can be outright and obvious, like advertising certain products as Christmas or Hanukkah gifts directly within your messaging. You can also go more subtle, like we do with paid ads for our client Atrantil.
Below, you can see we've incorporated seasonal fall dishes like shrimp bisque into our ad creative. While it doesn't scream "holidays" like other creative, it does connect with customers who want to enjoy their favorite holiday foods without the frustration of bloating and discomfort.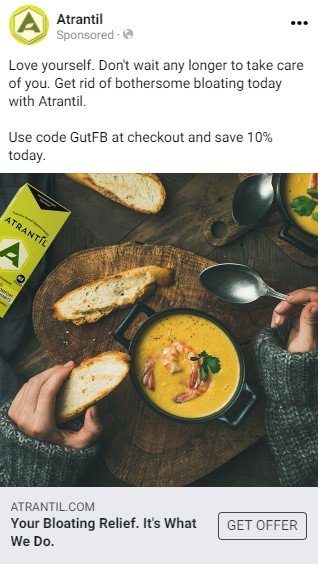 (Bonus: It also enhances our brand awareness by vibing with our year-round social strategy.)
Work with your creative team to see which existing product images and videos could be utilized for your brand's social media holiday ads.
Don't have any at hand? We recommend a user-generated content strategy for gathering compelling, authentic content from your loyal customer base.
2. Emphasize holiday sales and promotions.
An easy way to add seasonality to your ad creative? Incorporating holiday sales and promotions.
If you haven't already, speak with your brand's promotional team to understand what kind of sales will run during the holidays. Create a content calendar for your different social media platforms around that schedule.
Your customers are already expecting discounts and sales from you during the holiday season, so use your social ads to push them over the finish line and make that purchase they've been considering for months.
Because today's shoppers are trained to look for specific discounts and promo codes, make sure to emphasize your special offers in your ad creative, ad copy, or both.
You can't be too obvious or obnoxious here; giant, bolded "SALE" or "15%" text is exactly what your customers are looking for — and will help you ads stand out in the crowded news feeds.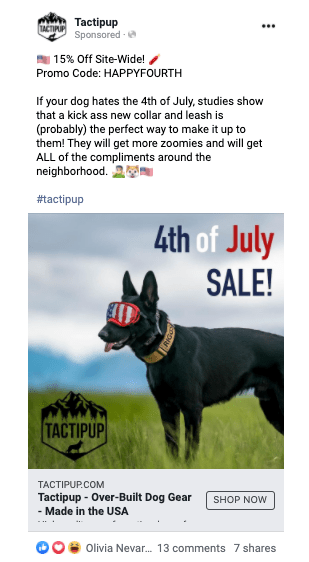 3. Get your first-party data in order.
Thanks to Apple's iOS updates, first-party data isn't as easy to gather from Facebook users as it once was. Because this customer data is marketing gold, you need to decide how you're going to collect and access it now, if you haven't already.
That way, you'll have it ready to go when the upcoming holiday shopping season hits its full stride in a few months.
Consider collecting first-party data through:
Email list growth and acquisition
Progressive profiling form fills
"Save cart" prompts
"Create account" prompts
4. Strategize your segmentation.
Once you have your first-party data, you must develop the best strategy for using it. Who will be the best customers to target (or retarget) during your holiday sales — your VIP purchasers? Repeat customers? First-time holiday shoppers?
If you're not sure, take a look at your historical shopping data (tip #7) and run some tests in the next few months. With enough time, you can create a supercharged target audience primed for purchase before the first frost even hits.
5. Watch your competition.
Keeping an eye on your competitors' ads and strategies is always a good idea, but it's crucial during the holiday shopping season. Watch what kind of creative they're putting out, as well as how early they're starting to run their holiday campaigns.
The last thing you want is to be caught on your heels while your competitors swoop in on your early bird customers (see tip #10).
6. Evaluate and set realistic targets.
How the 2021 shopping season goes is anyone's guess. After the rollercoaster years of the COVID-19 pandemic and growing worries about inflation, it's near impossible to predict how shoppers will behave this fall and winter. Keep that in mind when setting your Facebook marketing campaign KPIs
In addition to metrics like revenue and ROAS, we recommend looking at micro conversions and micro-KPIs, like:
Link click-through rate
Link cost per click
Add to cart ratio
These can be just as informative metrics as purchases and give you an even deeper understanding of your customers' behavior.
Start tracking these early on, and they will help you optimize your holiday Facebook ads strategy throughout the season.
7. Look at historical holiday shopping data.
All that said, there may still be some similarities between this year's shopping trends and those before. Start by taking a look at your CRM data on previous holiday/Black Friday/Cyber Monday shoppers.
Remember, a prospective buyer looks different during the holidays than the rest of the year. Use the demographic data from previous buyers to build a seed audience and remarket to them for repeat purchases. You can also create a lookalike audience from the same data for new customer acquisition during this period.
For more information on creating custom audiences for paid social ads, check out our Vitrazza case study.
8. Don't forget about Pinterest.
Pinterest is often overlooked — but, as the darling of women looking for gift ideas, it's a great opportunity for your eCommerce brand to get your holiday advertising in front of interested customers.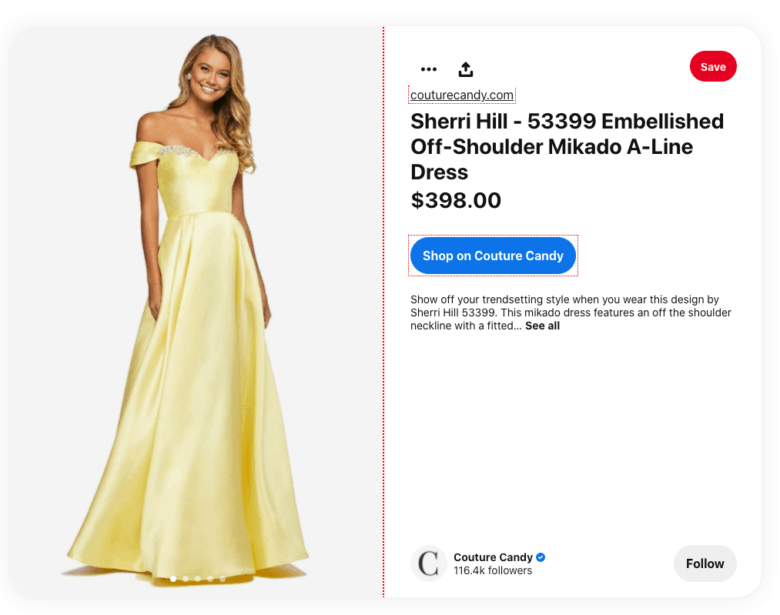 Remember that customers on Pinterest are looking for gift-giving inspiration, so tailor your creative with that in mind. Run different ad campaigns utilizing interests and keywords during the holidays, and watch their performance closely to further optimize them in the months to come.
9. Stretch your budget to beat the competition.
The holiday season is a competitive one. If you want your ads to be shown in increasingly crowded ad auctions, you'll need to up your budget.
Take another look at your historical data on Facebook, Instagram, and other target platforms before setting your budget. How much were your ad costs in the past? What were your results like from that spend? Were you leaving money (or impressions) on the table?
Based on this data, work with your digital marketing team to identify the best budget for this holiday season. Don't forget to include some room to adjust your spend depending on your campaign performance.
10. Start advertising early — like, right now.
Finally, we recommend building and running your Instagram and Facebook ad campaigns as early as you can swing them. 
The holiday shopping season starts earlier each year, and your eCommerce business shouldn't be caught unaware. Just as there will always be the customer who waits until the last minute to buy their gifts, there will also be the customer who crosses everything off their list before Halloween.
Split the difference with your social media advertising, and stretch your calendar (and budget) as long as you can during the holiday season.
Start Prepping Your Social Media Ads Holiday Strategy Now
The holiday shopping season is the most crucial period of the year for eCommerce businesses — which means it's certainly not the time to slack on your paid social media advertising. 
Fortunately, with a little forethought and the tips above, you can set your brand up for success with months of planning to spare.
If you're not sure which kind of Instagram or Facebook holiday advertising is best for your business — or you just want an experienced social media marketer running your holiday marketing strategy — our team is always here to help.
Request a free proposal from our strategists today, or check out these other helpful resources from our blog:
You can also review our other holiday digital marketing tips below: