Editor's note: This case study was originally published in 2021. It has been updated for accuracy and to reflect modern practices.
When our clients see massive marketing wins, it's usually after months of building upon and optimizing their campaigns.
But that's not always the case.
Even the most basic campaign adjustments can generate significant improvements in a short time period — and paid search marketing offers the perfect opportunity to see this in action.
Today, we're sharing three simple changes we made in the space of a month that brought one client's Google Ads account back from the dead:
Identifying and fixing common conversion tracking mistakes
Optimizing branded campaigns to raise impression share
Launching new Shopping product listings, despite complicated industry regulations
With these quick fixes, we helped Atrantil drive the following in just one month:
116% increase in branded impression share
52% decrease in cost-per-click
66% increase in clicks
36% increase in return on ad spend
Here's how we did it:
1. Identify Tracking Errors and Get Campaign Data in Order
Before you can start optimizing your paid search marketing campaigns, you need to confirm that all of your accounts and reports are set up properly. Otherwise, the data you receive and make adjustments with will be worthless.
Unfortunately, it's not uncommon for eCommerce brands to come to us with improperly set up Google Ads accounts, either from a previous agency's work or the client's own well-meaning DIY attempts. Most of the time, they aren't even aware of it.
Atrantil was in the same boat. Although they had worked with another marketing agency before us, their account had tracking issues galore.
So, we rolled up our sleeves to identify the problems that everyone else had overlooked.
Unlinked Google Ads Account
It seems like it would be too big to miss, but it had gone unnoticed for months: Atrantil's Google Ads account wasn't linked to their Google Analytics account for the Canada site, resulting in nonsensical and incomplete data reports with glaring inconsistencies.
One of the biggest: Google Analytics showing an ad campaign with $38,000 in spend with no associated transactions or revenue.

Looking closer, we saw that historical web sessions completely dropped off at a certain point (see graph above), which immediately raised a red flag.
We then navigated to the Canada Google Analytics property and discovered that the transaction and revenue data fell under a "not set" campaign name.

Because the 164 transactions and $13,600 in revenue could not be attributed to a specific Canada campaign in the account, we couldn't identify where the $38,000 in total spend came into play, let alone make accurate optimizations for improving performance.
That's when we knew: The "not set" traffic and spend were due to Atrantil's Google Ads account not being linked to the Canada Google Analytics property!
To confirm that this was the case, we made our way to "Admin – Google Ads Linking." Sure enough, the Google Ads account did not appear.
It seems simple, but with at least one agency overlooking it in the past, it was a big mistake that was impacting Atrantil's monthly reports.
Tracking can be messy, but fortunately the fix was right in front of us: Link Atrantil's Google Ads account to their Canada Analytics property. The attribution data now made sense, and we were ready to make campaign recommendations.
Learn how to link your Google Ads account to your new Google Analytics 4 configurations with our step-by-step guide.
Auto-tagging Turned "off" in Bing
Most of our eCommerce clients run both Google and Bing ads. In order to see Bing performance in Google Analytics, auto-tagging needs to be turned on in the Bing Ads platform, also known as Microsoft Ads.
Most clients can easily identify this by double-checking the settings in their Microsoft Ads account. However, you may not know to look for auto-tagging settings in the first place.
We quickly noticed that auto-tagging was not turned on when reviewing Atrantil's "source / medium" report in Google Analytics. When we searched for "bing / cpc" in the report, no data appeared.

After turning auto-tagging on, we began to see the Bing data — including session, user, campaign, keyword, etc. — in Google Analytics.
However, we then noticed that the transaction data in Google Analytics was not lining up with the conversion data in Microsoft Ads.
An example: Looking at the date range of March 25–31, the USA-branded campaign generated seven transactions, according to Google Analytics.

But, when viewing conversion data in Microsoft Ads for the same time period, the USA branded campaign had 21 conversions.

What caused this discrepancy?
It turned out that the conversion setup in Microsoft Ads tracked users who reached the checkout page, whereas the conversion setup in Google Analytics tracked users who actually completed the checkout process. So, we adjusted the conversion settings in Microsoft Ads to ensure accuracy for optimizations and reporting moving forward.
All that being said, auto-tagging is a quick win to gain more insight into ad performance within Google Analytics.
2. Optimize Branded Campaigns
Once all tracking issues were resolved, we could start making adjustments to all of Atrantil's paid search campaigns, knowing we would now see the comprehensive and combined data reflected accurately in reporting.
We started with perhaps the most important campaign for any online retailer: the branded search campaign.
In the six months prior to our takeover of their account, Atrantil was only generating an average 38% impression share on branded campaigns (for their own brand keywords!). Several competitors were bidding on Atrantil's branded keywords, and one even earned a higher impression share than Atrantil did in the month of January.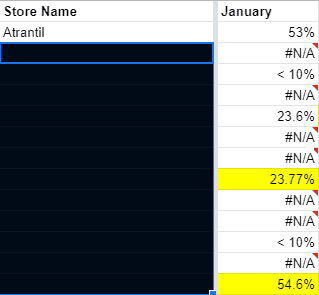 As a result, Atrantil's cost-per-click (CPC) on branded campaigns was steadily rising, from $0.63 to $3.20 in the space of three months.
Not only was their marketing strategy driving up their branded campaign costs, but they were also increasingly losing out on important consumer searches.
Clearly, something wasn't working. So, we took a deeper look at their campaign structure and found two main culprits.
Misspelled Brand Keywords
Atrantil isn't just a tricky brand name to pronounce; it's also a difficult one to spell, as indicated by the many queries searchers type into Google every month.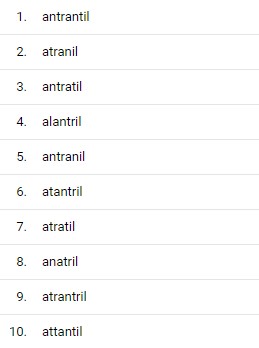 But, Atrantil wasn't bidding on these misspellings! Instead, the only branded keyword in the campaign that they were bidding on and showing up for was "[atrantil]".
Allocating budget to these misspelled terms was a quick and effective way to tap into those waiting audiences.
Whether or not you have a company name as tricky to spell as Atrantil, make sure you're bidding on misspellings to capture as wide of an audience as possible — and to prevent competing eCommerce stores from swooping in and stealing those customers from you.
Keyword Overlap
When you're running branded and non-branded search campaigns, keyword overlap often occurs. This was the case with Atrantil, as branded terms were making their way into a non-branded search campaign.
We identified the keywords triggering each campaign, separating them out and adding negative keywords to each appropriate campaign for a clean, optimized branded and non-branded campaign strategy.
You can read more about this simple two-step process here.
The Results
There's a reason why we prioritize properly optimized branded campaigns for every client. With the right adjustments, we were able to boost Atrantil's impression share from 39.18% to 84.67% — an 116% increase.
As a result, their cost-per-click dropped from $3.74 to $1.79 in the space of one month — a 52% decrease.
Now, Atrantil is driving more ideal customers to their site on a smaller budget and consistently beating out their competitors in the branded space.
3. Launch Approved Shopping Campaigns in Untouched Markets
We've written before about the complexities and regulations of marketing health and wellness products on Facebook Ads. Advertising those same products on Google Merchant Center and in Google Shopping campaigns is no different.
Atrantil markets to both American and Canadian customers. But, while they had found success with Shopping campaigns in the United States, they had never run Shopping campaigns in Canada. The rules and regulations surrounding health and wellness products are different for each nation, and Atrantil's previous paid marketers had solely focused on the U.S.
That meant a great opportunity for growth in Canada — if we could navigate Google Merchant Center's health and wellness regulations.
We started with Atrantil's ad copy style guide: what we could and couldn't say in copy. Then, it was a testing game to see which copy Google would and wouldn't accept in product listings.
We ended up with a few guidelines:
Avoid making the copy too personal. We don't use "you" or "your" to assume that a searcher has a specific digestive disorder.
Avoid pharmaceutical-type terms. Atrantil offers supplements, not FDA-approved medicines. Suggesting they were in ad copy not only added the complexities of the pharmaceutical advertising regulations but also more often than not led to listing or ad disapproval.
With a little trial and error, we successfully set up product listings in Google Merchant Center for Canadian users — tapping into a new market for Atrantil.
If you're selling eCommerce products, don't sleep on doing the same, even if your products seem more complicated to market. Finding the right approach for your industry will bring in more impressions, clicks, and sales.
(If you need help determining that approach, we can help.)
Want Short-Term PPC Results Like These?
Patience is one of our favorite things to preach when it comes to digital marketing. But even we're proven wrong sometimes — and, when positive results like this come quickly for clients, we're glad to be.
With a 116% increase in impression share, a 52% decrease in cost-per-click, a 66% increase in clicks, and a 36% increase ROAS, Atrantil not only found short-term success with their US brand campaign but is also set up for long-term success with all newly optimized paid search accounts and campaigns.
If you haven't looked at your Google Ads account in a while or feel like your campaigns could be performing better, start with the basics. Make sure everything is set up correctly and the bare minimum strategies are in place. You may be surprised at what your accounts are missing.
Want an experienced PPC strategist to take a look for you? Our eCommerce paid advertising experts are happy to audit your account and provide recommendations anytime.
Request a free proposal now to see what results are possible for your business.