Thanks to a multitude of factors, reCommerce — or the sale of secondhand goods — is expected to surpass $30 billion in sales by 2025.
If your eCommerce brand buys and sells secondhand goods, you're in a great position for this changing market. But, as the demand for these products increases, so will the competition from fellow resellers.
Therefore, now is the time to start investing in a digital marketing strategy that's specialized for this niche.
And this guide will help you get there.
Here at Inflow, we work with several premier reCommerce brands, developing customized strategies for this industry's unique challenges and opportunities. Today, we'll share how two of them — KEH Camera and Current Boutique — are finding success in this booming marketplace, including some strategies you can borrow for your business.
In the meantime, if you want our team to create a personalized strategy for your reCommerce brand, contact us anytime.
Table of Contents
What is reCommerce?
reCommerce — also known as "reverse commerce" — is the practice by which brands buy pre-owned products and resell them at a profit.
But today's reCommerce brands aren't your run-of-the-mill thrift stores or online marketplaces like eBay or Etsy.
Instead, they are high-end brands with complex buying and reselling strategies. In many cases, they've spent years cultivating trustworthy reputations through in-depth authenticity research and stunning customer service. By offering reliable, quality products at a more affordable price, these brands have curated incredibly loyal customer bases that allow for rapid business growth.
Popular reCommerce brands include ThredUp, The RealReal, and Poshmark, as well as the two clients we'll discuss below.
Why It's So Popular Today
The secondhand resale market is projected to double by 2025, growing 11 times faster than the broader retail clothing sector — and reflecting huge shifts in consumer behavior.
With fast fashion and mass production, today's customers have more products than ever available at their fingertips. But not every purchase becomes a well-loved and well-used piece.
Rather than let purchases sit forgotten in closets for years, people now have the option to sell those used products and recoup some of their losses, putting more funds back in their pockets and allowing them to start the buying cycle all over again.
While the reCommerce market has been steadily growing since 2016, the outbreak of COVID-19 in 2020 accelerated the growth to impressive new levels, for several reasons.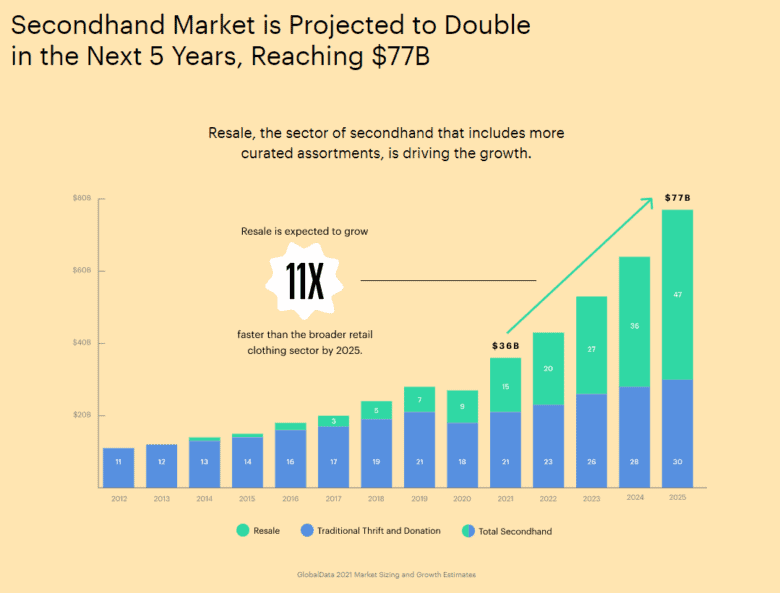 Inventory Shortage
With the pandemic's disruptions in the supply and manufacturing chain, new products are harder to get a hold of — making the availability of secondhand products attractive to consumers and to retailers.
On a retailer front, costs for new production continue to increase. At the same time, production of new products is taking much longer, due to backlogged materials and high employee turnover.
Procuring secondhand products from eager-to-sell customers can reduce those costs and build up inventory, helping your business better compete with higher shopper demand.
For the same reasons, pre-owned products are attractive to your customers, too — especially when they can't get the items they want (like quality camera gear) any other way.
"With continued supply chain constraints, consumers who are looking to upgrade may not have the new gear available to them right now," says Carey Kegel, senior director of sales and marketing at KEH.
"It's certainly a balancing act for us, because these supply chain issues provide a great reason for customers to come to us when they don't want to wait for new — but it also presents a unique challenge when consumers who only want to buy new decide to hold onto gear longer that they would otherwise sell to us while they wait."
Affordability
With inflation hitting its highest point since 1981, customers care about their wallets more than ever before. Pre-owned products allow customers to purchase those items they want at a cheaper price (and, as mentioned above, recoup costs for those items they wish to offload).
That said, the usual reCommerce customer isn't the shopper trolling Craigslist and other direct-resale platforms. They want a quality product, not a product found at the lowest price possible.
(We'll talk more about that below.)
Sustainability
Finally, when it comes to the modern rise of reCommerce, we can't ignore the sustainability aspect.
A study by Carousell (an online resale marketplace based in Singapore) revealed that 30–45% of secondhand shoppers bought for environmental reasons, a statistic that's echoed among U.S. shoppers, especially younger consumers like Millennials and Generation Z.
reCommerce allows customers to buy products new to them, without the eco-guilt of fast fashion and unsustainable commercialism. However, consumers can sniff out virtue-signaling like no other — so, if you use this as a marketing tactic, make sure you mean it.
"Sustainability is so important in the pre-owned space," Kegel says. "Consumers have become increasingly more aware of their product consumption and how that impacts our environment. By shopping pre-owned, products have a longer lifecycle and stay out of landfills. Customers want to shop with companies that align with their personal values.
"But companies have to be passionate about it, too. You can't just say it's sustainability; you have to actually practice what you preach in your day-to-day operations."
A reCommerce Case Study in Two Parts
A successful reCommerce digital marketing strategy incorporates not just the above-mentioned factors, but also specific customer data, vertical trends, and more.
To help you create your strategy, we present these studies of two brands — KEH and Current Boutique — who both saw increased revenue, traffic, and website sessions over the past two years.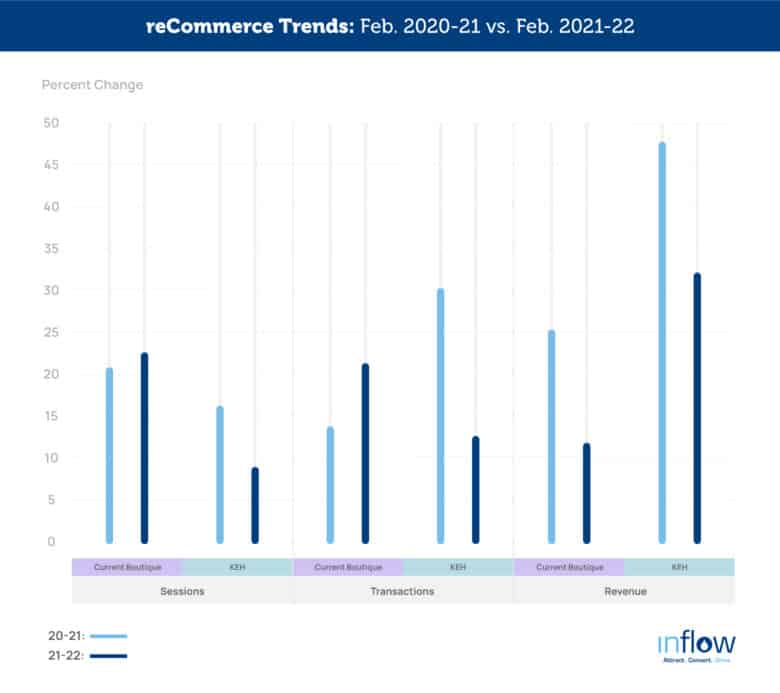 We'll detail some of the tactics they're using to grow their business, so you can give them a try yourself.
Want our full list of recommended strategies? Download our reCommerce checklist now.
The Industry-Leading Camera Reseller
Since 1979, KEH Camera has been the original, premier reseller of professional, collective, and everyday camera gear for novices and enthusiasts alike.
As their digital marketing agency, our job is not only to help sell the secondhand inventory (the "Shop" program) but also to procure inventory through sellers (the "Sell" program).
Refining the Keyword Strategy
In some cases, audiences looking to shop and sell secondhand products may have some degree of overlap. However, to keep both inventory and sales strong, KEH uses specific strategies for each.
The most important factor: keywords for organic and paid search targeting.
Because most of KEH's "Shop" customers know exactly which gear they're looking for, the associated keywords must be very unique, highly targeted queries. Often, these include brand and product names, down to the smallest details. The more detailed the query, the higher the chance of a conversion.
On the other hand, a "Sell" shopper is typically broader in their queries, using phrases like "sell my camera." Because they're not attached to any particular reseller, there's a lot more room for error in this funnel — which is why our team works tirelessly to identify the keywords that drive the best results for the business (and, in turn, keep the inventory stock high).
Building Client Trust
Although KEH is one of the oldest camera gear resellers on the market, it lives in a vertical that gets more crowded by the year. It's not just enough to bring customers to the site through organic and paid traffic; KEH must differentiate itself from competitors and prove why customers should choose them over others.
"The amount of photography expertise we have across KEH is pretty impressive," Kegel says. "Our team is passionate about photography, and it's important that message gets across in all of our marketing assets. Because of this passion, we know just how important it is to ensure our customers get the right gear for what they want to shoot — and that they can trust it is in the condition they expect."
Here's how they do it, for a total of 213% revenue increase from 2020–22:
Extensive Grading System
One of the biggest risks for customers purchasing from the secondhand market: getting a low-quality or inauthentic product.
With this, reCommerce brands like KEH have a huge advantage over direct-sell marketplaces — but only if they take advantage of it. For that reason, KEH emphasizes the quality of products (and transparency of the business) with a comprehensive grading system.
Every product is inspected by camera tech experts, before being qualified as one of eight "grades" with clear expectations for quality level.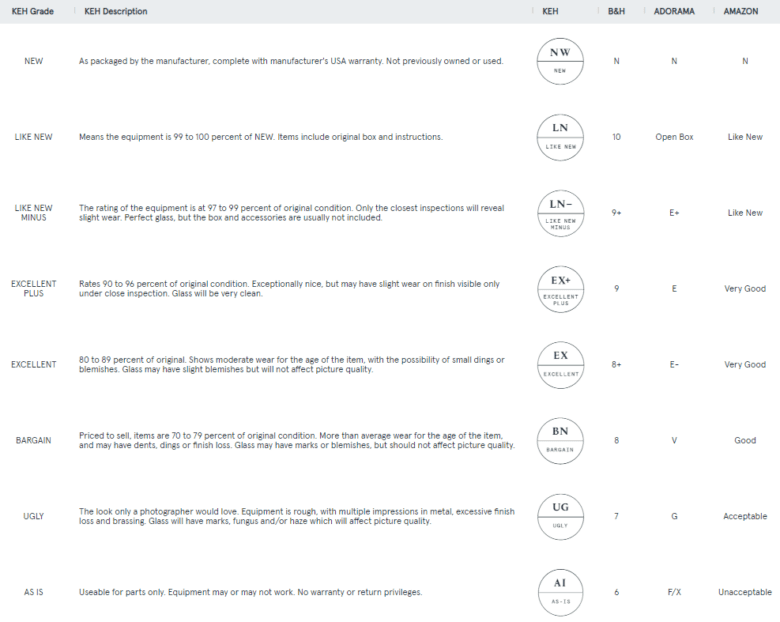 This way, customers know exactly what to expect — eliminating the common quality concern of pre-owned products.
Flagship Emphasis
KEH's experience is its biggest selling point and the focus of its marketing efforts.
On its website, in email marketing, and in paid search and social copy, the right phrase can make all the difference to a prospective customer. So, KEH leans into its advantage as a flagship reseller, using copy like:
#1 Used Photography
Most Trustworthy
How We're Different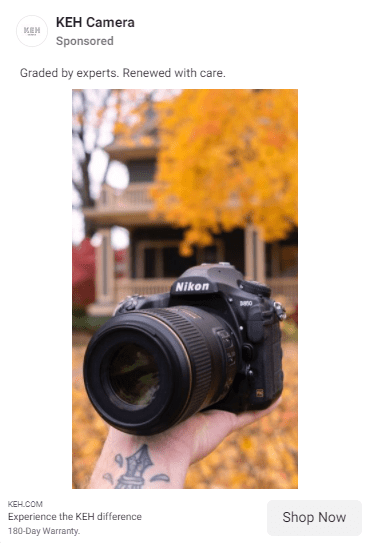 Of course, to back up that trust, the brand also offers a generous 180-day warranty, a clear return policy, and plentiful customer testimonials.
Read more about KEH's success — including a 213% increase in ad revenue and 11.4% increase in conversion rate — in our full case study.
The Designer Fashion Reseller
Current Boutique is an online fashion reseller that started with brick-and-mortar stores and has gradually expanded its digital presence over the last few decades. Since COVID, the consignment brand is reporting massive gains, for several reasons.
When COVID mandates prevented customers from visiting their physical stores in the D.C. area, Current Boutique's team renewed their focus on online marketing — which has exploded, thanks to an increase in customers' buying secondhand clothing online.
"The supply chain was never anything that affected us, because we get our inventory from the public," says Carmen Lopez, CEO at Current Boutique. "In fact, because of COVID and people spending the last two years largely out of the office and out of social settings and at home cleaning out their closets, there's been an immense amount of desire for people to sell their inventory or to transition their wardrobes."
Here's how the brand is keeping customers coming back:
Using Actual Product Images
Customers trust the products they can see, especially when there is the potential for variety in quality and appearance. When they're buying secondhand products, shoppers don't want to see posed creative of models; they want to see the product they're actually buying.
For that reason, Current Boutique's most effective paid social campaigns all include actual product images — no models or produced pictures. By targeting top-of-funnel customers, our team has been able to spike interest from the audience, resulting in more website and product listing views.
In total, Facebook campaigns using product images generated a 1.7x return on ad spend (ROAS), in comparison to 1.43x ROAS for non-dynamic imagery. In addition, those campaigns with product images saw a 300% increase in Add to Cart rate.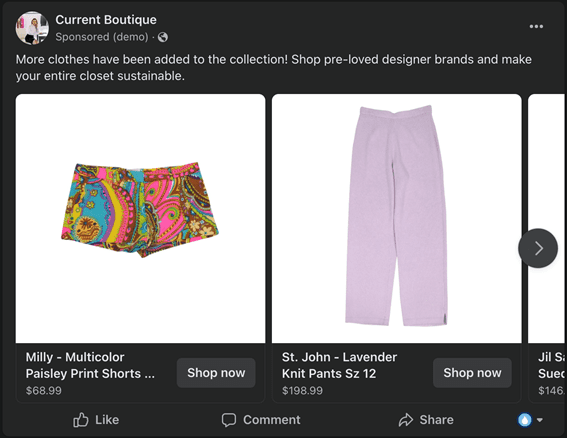 If your brand sells secondhand products, remember this: Model or stock photos may seem attractive in concept, but customers who are buying refurbished products want to see the actual product as-is. That doesn't mean your images don't have to be high-quality; use best practices when taking unique, attractive images for your listings.
Don't forget your copy and messaging, either, which are key opportunities to establish that customer trust.
"You have to establish credibility with your shoppers," Lopez says. "You're not just selling the products but selling your ability to evaluate them and price them appropriately for the fact that they are pre-owned.

"People have to believe you'll treat them fairly. It's a lot of messaging to cover."
Targeting (& Retargeting) Interest-Based Audiences
Loyal customers are key to reCommerce success. But, to grow your brand, you also need to continually bring in new customers, especially those who may have never considered buying secondhand products before.
At Current Boutique, this prospecting occurs with strategic social targeting, using specific interest-based audiences.
Because Current Boutique prides itself as a reseller of authentic designer gems, our top-event (add to cart) campaigns target audiences who are interested in specific fashion brands, types of clothing (dresses, purses, etc.), and more.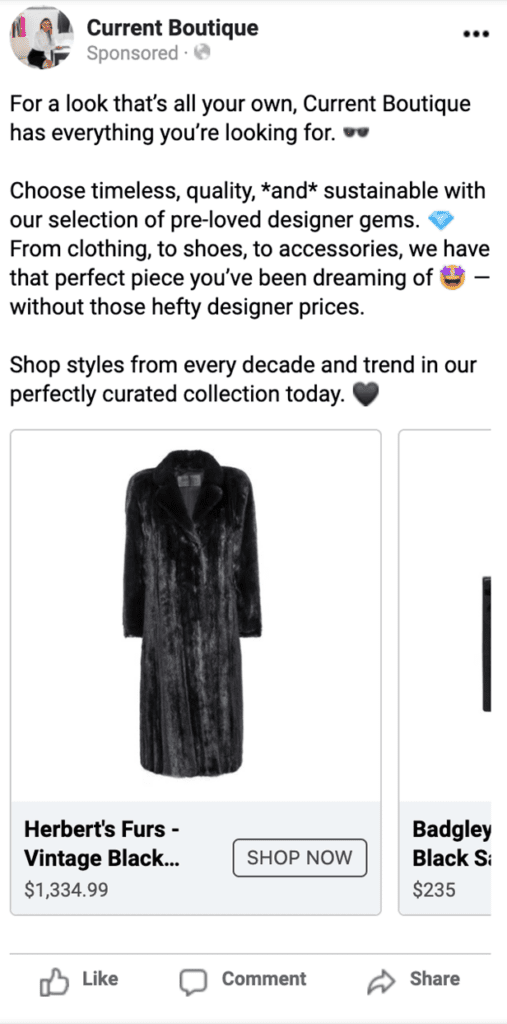 The goal with these campaigns isn't necessarily to convert; instead, it's to motivate new customers to visit the brand's website and, hopefully, add products to their carts — at which point, our team can retarget with strategic ads.
Using that data to create lookalike audiences, we then leverage our findings to identify new audiences who will follow the same behavior, creating a steady flow of site visitors for Current Boutique.
By focusing on Add to Cart campaigns to first bring shoppers to the site, our team saw a 32% decrease in cost per acquisition (CPA) and a 12% increase in ROAS when retargeting those shoppers later on.
Improve Your "reCom" Strategy Today
The reCommerce vertical is only growing in popularity and potential. If you sell or buy secondhand products as part of your business model, now is a great opportunity for you to expand your appeal and find new audiences that will grow your bottom-line revenue.
That said, reCommerce can be a tricky thing to market. You can't always treat it like a traditional eCommerce store, which means you need to continually test and improve your strategy over time.
Fortunately, as KEH and Current Boutique show, there are a few guaranteed strategies to bring your brand success. We've detailed them all in our "reCommerce Strategies for Success" guide, which you can download below for free. Use the checklist to further streamline and optimize your strategy today.
Download Our reCommerce Checklist Now
Want an expert to test these strategies for you? Our experienced team can create a customized plan of action for your reCommerce site to maximize your sales and revenue.
Request a free proposal now to find out what we can do for your brand.