Editor's note: This article was originally published in 2017. It has been updated for accuracy and to reflect modern practices.
While category pages aren't as flashy as their product page counterparts, they're equally important for your search engine optimization efforts — and for converting your customers to purchase.
When shoppers arrive at your category pages, they're still reviewing their options. It's your job to move them to the next step, whether that's viewing subcategories or particular product pages.
But, how do you get those shoppers to your category pages in the first place?
Today, we'll share the six eCommerce category page SEO practices that our team uses to drive organic traffic to our clients' sites — and, subsequently, to push those visitors to the next stage in the buying journey.
eCommerce Category Page Best Practices for SEO
Category pages are notoriously tricky for inexperienced marketing teams. With a large product grid, adding SEO content (written for shoppers, not crawl bots) is a delicate balance, especially when you want to improve your conversion rates.
Get started with these six strategies, which we've deployed with success across dozens of eCommerce websites.
We recommend combining these with our product page SEO tips for the best results.
1. Conduct your keyword research and create a strategy.
The first step in your category optimization: creating a target keyword strategy.
As mentioned above, users who land on category pages are in the middle of their buying journey. Therefore, you need to target both short and mid-tail keyword phrases (such as "women's gloves," "black women's gloves," "discount women's gloves," etc.) on these pages.
Save more specific, long-tail terms (particular brands, sizes, etc.) for your product pages to avoid keyword cannibalization.
You can use a tool like Ahrefs or Semrush to identify those keywords, and then deploy them accordingly:
Meta title (title tag): Target primary and secondary keywords, but don't forget to accurately describe the category title, too.
Meta description: Target all keywords, including variations.
Descriptions: Target all keywords, including multiple keywords with one usage (for example, if a primary keyword is part of a secondary keyword phrase).
Not sure where to start? Check out our advanced keyword research guide for tips on selecting phrases with relevant search intent.
2. Create SEO content that doesn't suck.
When it's time to put your keyword research to use in SEO content, it's tempting to overdo it. But your category pages aren't simply a vessel for keyword-stuffed content.
Instead, you need to be more strategic with your approach.
What Not to Do:
Category page content typically requires more than just product names and descriptions to be successful (unless you're a large, well-established brand).
However, putting too much content above the product grid lowers conversion rates, partially due to pushing product listings further down the page. Sometimes, it goes as far as pushing them below the fold.
Many SEOs have responded to this challenge by putting the content at the bottom, below the product grid. However, it's rare that anyone will actually see or read that content.
Too often, it's also useless "SEO content," as seen in this example from eBags old luggage department page.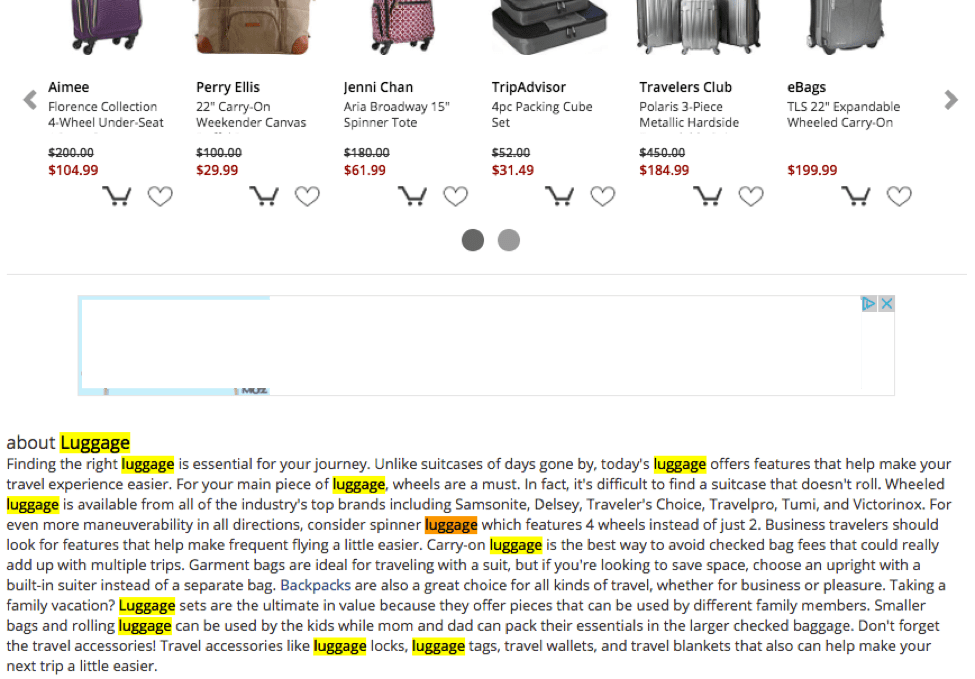 No user who scrolls down this far will be convinced to purchase by reading the content. It's obviously written for search engines and search engines alone.
Compare that to the "Advice and Inspiration" content that appears at the bottom of the Headphones category on Currys' website (shown below), clearly written with the user experience in mind.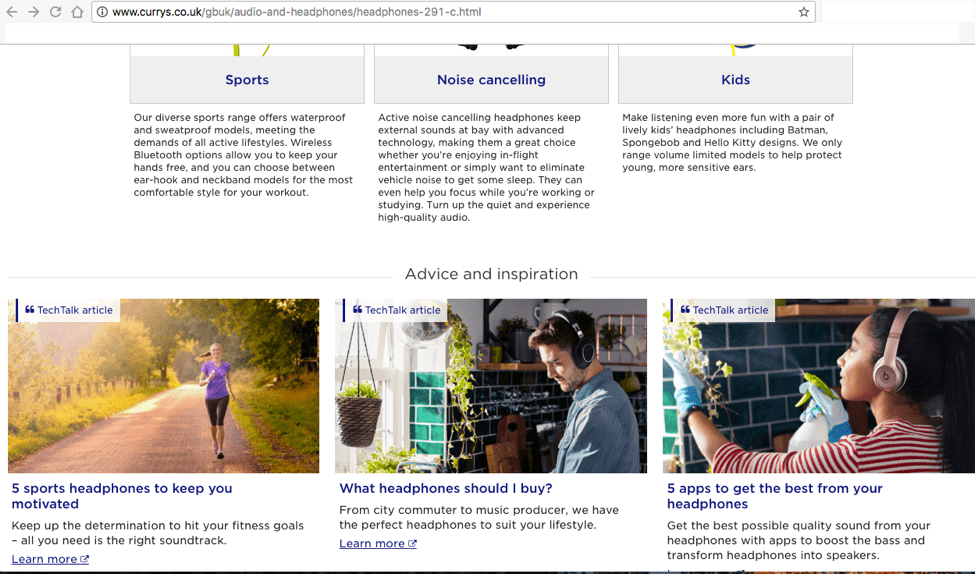 What to Do Instead:
The first rule of eCommerce copywriting: Don't write for search engines.
Instead, create valuable content for your shoppers that answers their questions, educates them about your products, and convinces them to take the next step (either continue reading or clicking on your product pages).
Well-planned, engaging content marketing can reap rewards for your business. Take it from us: Even short and simple category descriptions can improve your organic sessions by 46%, as it did for one of our clients.
Keep these guidelines in mind:
Content above the product grid (top of the page): 

Copy Length: Around 75–100 words
Goals: Use this to help a shopper filter or narrow their selection; to call out sales, special items, and top brands; and to provide other crucial information in two to three sentences.

Content below the product grid (bottom of the page): 

Copy Length: No minimum length (but keep it valuable for your readers!)
Goals: Use this to help your shoppers do more research without leaving your site or disengaging with your brand. Give them links to educational or interactive content that will push them forward in the sales funnel. 
Remember to avoid keyword-stuffing in your content, and consider adding more visuals (like high-quality images and videos) to provide extra value for your shoppers.

3. Use the right schema markup.
Schema markup communicates more information about your category pages to Google and other search engines. It also increases the chance that your content will show up in the featured snippets, which are valuable real estate in the search engine results page (SERP) rankings.
For category pages, we recommend two schema markups:
Breadcrumb Schema
Breadcrumb schema relates to your page navigation and shows searchers where exactly on your website a certain category page lives. That way, shoppers can better understand the relation between your pages and know what they're clicking on before they land on your website.

FAQ Schema
As the name suggests, the FAQ schema highlights certain questions on your category pages for potential placement in the SERPs.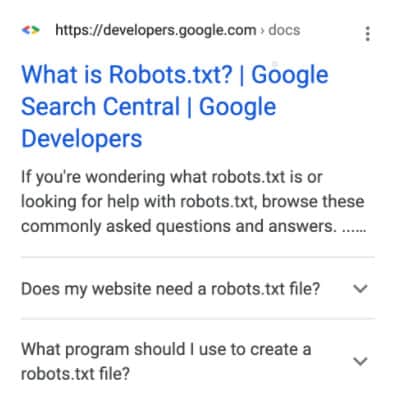 Question-and-answer sections are great for category pages. They help answer your customers' questions about different product offerings and can point them to the next subcategory page (or specific product page) that meets their needs.
And, when that content is featured in the SERPs, it gives your site more visibility and (potentially) a higher click-through rate (CTR).
4. Improve your internal navigation.
eCommerce product pages are often overwhelming for customers at first view. Fortunately, you can use faceted navigation and filters to help them narrow down their selection and better engage with your product offerings.
Faceted navigation and filters allow your customers to sort through individual products using whichever characteristics you choose, including:
Size
Brand
Color
Cut/style
Availability
And more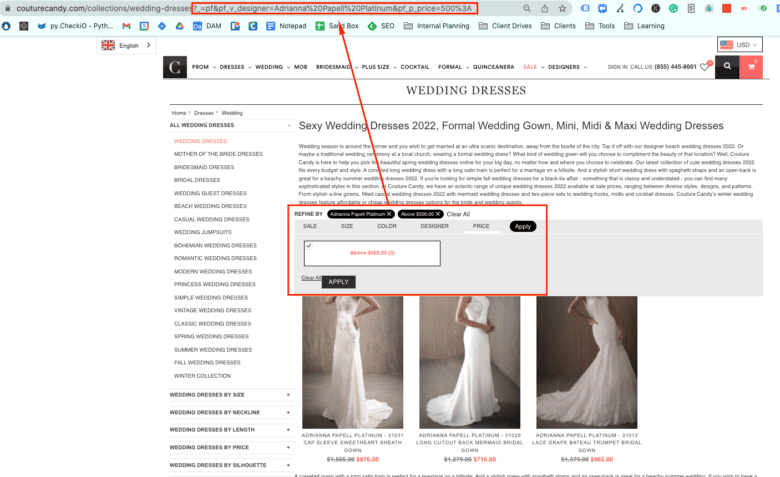 However, if you don't properly set up these faceted navigation pages, the URLs created from these filters can impact your SEO efforts.
Leaving these URLs available to be indexed can lead to duplicate content, index bloat, and wasted crawl budget. Because the content on these pages is essentially the same, your team will need to properly set these pages up to keep Google's eyes off of them — and to avoid bloating your site with unnecessary URLs.
A few options we recommend:
Canonical your parameter URLs (those created by filters/facets) to the main category page.
Noindex the parameter URLs completely. (Note: Do not use the canonical and noindex tactics together; choose one or the other.)
Use robots.txt and a disallow rule.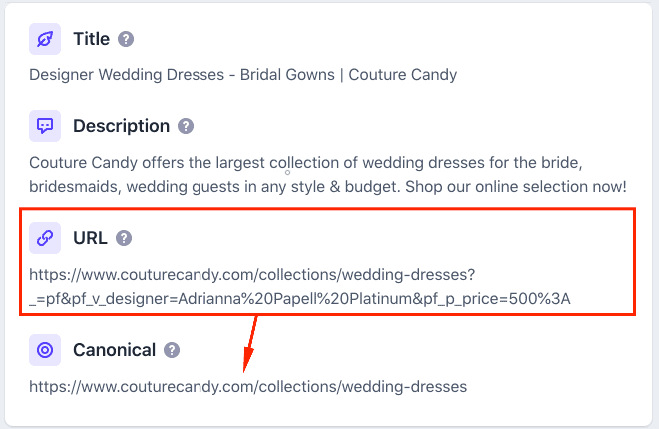 5. Focus on your technical page performance.
As part of your technical SEO checks, make sure that your eCommerce category pages are performing well from a user standpoint.
Typically, this can include steps like reviewing your Core Web Vitals scores and mobile usability.
Core Web Vitals
Core Web Vitals are Google's metrics for measuring the Page Load Performance of a webpage. Designed to improve user experience, there are three aspects:
Largest Contentful Paint (LCP): loading performance of a webpage
First Input Delay (FID): interactivity of a webpage
Cumulative Layout Shift (CLS): visual stability of a webpage
You can use Google's PageSpeed Insights tool to track your CWV scores. When you're ready to make improvements, start with our five recommendations, such as scaling down your images/videos and using a content delivery network (CDN).
Mobile Usability
Similarly, you should look to improve your user's experience on your mobile site. After all, in late 2021, 71% of eCommerce site visits took place on mobile devices, as did 58% of purchases.
To improve your mobile usability, make sure that:
Your site has an attractive, workable mobile design.
Your content is the same from mobile to desktop (especially important for mobile-first indexing).
Your site plugins are supported by mobile browsers.
Your clickable elements have "breathing room."
You can identify and review errors on your site with Google's Mobile Usability Report.
6. Add internal linking.
Not many sites want to link to a product grid page. In the rare case that an external brand does want to link to eCommerce pages, they'll likely either link to the home page or a product detail page. 
So, when it comes to linking to eCommerce category pages, the onus falls to internal efforts instead.
Where it makes sense to, build internal links from your supporting content (like blog posts and your homepage) to appropriate category pages. We're not just talking links in breadcrumbs for navigation; we're talking about in-copy links, as well.
Here's an example:
Say you're writing an educational blog post about choosing the best mountain biking gloves for your needs. Along the way, you can link to your URLs for "women's biking gloves," "outdoor biking gloves," and other relevant product categories.
And, the more popular your blog post, the better link equity you'll spread to your category pages — a win-win.
We also recommend using #namedanchors to send visitors directly to premium or expanded content on a product category page — so they can skip past the product grid to the content that will educate or answer their questions.
Using Strategic Internal Links to Gather Emails
Did you know you can also use internal links to gather customer data, like email addresses?
Capturing personal data prior to the checkout page is difficult (and often lowers conversion rates). But data acquisition strategies are a key part of keeping your customers engaged and coming back to your site after browsing.
Premium content is a great way to do this. Not only is it worthy of links, traffic, and shares, but it can also deliver an email acquisition opportunity.
By gating premium content (see the hypothetical example below), you can move customers further in the purchase funnel, instead of losing uninterested shoppers at the bottom of your category page.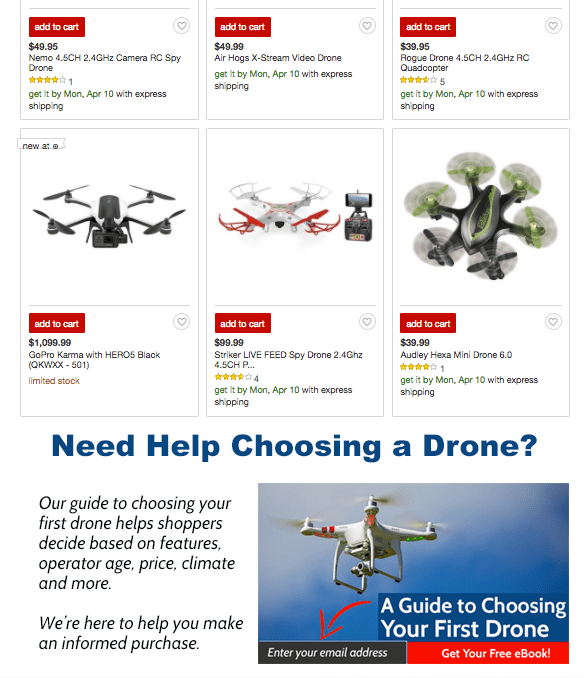 Create Your Category Page SEO Strategy Now
Category pages don't have to play second fiddle to your product pages. Instead, with the right strategy, you can use them to draw more shoppers to your site and funnel them to those high-purchase pages.
Because every eCommerce site is different, we recommend reviewing your current category pages for improvement opportunities prior to implementing any best practices. Prioritize those pages that have the best potential (either because of quick wins or high-search-volume keywords), and create a strategy that you'll eventually deploy across all of them.
Don't forget: SEO is only one aspect of your category page performance. You should also consider conversion rate optimization, especially as it relates to your buyer journey. We recommend reviewing gallery page examples from top brands to find ideas that you can incorporate into your larger category page strategy.
In our opinion, a personalized approach will deliver the best results. By working with Inflow's SEO team, you'll get a comprehensive audit full of custom page improvements — and, even better, our team will help implement them as part of your digital marketing strategy.
Learn more about our eCommerce SEO services by requesting a free proposal today.