Each year we analyze leading eCommerce sites across dozens of categories to identify what features and technology they're using. We also run dozens of A/B tests for our own eCommerce clients.
In this post, we detail our research about mobile and desktop design trends on eCommerce gallery pages — combining what we've learned from studying best-in-class sites with insights from work with our clients.
Here are the top trends found on best-in-class eCommerce sites in 2018, including:
Popular Gallery Page Features

Up-and-Coming Gallery Page Features
Note: Want to talk to our CRO team (who performed this study) about how your site compares to the best-in-class? Reach out here or schedule a call above.
Part 1: Popular Gallery Page Features
We found these three features were among the most common features found on gallery pages across the eCommerce sites we reviewed.
1. Multi-Select Facets
In use on 19 of 20 best-in-class websites (1 site not applicable)
If you do not already allow users to select multiple facets when searching for products on gallery pages, this is a must-have for 2018. We've found a strong return-on-investment (ROI) for our own clients who have invested in this feature.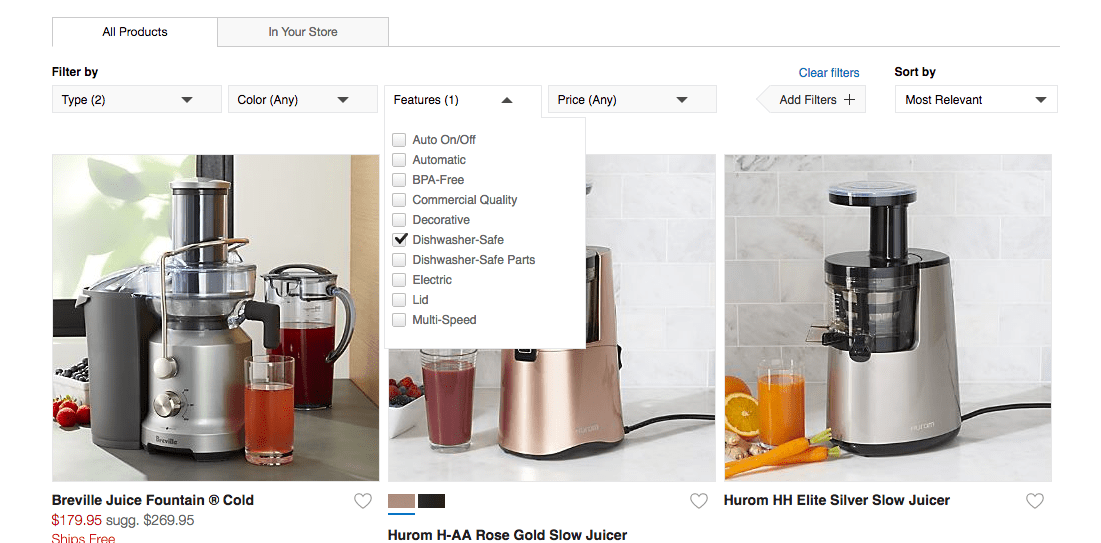 On mobile sites, we've also seen a great improvement in the user experience around this feature. For instance, many sites allow you to select multiple facets before refreshing the page. Wayfair shows you the filters you've already selected as well as how many products this leaves in your search results.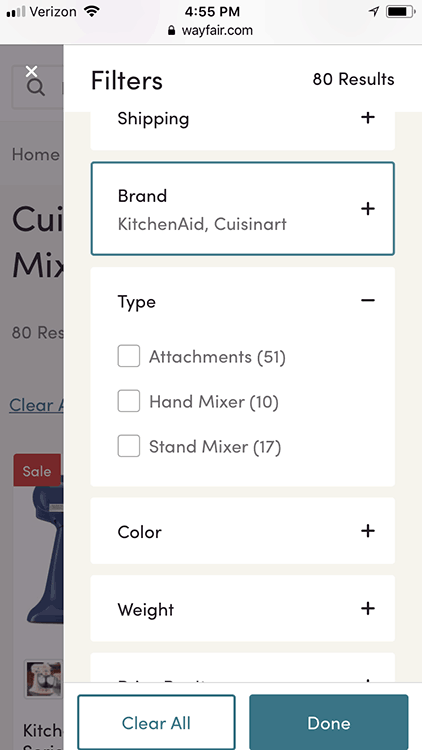 2. Show Available Product Colors
In use on 15 of 20 best-in-class websites (1 site not applicable)
This feature has grown more common and is becoming a convention as eCommerce technology has advanced. In our own testing, we've found that showing what colors are available for a given product aids conversions.

Once again, this is a feature that is trending and useful on desktop sites, but is significantly less popular on mobile sites due to interface issues, such as passing the "fat finger rule." (Your friends with larger fingers should be able to easily use the feature.)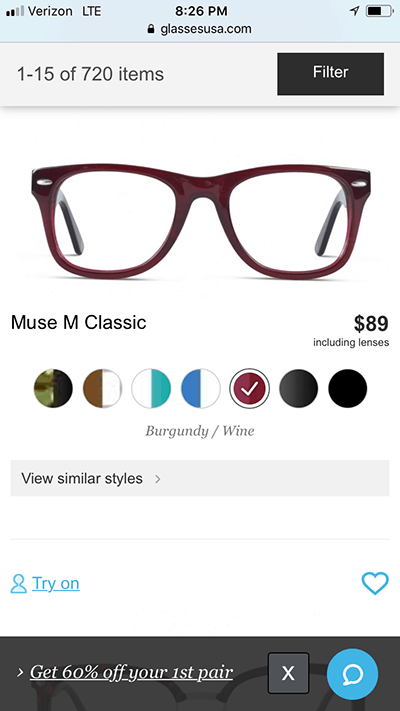 3. Price Selection Within Facets
In use on 11 of 20 best-in-class websites (1 site not applicable)
Filtering products via a price range is a useful feature that customers appreciate; however, highlighting it can lower your average-order-value (AOV). The key on most sites is to place it lower than other popular filters you want customers to consider first — such as color, brand, etc.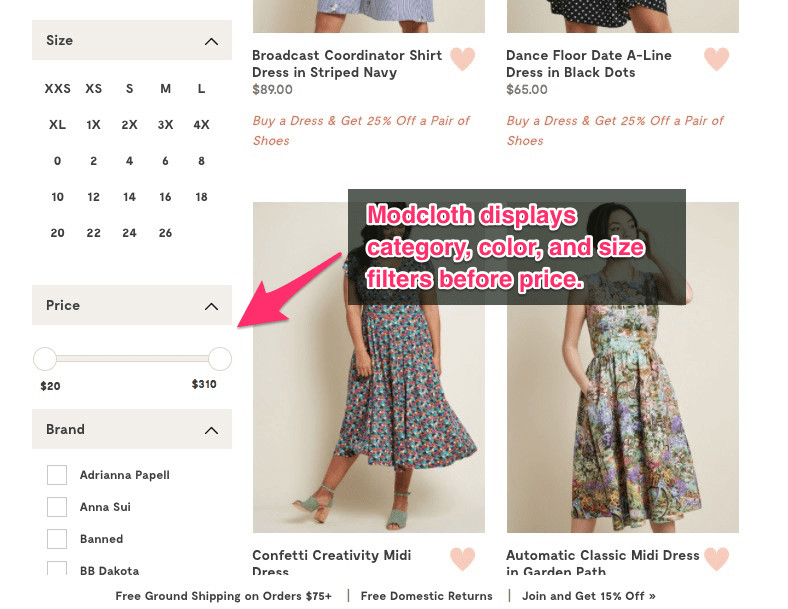 Part 2: Up-and-Coming Features for Gallery Page Design
We also found several up-and-coming features for gallery pages design.
These aren't in use on all of the websites we studied, but they are being adopted by more and more companies when compared to our research from last year.
4. Contains a Promote Section at Top of Gallery Pages
In use on 15 of 20 best-in-class websites
Having a promotional section on top of product search results is trending up this year; however, it's something we recommend testing to ensure it works well on your site.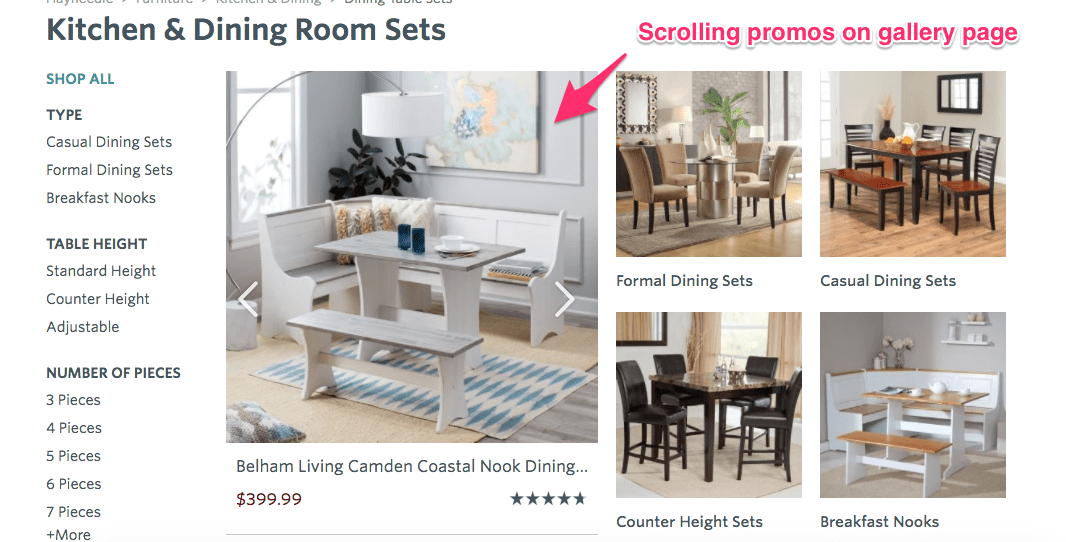 This is also a common feature on mobile sites and a good way to promote site-wide or department-wide sales.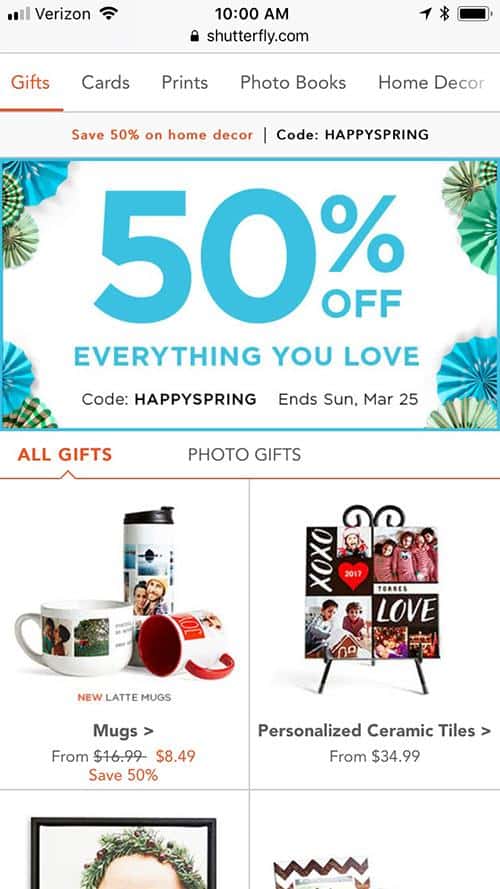 5. Highlight "New" Items
In use on 13 of 20 best-in-class websites
This feature is especially important for sites like ModCloth.com or William-Sonoma.com that cater to trend enthusiasts. For these sites, "new" is an important navigation stream to their customer's experience.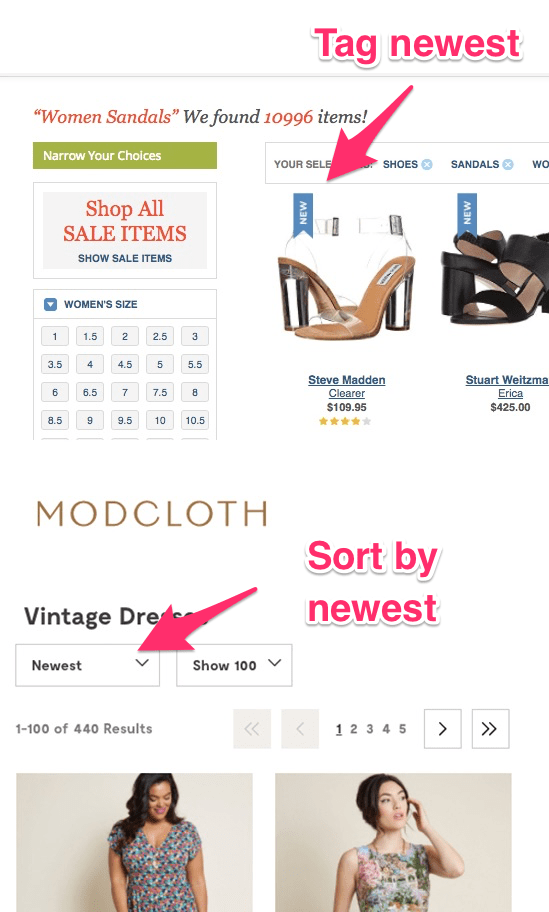 6. Showing Ratings and Number of Reviews
In use on 10 of 20 best-in-class websites
While showing ratings and reviews is growing more common in certain markets, it doesn't work well for everyone.
The feature is more useful for resellers, such as Walmart.ca and Zappos.com. But when personal taste is a top selling point or when the eCommerce store is also the product manufacturer, we find that best-in-class sites generally don't push review ratings up the gallery pages.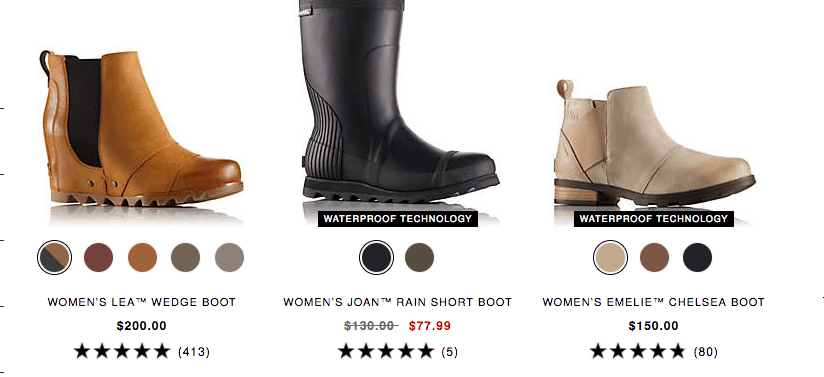 On mobile sites, there is a downward trend and if you're currently using this feature or considering it, we recommend testing.
In our own testing, we've seen removing reviews on gallery pages have a positive impact on conversions, especially when not all products have reviews or there are not a lot of reviews per product.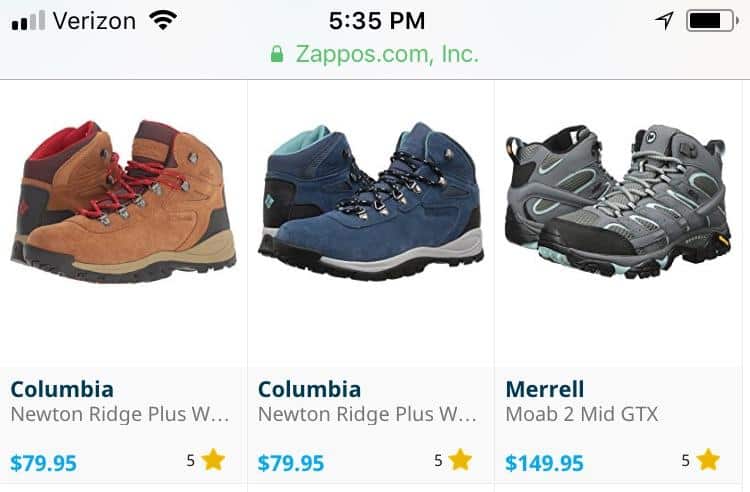 7. AutoScroll
In use on 7 of 20 best-in-class websites
Autoscroll on gallery pages — the ability to see all products on one page rather than click to another page — is trending up this year, but the majority of best-in-class sites have yet to sign on, possibly due to the difficulty to implement. It's worth testing as we've seen this feature raise conversions when well-implemented.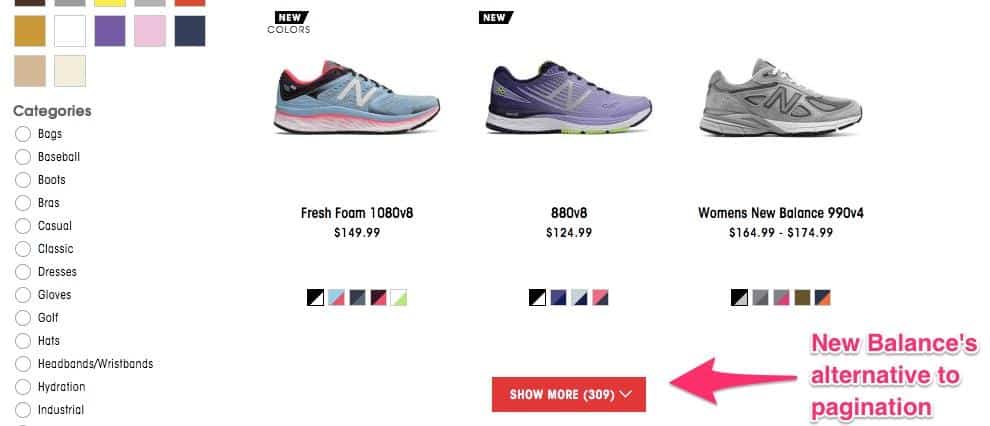 8. Mobile Trend: Sticky Filter/Sort Bar
In use on 7 of 20 best-in-class websites
A sticky filter/sort bar allows users to continue modifying their search results as they scroll. This is a very new and useful trend which is rapidly catching on. Back in 2016, no best-in-class site we researched had yet implemented it.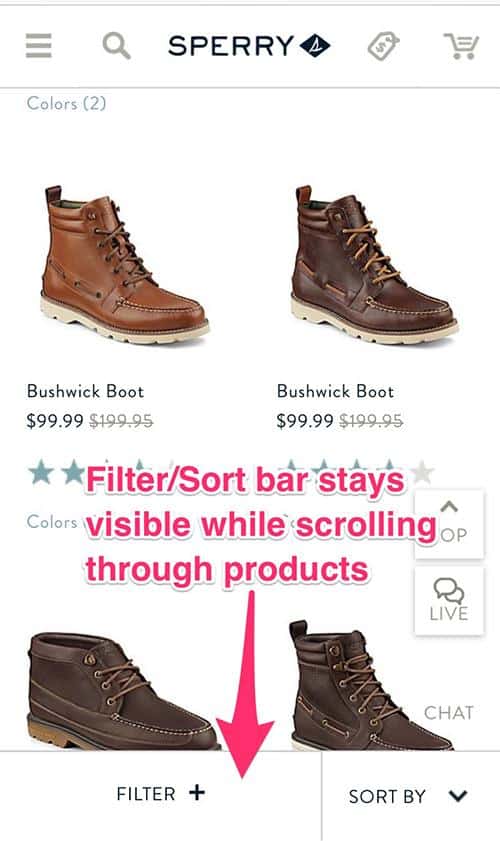 What Will Work Best For You?
Looking at the features top sites are implementing is a great way to gather ideas for your own site — especially if you see them happening in your market.
However, nothing beats testing new features for yourself.
Note: Want help improving gallery pages on your eCommerce site to optimize conversions? Contact us to discuss how to optimize your site for conversions.