When your eCommerce business sells a wide variety of products, tracking and comparing their performance each month can be a major headache.
Manually chasing down product data from Google Analytics across sources, marketing channels, and date ranges can be a laborious, time-consuming process.
Fortunately, there is a better way.
Tired of going through the same process month after month, Inflow's team came up with a solution: A pre-loaded Google Data Studio template that pulls in eCommerce data for your top-performing products and categories with just a few clicks.
The best part: It's absolutely free for you to use!
In this blog, I'll walk you through how to use the different sections of this Google Data Studio Report to inform your marketing campaigns and drive the most revenue for your online store.
Get started by downloading the tool now.

Inflow's Top Products & Categories Template
First, a little background:
As an eCommerce digital marketing agency, Inflow works with several retailers who sell a variety of products at individual and wholesale prices. Because of their vastly different product categories, their performance is often highly seasonal — making tracking and analyzing weekly and monthly data crucial, especially with current inventory and supply chain issues.
We created this template to keep that information all in one place. We use it frequently to monitor top-performing products on a client's site and in their PPC campaigns, keeping an eye on seasonality, product categories, and other important metrics to optimize our current Google Ads marketing strategy and plan ahead for next season.
In the screenshots below, I'll show you how I use this tool for one such client. But don't panic when the tool you download doesn't look like the pictures below!
For confidentiality, I removed the sample client data source before publishing this template. Add your own data source to the form, and your numbers should populate correctly.
Now, let's get started.
The video below is hosted on YouTube. If you need assistance with viewing the video, please contact [email protected].
Sheet #1: Sitewide – Top Products
The first table in this template is our "Sitewide Top Products." By understanding from a top-level view which products are performing well across your eCommerce site, you can better view current customer trends (without the effects of PPC campaigns, which we'll get to later on).
These sitewide top product total numbers will not only include your paid search campaigns, but also traffic from organic search (SEO) campaigns, social media campaigns, brand loyalty, and more.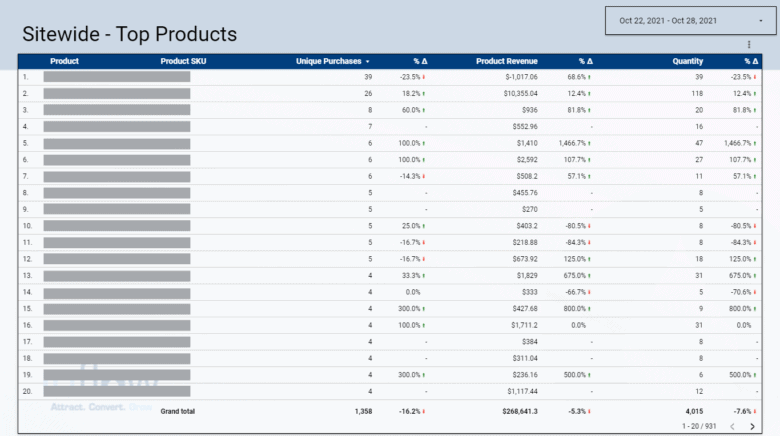 Every table in this template will include a percentage change column, which will automatically be set to the previous period (in this case, the last seven days). You can change this default comparison period by clicking on the default date range box in the upper right corner.
Sheet #2: Sitewide – Top Product Categories
Individual product performance reports can be helpful — but, if you're looking to plan ahead with your campaigns, our "Sitewide Top Product Categories" tab will be more useful to your team.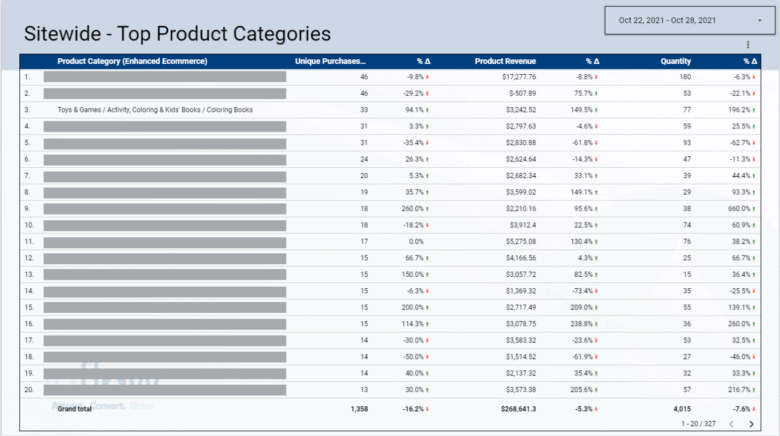 Looking at product category performance shows which types of products are popular at certain times of the year, helping you plan for seasonality trends. For example, if your "Coloring Books" category performed well last September (back-to-school season!), you can make sure you have those covered in your September campaigns this year.
Note: If your accounts don't have "Enhanced eCommerce" enabled, you can change this metric to "Product Category" instead.
Sheets #3–4: Google PPC – Top Products & – Top Product Categories
Once you have an idea of how your products and categories are performing on a sitewide basis, you can then dig deeper into your PPC efforts with the "Google PPC Top Products" and "Google PPC Top Categories" tables.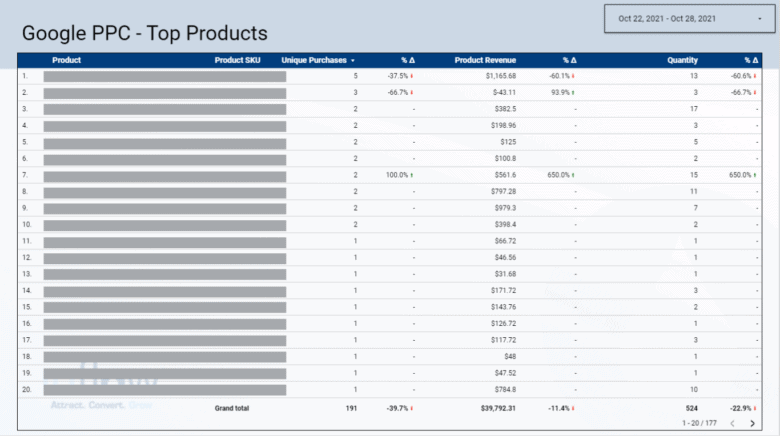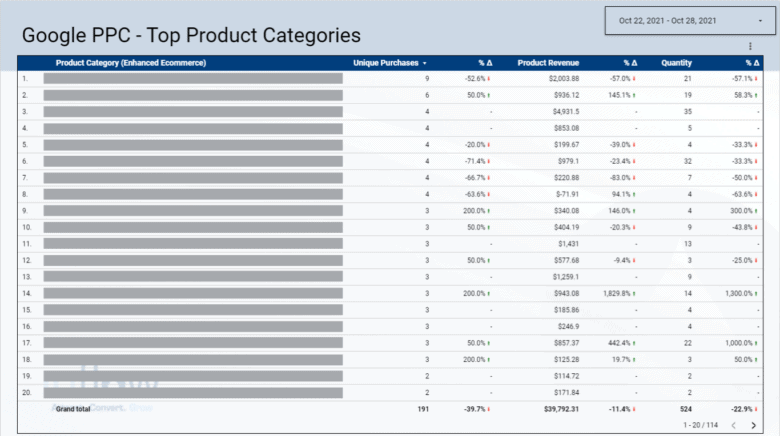 These tables are organized the same way as your sitewide tables, with the source set to "Google / PPC." If you're running Bing ads, you can duplicate this sheet and add "Bing / CPC" as your source. If you want a single table that incorporates all of these campaigns, create a filter that encompasses those both.
Pro tip: If you'd like to see which channel shoppers are coming from, you can also add "Campaign" as a dimension in the data table for either of these tabs.
Sheet #5: Google Shopping – Top Products
To get even more granular with your PPC top performers, we created separate Shopping and Search tables. I'll focus on the former in this section.
The "Google Shopping Top Products" is extremely helpful for all of your account maintenance needs. By looking week to week, you can evaluate specific product IDs, compare them to inventory, and make optimizations as you see fit.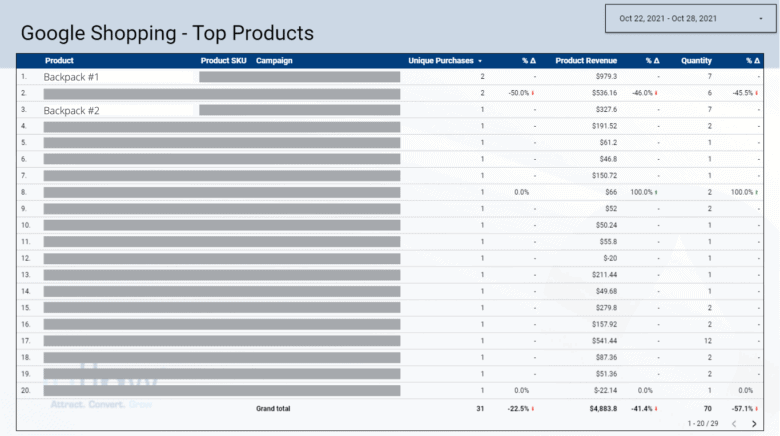 Here's an example: Say we look back at top Google Shopping performers in July and see that a certain brand of backpacks sold extremely well. Again, you can use this data to push those top performers in your campaigns to make sure you're not missing out on valuable impression share during this hot month.
But, what these products sell too well — and they go out of stock? You can use this same table to identify the products to push next! Just look at which was the second-best-performing backpack product in your Shopping ads, and focus on that instead.
Remember to keep inventory in mind when evaluating your Shopping data. For example, if a top performer suddenly drops to zero purchases in this report, look at your inventory numbers. Most often, that product will be out of stock (not less popular). This is where our percent change column can come in handy and, on a shorter-term basis, show you which campaign adjustments need to be made.
Sheet #6: Google Search – Top Products
We recommend the same approach with the latter of these two tables, the "Google Search Top Products" tab.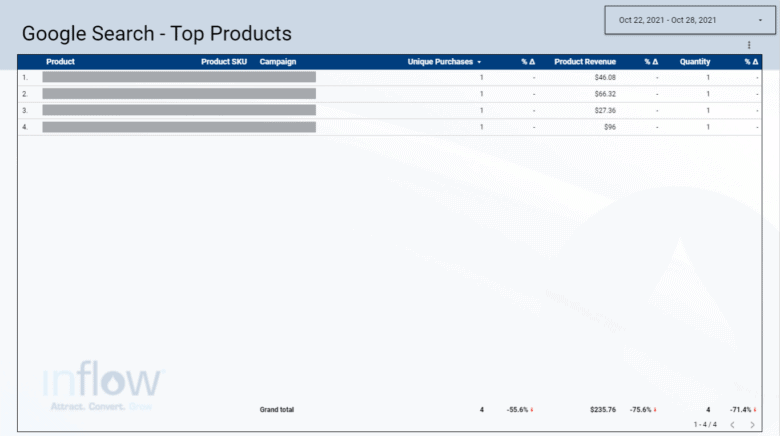 If you recognize a top performer in your Search (or Shopping) campaigns, consider taking that particular product and highlighting it as a site link within your ads. That way, you can get more customer eyes on popular products with the best real estate in the SERPs.
Again, consider your inventory. Unlike Google Shopping, Google Search won't flag ads promoting out-of-stock products. It's up to your team to check landing pages and make sure the products you're advertising are actually there for shoppers to buy!
Sheet #7: Google PPC – Brand – Top Products
Now, to the final page in our template: "Google Brand Top Products." As you can guess, this table populates the top sellers within your branded campaigns. In other words, these are shoppers who are already familiar with your eCommerce store and are searching specifically for your site, not for individual products.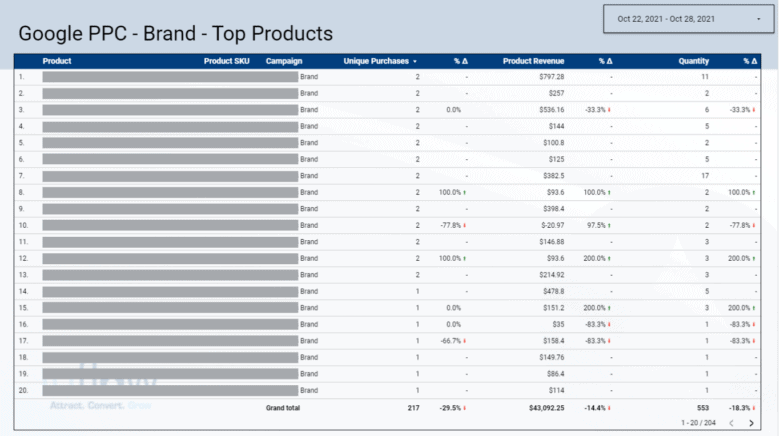 This can be another great resource for evaluating shopping behavior and trends. Looking at these repeat customers' purchases, you can identify the time periods where they start buying certain products — and apply that knowledge to your other campaigns, too.
A Note on Filtering by Campaign
Sheets 5, 6, and 7 in this template include "Campaign" as a data dimension, which can be helpful in understanding your traffic sources — until it's not. That's why I recommend comparing the data across your tables for the fullest picture.
Sometimes, your "Campaign" and "Product" data won't match up. For example, let's say you see purchases that come through your "School Supplies" campaign — but the purchases themselves are for masks, which are associated with a different campaign entirely.
Another example: Let's say you're selling a lot of washcloths in your "Google PPC Top Products" table. However, when you come to this Brand table, you see all of those purchases are associated with your branded campaigns, not the suspected "Towels & Hygiene" campaign.
So, what gives?
Remember: After customers click on your ad and get to your website, they don't have to buy that particular product. Instead, they may search around your site and buy a completely unrelated product to what brought them there in the first place.
This is a great way to sniff out buying seasonality trends, especially when it comes to purchases linked to your branded campaigns.
Download Our Free Template Today
And there you have it — seven helpful tables to keep an eye on your top-performing products, both sitewide and in granular detail. We hope it's helpful in not only analyzing your product performance and KPIs, but also in saving you from the hours spent combing through your eCommerce analytics in Google's platform.
Use the tool as it's intended, or make duplicate tabs and create the filters and tables that work best for your needs. Average order value (AOV), conversion rate, total revenue, and other key metrics would be great additions to any custom report.
And, if you have any suggestions for edits, we'd love to hear them in the comments below.
Download the tool now to get started.
Want more free eCommerce reporting tools like this? Check out our other resources below: