Over the last year, Inflow's digital analytics team has been working hard to migrate our clients to Google Analytics 4 in preparation for the sunsetting of Universal Analytics.
To date, we've successfully configured the setup for more than 60 websites, both eCommerce and non-eCommerce. By replicating (or improving upon!) their existing data tracking in UA as closely as possible, we've provided our clients valuable historical data within GA4, giving them a leg up when the transition officially occurred on July 1, 2023.
In today's blog, we'll explore the work we did for two such clients — KEH Camera and Worldwide Business Research — including the unique challenges and solutions we discovered along the way.
Keep reading for the full details, or contact our team to have them audit (and recommend improvements for) your GA4 configuration today.
The eCommerce Site: KEH Camera
KEH is a reCommerce business that resells professional, collectible, and everyday camera gear. They've been an Inflow client since 2019 for a variety of services, including paid social, search engine optimization, and more.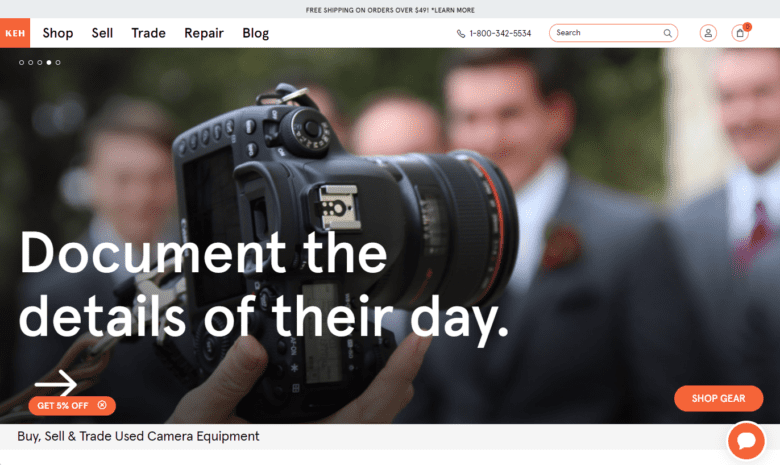 The Challenge
Unlike traditional eCommerce brands, KEH has two sides to their business: Shop (for customers buying products) and Sell (for customers selling their products to the brand).
While KEH was able to successfully track both of these audiences separately through Enhanced eCommerce in Universal Analytics, that functionality no longer exists in the new version of Google Analytics — forcing the brand to get creative with their new configuration and attribution, especially when it came to existing custom events used to track "Sell" conversions in UA.
In short, KEH needed a new data-collection solution in GA4 that would segment out purchases from both Shop and Sell (as well as the user data for each audience) to better inform their digital marketing strategy.
Before our partnership, the KEH team had used an Enhanced eCommerce converter to replicate their UA data layer for GA4. While it mostly worked, it wasn't as clean of an installation as our team could provide and would have eventually needed to be revisited when the complete transition to GA4 was made.
The Solution
Using our Google Analytics 4 setup process as a foundation, we took the concept of enhanced eCommerce forward into GA4-style events, values, and more with a custom configuration for KEH.
We started by using GA4's eCommerce setup to track both Shop and Sell activity from the website. With customized purchase and eCommerce events, we were able to pass in where each transaction was coming from (Shop or Sell) to not only track website actions but also user-level actions (with a similar custom setup on the user side of the analytics platform).
Combined, these configurations would give KEH plentiful options to segment their data, either at the event or user level. In turn, they could better understand their customer journey — where different audiences were browsing on their site, where purchases were coming from, and more.
To push our tracking live onto KEH's site, however, we needed one more step: a custom data layer.
While many eCommerce platforms have plugins that assist with GTM data layers, few can handle the complexity of a site like KEH — or the ability to parallel-track UA and GA4, as we're recommending for our clients until next year's deadline.
So, we worked with KEH's web team to create and implement a custom data layer that would set their GA4 tracking into motion.
Get our free eCommerce data layer in our GA4 tracking toolkit today.
The Results
Even with its Shop and Sell complexities, KEH's GA4 tracking is performing as expected by our team.
In our reporting dashboards, eCommerce purchases compare closely across UA and GA4, with users sitting at a typical 10% discrepancy due to the difference in the platforms' configuration (user- vs. event-based.) These results are common across all of our GA4 clients, eCommerce and non-eCommerce.
Fortunately, KEH had already included BigQuery in their overarching web analytics strategy, making the data warehousing required by GA4 much simpler to implement.
As a reminder, Google Analytics 4 only stores 14 months of historical data within its platform. For your site to have access to more historical data, you'll need an integration with BigQuery — which will store your site's data and allow you to compare longer periods in applications like Google Data Studio.
BigQuery is also technically the most "accurate" source of GA4 data.
Although Google Signals data does not come through to BigQuery, we've been successfully using the integration so far for KEH's needs.
The non-eCommerce Site: Worldwide Business Research
Worldwide Business Research is a company that plans and hosts more than 100 annual worldwide conferences (both in-person and virtual). They also execute the marketing needed for those events, including email marketing, digital advertising, and more.
As a partner to our current client IQPC, WBR reached out to Inflow for GA4 migration services earlier this year.
Note: To avoid confusion with GA4 "events," we've capitalized Event in reference to WBR's conferences in the Google Analytics case study below.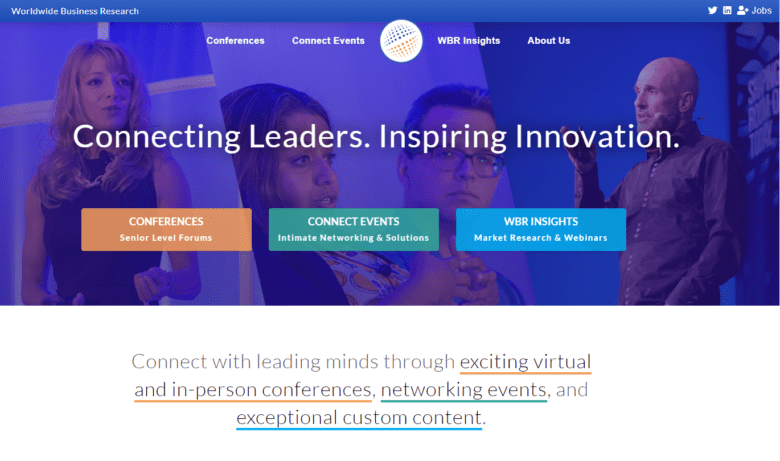 The Challenge
As a non-eCommerce site, WBR needed to track data across three global offices and hundreds of subdomains.
In Universal Analytics, WBR had relied heavily on views for each of their Events/subdomains. However, with views no longer existing GA4, WBR needed a solution to get Event-level data from each subdomain.
Their goal: Streamline an entire office's tracking while keeping the ability to segment out data by Event/conference.
In case that wasn't enough, the company also needed to change their Google Ads tracking to meet GA4's capabilities. (Previously, they had imported conversions from UA views, which, as mentioned, no longer exist in Google Analytics 4.)
In short, WBR needed a completely custom architecture recommendation for their Google Analytics 4 configuration and tracking.
The Solution
To consolidate WBR's data-tracking and reporting options, we recommended setting up one GA4 property per office, with different segments for the Events/conferences hosted by each location passed into GA4 from Google Tag Manager (GTM).
In other words, individual Event data could be viewed by applying segments (comparisons, filters, audiences, etc.) to their reports or through filtered Data Studio dashboards. Any unsegmented reports would be a comprehensive report of all the office's Events.
That way, WBR could more clearly distinguish the KPIs for each Event they hosted across the globe with much less effort than before.
Using our confidence in and knowledge of GA4 capabilities, combined with custom event setup to track Google Ads, we implemented WBR's new architecture smoothly — giving the brand deeper insights into its Event performance without the multi-property headache of the past.
An added bonus: By setting up one property per office, we avoided the need to set up BigQuery and Google Ads tracking for every single Event as done in UA.
The Results
Like most clients, WBR continues to report most of their data out of Universal Analytics. But, by completing this setup far before next year's deadline, we've given WBR's marketing team more flexibility in not only learning their new GA4 setup but also how to best report out of it for their future marketing needs.
In addition to the configuration described above, we also created a custom Data Studio template for the "segments" of each Event — avoiding any need for WBR's team to dig around in GA4 (and get more confused than before) while giving them every tool needed to evaluate each Event's performance and make appropriate business decisions.
Still Need to Set Up Your GA4?
When it comes to the new Google Analytics 4, the clock is ticking.
To get as much historical data as possible for future comparison, now is the time to start configuring your analytics data tracking in the platform.
If you need help making it happen — or would like an expert to evaluate your current setup — Inflow is always here to help.
Request a free GA4 migration proposal now to learn how we can help get your site set for future data-tracking success.