Want to make sure your Google Ads campaigns stand out in the crowded PPC advertising field?
Then it's time to dive into a little competitive research.
With Google limiting paid search data at unprecedented levels, accessing competitor data as a paid search marketer gets harder every single day. But, with a little digging, you can still find actionable insights within Google's platforms and certain third-party tools.
In this blog, I'll walk you through how our team of paid search advertising specialists evaluates the competition for our eCommerce clients using five tools:
Want an expert to analyze your Google Ads competitors for you? Request a free Google Ads Competitor Analysis from our team now.
The Truth About "Spying" on Your Competitors in Google Ads
First, I'm going to address a question we get time and time again from new clients:
"Can I see how much my competitors are spending and which keywords they're bidding on in Google Ads?"
As mentioned above, to the frustration of every paid search marketer, Google has been cracking down on the competitive data and metrics it provides advertisers. We believe it's part of the larger backlash on customer data information sharing, and it means the days of detailed competitor insights are in the past.
But, as you're lamenting the inability to "spy" on competitors in Google Ads (formerly Adwords), I pose a question: Would you want your own competitors to be able to do the same thing?
Remember, any data you can find on your competitors is data your competitors can find on you. For this reason, paid search marketers should learn to love the new industry-specific competitor data we do have access to — which, in many cases, is more useful than specific competitors' keywords and bid numbers anyway.
How to See Competitors in Google Ads: Auction Insights Report
While there are no direct ways to see how much a competitor is spending or see what keywords competitors are bidding on in Google Ads, the platform does provide a helpful overview of your and your competitors' performance.
You can find this in the Auction Insights Report, listed under both "Campaigns" and "Ad groups." (You can also view Shopping and Search data separately.)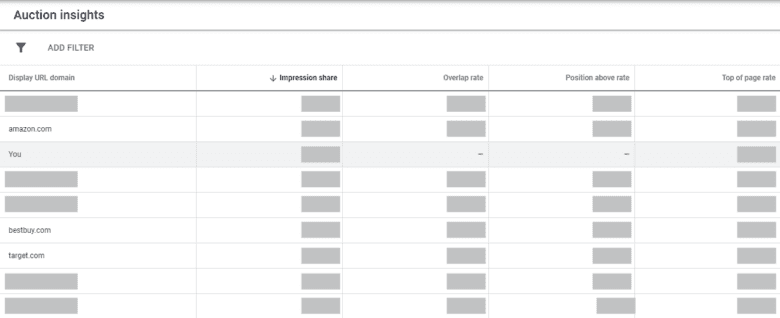 All of this data — overlap rate, outranking share, etc. — is helpful, but our team focuses most on impression share.
As a reminder, impression share is how often your ads appear in the Google search engine results pages (SERPs). Because it's extremely rare to achieve 100% impression share, a share of 60–70% can be a good result. The more competitors you have in your field, the harder it may be to achieve a higher impression share, regardless of your ad budget.
A variety of factors can impact search impression share. If you have concerns with your results, we are here to help!
While you can't use this data to know exactly what your competitors are spending, you can use it to track changes over time. If a competitor's impression share rises or falls substantially, or new competitors enter this report, you might extrapolate those changes to budget adjustments or use them to explain a rising cost-per-click (CPC), respectively.
We also use competitive metrics to evaluate how our budget is impacting those impression shares.
Again, it's normal to not be appearing in the top position 100% of the time (which is why even the best ads have some search lost impression share due to rank). But, if you're losing out impression share due to budget (seen in the column below), you can assume that certain competitors are outbidding you or have a higher budget to work with.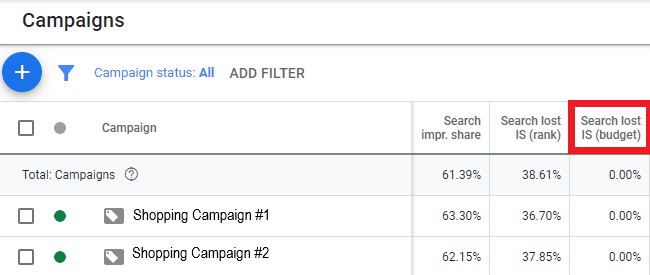 The Grain of Salt
As always, this information comes with a few caveats. A lot of factors come into play when it comes to search impression rank, not just budget.
Let's look back at this example. All of these competitors are so listed because they are bidding on "[specific consumer good]"-related keywords.
However, the playing field is vastly different between big box brands like Amazon and smaller eCommerce brands that only sell that specific consumer good. Therefore, while Amazon is technically a competitor in this report, a smart PPC marketer recognizes it's not a brand their smaller client should be worried about.
Instead, they should focus on more relevant, niche competitors that specialize in that same consumer good.
Similarly, just because a competitor has a smaller impression share than your brand doesn't mean they're spending comparably less, percentage-wise. Several factors — including how much of that stock you carry or whether your products have Global Trade Identification Numbers (GTINs) — can also impact impression share.
Other Helpful Tools for Evaluating Your Google Ads Competition
Because of the decreasing data that Google Ads provides, we recommend less focus on individual competitors — and more focus on the industry itself.
In today's paid search landscape, you'll never be able to discover exactly how much your competitors are spending or which keywords they're bidding on. However, you can make inferences about their behavior based on the trends and data available for your industry.
Our team uses these analysis tools to understand the bigger picture for our clients:
1. Google Ads Keyword Planner
For estimated keyword search volume and forecasted bid range, use Google Ads' Keyword Planner tool. Type in a keyword that's crucial to your business, and you'll get data to better understand search trends and what you may need to bid to have your ads appear.

Another grain of salt here: In researching search terms for our clients, we've found the "top of bid page (bid range)" to be estimated incorrectly in Keyword Planner. For certain specific keywords, we've had to historically bid much higher than Keyword Planner forecasted.
So, while this data can be helpful, don't take the report 100% at its word. Instead, experiment with your own bids to find what works best for your campaigns.
Hot tip: Use Keyword Planner to find the low-competition search terms, and, if they're relevant to your business, make sure your brand has an exact match or phrase match of these terms. While a search term with 20–40 searches a month typically doesn't move the needle, getting an ad group full of these profitable keywords can help with incremental revenue and keep your KPIs on track.
These low-competition/high-performer campaigns allow us to hit benchmark goals and test other campaigns and strategies. Read more in our PPC case studies now.
2. Google Ads Campaign Target ROAS Simulator
For more budget forecasts, we recommend the Campaign Target ROAS Simulator. This tool evaluates your current campaign ad spend and competitors' actions to estimate the growth you'd see if you were to change up your budget.
Based on your desired ROAS, the platform estimates the total budget (and additional budget per day) required to meet your goals.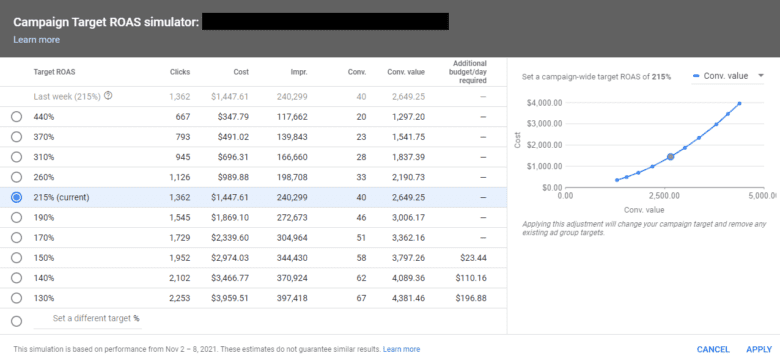 In our opinion, this data is much more actionable than any specific competitor data. By looking at it on an industry-wide level and taking all competitors into account, the Campaign Target ROAS Simulator provides the best insights for growing your Google Ads accounts.
But, as always, don't take this data at face value. Always test first to see how these forecasts affect your PPC campaigns before making any big changes. (We recommend using the Experiments features when moving from a different bid strategy to a Target ROAS strategy.)
Note: Sometimes, if ad spend or traffic is too low, you may see lower performance when implementing too high of a Target ROAS goal. If this is the case, we recommend testing a Max Conversion Value strategy rather than enabling the Target ROAS feature.
Learn more about automated bidding strategies now.
3. Google Merchant Center's Price Competitiveness
A part of Google Merchant Center's Market Insights, the "Price Competitiveness" report is a great way to see how your product prices stack up against your competitors in the industry.
By looking at your Google Shopping data feed, the Price Competitiveness tool creates a comparison of your prices with those from other merchants selling the same products — separating them out by prices above industry average, in line with industry average, and below industry average cost. (FYI: The last category is where you want your products to be.)

You can also view price competitiveness for specific products, product types, categories, and brands, too.

It gets even more granular! You can view how your own particular product listings stack up against industry averages when you click on "view submitted products."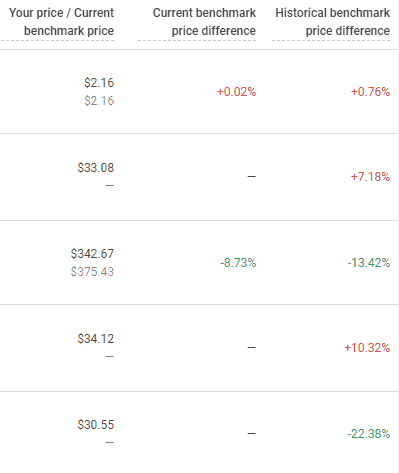 Note: To use this tool in Google Merchant Center, your products must have GTINs — an important part of Google Shopping data feed optimization.
4. Google Merchant Center's Best Sellers
You can also use Google Merchant Center to view the top products in your industry. These "best sellers" are based on the products in your own Google Shopping feed.
While there may be unrelated outliers (usually from competitors who sell a wider range of products), you can use this tool to see which relevant products are performing well — and adjust your Shopping and Search campaigns based on those trends.
You can narrow down these popular products into your niche using the "category" filter.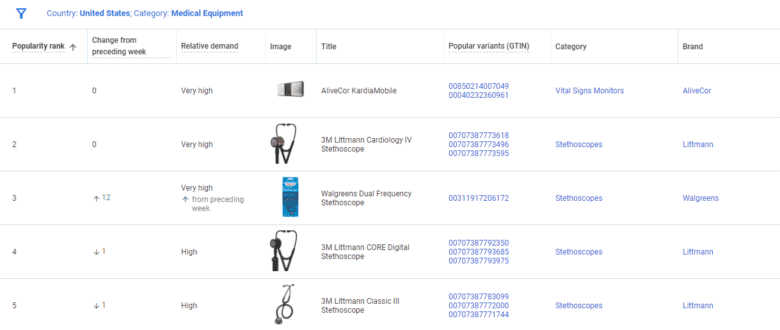 5. Semrush's PPC Toolkit
Remember how I said specific Google Ads competitor data is hard to find?
Well, there currently are a few tools that can fill those gaps.
One such tool is Semrush's PPC Toolkit. With market analysis, keyword research, and ad tracking, you can keep a close eye on your rivals' top ad positions and keywords, competitive positioning in the industry, sample text and display ad copy, and more.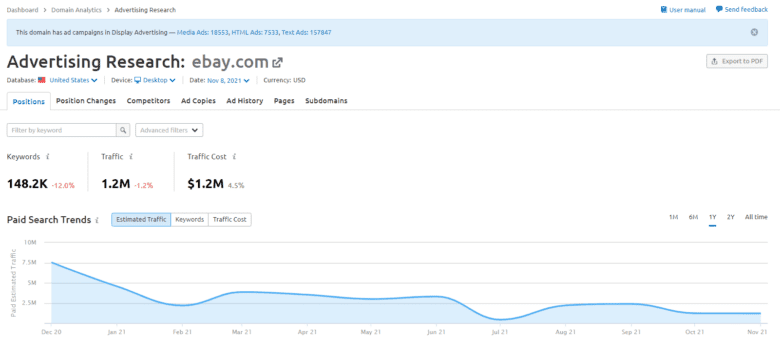 Again, this tool can't tell you exactly how much your competitors are bidding on ads, but you can use the data to reveal trends and strategies they might be using.
6. Ahrefs' Site Explorer
Ahrefs is the darling of SEO marketers everywhere — but, like Semrush, it offers tools for paid search marketers, too.
You can use Ahrefs' "Site Explorer" option to evaluate a competitor's paid search efforts. Add the appropriate competitor domain, navigate to "Paid search," and then use Ahrefs' data to see which PPC keywords a competitor is ranking for, what their top ads are, and which pages are driving the most paid search traffic.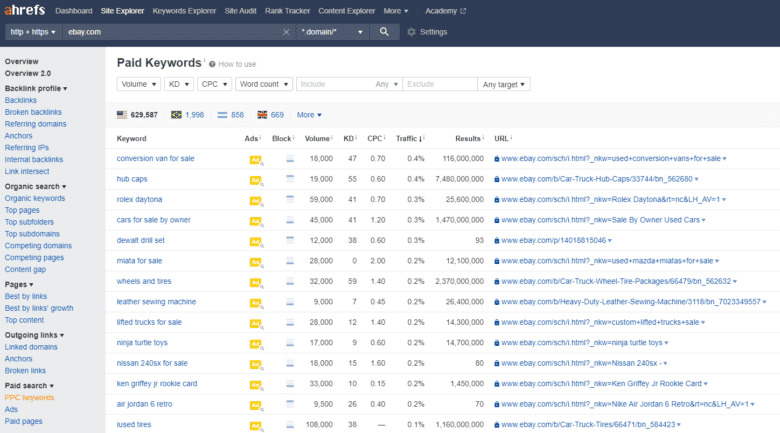 7. Spyfu's PPC Research
As its name suggests, Spyfu offers options to "spy" on competitors in Google Ads, using its PPC Research tool.
You can view a client's top competitors in the context of ad spend, overlapping keywords, as well as through an "ads history" tab that looks back at competitors' most profitable ad assets from previous years.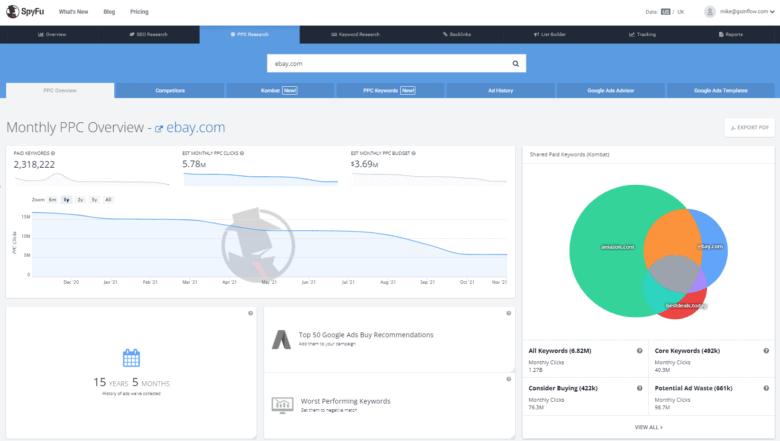 Like with Semrush and Ahrefs, it's important to note that any data on clicks and budget are estimates — not something you should base your entire paid digital marketing strategy on. Instead, use this data in collaboration with other tools and your own experience to design the strategy that works for your budget and goals.
Bottom Line: Focus on Your Industry, Not Direct Competitors
There are plenty of tools (not all listed here!) available to view your Google Ads competitors and gain insights into their strategies.
But, I'll say it again: Data from individual competitors isn't always the best context for creating a paid search strategy that will bring long-term success. Instead, we recommend using industry trends to craft your PPC approach, especially as Google continues to reduce the data visible in ad reports.
So, go ahead and give these tools a try today to prep your PPC strategy for 2024 and beyond.
Need a helping hand?
Our team of paid search specialists can evaluate your biggest PPC competitors and deliver insights based on their bidding activity, industry data, and more.
Request a free, detailed Google Ads competitive analysis for your eCommerce business now.
Request Your Free
Google Ads Competitive Analysis Now