Most people would gauge the success of any agency (including answering who the best eCommerce agencies are) by their size and revenue. A few years ago, I thought that too. My goal was to build a $10 million eCommerce marketing agency — and build it fast.
But I soon realized that high velocity growth has the potential to threaten two key ingredients in sustainable success: team happiness and client satisfaction.
Growing "for the sake of growth" increases the temptation to work with clients that aren't an ideal fit — and it also encourages snapshot hiring decisions. Staff will quickly get stretched by workloads and overburdened by the demand for unrealistic results. This wouldn't have been the best recipe for giving clients the attentive service that they deserve. It didn't feel right.
I also realized that revenue growth isn't motivational to anyone apart from owners and financial investors. It was a poor metric to center the team around, and I knew we had to change the mindset.
I believe that these three aspects more accurately define the best eCommerce agencies:
Results: Competency and achieving consistently great results for clients
Warmth: Great client experiences and mutually-beneficial relationships
Team care: Providing a great place for the team to work every day including clear career paths, creative and helpful benefits, and above average compensation.
High velocity growth didn't feel like the right way for us to achieve these three things. Instead, we came up with a new model: the "Inflow Harmonic Triangle". This prioritizes harmony between stakeholders, and sets out a "win-win-win" scenario whereby natural growth occurs as a side effect: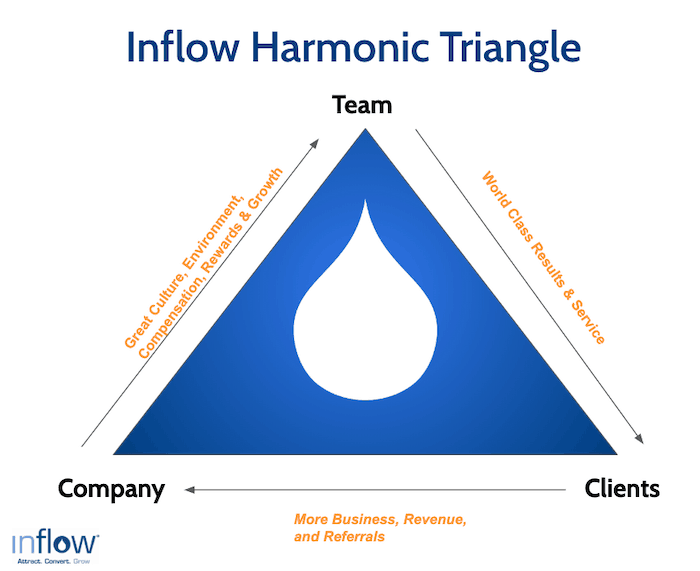 This premise is very simple:
By looking after our team, we will improve client results. By improving client results, we have better retention and attract new business, revenue, and referrals to the agency. If we keep all stakeholders aligned to a mutually-beneficial outcome, the rewards will be felt by everyone.
As I mentioned, the side effect of this approach is natural growth. In my opinion, the conditions of natural growth gives us the opportunity to build a better eCommerce marketing agency — better for clients, and better for employees.
In the next sections, I'll dig into how we're using the opportunity presented by natural growth.
We use the principles of our Inflow Harmonic Triangle to provide SEO, PPC, and CRO growth services to eCommerce companies with over $10 million in revenue. Schedule a call here.
How Can We Become One of the Best eCommerce Agencies?
When we aimed for fast revenue growth, we were busy fighting fires. The team was caught up in their daily task lists, and it was difficult to step back and think strategically. A lot of my own time was spent on HR and client issues, and as the founder, I was distracted by day-to-day management of the business.
When you're focused on becoming bigger, it doesn't leave much space for becoming better. Settling for natural growth freed us up to make smarter, more considered decisions. To achieve great results, create a great client experience, and provide a great place to work, I figure we need to do the following:
Only Work with Good-Fit Clients
Build a Brilliant (Happy) Team
Create a Calm Working Environment
These tasks are easier said than done, but creating harmony helps. How do we approach each challenge?
1. Only Work with Good-Fit Clients
When pursuing revenue growth, having the budget becomes the defining characteristic of a "good-fit" client — but this leads to poor-fit clients and impossible projects. By focusing on the "win-win-win" scenario of our Inflow Harmonic Triangle, we naturally become more selective.
This selection isn't about "saying no to bad people"; it's about recognizing warning signs and knowing if a partnership is likely to work for all parties — with long-term client results as the priority.
A marketing company often grows into a full-service agency — operating in multiple sectors and industries. This means juggling search engine marketing with web design, email marketing, content marketing, social media marketing, PPC, conversion rate optimization, advertising, app development, and more. We made the decision to specialize in marketing services for eCommerce, and to also focus on three core areas: SEO, Paid Advertising (PPC, Social, Display), and CRO (conversion optimization). This gives us a narrower focus for optimizing our lead generation.
We use basic criteria to qualify the good-fit prospects (e.g. resources, revenue, website size), but our overall judgement is still largely based on experience and gut feel. We haven't nailed this process yet, but just being a bit more attentive and careful has calmed our workforce and improved client retention.
Two things that we look for in prospects during the sales process are:
Realistic goals: Clear and achievable objectives, with room for discussion
Responsiveness: Active and engaged, without requiring constant chasing.
Recently, we had a conversation with a prospect that seemed like an ideal fit. When we got to the question of goals, they requested a 20x increase in organic traffic within 12 months. They had a startup eCommerce website in a very competitive space, so we knew this goal was unrealistic — even impossible. Despite our advice, the prospect stood firm on this goal. Rather than pushing ahead, we amicably parted ways.
This example can be contrasted with an eCommerce business that came to us with the mission to rank their online store on page one for a list of competitive keywords. After looking at the big picture, we determined this goal to be unrealistic. A frank conversation uncovered their deeper revenue goals, and allowed us to put forward a new digital strategy to meet their targets using different marketing campaigns, channels, and tactics. In the end, this honesty works for everyone.
2. Build a Brilliant (Happy) Team
For great client results, we need to hire, onboard, and retain staff who are a perfect fit for the agency.
When under pressure from fast growth, it's easy to prioritize skills over cultural suitability. The job needs to be done, after all. But while "hiring for skills" solves a short-term problem, it runs a higher risk of introducing "bad eggs" into the marketing team — because you're only focused on filling a skills gap.
As research by Harvard confirms, business owners should do everything they can to avoid hiring a toxic worker. In fact, the cost savings you achieve by avoiding a toxic worker is estimated at $12,489. But most importantly, a toxic work environment damages harmony, negatively influences morale, and affects productivity. These aren't the right conditions for achieving world-class client results.
On the flip-side, according to Gallup, "highly engaged business units realize a 41% reduction in absenteeism and a 17% increase in productivity.". Engaged employees also "help their organizations improve customer relationships and obtain impressive organic growth. Highly engaged business units achieve a 10% increase in customer ratings and a 20% increase in sales."
This is the type of environment we aim to create at our digital agency. And it starts with hiring…
2a) How We Hire the Best Team Members
During our early growth phase, we tried using headhunters and recruitment agencies. But we quickly realized that an in-house recruiter better understands the nuances of the business and what we want to achieve for clients. External recruiters didn't always align with our values or objectives, and we discovered that they often couldn't — or wouldn't — give candidates accurate information about Inflow.
For interviews, we've engaged with Beth Smith from A-List Interviews. Beth has trained us to think more "psychologically" in the hiring process. During interviews, we look out for warning signs from emotionally charged language. As well as the traditional questions about skills, attitude, experience, and past track record — we ask about "prickly" topics like micromanagement, past bosses, and unsuccessful projects. We listen and analyze these responses carefully, which helps us uncover hidden baggage.
One of the first questions we ask is whether the candidate has any upcoming plans that could affect their start date. If they say "sure, but I can skip my anniversary vacation to Mexico", we know that they're desperate. This willingness to sacrifice anything for the role isn't a good thing, because we want team members to aim for a balanced and enjoyable life. At other marketing agencies this question gets asked at the end of the interview process, but we believe it provides insight into the candidate's mindset.
2b) How We Onboard New Team Members
The quicker people settle in, the quicker they can start delivering results for clients. Each new team member works through a personalized onboarding process, with 30, 60, and 90 day milestones. These milestones are set out in Trello alongside all the resources and information they could ever need. Culturally, we get people into the mix quickly with a team lunch and plenty of meet-and-greet sessions.
Combined with our standard procedure of weekly one-on-one supervisor meetings and the use of the 15Five performance management suite for weekly check-ins and performance updates, we create a solid onboarding process — complete with a feedback loop. This helps new staff get started quickly, and minimizes "new hire disruption" for ongoing client projects.
2c) How We Retain Our Best Team Members
As I'll explain in the next section, a big part of retaining team members at an eCommerce agency is to create a calm working environment — because it allows the best people to do their best work. But we haven't abandoned our traditional retention ideas at Inflow: career development and workplace benefits.
For our team's career development, I took a lot from Kim Scott's book, Radical Candor. As she explains in this video, high-performing teams consist of Rock Stars and Superstars. A Rock Star is "a force of excellence and stability on your team" and a Superstar "is a force of growth and shock change." Superstars tend to push for quick promotions, whereas Rock Stars stay put and refine their craft. Agencies need both types of star, and as a management team we should invest time to learn who is who.
We're also very clear about trajectories and career paths. For example, if somebody wants to shift from an SEO Consultant to a Senior SEO Strategist, they can work with their supervisor to plan a path to the next level. This journey is documented, visualized, and discussed one-on-one.
In regard to workplace benefits, we use a cool idea called "build your own perks". For example, one colleague loves the outdoors: hiking, camping, and offroading. As a perk, she chose to get a rooftop tent for her 4×4. Other team members have asked us to contribute to paying off student loan debt. We also try to help people feel calm, rested, and valued at work by offering generous paid vacation, sick leave, bereavement leave, and parental leave. This is the norm in Europe, but not always in the U.S.
These perks have a purpose. The better we retain our staff, the less disruption we suffer. With less disruption, we can focus on doing cutting-edge work, pushing the boundaries of eCommerce digital marketing, and achieving world-class results for our clients. We think these factors should naturally lead a company like ours on the path to becoming one of the best eCommerce agencies in the United States.
3. Create a Calm Working Environment
The easiest way to create a calm working environment is to bring in good-fit clients with clear and realistic goals. If we get this wrong, stress levels will be high because the marketing team is on a Mission Impossible alongside an unhappy client. But there are other tactics that we use to create calmness…
Most agencies consider billable staff to be 100% billable. Everything else should be on their own time, or staff are told to find efficiencies where they don't exist. At Inflow, we put everybody's maximum capacity at 75%. This leaves 25% for professional development, contributing content (blog posts, videos, etc), or other initiatives. This 75% billable capacity should be allocated to enjoyable work, so we match up projects to suitable people and avoid controversial campaigns that don't align with our core values.
Furthermore, I believe that freedom and accountability is critical to a calm workforce — especially regarding time management and task management. Most of our clients have customized needs; different industries, products, audiences, goals, and resources. As an eCommerce digital marketing agency, we need to stay agile and give our team the freedom to deliver results without fear of micromanagement.
As the founder, I also want to send the message that using time for learning is okay. The more we learn, the better work we can do for our clients. Each team member has $2,500 per year to use for conferences and training courses. For example, we've sent five people to MozCon this year — which not only improves knowledge but builds a solid social bond through shared experiences.
Side note: My perspective on creating calmness in the workplace is inspired by award-winning entrepreneurs Jason Fried and David Heinemeier Hansson, whose book It Doesn't Have to Be Crazy at Work has changed how leaders of small businesses and large corporations approach workplace culture.
How We Measure Our Progress
The main measure of success during our fast-growth phase was revenue, with $10 million as our "Big Hairy Audacious Goal (BHAG)". But with the Inflow Harmonic Triangle framework and the natural growth mindset in play, our measurable goals have changed…
Instead, we track our progress with three key performance metrics and goals:
Agency profitability of 35% (high profitability gives us the space to take care of our team)
Client Net Promoter Score (NPS) survey with average score of 9/10 and 85%+ response rate
Quarterly staff engagement survey with average score of 9/10
However, we don't look at these stats in isolation. Each metric has a buddy. For example, profitability's buddy is client retention rate. Client NPS score is analyzed in tandem with staff NPS score. And our staff engagement survey is matched with employee retention. This gives us confidence in our performance.
Summary
It's my aim to build Inflow into one of the best eCommerce agencies, so we're consciously trying to improve every aspect of the business. Fast growth was good for our short-term numbers, but threatened to damage long-term team happiness and client satisfaction — two corners of the Inflow Harmonic Triangle. It seems like natural growth suits us better, and it also suits our clients better.
In order to deliver world-class results in our specialist areas, create a warm client experience, and provide a great place to work, our eCommerce agency had to refocus on good-fit clients, building a brilliant and happy team, and creating a calm working environment.
We use the principles of our Inflow Harmonic Triangle to provide SEO, PPC, and CRO growth services to eCommerce companies with over $10 million in revenue. Schedule a call here.