If there's one thing a mature marketing agency has a lot of practice in, it's training new marketers. While hiring experienced rock-stars has its advantages, so does training and promoting from within an organization. Here are a few of the ways we've learned to train our own marketers, as well as some of our clients' in-house teams.
1. Understand the Capabilities of Each Employee/Identify Skills Gaps
If you are unsure what each person is capable of doing it's going to be hard to provide them with appropriate tasks to execute. Typically, you have a pretty good idea of what your team can and cannot do and has done in the past. For a more structured way to identify skills gaps (and opportunities for training), we have created a "Skills Matrix" for each Inbound team member. First, we define the different roles within the department and the different types of skills necessary to fill those roles. Our Inbound department consists of Copywriters, Marketing Coordinators, Strategists and Sr. Strategists. Finally, for each position we assign a rating – where you should be at each skill level based on your position.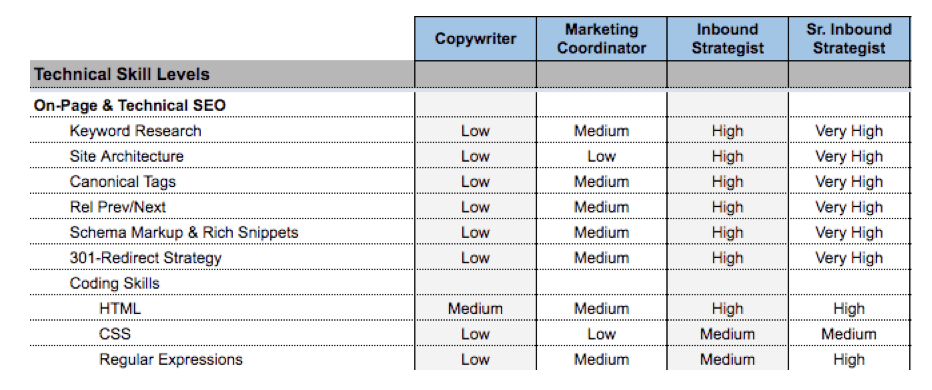 Here's how we loosely define the ratings:
• Low: This is if you have little to no experience doing something, you haven't used the tool, you've never completed that type of report, etc.
• Medium: You have some experience here. You are familiar with the tool/software/process and "know enough to be dangerous" but could stand to gain more by having more hands-on experience. If it were a tech audit, a migration or a content audit, you might have done one, or even a few with team members, but have never fully executed one yourself front to back. If you are doing this, you probably still have a lot of questions for team members along the way.
• High: You have a lot of experience with the tool/software/process. You can use the tool/software at a high level. You have executed the process front to back, yourself, without the need for involvement with team members.
• Very High: You're an expert. Team members come to you when they need help with this. You wrote the Standard Operating Procedure (SOP). You feel very comfortable teaching this tool/software/process to someone else. You have executed this process many times and have multiple success stories/case studies to prove it.
After defining the required skills for each position, give the list of skills to your employees and ask them to "grade" themselves in each area. Grade them yourself based on what you know and have seen them do. Then, lay out the required skill sets for their position, for the position they would like to grow into, as well as both of your "grades." It might look something like this:

This employee is a Strategist that wants to become a Sr. Strategist. They rate themselves "Very High" at keyword research, but their manager rates them "Medium." So there is obviously a discrepancy here with the employee's perceived skill level and their manager's perceived skill level in the area of keyword research. This could be an area that requires additional training, or the employee could have experience their manager doesn't know about. They can talk it through and come to an agreement on all skill levels, and identify areas for improvement. In this scenario, they are both in agreement with regards to Site Architecture (Medium). It is clear that this Strategist needs training and/or hands-on project experience with a project that has a site architecture component. So next time one comes up, the manager could assign it to them, or they could volunteer for the project to gain additional experience in this area.
2. Provide Training to Fill Skills Gaps
Once skills gaps are identified, you can lay out a plan to provide your employees training to help them improve the desired skill set(s). There are a plethora of options, depending on your needs. Here are a few options:

• Online Training: Udemy has more than 40,000 courses on just about anything you could imagine. Head over to Market Motive to learn digital marketing from Silicon Valley based industry experts like Avinash Kaushik. Maybe your budget and/or time are limited and you need something more self-paced. Becoming certified in Google Analytics through Google Analytics Academy is a great notch to have on your belt, and will provide you with actionable teachings that can be applied to your client work right away. If you are interested in Inbound Marketing but don't know where to start, try Hubspot's Free Inbound Marketing Course & Certification.

• Conferences: Send your employee(s) to a conference! There is immeasurable value in what someone can get out of a good conference, but you could do a couple things to help measure said value. Have them live post a session. Let them turn their learning into a blog post for your company's website. Require them to document their top takeaways and present to other team members. Speaking of presenting to other team members…

• Internal Training: Use and share knowledge that already exists internally to train other team members. Sometimes recruiters talk about a "purple squirrel" or someone who knows everything about everything. I would argue that achieving "purple squirrel" status as an individual is impossible in the world of marketing, however, when you combine the skill sets of everyone on your team, it makes it much easier. At Inflow, we conduct monthly Lunch 'n Learn sessions where a different team member presents on a topic that they have a deeper understanding of compared to the rest of the team. Some of our recent topics include Slack, Advanced Keyword Research and Creating Awesome Images for Content.
• Blogs: Many marketing leaders find it difficult to keep up with all the content getting published on marketing blogs every week. Why not divide and conquer? Ease your burden by asking members of the team to read certain blogs regularly and to report to the team when they read something of interest. At Inflow we ask people to include an executive summary or takeaways in the form of a "TL;DR" when sharing the post by email.
Some blogs to include on the list are:
Inflow
Moz
ConversionXL
Unbounce
Widerfunnel
Get Elastic
Marketing Land
Search Engine Journal
Inbound.org
The point is, there are no shortages of opportunities for your employees to continually enhance their skill sets and fill skills gaps, as long as you provide them with the time and resources necessary to do so.
3. Give Them the Tools They Need to Succeed
In order to get the most out of your team, they all need to be on the same page with regards to what tools to use in different situations. There are so many pieces of great software that can help you manage projects, plan capacity, gauge success, keep tabs on how employees are feeling (and if they are staying motivated), it can be overwhelming. It can be very easy to end up utilizing so many tools that you find yourself spending too much money on tools that are being underutilized and potentially have overlapping capabilities. Here are a few tools Inflow has in their marketing toolbox:
• Liquid Planner: For project planning and time tracking
• Trello: For project management and collaboration internally, as well as with clients; our CRO team uses Trello to manage their testing queues.
• 15Five: This weekly report from each team member gives you great insight into what has been accomplished, where struggles lie, how they're feeling and more
• Screaming Frog: For crawling websites; the first step when undertaking a content audit
• Link Research Tools: A great collection of tools for doing things like performing backlink analysis, looking for link opportunities and evaluating the toxicity of a site's backlink profile
• CallRail: A powerful phone call tracking software (also an Inflow client)
The list goes on, but auditing the tools we are paying for, whether they are being utilized and what they are being utilized for, is something we do at least twice a year. Each tool we use has a specific purpose, whether it is utilized internally or on behalf of a client. New tools are released all the time that might do a better job of what you need done, and potentially at a lower cost than what you're currently paying.
4. Provide Clear Instruction
Be as clear as possible when providing instruction to your employees and regarding what you need/want. One thing that has helped our team focus on and be clear about what needs to be done – and as a result has helped improve the profitability of projects – is to create Work Breakouts (WBOs). In a nutshell, we break a project down into its various components and estimate the time we think it will take to complete each component. For each project component, there is a clear action item and/or deliverable. We track our time spent to each project component, and when the work is complete, we compile our data and see if the project went over or under budget and try to identify why. After completing this exercise for a number of similar projects, it can help you see trends, set better estimates and identify ways to become more efficient with your work.
5. Encourage Questions and Self-Sufficiency
How many times have you been in a meeting or working on a project, and returned to your email inbox, chat window, Slack – whatever – and seen something like this:
1:10 p.m. John: Hey, [what is the best way to | what would you do if | how would you | where can I find] _____?
1:15 p.m. John: Never mind, I figured it out!
You should certainly encourage team members to ask questions when they don't know something or are stuck, but at the same time people can often answer their own question by spending a few minutes trying to figure it out themselves instead of instantly relying on someone else's expertise (and interrupting what they are doing). As a general rule of thumb, I encourage my team members to spend about five minutes researching a solution themselves before reaching out to a team member. One good approach when someone does have a question is reply with "what would you do" or "what do you think?"
Starting the conversation this way often leads to an even better teaching opportunity.
6. Create Processes and Automate Whatever You Can
There is nothing worse than doing the same thing over and over again when it is something that could be turned into a standardized process, made into a template or automated. To do something like this, it often takes extra time up front to create the process, template or automation; however, that time will quickly be eclipsed by all the time you save repeating that activity in the future. We have SOPs for projects we execute on a regular basis. Here are some processes, templates and automations we utilize internally:
• Process (SOPs): Kickoff Call Agenda, Audience Persona Building, Content Audit: Data Gathering, Content Audit: Data Analysis, Hiring a Copywriter
• Templates: Copywriting guide, site migration checklist, content/editorial calendar, content brief, Inbound Marketing assessment checklist, technical site audit
• Automations: Client dashboards, monthly reports (data gathering)
The more of your day-to-day activities you can automate or turn into a process or template, the more time you will save in the long run and the more time you will be able to spend on all of the other tips above.
[section class="wc-shortcodes-box wc-shortcodes-box-primary"]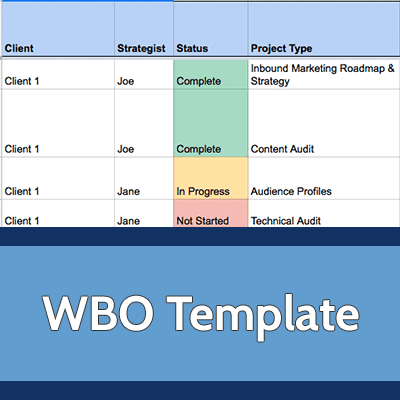 [/section]