Editor's note: This article was originally published in 2016. It has been updated for accuracy and to reflect modern practices.
While most corporate and eCommerce brands work with agencies for part of their marketing needs, others are increasingly choosing to manage their efforts on their own.
And who can blame them?
Bringing your marketing experts in-house provides immediate access and collaboration, in-depth brand knowledge and, of course, a way to weather unpredictable economic conditions.
But, if you want your in-house marketing team to perform as well as an agency, you'll still need to invest — specifically, in your team's skills and ongoing development.
If there's one thing Inflow has a lot of practice in, it's training new digital marketers. Today, we'll walk you through the seven strategies we use to keep our team members in tip-top shape — strategies you can use for your in-house marketers, too.
How to Train Marketing Staff: Tips for In-House Departments
Like with any other aspect of your digital marketing strategy, you get what you put in when it comes to training initiatives. 
The more continuous training you can provide for your team members, the more skills and knowledge they'll be able to build — in turn, providing better campaigns and results for your brand.
Forget to schedule professional development opportunities, and your marketing campaigns will start to stagnate (not to mention the fact that your team members will leave your company for greener pastures).
Here are a few ways to support your team in their training and development:
Step 1: Understand the capabilities of each employee — and their skill gaps. 
If you're unsure what each person is capable of doing, it's going to be hard to provide them with appropriate tasks to execute.
Most leaders have a pretty good idea of what their team can and cannot do and has done in the past. This can typically be gleaned from internal meetings, resumes, and job descriptions.
But those will only take you so far.
To identify skills gaps and opportunities in a more structured, regular way, use a "Marketing Skills Matrix." There are two steps to developing this document:
Define the different roles within your marketing department and the different types of skills necessary to fill those roles (for example, copywriters, coordinators, strategists, and senior strategists).
Assign a rating for each position (where a team member should perform based on their position).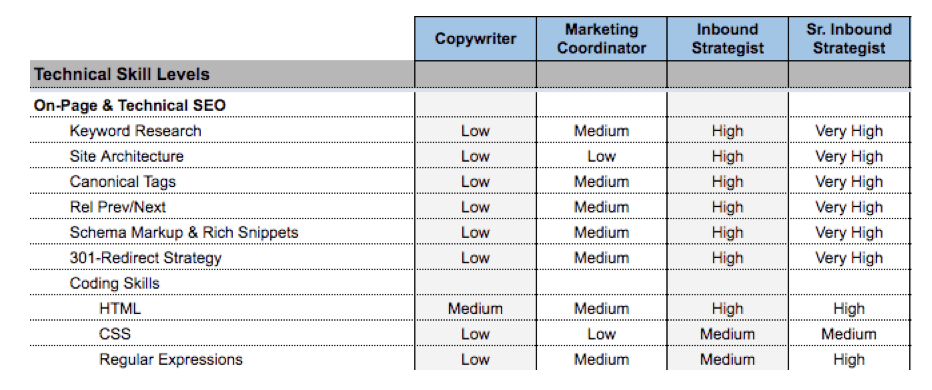 How you define each skill's "rating" will be based on your department's goals and needs. Here are some general guidelines to start:
Low: You have little to no experience doing something, you haven't used the tool, you've never completed that type of report, etc.
Medium: You have some experience here. You're familiar with the tool/software/process and "know enough to be dangerous," but you could stand to gain more with hands-on experience. 

For example: If a skill were an SEO tech audit, you might have performed one with the help of team members but you've never fully executed one yourself front to back. You still have a lot of questions for team members during the process.

High: You have a lot of experience with the tool/software/process. You can use the tool/software at a high level. You've executed the process front to back yourself, without the need for involvement from team members.
Very High: You're an expert. Team members come to you when they need help with this. You wrote the Standard Operating Procedure (SOP) and can explain the process to others. You've executed this process many times and have multiple success stories/case studies to prove it.
Once you've defined the required skills for each position, give the list of skills to your employees and ask them to "grade" themselves in each area. At the same time, grade those employees yourself based on what you know and have seen them do.
Then, lay out the required skill sets for their position, for the position they would like to grow into, and both of your assigned "grades." 
It might look something like this:

In the example above, the employee is a strategist that wants to become a senior strategist. You can see that there are discrepancies in how they rate themselves in keyword research ("very high") and how their marketing manager rates them ("medium"). This opens up an opportunity for discussion and additional training.
Note: Any development tracking tool like this should continually be updated to reflect industry updates and your department's changing needs. Just like your employees themselves, the skillset for each role should expand and update over time.
Here are some templates to get started:
Step 2: Provide training to fill the gaps.
Once skills gaps are identified, you can provide your employees training to help them improve the desired skillset(s).
There are a plethora of possibilities, depending on your needs and department budget. Talk with your staff members and give them options to choose from; you want your team to be invested in the training path they choose, not forced into one they won't use. (That's why, at Inflow, we provide our team members an annual $2,000 development fund to allocate as they please.)
Here are a few options to explore:
Online Training
From self-paced lessons to months-long training programs, consider the following:
Our recommendation: Have every team member become certified in Google Analytics through Google Analytics Academy, especially with the upcoming transition to Google Analytics 4. This training course provides actionable teachings that can be applied to your marketing work right away.
Conferences
For a mix of industry training and networking, send your team members to a conference. But don't just bankroll your employees' getaway; add a couple of requirements to boost the value for your entire team:
Have them live stream a session they attend.
Ask them to post social media updates throughout their stay.
Let them turn their learning into a blog post for your website.
Require them to document their top takeaways and present them to other team members.
Internal Training
If you have a deep team, you don't have to look externally for training options. Instead, use and share the knowledge that already exists among your senior team members.
Consider hosting a biweekly brainstorming session or a more formal monthly "lunch and learn" session. Challenge your team members to come with insights they've found over the past few weeks, or designate one sharer to dive deep into a topic (like advanced keyword research techniques, working with influencers, etc.)
Blogs
In today's marketing ecosystem, it's impossible to keep up with all the new content being published each week. Save some room in your staff's inboxes by dividing and conquering your subscriptions. Then, if they find anything interesting, they can post in a Slack channel or bring their findings to your regularly scheduled meetings.
We recommend subscribing to the following publications:
For auditory learners, we recommend this list of marketing podcasts from Ahrefs
Step 3: Give them the tools they need to succeed.
To get the most out of your team, they need to be on the same page in regard to which tools to use in different situations.
There is so much great software that can help you manage projects, plan capacity, gauge success, and keep tabs on how employees are feeling (and if they are staying motivated) that it can be overwhelming to keep track of it all. If you're not careful, you can find yourself spending too much money on tools that are being underutilized and even have overlapping capabilities.
Take an inventory of your existing tools and ask your team: Which ones are they using most? Which are no longer necessary? Where are the gaps — and what other tools could fill those needs?
Here are a few tools that our internal teams use:
Auditing the tools we are paying for (whether they are being used and what they are being used for) is something Inflow does at least twice a year.
Each tool you use should have a specific purpose, whether that is internally or on behalf of a client. New tools are released all the time that might be better for what you need to get done — and potentially at a lower cost than what you're currently paying.
Step 4: Provide clear instruction and goals.
If you want your team to perform a certain way, you need to communicate what you want clearly from the get-go. Your instructions should be easily understood and followed to reduce back-and-forth communication.
Documentation is key to making this happen, and we recommend what we call our Work Breakout (WBOs) template.
In a nutshell, this tool breaks down a project into its various components and estimates the time it will take to complete each component. For each project component, there is a clear action item and/or deliverable.
We track our time spent on each project component and, when the work is complete, we compile our data to see if the project went over or under budget (and try to identify why).
After completing this exercise for a number of similar projects, you'll start to see team trends, set better time estimates, and identify ways to become more efficient with your work.
Access our Work Breakouts Template now.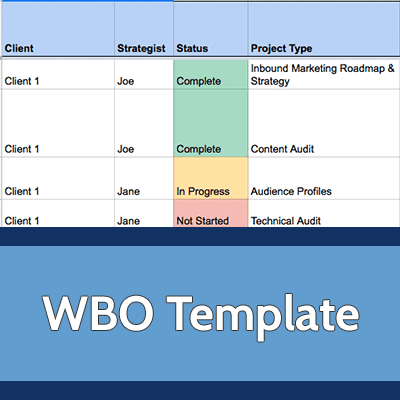 Step 5: Encourage questions and self-sufficiency.
How many times have you been in a meeting or working on a project and returned to your messages to see something like this?
1:10 p.m. John: Hey, [what is the best way to/what would you do if/how would you/where can I find] _____?

1:15 p.m. John: Never mind, I figured it out!
You should certainly encourage team members to ask questions when they don't know something or are stuck — but, at the same time, people can often answer their own questions with a little trial-and-error.
As a general rule of thumb, we encourage team members to spend about five minutes researching a solution themselves before reaching out to someone else. 
When a team member does reach out to you, don't give them the answer right away. Turn the conversation into a teaching opportunity by asking, "What would you do?" or "What do you think?" This will further encourage self-sufficiency and self-learning among your staff.
Step 6: Create processes and automate whatever you can.
There's nothing worse than doing the same thing over and over again when it could be easily turned into a standardized process, made into a template, or automated.
Creating this process often takes extra time up front; however, that time will quickly be eclipsed by all the time you save repeating that activity in the future.
At Inflow, we create these automations for every kind of project we execute on a regular basis, including:
Process (SOPs): Client kickoff call agendas, audience persona building, eCommerce content audits, hiring copywriters, etc.
Templates: Copywriting guides, site migration checklists, content marketing/editorial calendars, content briefs, etc.
Automations: Client dashboards, monthly reports, etc.
The more of your daily activities you can automate, the more time you will save in the long run — and the more time you will be able to spend on all of the other training methods above.
Step 7: Consult with the experts.
No matter how much you invest in your internal marketing teams, there will be times when the required expertise or knowledge is outside of their scope. This is where a consulting project with an agency can help.
You don't have to commit to a long-term contract with an agency to mine from their experience. Instead, many professionals offer project-based consulting services to help your brand establish itself and create a marketing plan moving forward.
For example, here at Inflow, we frequently consult with teams on paid social media and organic social media strategies. Several of our clients manage these channels in-house, and our experts review their campaigns and strategies on a regular basis to provide feedback and new ideas.
It's a win-win for our clients: They get access to our team members' insights and experience at a limited cost, and they grow their in-house knowledge and capabilities through our training.
Interested in a consulting program or one-time project? Contact us today.
Continuous Team Training: An Investment that Pays Off
However large (or small) your internal marketing team is, you must allocate room in your budget for continuous training and development opportunities. Without it, your employees' skillsets will stagnate (as will their job satisfaction), and you'll end up paying more in the long run with failed digital marketing efforts.
We encourage you to speak with your leadership team to decide how the abovementioned strategies can fit into your business plans. Don't forget to ask for your employees' opinions, too; after all, they're the ones you're doing this for!
For more free training materials, check out our digital marketing resources library.
Or, if a professional marketing training/consultation is on your to-do list, reach out to our team and set up a call today. We'll help you train your team on a revenue-generating strategy for your individual business anytime.