Most people would gauge the success of any agency (including answering who the best eCommerce agencies are) by their size and revenue. A few years ago, I thought that too. My goal was to build a $10 million eCommerce marketing agency — and build it fast.
But I soon realized that high velocity growth has the potential to threaten two key ingredients in sustainable success: team happiness and client satisfaction.
Growing "for the sake of growth" increases the temptation to work with clients that aren't an ideal fit — and it also encourages snapshot hiring decisions. Staff will quickly get stretched by workloads and overburdened by the demand for unrealistic results. This wouldn't have been the best recipe for giving clients the attentive service that they deserve. It didn't feel right.
I also realized that revenue growth isn't motivational to anyone apart from owners and financial investors. It was a poor metric to center the team around, and I knew we had to change the mindset.
I believe that these three aspects more accurately define the best eCommerce agencies:
Results: Competency and achieving consistently great results for clients
Warmth: Great client experiences and mutually-beneficial relationships
Team care: Providing a great place for the team to work every day including clear career paths, creative and helpful benefits, and above average compensation.
High velocity growth didn't feel like the right way for us to achieve these three things. Instead, we came up with a new model: the "Inflow Harmonic Triangle". This prioritizes harmony between stakeholders, and sets out a "win-win-win" scenario whereby natural growth occurs as a side effect: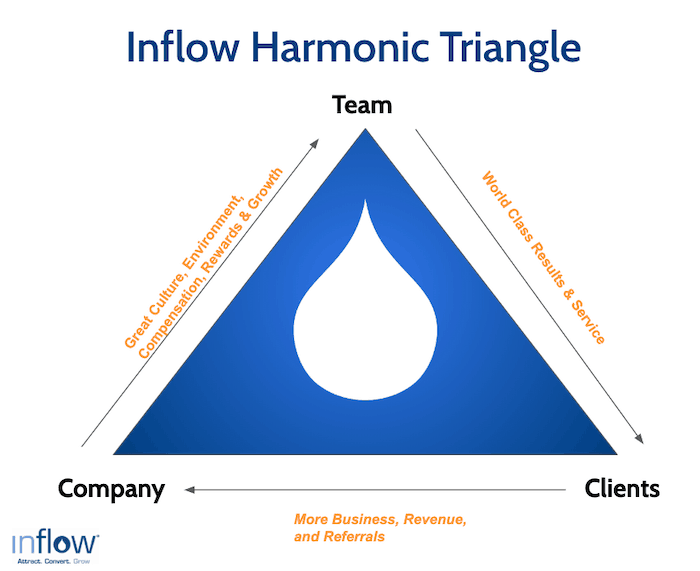 This premise is very simple:
By looking after our team, we will improve client results. By improving client results, we have better retention and attract new business, revenue, and referrals to the agency. If we keep all stakeholders aligned to a mutually-beneficial outcome, the rewards will be felt by everyone.
As I mentioned, the side effect of this approach is natural growth. In my opinion, the conditions of natural growth gives us the opportunity to build a better eCommerce marketing agency — better for clients, and better for employees.