I've heard rumors going around that Yahoo Local is going away due to the recent deal Yahoo made with Bing, but I only remember the deal including search results and not other Yahoo properties. I could be wrong. Either way, you should update your Yahoo Local listings while they are still live.
Figuring out how to update your listings in Yahoo Local can be a frustrating experience. If you scroll all the way down to the bottom of the page on which your listing is located, you'll see a link in the footer labeled "Add/Edit a Business." This link is completely useless for updating listing information.


Here's what you need to do.
If you are logged into a Yahoo Account navigate to your business listing page on Yahoo Local. Near the bottom of the page there is a box providing review tips and guidelines. At the bottom of the box, click the link that says "Report Missing Information."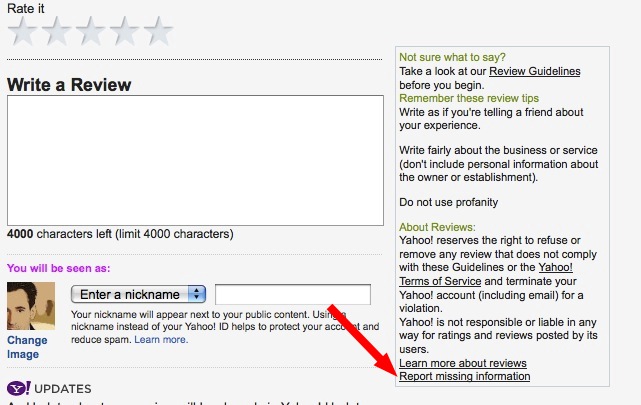 The next page will provide you with a form you can use to choose various options to update your listing. In the additional details section, be sure to include the name of your business and the city and state where it's located. They need this info to perform a search in Yahoo Local.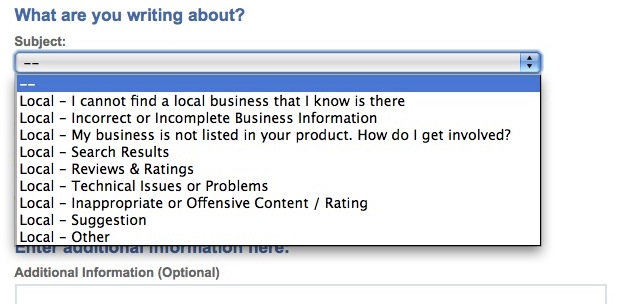 You can also report duplicate listings through this form. Within about 3 days the Yahoo Local team was able to get my issues resolved. It would have been faster had I replied to them quicker.
I received an email today stating that they have made the changes in their main database which will then replicate to all of the servers within the next week or so.