Editor's note: This article was last updated in 2020 and has since been updated for accuracy.
Whatever your eCommerce business's goals, adding a marketing automation system to your arsenal is a no-brainer. Not only do these services save you time and stress, they're also an easy way to boost your ROI and elevate your inbound marketing strategies.
But, with such a fast-growing list of eCommerce marketing automation systems available, how do you decide which one is best for your business?
You've come to the right place.
We present our marketing automation comparison guide. Here, we'll walk you through the features, integrations, and pricing for some of the most popular eCommerce marketing automation software out there. Use it to decide what you need most out of your automation service and to identify the right one for your strategies and growth goals.
Want the shorter version? Download our comparison matrix now.
Features to Compare in Marketing Automation Software
When you're comparing eCommerce marketing automation, starting with a list of names is a fool's errand. That list is neverending; in fact, as ChiefMarTech.com reports, it grew by 13.6% in 2020 to a total of 8,000 services.
Here's a helpful (though overwhelming!) visual representation.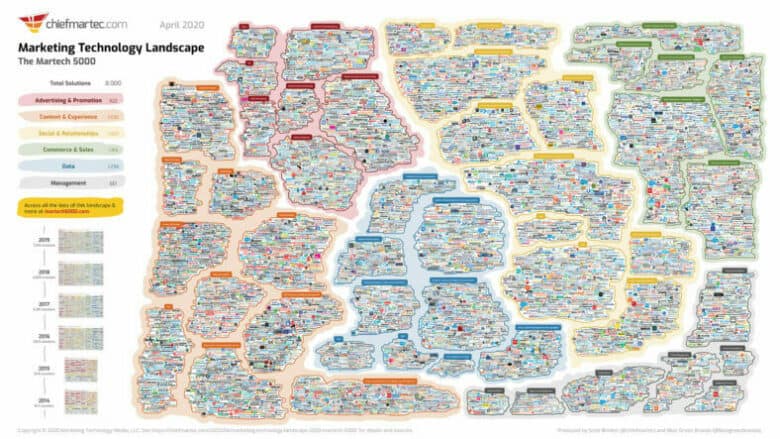 We recommend taking a step back. Before you start assessing platforms, you need to understand the three key areas to evaluate — and how they will play a role in your overall marketing strategy and goals.
These areas are:
Features

Integrations

Pricing
1. Features
Marketing automation systems can do anything and everything these days. Whatever services you need, you can find a platform that offers them.
We could write a whole book about the different marketing automation features but, for this guide, we focused our comparison on the three areas that are most important to our eCommerce clients:
1. Publishing
Social media management and monitoring

Landing page creation and management tools

Website management and personalization
2. Emailing
Email list segmentation

Automated workflows (replenishment campaigns, cart abandonment campaigns, etc.)

Ability to test
3. Reporting
Website tracking (ability to tie web activity with specific users)

Detailed analytics

Omni-channel marketing reports
2. Integrations
You also need to consider if (and how) a marketing automation software integrates with your current eCommerce platform. Make sure you understand any development tasks or limitations that may occur as a result of choosing a particular system, whether you're considering migrating your eCommerce platform or marketing automation platform.
We've found Magento, Shopify, and BigCommerce to have the most solid integrations with eCommerce marketing automation systems.
Note: We've also put together a guide to the best eCommerce platforms for SEO, to aid in your decision-making process.
3. Pricing
As with anything in business, price is a definite factor in your marketing automation comparison.
Pricing can be based on a variety of factors, including "list size," number of customers, number of emails sent monthly, integration options, and more. A solid eCommerce marketing automation system can cost anywhere from a few hundred dollars to several thousand or more per month.
A few things to keep in mind when considering cost:
ROI:

Your automation system will likely boost your ROI, which should cover the system's operating costs (and hopefully even more).

Streamlined features:

Some systems are more expensive because they have more extensive features. Consider the efficiency of having those features all in one place, rather than spread across several platforms.

Training and support:

If you don't know how to use your system or fix issues, you won't get the maximum ROI of a fully utilized platform. Higher-priced systems often offer more training and support, saving you time and effort.
Note: A marketing automation platform is just one aspect of a successful eCommerce inbound marketing strategy.
Inflow's eCommerce Marketing Automation Software Comparison
Once you've identified your business goals and needs for an eCommerce marketing automation platform, it's time to look at your options.
For this guide, we've analyzed 10 of the top marketing automation systems for eCommerce. Learn more about each below, or check out our matrix for a condensed version.
Note: If you need help or have questions about selecting an eCommerce marketing automation system for your business, please feel free to leave a comment or get in touch with us. We're happy to help.
Klaviyo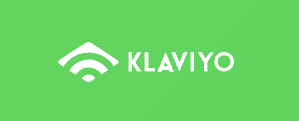 Klaviyo has made a name for itself as an email-specific marketing automation solution, offering you additional segmentation and data analysis based on email lists. While certain automation features are missing, a variety of deep integrations with eCommerce platforms and marketing tools like Unbounce, SumoMe, JustUno, and more make up for it.
Key or Notable Features
Klaviyo was built as an eCommerce automated email tool, so setting up automated campaigns like replenishment, cross-sell, win-back, and cart abandonment is a breeze. You can easily build custom templates, and importing your lists is a snap with their wide variety of integration options. The "Ideas" supplied are sometimes useful to build out automation campaigns in your account. Lastly, the tracking pixel/snippet lets you segment on content viewed by a user — not just products purchased.
Klaviyo offers SMS marketing services, too. Check out a full list of the platform's features here.
Integrations
Klaviyo integrates with the most common and popular eCommerce platforms, such as:
Magento

Shopify

WooCommerce

BigCommerce

Volusion

Spree
Custom eCommerce platform integrations are also possible via JavaScript code snippet. This integration is similar to Google Analytics eCommerce tracking in that you "fill in the blanks" with order details to send to Klaviyo.
In addition to integrating with several eCommerce platforms, Klaviyo also integrates with many other tools, which allow for good options when taking the "Frankenstein" approach to putting together a complete eCommerce marketing automation system made of many pieces.
Notable integrations include:
Unbounce

JustUno

Sumo

Privy

Aftership

Wufoo

SalesForce
Pricing
Pricing for Klaviyo is determined by the number of contacts you store in the system. Contacts not only include customers but also subscribers and lists from other systems like MailChimp, Unbounce, JustUno, and more.
You can use Klaviyo for free up to 250 contacts and 500 email sends — but as your number of contacts increases, so will your costs. Klaviyo is fairly affordable at just $20/month for up to 500 contacts, $30/month for up to 1,000, $45/month for up to 1,500, and so forth.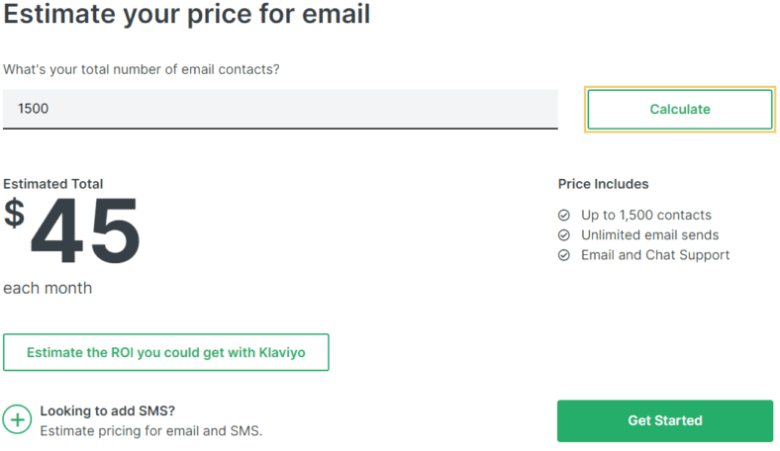 Disappointments
Our sales call/demo of Klaviyo was disappointing and short. We've also heard from customers on custom platforms that the custom integration option isn't as easy as it appears. Lastly, for the price of $1,000 per month for 80,000 contacts, it would be nice if Klaviyo had a few more non-email-specific features to beef up their offering.
Hubspot

King of marketing automation for small/medium B2B companies, HubSpot is working toward becoming a major eCommerce player. It's climbing in market share and adoption, especially with eCommerce brands focused on content marketing and inbound marketing.
Of all the platforms we discuss in this post, HubSpot is the most complete eCommerce marketing automation system, with features including publishing, emailing, and reporting. Full disclosure: It's also the system we use for our agency B2B marketing.
Key or Notable Features
HubSpot is truly a one-stop shop when it comes to eCommerce marketing automation. Features include building and publishing landing pages and forms, publishing a blog, managing social media, running an automated email marketing campaign, and even lead-scoring (yes, there is a place for lead-scoring in eCommerce!).
Integrations
Currently, Hubspot has only a few pre-built integrations with eCommerce platforms. Each integration was developed by a third party and comes with a nominal fee of approximately $50–$100 per month.
Integration options include:
Magento

BigCommerce

Shopify

WooCommerce
You can also create custom integrations for other eCommerce platforms using Hubspot API.
Pricing
You get what you pay for — and, with HubSpot, you're getting a lot (and paying for it).
Deals can usually be negotiated with their eager sales team. However, be prepared to commit to a 12-month contract. The basic package is fairly useless, so expect to pay at least $800 per month or more.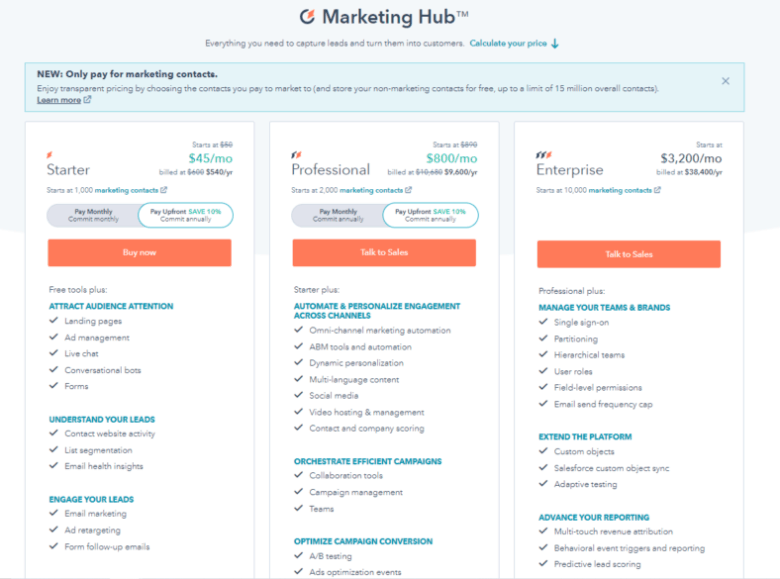 Disappointments
Our main disappointment with HubSpot is the lack of available eCommerce platform integrations. While the most popular platforms are covered, anything beyond those mentioned above are not available without custom programming.
In addition, HubSpot's pricing model is based on their legacy as a B2B tool. Many eCommerce sites tend to be higher in traffic with larger lists than your typical B2B company. Because pricing is based on list size (contacts), expect to pony up more and more as your list grows.
One way around this is: Keep separate lists (leads vs. customers) and only use Hubspot to nurture leads into customers. However, this limits your ability to provide a seamless experience and requires additional maintenance. We recommend scrubbing your lists at least every few months when using Hubspot to keep costs from skyrocketing.
Kevy

Kevy is a newer but fast-growing player in the eCommerce marketing automation tool space. The goal: To create less fragmentation for eCommerce business owners and managers when it comes to the apps they use to run their company. Another huge focus for Kevy is personalization — of everything.
Key or Notable Features
Kevy starts with all the "standard" features you'd expect out of a marketing automation platform built from scratch for eCommerce. This includes advanced segmentation capabilities, cart recovery campaign capabilities, email design editor, and reporting. 
Kevy's email designer is one of the best in the industry (it even changes an image's size, not just its dimensions). Reporting is enhanced with a deep Google Analytics integration. In addition, the single-use coupon capability is a nice bonus that helps Kevy take personalization even further. Lastly, the included pop-up capabilities are super strong and convenient with the ability to personalize and target pop-ups, too.
Pricing
Kevy pricing is based on contacts in your email list. You may send an unlimited amount of emails to the contacts in the system.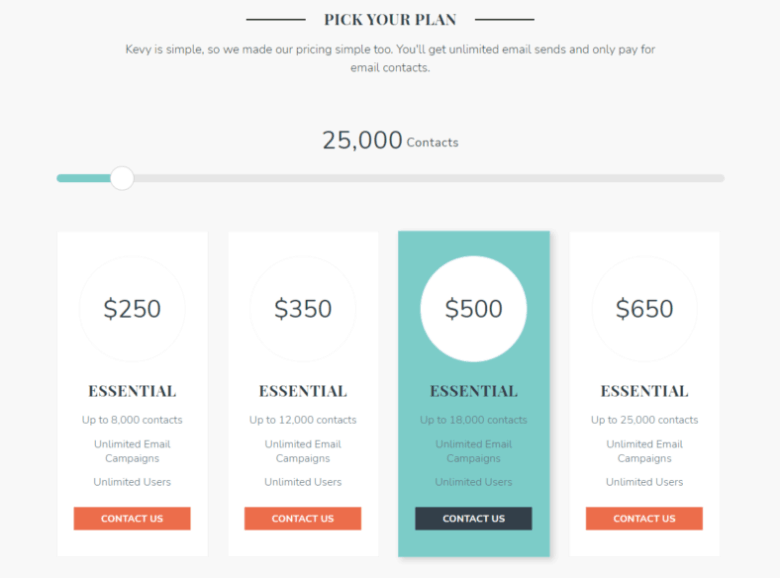 Integrations
Because Kevy is a Javascript-based tool, it can work or integrate with any eCommerce platform. That being said, it does have solid connectors for Shopify, BigCommerce, Magento, WooCommerce, and Volusion for even more convenient and speedy integrations.
Disappointments
There wasn't too much to be disappointed in with Kevy! Their team is small but growing, which could impact new feature releases and potentially customer service.
Omnisend

Omnisend is an eCommerce marketing automation platform designed to help marketers improve their sales by using greater personalization and connecting with their customers on more touchpoints. Its aim: To help eCommerce marketers get the functionality they need to dramatically increase their sales, without having to use many different apps.
Key or Notable Features
Omnisend has quite a lot of features — just what you'd expect for a marketing automation platform designed for eCommerce marketers.
It has all the usual bells and whistles: a drag-and-drop newsletter builder, popups, and A/B testing. Possibly the best features are related to segmentation and automation. With these features, you can slice and dice your customers any way you like and automate email campaigns based on a large number of triggers.
Reports are pretty comprehensive too, allowing you to see not just opens and clicks but also sales generated by your campaigns or workflows. Omnisend also includes SMS messaging and Facebook Custom Audiences created from your lists.
Integrations
Omnisend offers integrations with all of the major eCommerce platforms, including custom platforms through their API. It also integrates easily with eCommerce apps such as Privy, JustUno, Optimonk, and more.
Pricing
Omnisend's pricing depends on how many subscribers you have on your list. Use its pricing calculator to see just how much you'd be paying per month.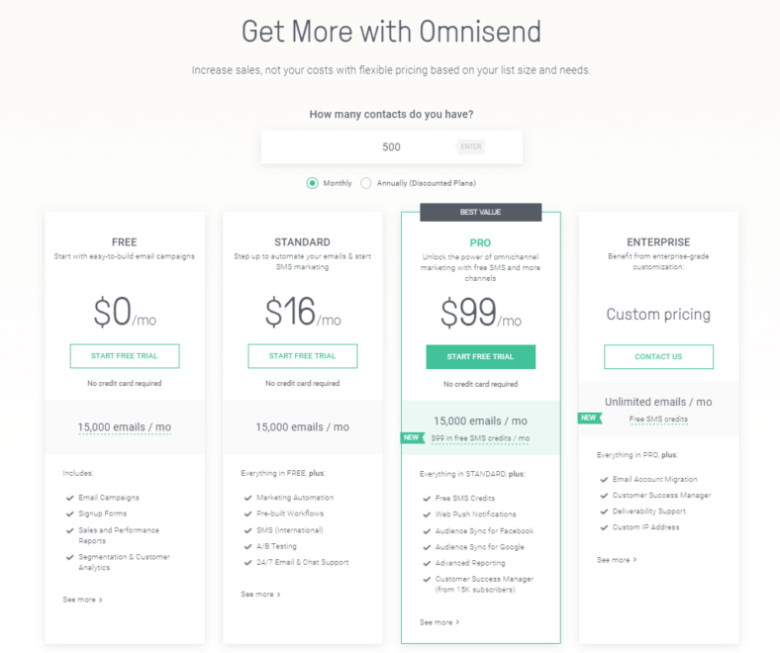 The free plan allows you to send 15,000 emails per month, with a limit of 2,000 emails per day.
Disappointments
Omnisend doesn't have a lot to be disappointed about. We're waiting to see what their new omnichannel features will bring to the table and how that can help eCommerce stores reach their sales goals.
Drip

Drip is an eCommerce email marketing automation tool that is perhaps the most tailored to the online retail industry. Drip integrates out of the box with Shopify, WooCommerce, Magento, and dozens of other payment processors, and has a visual email workflow builder that lets you build complex automations based on what products people have purchased.
Drip is definitely one of the more powerful email automation tools we've looked at. And the fact that they're focused 100% on B2C eCommerce makes them an intriguing player in the market.
Key or Notable Features
Drip's visual workflow tool lets you go beyond pre- and post-purchase sequences and really build entire lifecycle marketing funnels — all mapped out visually.
One of the cooler features that sets Drip apart is Shareable Workflows. Drip users can share and import pre-built automations in one click. For example, if you have a Shopify store, you're able to install a proven post-purchase email sequence without having to build everything from scratch.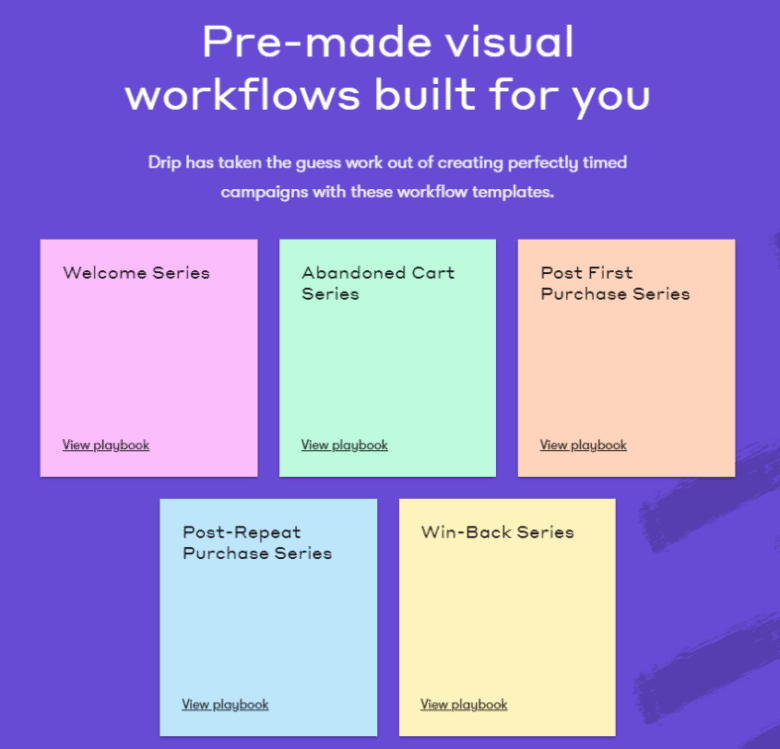 Check out their Abandoned Cart workflow.
Another key Drip feature is purchase intent scoring. Similar to lead-scoring in B2B, this feature lets you see a "score" that each subscriber has, based on their engagement with your marketing (e.g. opening an email = +1 point, visiting a product page = +3 points, not opening an email for a week = -1 point.)
This lets you segment your subscribers by engagement, which is difficult or impossible to pull off with many other platforms.
Integrations
Drip integrates out of the box with all the major eCommerce platforms, as well as many smaller platforms and online marketing tools, including:
Facebook Lead Ads

Facebook Custom Audiences

Sumo

Privy

Leadpages

Instapage

Unbounce

Fomo
Pricing
Like most email platforms, Drip charges based on the number of subscribers you have.
With a free 14-day trial and a basic plan at $19 per month for 500 contacts or less, Drip's price is relative to other marketing automation tools. Use the pricing calculator to see how much your contacts list will cost you: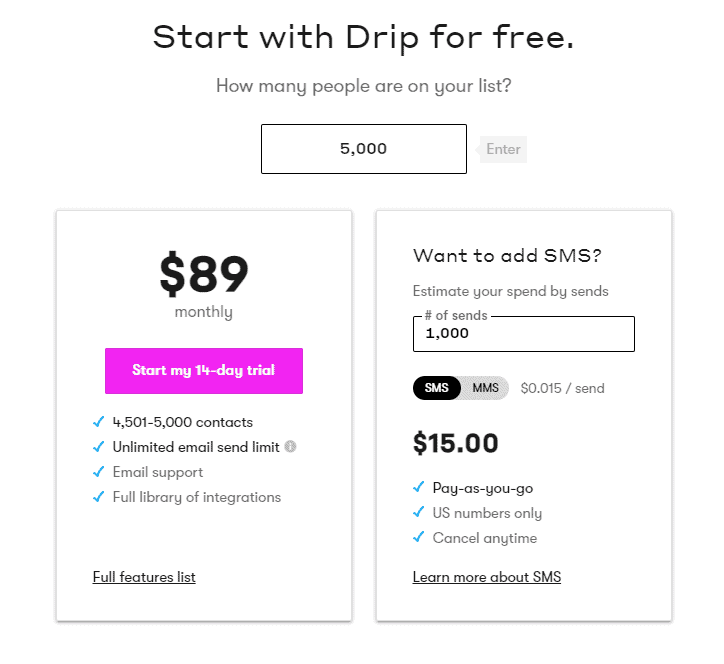 Disappointments
If you're coming from a basic email platform like MailChimp, Drip definitely will take some time to learn. There's a lot of power in the visual workflow builder, and it's easy to get overwhelmed by the possibilities if you've never mapped out pre- and post-purchase sequences before.
Drip doesn't seem to offer live one-on-one demos if you have fewer than 10K subscribers. If you have a decent-sized email list, though, Drip will perform a demo, as well as offer free migration services to help you bring your list over from another provider.
ActiveCampaign

ActiveCampaign is a good option for small to mid-sized businesses but carries enough features that it can easily grow with you. The service provides CRM integration, email marketing software, and marketing automation all in one place, so there's little need to try and "Frankenstein" a marketing stack that works for you.
Key or Notable Features
One of the most notable features of ActiveCampaign is the inclusion of a variety of pre-built "automation recipes" created just for eCommerce businesses. These address a variety of user behaviors, including cart abandonment, average order size or frequency, multiple visits to specific products, and much more.
Integrations
ActiveCampaign supports API-based integrations with Shopify, Magento, Stripe, and BigCommerce. If you use other platforms (such as BigCartel or StoreEnvy), you'll need to use Zapier or Revenue Conduit to pull eCommerce data.
Pricing
ActiveCampaign's pricing is based on the number of contacts you have.
The Lite tier carries their lowest prices, but it doesn't include the CRM or any of their deep data integrations for Shopify for BigCommerce. The Plus and Professional levels are relatively affordable up to 25,000 contacts; beyond that, you'll have to contact ActiveCampaign directly to determine pricing. An Enterprise pricing level provides users with a dedicated account rep, in-depth onboarding, phone support, and free social data.

Disappointments
The two most common complaints from ActiveCampaign users seem to regard the lack of landing pages and the system's overall learning curve
Bronto

The Bronto eCommerce marketing automation platform helps high-growth retailers produce content to generate engagement. The platform includes services for email, personalization, automation, and analytics. With software giant Oracle's backing, you know Bronto's underlying technology is going to be powerful.
Key or Notable Features
Although Bronto offers a variety of helpful features for eCommerce marketers, one of our favorite is the cart recovery solution which works seamlessly to deliver relevant, personalized messages that re-engage and ultimately convert. All it takes is the installation of a few lines of Javascript on your site, and Bronto will register cart activity every 30 seconds. Upon recognizing that a cart has been abandoned, it will trigger a customized workflow with messages that can include dynamically inserted order and cart info.
Integrations
Brunto integrates with a few of the main eCommerce platforms, including Magento, BigCommerce, and Shopify. You can see a full list of partner platforms and tools here.
Pricing
Unfortunately, Bronto doesn't list pricing information on its site. Your cost ultimately depends on which services are ordered, as well as how often you send emails. Reach out to Bronto directly to get a quote.
Disappointments
Despite Bronto's many capabilities, the interface can sometimes be confusing and difficult to use. Increased effort on Bronto's part to improve user experience wouldn't go amiss. Even though Bronto attempts to make everything simple with drag-and-drop functionality, it does limit the level of customization that can be applied in emails and in workflows.
Additionally, users have said that Bronto can be a bit pricy. If you aren't well-versed in and utilizing all of Bronto's features, it can occasionally feel like you're paying for a handful of things you don't really need.
MailChimp

A notable favorite amongst small businesses and mid-size businesses alike, MailChimp is a popular platform that offers more than your typical eCommerce email marketing automation provider — including landing pages, display advertising tools, and an easy-to-use WYSIWYG email builder that produces well-designed emails in less time.
Key or Notable Features
Good reporting is invaluable when it comes to gauging the ROI from your email marketing efforts. And it's one of the areas where MailChimp shines.
On top of your typical email reporting elements like click maps and subscriber activity, MailChimp also uses its Analytics360 module to pull customer data from your web traffic tools, so you can see which campaigns resulted in sales and gauge your ROI. You can also review trends in your industry overall and evaluate how effective your efforts are compared to your competitors.
Integrations
Between MailChimp's popularity amongst users and its robust API, it carries a large library of available integrations. Here are just a few:
Shopify

BigCommerce

BigCartel

Magento

WooCommerce

Salesforce

XCart

OpenCart
Pricing
MailChimp's pricing depends on your list size and the features you're looking for.
The free option is fantastic if you're starting to build your lists or testing out MailChimp for the first time — but you can quickly find yourself somewhat limited. Once you move into the Standard and Premium tiers, you'll be able to really leverage MailChimp's best features and increase your ROI. Be sure to use the pricing calculator to get a clearer idea of what pricing will be like for your particular list.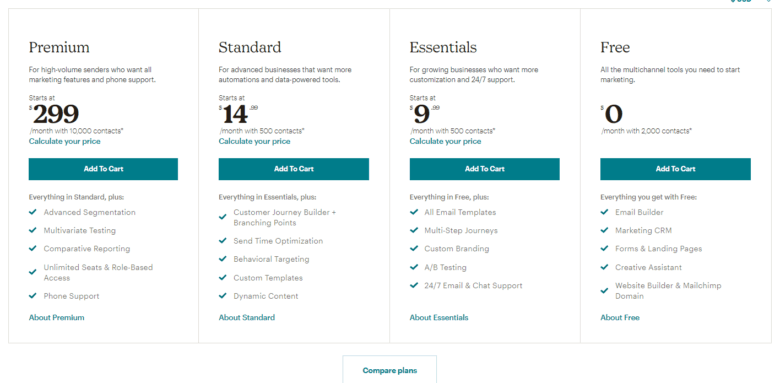 Disappointments
There are a handful of things that can make MailChimp annoying to use at times. Segmentation is lacking, and you can't send a campaign to multiple email lists. It doesn't flag duplicate emails, so it's easy to wind up with a list that is bigger than it actually is (and potentially paying more as a result), so you have to manually scrub your lists on a regular basis.
Lastly, even though MailChimp offers some nice email templates, when it comes to customization, you can often find yourself fighting with the editor to get changes to stick or preview correctly.
Drift


Although Drift sells itself as a conversational marketing tool primarily for B2B, it can be just as beneficial to eCommerce businesses looking for ways to engage customers when they're viewing your products. With well-timed pop-up chats, you can offer your customers opportunities to ask questions, prevent cart abandonment by providing coupon codes, and help consumers make decisions about what to purchase.
Key or Notable Features
Conversational marketing is still so new that Drift's primary function, in and of itself, feels pretty notable. Being able to "talk" to customers virtually, 24/7, is a potential game-changer for building customer relationships.
Other key features are the conversation reports and the ability to see a live view of customers as they engage with your site's chatbot. This gives you a clearer idea of the questions your customers are asking as they make purchasing decisions.
Integrations
Drift offers many integrations for eCommerce platforms, tools, and even other marketing automation systems, including:
Marketo

Salesforce

Slack

Pardot

Drip

Google Analytics
However, popular platforms like BigCommerce and Shopify may require Javascript or Zapier to integrate with Drift. See the full list of integrations here.
Pricing
Pricing information is no longer available on Drift's site. Reach out to their representatives directly to obtain a quote based on your company's size and goals.
Disappointments
While Drift is very useful overall, it often feels as if some of the features available at higher subscription levels should really be standard elements of the tool, just in the interest of good UX.
Bluecore

Bluecore is a retail marketing platform that allows eCommerce marketers to create and distribute personalized, triggered emails. The platform is popular among a variety of retail brands, such as Steve Madden, Starbucks, and Crocs. The site isn't quite as informative as it could be, so we recommend reaching out to Bluecore for a free demo.
Key or Notable Features
Bluecore offers the typical email marketing tools that you would expect from an email marketing platform; however, the strong reliance on data results in a few other features designed to really drive sales and increase revenue. For example, Bluecore allows users to set up predictive audiences based on pre-built, retail-specific predictive models that utilize your data to create segments based on product affinity, likelihood to take actions, lifecycle stage, and lifetime value.
Bluecore also allows users to build out personalized marketing campaigns with multiple, cross-channel touches — all within a single campaign workflow — so you can guide your customers toward purchase across various channels.
Integrations
BlueCore offers integrations with a few eCommerce platforms and tools, including: 
Google Adwords

Oracle Commerce Cloud

Shopify

Magento

Salesforce
Pricing
Unfortunately, Bluecore's pricing isn't listed on its website. However, you can contact them to get a quote. Note: Some customers have mentioned that prices can run a little high.
Disappointments
We weren't terribly impressed by the small list of integrations available with Bluecore. Customers sometimes reported having issues with the email reporting feature (although the dashboard is useful for providing accurate data at a glance). Others have also said that they weren't as impressed by the limited amount of features available for such a pricey platform.
Decide Which System is Right for You
Every business has different needs and goals when it comes to selecting an eCommerce marketing automation system. Yours is no different. In order to decide which automation platform is best for your business, you need to first identify these wants and needs. Then, use our marketing automation software comparison to start evaluating your options.
Of the ten services in our marketing automation comparison, each has its own strengths and weaknesses. Each was also built to solve different problems for different businesses. Think carefully about which features you'll most likely use — and which will have the biggest impact on your business's efficiency and revenue —when choosing the best marketing automation software for you.
Make sure to bookmark this page and refer to it often during your research process. You can also download our marketing automation software comparison matrix for a quick reference to take with you.

In the meantime, should you need help or have questions about selecting an eCommerce marketing automation system for your business, our strategists are always here for you. Feel free to leave a comment below or, for a more detailed conversation, get in touch with us anytime.