As the coronavirus outbreak has affected every aspect of our lives, the economic shifts have been dramatic. We continue to see the impact of COVID-19 on eCommerce marketing and key performance indicators.
Trends are changing rapidly and have significantly changed since we last reported on how eCommerce brands are navigating the storm. Therefore, we are providing another update on eCommerce digital marketing trends and observations during the COVID-19 pandemic.
Questions we are also evaluating as an agency are:
How has consumer behavior changed?

How will it continue to evolve in the new normal?

What has been the impact on eCommerce?
Answering these questions will provide insights for strategies moving forward.
How Did We Compile this Data?
As an eCommerce agency, we rely heavily on data and are fortunate to have a lot of it to help give us such insights.
For this report, we took a look at a cross-section of our clients, representing a range of eCommerce business categories and over $200M in annual revenue.
We examined our key areas of impact, including organic and paid traffic, by looking at aggregate reports from Google Analytics and Google Search Console.
A number of trends stood out among the following key performance indicators.
Key Performance Indicators – All Sources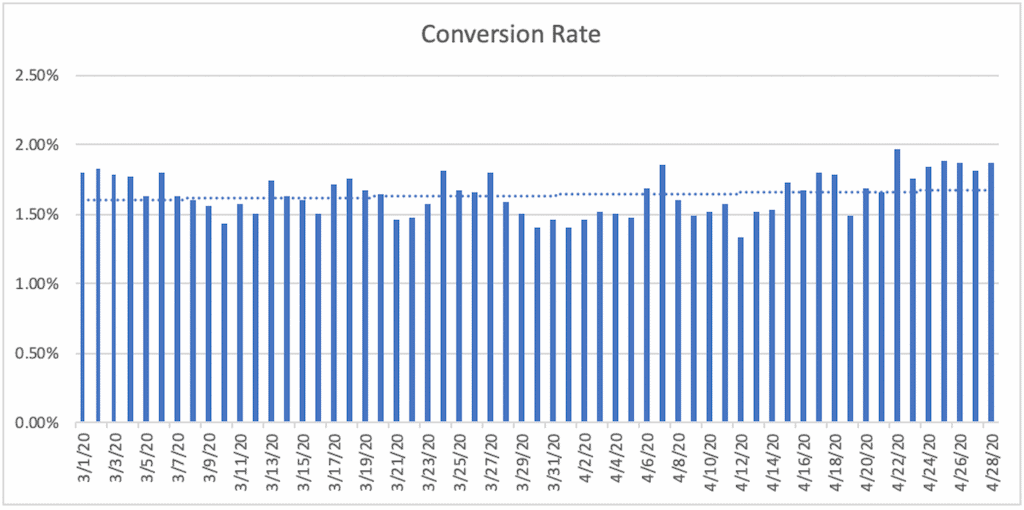 During the first couple of weeks when major coronavirus-related measures started to be implemented (specifically beginning March 10), conversion rates took an initial dive from the beginning of the month.
However, they have remained rather steady since then, even reaching pre-coronavirus levels at the end of April.
Surprisingly though, conversion rates remain consistent despite what we are seeing in traffic volumes.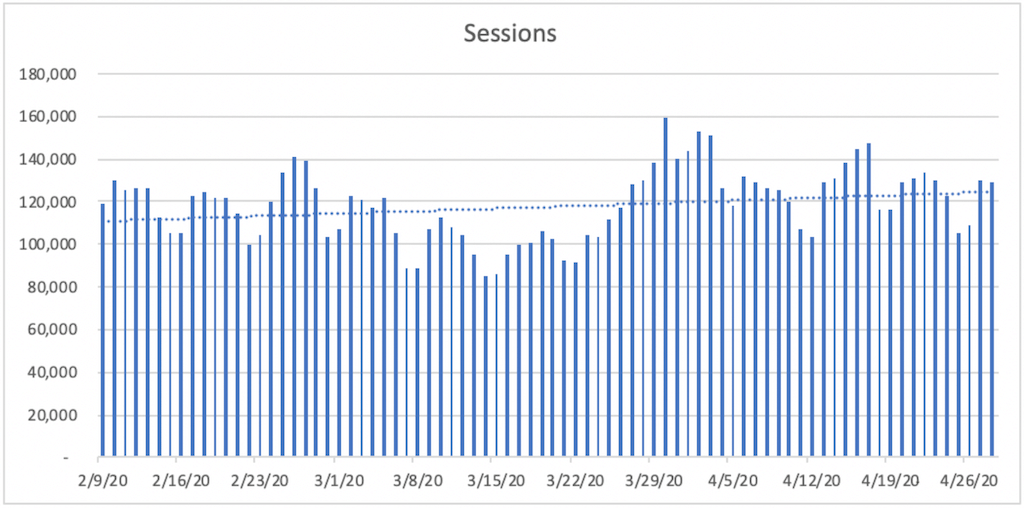 Sessions have been on a noticeable increase since the middle of March.
We did see an initial lag after coronavirus-related measures were implemented. But as brick-and-mortar stores came to a halt across the country, online stores have become a primary choice for consumers.
Across several clients and categories, we are recording their highest traffic levels – not just for March/April, but exceeding numbers we see during record-setting holiday periods or seasonal periods, such as back-to-school.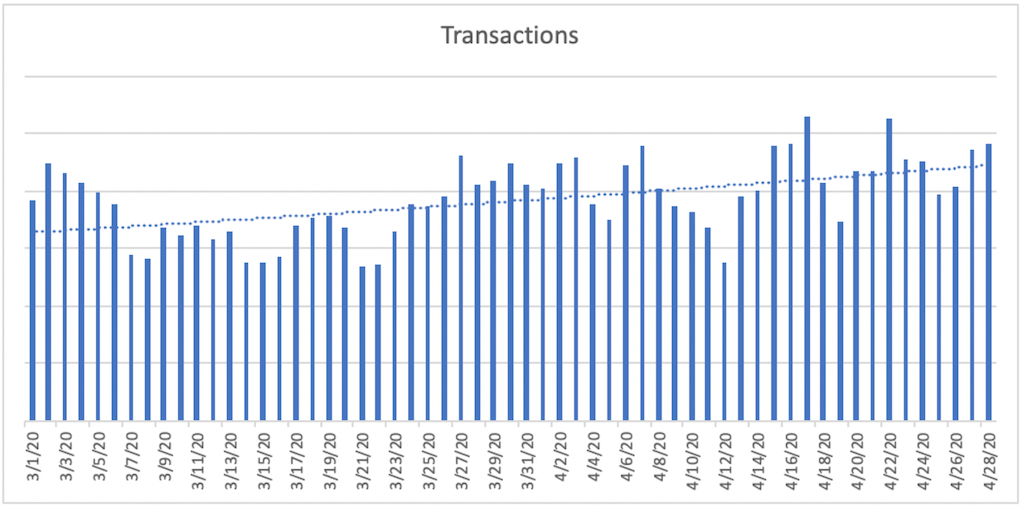 Likewise, transactions have mirrored traffic patterns with an initial lull, but a strong trend since then.
However, a number of our clients are beginning to have concerns, such as warehouse operations, supply chain issues, and product availability. With several states shutting down, warehouse access has sometimes been deemed "non-essential."
Key Performance Indicators – Organic
A glimmer of hope remains, especially in Organic key performance indicators.
Across our SEO clients, Traffic has shown a steady increase since early March.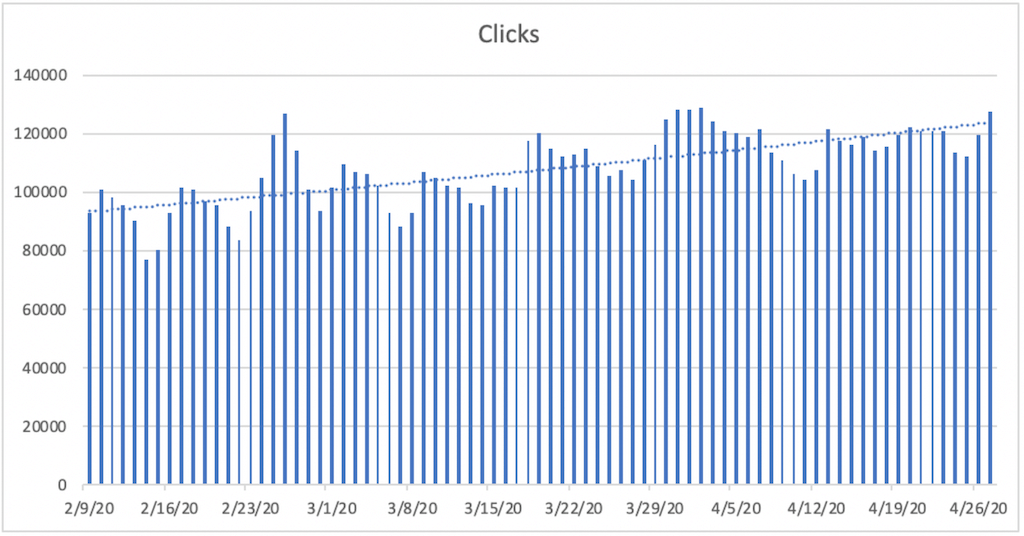 This has been the case despite not seeing a dramatic shift in impressions.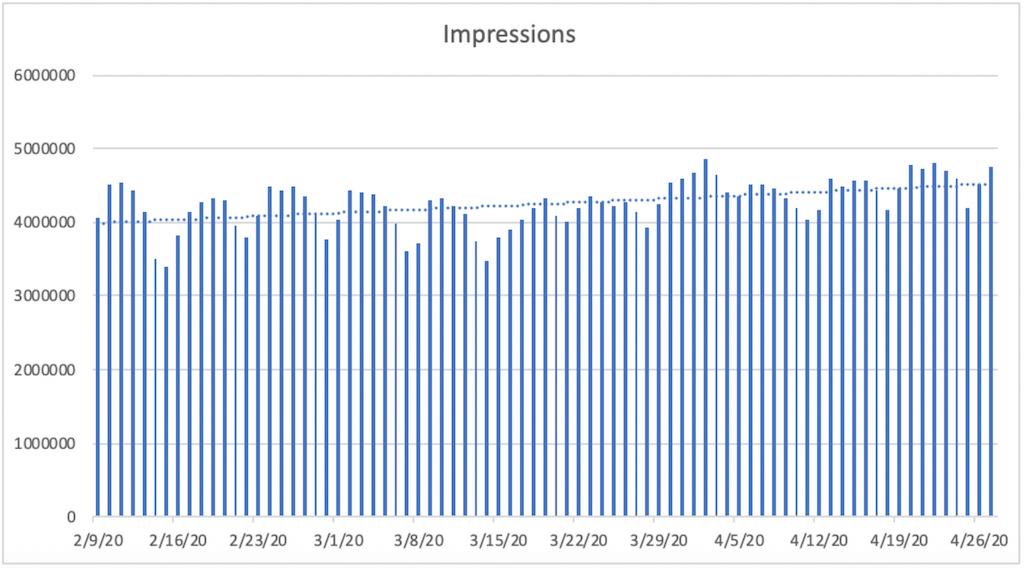 Interestingly, we are seeing similar trends in online behaviors as we see in the real world during this pandemic.
When coronavirus first hit and city and state-wide lockdowns started going into place, interest in essential products such as toilet paper skyrocketed. This was the case for a client we work with who sells freeze-dried food, who has seen an increase in eCommerce sales.
Additionally, interest in products and services related to being in lockdown saw and have largely maintained a significant increase. The same was the case for a client we work within the Yoga space.
Finally, search interest plummeted for non-essential products and services specifically impacted by the coronavirus pandemic. We saw this to be true for a client we work within the cruise industry, as online sales tremendously decreased.
For almost every other client not in the above categories, organically we saw search interest decline as people adjusted to the lockdown orders and presumably were focused more on essential products, services, well-being, and adjusting lifestyle.
Organic Positions and Keyword Rankings
We have not seen organic positioning and keyword rankings change dramatically in relation to the coronavirus pandemic. Mostly we've seen organic positions maintained or continuing to improve with many of our clients.
However, we have noticed that some search terms now return very different results. Take "face masks" as an example. That term used to show mostly beauty-related products, such as creams and cucumber masks. Now, results entirely feature cloth face masks. 
For some reason, though, "affordable face masks" still shows mostly beauty-related results.
SEO Recommendations
As the above Organic Clicks chart shows, we have seen steady organic traffic recovery on the aggregate and many clients recovering to near or even at pre-coronavirus organic traffic levels.
From an organic standpoint, our message to clients has been and continues to be as long as you have the means to afford it.
Since SEO can take longer to yield results, this presents an opportunity to get a leg up on the competition who may be dropping SEO and other digital marketing services. The more you can do now, the further ahead you will be as search interest returns.
We've highlighted some of these recommendations for SEO (as well as CRO and PPC) in a recent article: eCommerce Marketing During a Downturn: Strategies and Options for eCommerce Businesses During the Coronavirus Crisis.
In addition, since we've seen many industries and clients return to levels near pre-coronavirus, it's still a fine time to initiate an organic campaign if this is something you are considering. Our team of Search Engine Optimization experts can help you get started.
Key Performance Indicators – Paid
Despite what we are seeing in certain product categories, this has become an opportune time for many of our paid clients. Sessions, Traffic, and Revenue are up overall for our paid campaigns.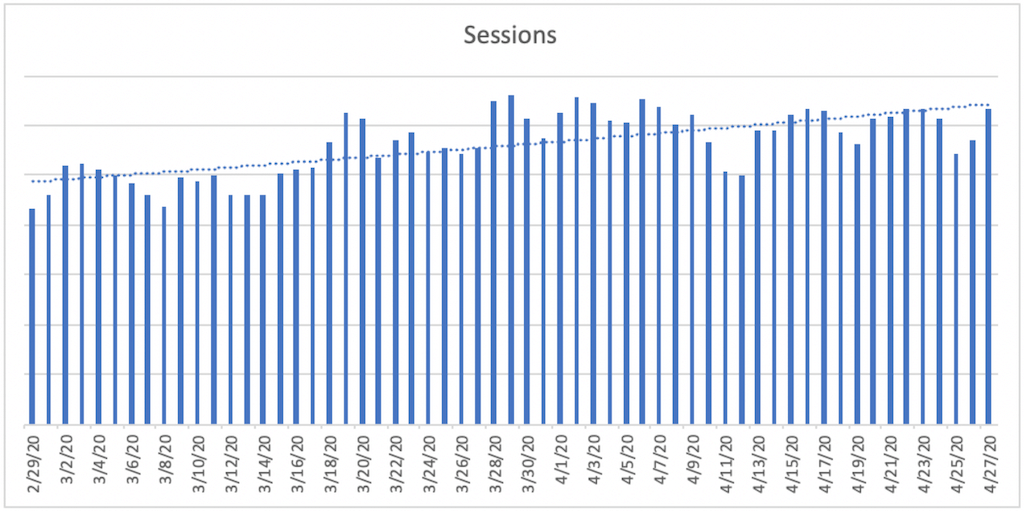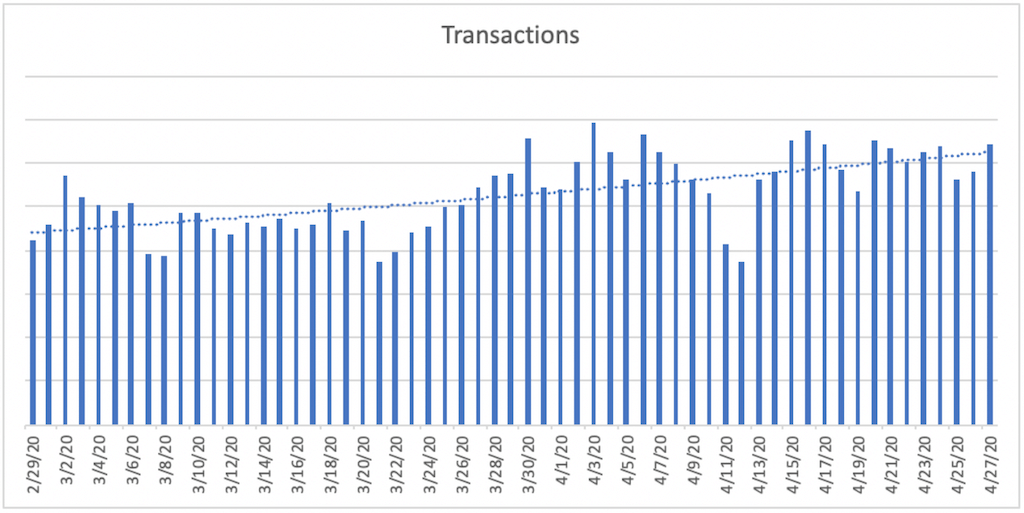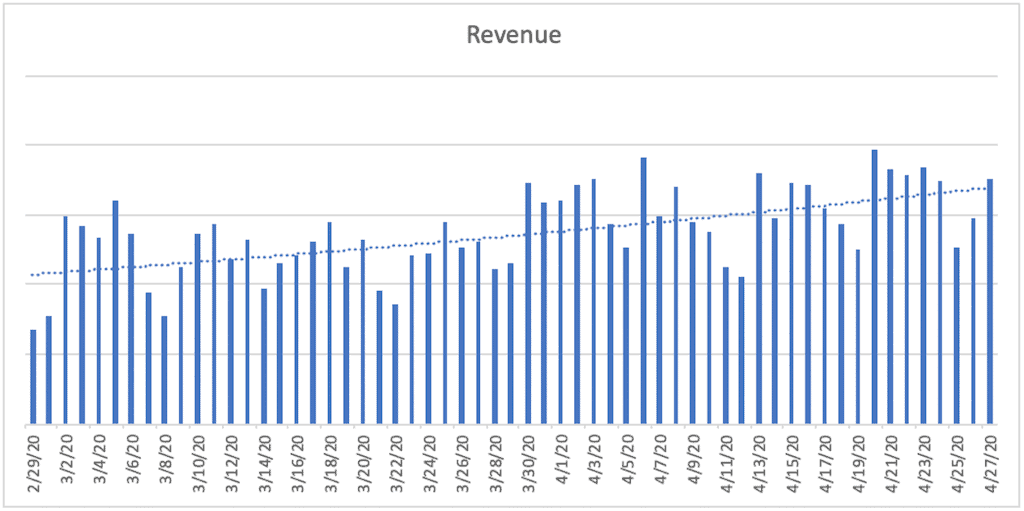 However, things are not equal.
Key Performance Indicators – B2B
For B2B, we are seeing a decrease in Impressions and Clicks across both SEO and Paid. B2B and office-related services are taking a hit during this time, as the office workforce is now working from home.
This decrease also suggests that companies are looking to cut expenditures while services related to brick-and-mortar locations are on hold.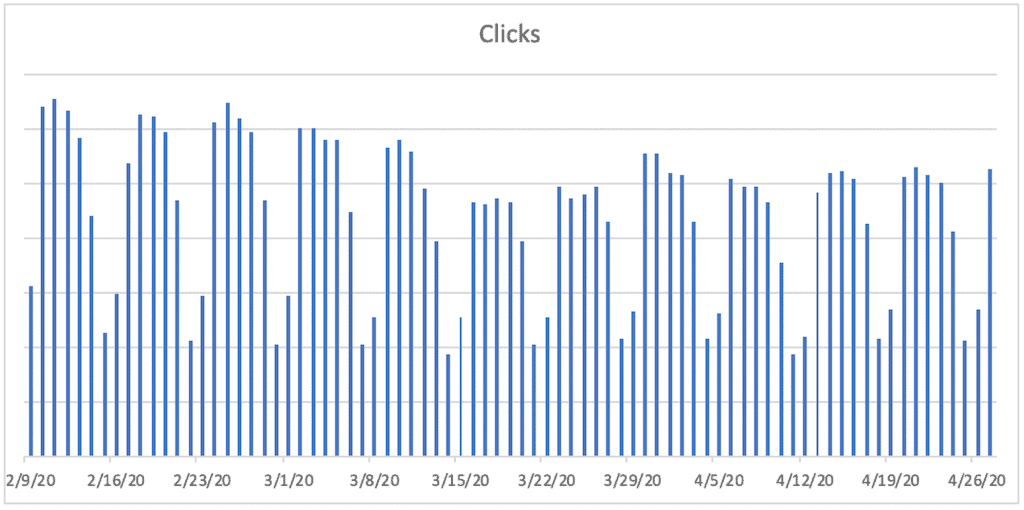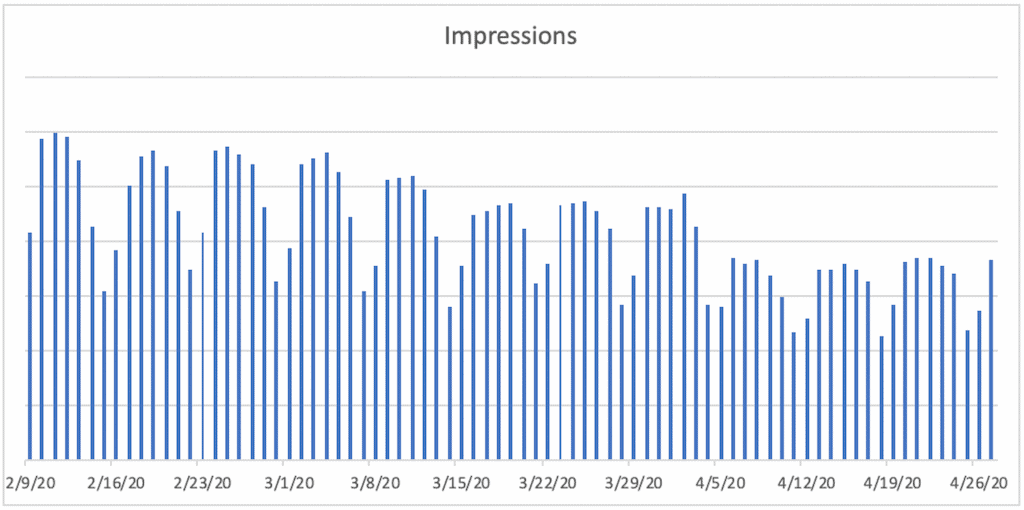 Key Performance Indicators – Travel
Likewise, Travel has experienced a sharp and sudden decrease in KPIs since the start of coronavirus pandemic. As states have shut-down and some industries have been forced to shutter their doors due to social distancing rules, travel has been especially impacted.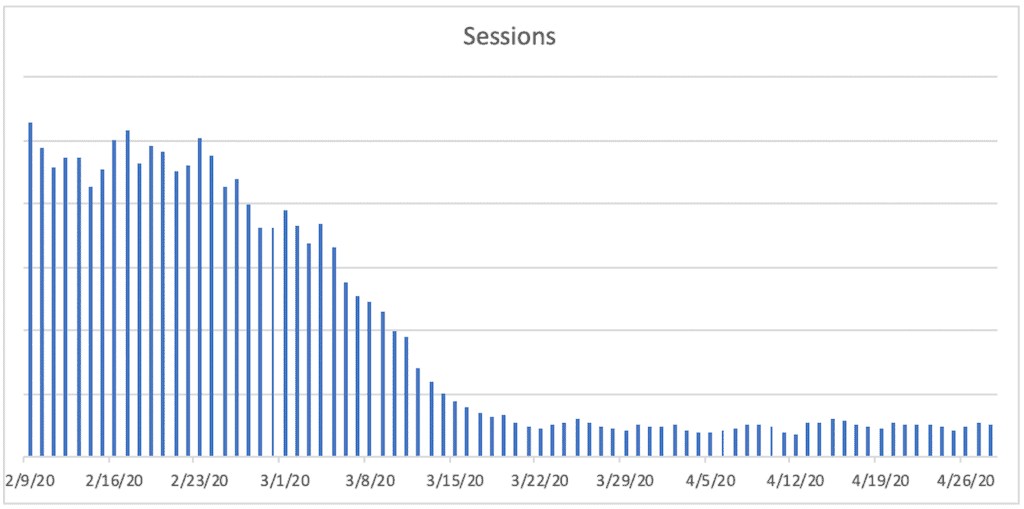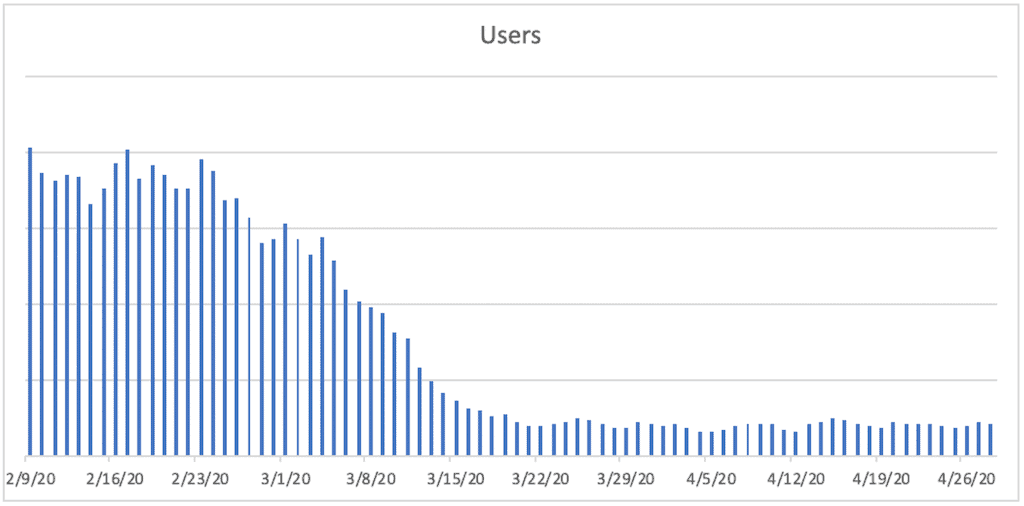 This decline has been just as sharp across Transactions and Revenue.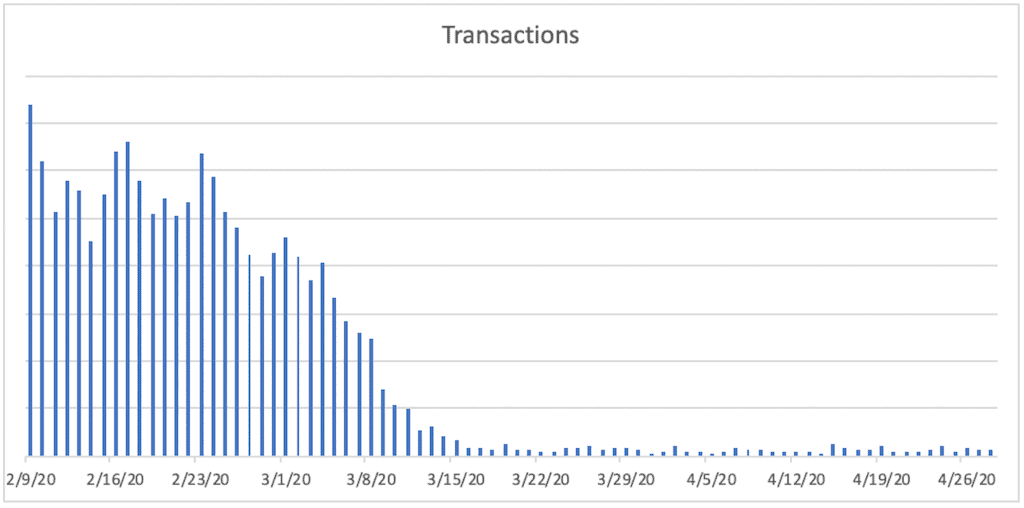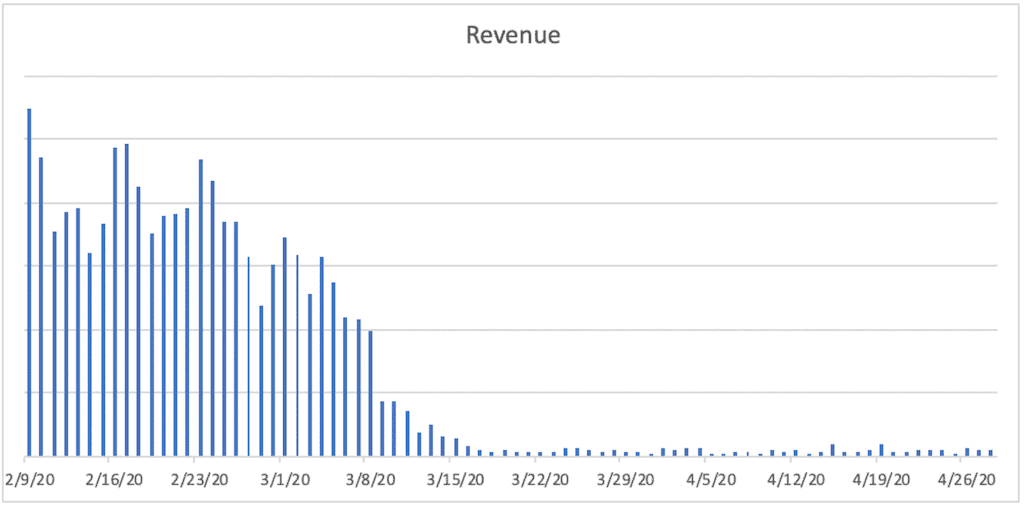 Key Performance Indicators – Consumer Services
The consumer side of things continues to show positive results.
Impressions and Traffic growth across Consumer Services are actually on the rise. Many of these categories showing growth are digital services, as opposed to in-house services.
However, this may show a signal that consumers are continuing to look for direction and help in areas like savings tools and moving services.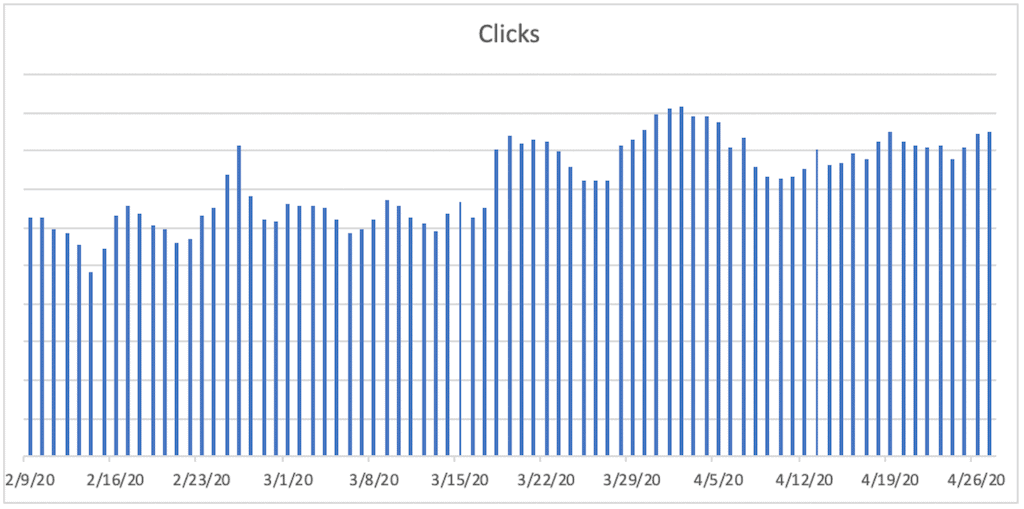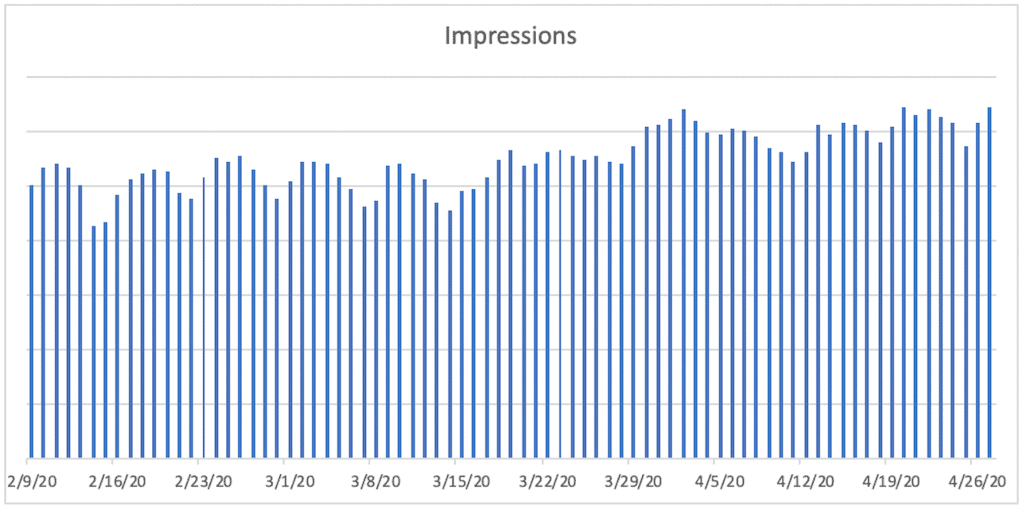 Key Performance Indicators – Consumer Goods
Consumer Goods and DTC brands are where we are seeing the sharpest growth rates.
With brick-and-mortar shopping not an option for many due to stay-at-home orders, consumers are relying on online shopping. In many cases, consumers are relying on eCommerce sites more so than we have ever seen before.
Traffic and transaction volumes are at a level usually seen around holiday but sustaining for a longer period of time (and have yet to slow down). While this presents a strong opportunity, it is not without its issues.
Strained supply chains and delivery times are negatively impacting online retailers. Balancing the eCommerce marketing strategy with inventory is becoming more and more important.
For our SEO Consumer Goods clients, Impressions and Clicks are up since early February. Interestingly, the backslide we saw around the beginning of the COVID-19 pandemic was rather light and rebounded quickly.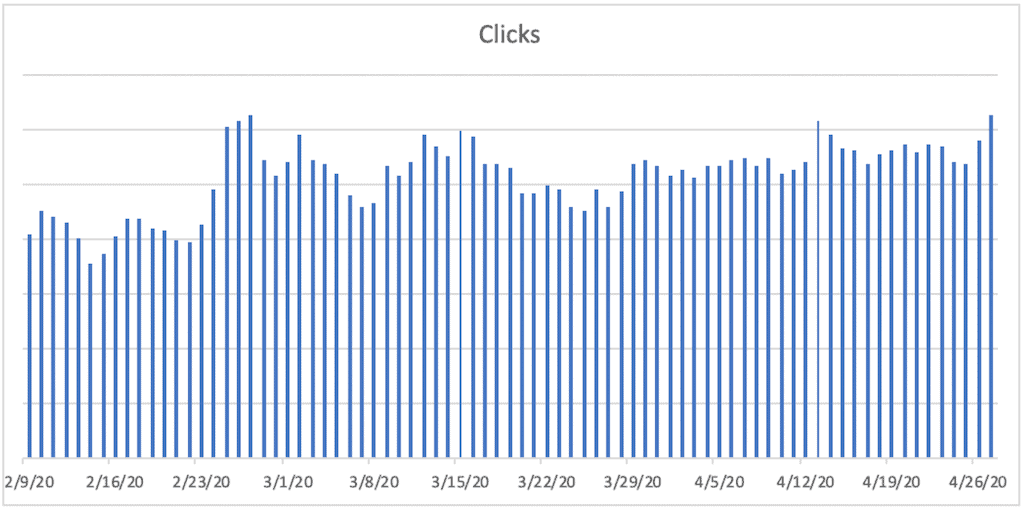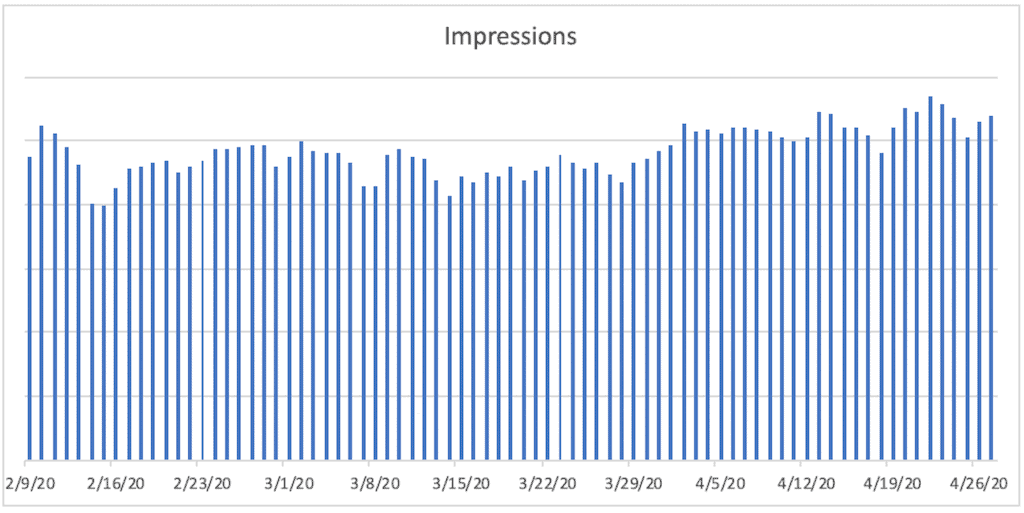 Our Paid Consumer Clients have seen a sharp rise in several key metrics since COVID-19 measures were put in place.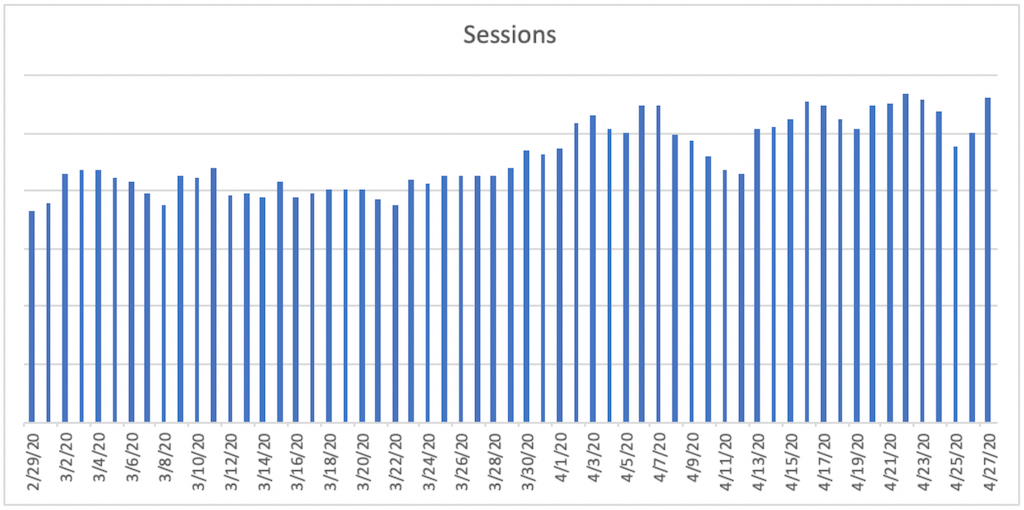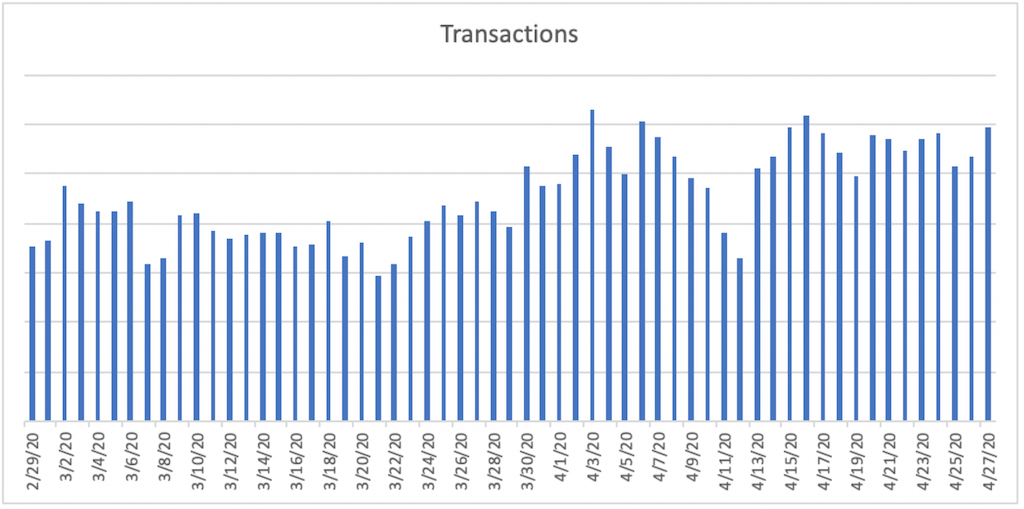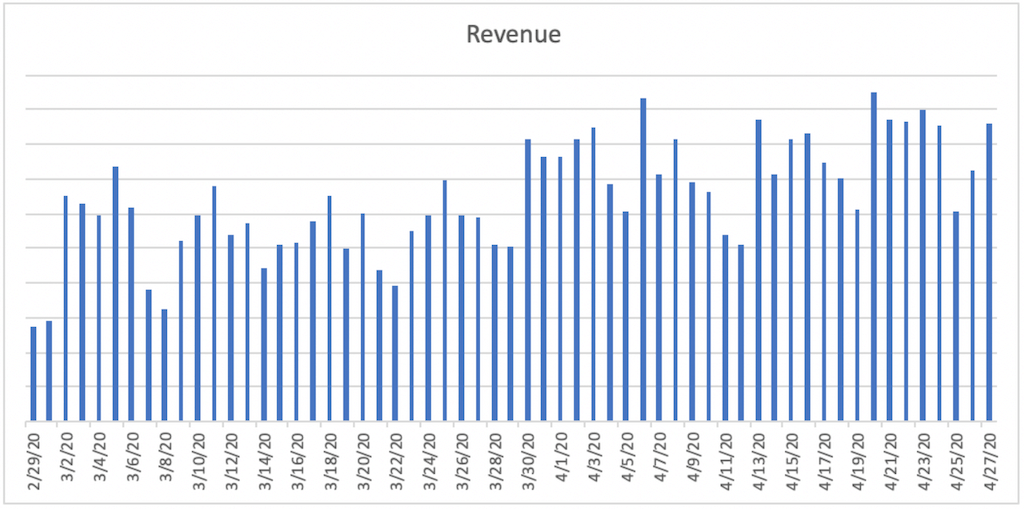 How to Survive Beyond COVID-19
As this is an unprecedented time for all of us, it also seems to be an unprecedented time for eCommerce. Planning for the near, short, and long term with so many unknowns will be the challenge.
What remains a major question is how long will it take to recover? And what does recovery even look like?
There is no one timeline for states and activities opening up, or for consumer confidence to stabilize. This suggests a rocky ramp up as the country returns to a new normal at differing paces. Marketing ramp-up will most likely reflect this.
There is no time like the present to focus on improving your current PPC campaigns. Doing so can result in more efficient acquisition costs and campaign spends, during a time when revenue and preserving cash are even more critical.
Now is also a great time for eCommerce brands to focus on longer-term eCommerce marketing strategies, such as SEO and CRO. Focusing on these efforts now will help eCommerce merchants rebound even quicker.
Reach out to us at Inflow for expert advice on how to build your eCommerce marketing strategy during this pandemic, so you are well-positioned to come out ahead on the other side.