Powerful B2B eCommerce marketing strategies get developed through a process of continual improvement in a number of different areas.
Classic marketing strategies such as asking for referrals, promoting at industry events, and doing cold outreach have their place. That said, our experience over 11+ years in eCommerce marketing has shown that search engine optimization (SEO), pay-per click advertising (PPC), and conversion rate optimization (CRO) are three approaches that show a proven return on investment (ROI).
These three digital marketing practices are important for B2C buyers, and today's online B2B buyers expect a shopping experience that is similar to B2C. Plus, many businesses serve both types of customers on their platforms.
In this post, we'll show you 11 online marketing strategies that B2B eCommerce stores should take advantage of.
Note: Want our personalized help and recommendations to get more B2B customers online? Get in touch.
B2B eCommerce SEO Marketing Strategies
#1: Scale Your Strategic Content to Target B2B Buyer Personas
We recommend scaling content production to target all of your important customer segments.
When you produce content that is personalized to your most important customer segments, each will be more likely to find and respond well to that content. This works better than a "one-size-fits-all" approach to each content piece because B2B buyers tend to prefer content that is just for their industry.
To illustrate this, a client of ours in the warehouse supplies niche does business with government contractors, healthcare, manufacturing, and other industries with warehouse needs. If you're targeting multiple types of businesses too, they might be searching and shopping in very different ways.
The specific needs for a healthcare supply warehouse and a manufacturing warehouse are entirely different. One needs solutions specific to medical supplies, the other needs solutions specific to manufacturing. Their questions, pain points, and products purchased along the buyer's journey are going to be different.
We often recommend that clients publish helpful articles, guides, videos and other content that is optimized to answer questions that target customers are typing into search engines. This means creating content at scale to target specific industries and use cases relevant to your business.
When paired with keyword research and good SEO copywriting, publishing this type of content for eCommerce websites brings in more targeted organic traffic, and a portion converts into purchases.  As you scale up the production of strategic content, you increase the potential amount of organic traffic all of your content brings in.
The bottom line here is: Rather than attempting to capture multiple segments with content that attempts a "one-size-fits-all" approach, call out your different customers directly and structure your website's content by each segment.
For example, BigCommerce divides the "Solutions" section of their website into use cases like "B2B" and "Wholesale" as well as different industries: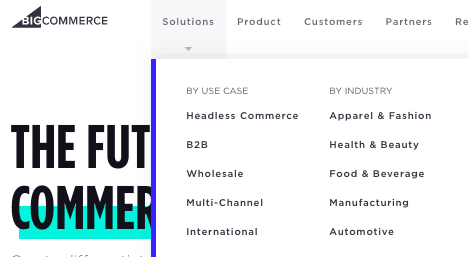 Then they publish content specific to that use case or industry. Like these manufacturing-specific case studies on their "Manufacturing" industry page: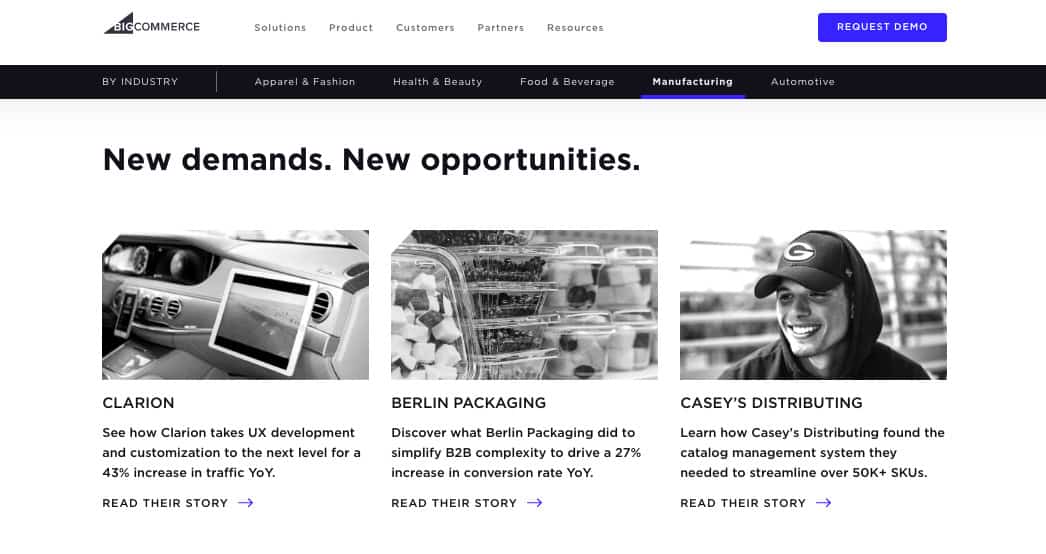 As another example of this in action, Discount Vials has an industry menu: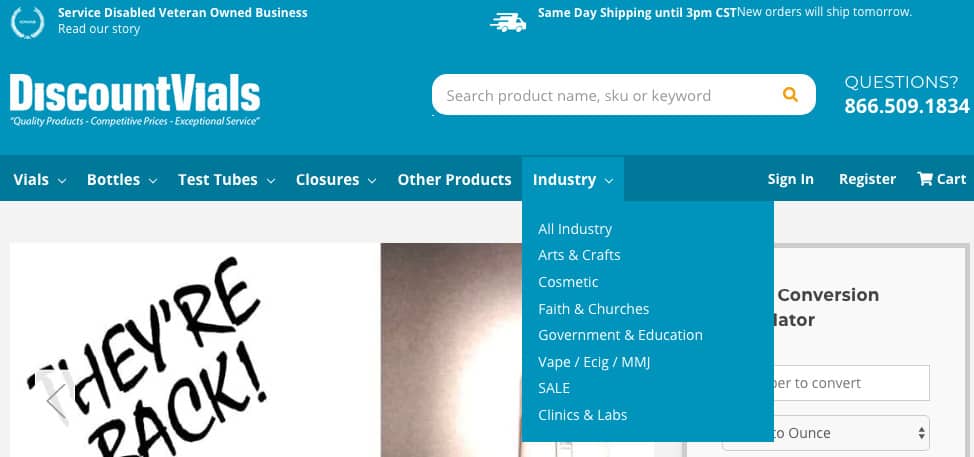 Each industry option takes you to relevant products frequently purchased by that industry.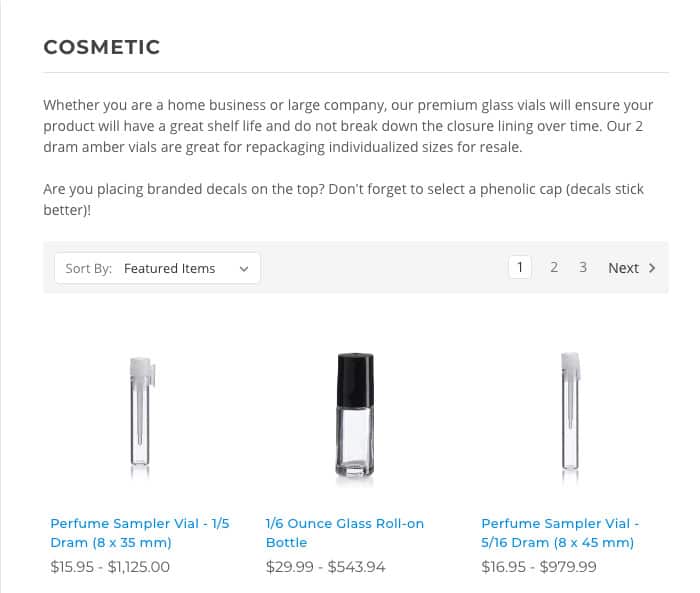 Chances are you already know who the different audience segments in your customer base are. If you also know their buying process and needs, you can optimize your pages to match their needs and intentions.
You can pinpoint this by looking at the organic keywords your website is getting clicks for in Google Search Console, running surveys to customers, and doing more keyword research. The point is to find what your different customer segments are typing in when shopping for your products.
Use this information to create strategic content that appeals to each customer base, and use the keywords you find to further optimize that on-page content (including long tail keywords). You can also test advertising this content in your paid ads.
#2: Prune Thin Content to Get More Traffic to Your Strategic B2B Content
Have you done a content audit and deindexed low quality pages from your B2B eCommerce website lately? We've seen time and again that pruning content results in better website performance.
The amount of "index bloat" on a website is a big factor in how Google perceives overall quality. Google doesn't want to see a bunch of thin and duplicate content, but unfortunately, eCommerce websites tend to have several of these types of pages.
The usual culprits are product and category filters, site search, and old or out-of-stock products. These low quality pages can all lead to index bloat, which has the effect of reducing the power of your high quality pages in search engines.
Want to learn more about cutting low quality pages from your website? We've written extensively about the benefits of content pruning.
You can learn how to do a content audit in the case studies and strategy guides below:
#3: Optimize Your B2B eCommerce Website's Design and Speed Across Devices
By September 2020, Google will make mobile-first indexing the default for all websites. This means that it's essential to optimize your mobile website's design and speed if you want to increase your odds of being discovered at the top of the search engine results pages (SERPs) on any device.
You can use Google's Lighthouse tool to perform audits of your site's pages and make sure they are all optimized for mobile. Lighthouse is tuned toward analyzing websites for mobile usability.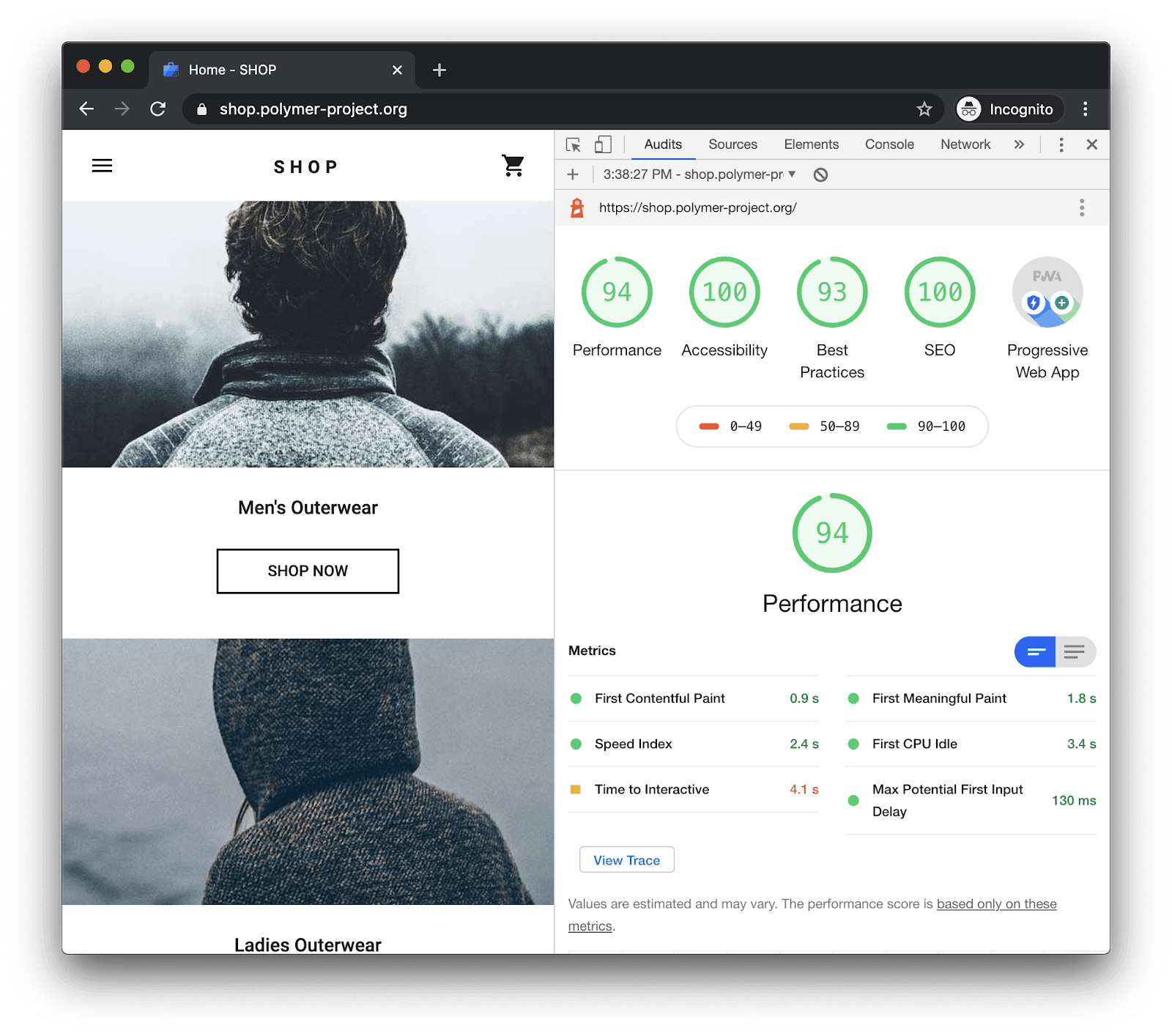 To quickly test only your website's speed across different devices, use Google's Pagespeed Insights.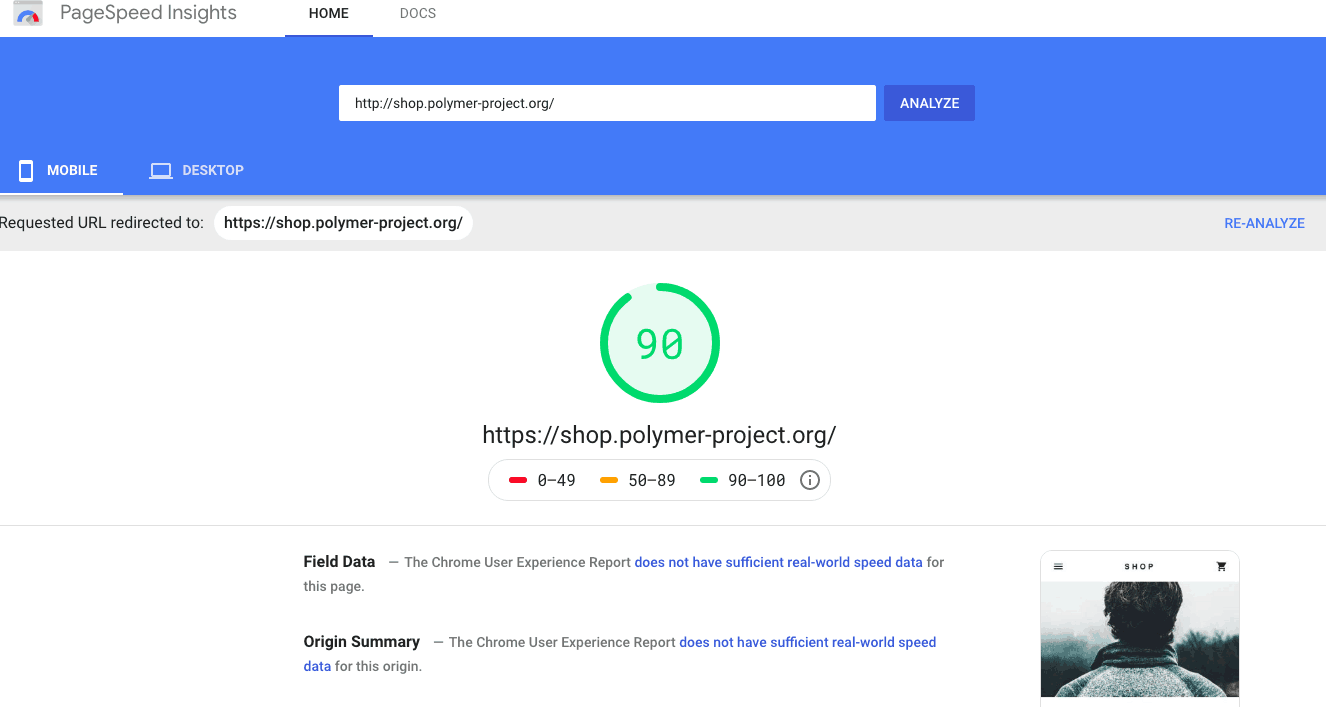 Optimizing your mobile design and speed has the added benefit of improving your conversion rates along with improving SEO. People tend to start shopping on mobile devices and complete their purchase on desktop. If they don't have a good initial experience with browsing your website on mobile, they might not necessarily come back to it on their desktop.
According to a report from the Journal of Marketing, researchers observed that "Conversion rates are higher when consumers start on a mobile device and end on a less mobile device, such as a desktop or laptop computer."
The paragraph goes on to attribute the higher conversion rate to the user's time exploring and evaluating on a smartphone. Adding, "We also found that there is a much higher conversion rate when customers explore more expensive products on mobile before making a final purchase on less mobile devices."
In other words, conversion rates are higher when buyers start shopping on mobile and complete their purchase on desktop. The conversion rate is even higher on this shopping path for expensive products. This means you should definitely prioritize the mobile version of your website to provide a seamless shopping experience.
B2B eCommerce PPC Marketing Strategies
#4: Increase Your ROAS from Google Shopping and Search Ads Campaigns with Negative Keywords and Tiered Campaigns
A big part of increasing the return on ad spend (ROAS) from Shopping and Search Ads campaigns involves avoiding wasted spend whenever possible.
To maximize profitability from your PPC campaigns, we recommend you:
Add negative keywords and
Adopt a tiered campaign strategy.
Finding and cutting out keywords that produce poor results and bad quality scores can improve your campaign's health. (An example of a negative keyword that would produce poor results would be keywords like "cheap" when you sell luxury items, and so on.)
Include important metrics like average cost per click and ROAS.
You can do an audit of your campaigns to find negative keywords using Google's Search Terms Report:
Once you sign into your Google Ads account, click "Keywords" in the page menu.
Click on "Search terms", and check the boxes next to the search terms you want to add as negative keywords.
Finally, click "Add as negative keyword" to add it to a negative keyword list, ad group, or campaign.
Use a Tiered Campaign to Isolate High Performing Products
One of the most successful PPC ecommerce strategies we regularly implement for clients who want to increase their ROAS is a tiered campaign structure: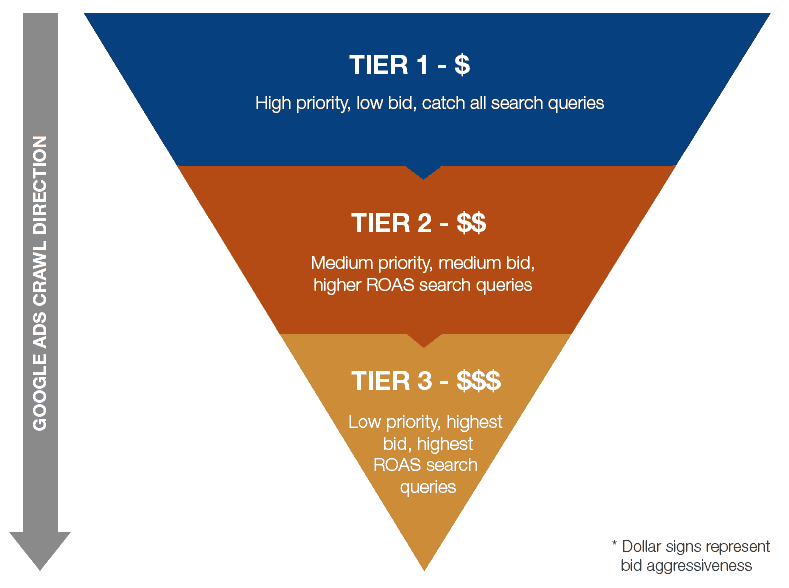 This model separates your campaigns into three tiers based on relevant search terms to your product and brand.
To put it simply, you bid lower on broad terms at the top tier of the funnel to generate brand awareness for new customers, and to avoid overspending on search terms customers use early in their journey (search terms which tend to have a low ROAS).
Then, you bid a bit more when those customers are looking for specific products (these have some ROAS).
Finally, you bid the most aggressively on terms directly related to your specific products and brand (these get the highest ROAS).
We've found that by bidding on search terms more efficiently using this model, you can optimize ad spend and conversions.
#5: Improve and Optimize Your Branded Search Marketing Campaigns
Owning your B2B company's brand in search results is crucial. We often see competitors bidding on our clients' brand names, trying to outbid them. This is especially important for brands with more generic names such as "Modern Shelving:"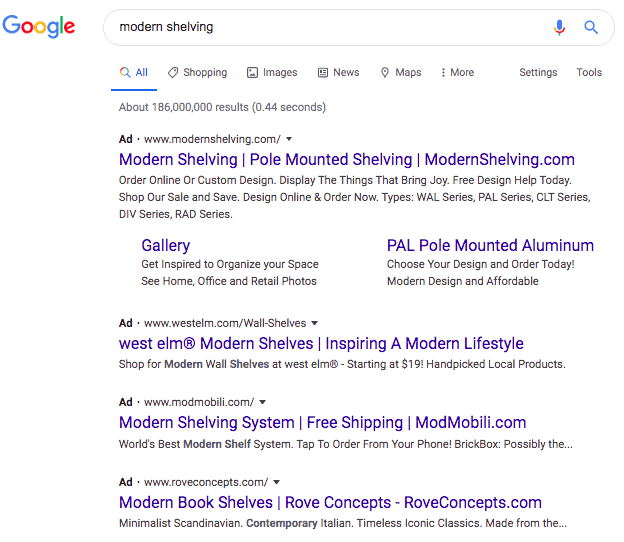 Branded campaigns should be relatively inexpensive, once you optimize them toward a high quality score and click-through rate. Again, you do this by adding negative keywords to your campaigns to avoid triggering those irrelevant search terms.
Start by going back to your Search Terms Report.
Then look at the search terms which triggered impressions and clicks but are not relevant to your brand.
Finally, add negative keywords to avoid your ad being triggered at the wrong time. For example, if your company is "All Star Rental" a search term like "all star" by itself or "all star [anything]" could trigger your branded campaign.
Doing this helps improve the average position of your ads, so that Google puts them at the top of the SERPs for your branded search terms. It's important for both B2B and B2C eCommerce businesses.
Check out these other best practices for branded search campaigns to implement.
They will help ensure that your branded search ad campaigns are properly set up and not overspending.
#6: Make your PPC Ads Take Up More Real Estate in Google
It's possible to increase your ad placement and ad size to take over more of the results. Sounds simple, yet this a commonly-overlooked strategy.
It consists of two main tactics:
Add at least 3 ad copies, per ad group, so that Google shows your ads more frequently.
Use ad extensions to make your ads more eye catching.
Add at least 3 ad copies
Google recommends running 3+ ads at any time, per ad group. These ad groups should target specific product categories you sell.
For example, a shipping supplies store should have separate ad groups for bubble wrap, cardboard boxes, packing tape, etc. with different ads for each product.
Doing this will instantly improve the quality score of your ads, helping them to get more clicks.
Use Ad Extensions
You can take advantage of Google's ad extensions to increase the amount of space your ads take up.
Some good ad extensions to use are:
For example, the Hewlett Packard Enterprise ad (below) takes up a lot of vertical space for the search term "servers business buy," something a technology buyer at a business might search for when they shop for new servers: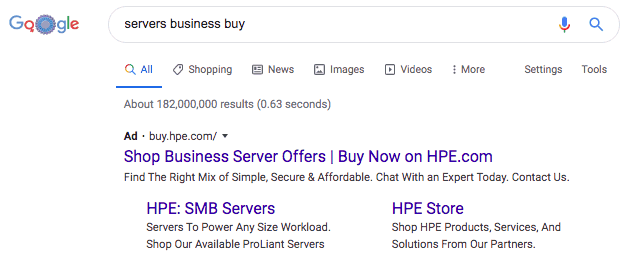 The extra space it takes up is thanks to its Callout Extensions (the text under the links in the ad) and the Sitelink Extensions with that extra text.
As well as being eye catching, this ad is double the size of most ads. In terms of gaining a competitive edge, it pushes the other ads and search results even further down the page.
We also like Sitelink Extensions. Consider adding more variations for product category types that are custom to the product you're targeting. For instance, in a campaign for mobile shelving carts, you can use sitelinks for "Wire Carts," "Utility Carts," "Steel Carts," etc. (as Uline does):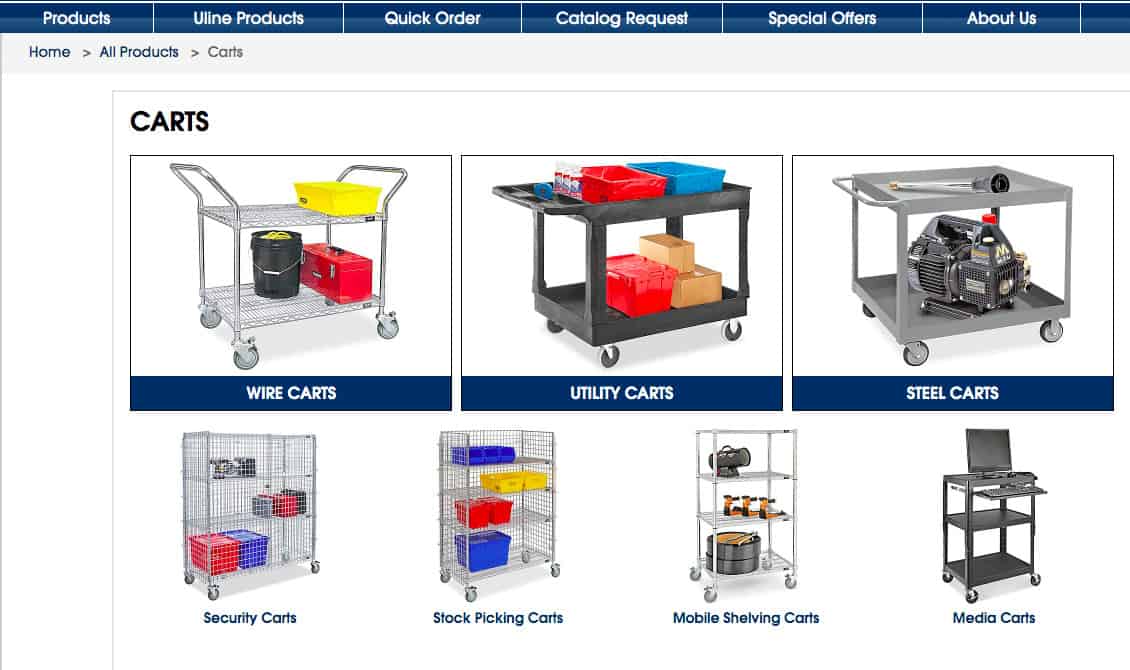 The product categories above are added as another line to Uline's ad:

It also helps potential customers navigate to the type of utility cart they need. Providing a good shopping experience off the bat.
B2B eCommerce CRO Marketing Strategies
#7: Publish Unique Case Studies for Each Customer Segment
Developing case studies that feature client testimonials and successes is important for B2B businesses. Case studies provide added trust and paint the picture of what benefits your business can offer to prospective customers.
It helps tremendously to target each case study toward a specific customer persona or segment. If your B2B business sells to multiple industries, different case studies for each industry are important for several reasons.
It gives your sales representatives a helpful tool to use in sales conversations when dealing with different customer segments.
You can link out to the right industry case study from the sales pages and product pages on your site that are relevant to that industry.
You can perform keyword research to match a case study with a relevant search term used by that industry when they are looking for a B2B solution.
You can advertise your case studies via PPC ads on social media, search engines, and across the web to get more targeted traffic from them.
Whether you provide products or services, featuring your own B2B customers in case studies can help convert similar customers.
Note: Be sure to link to your products and services from your case studies.
#8: Be Proactive with Live Chat
While live chat is important for B2C eCommerce stores, it may be even more important for B2B buyers. They tend to have very specific and varying questions about their orders.
As we wrote about in our piece about eCommerce live chat strategies, we recommend setting up a live chat that proactively reaches out to users on your website to ask if they want to speak with a specialist.
This proactive chat is helpful toward keeping prospects engaged on the website and initiating more sales conversations with them.
When developing your proactive messaging, it should center around the main value proposition in terms of helping users figure out which products to use.
In other words, anticipate the common questions and needs that frequently arise in a sales conversation so that you can help direct people to the right solution.
For example, if one of your B2B prospects is looking at a specific product or service, ask them if they have questions or need help with that product.
Live chat is your tool to guide B2B buyers through their journey to a conversion in real time.
#9: Be Ready for Low Stock and Custom Orders
Low Stock
When your customers purchase large quantities of products, you want to notify them that you have limited stock to fulfill it.
To solve this problem, have a pop-up appear if they go to order too high a quantity of product than you have in stock.
The pop-up should encourage the user to contact your business to help with your email and phone number. And also in that pop-up, note alternative options for the product or ways to help meet their needs.
Many eCommerce platforms like BigCommerce, Shopify, and Magento have this in the backend.
Custom Orders
Make sure you provide a path to a custom order, since B2B buyers may need to match the needs of their business in a different way.
For products that people may need to custom order, consider creating a "build a quote" link on your product pages that go to a landing page for a custom quote. We've seen a smart solution for this on Berlin Packaging's website (shown below).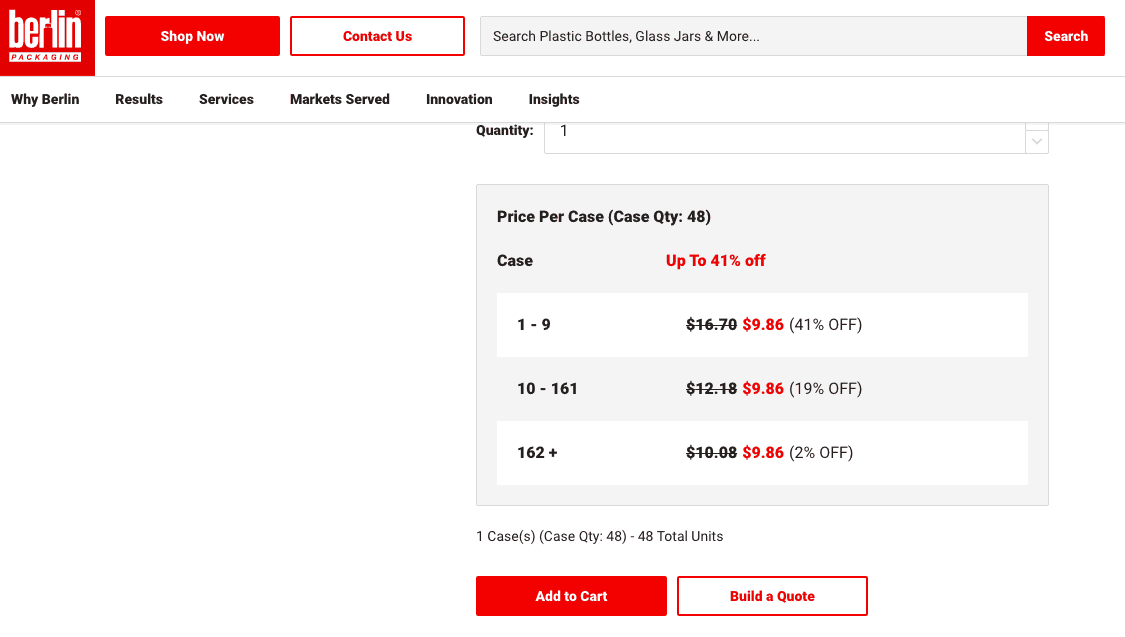 Rather than a landing page with a form, they add messaging that it's in a "Quote cart" once you click "Build a quote:"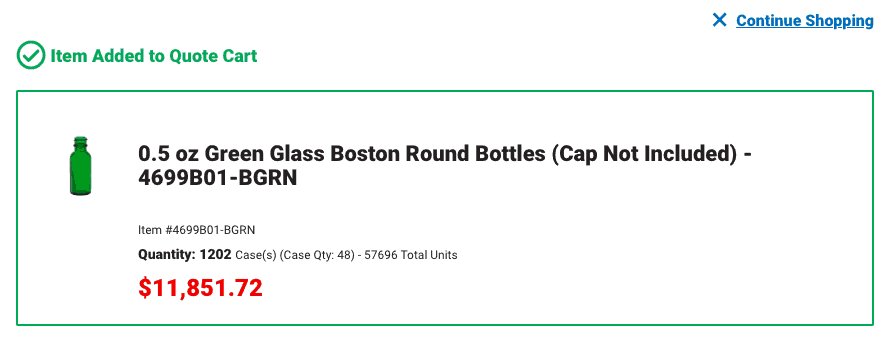 The checkout option? You can pay list price if you're willing, or submit the order for a quote: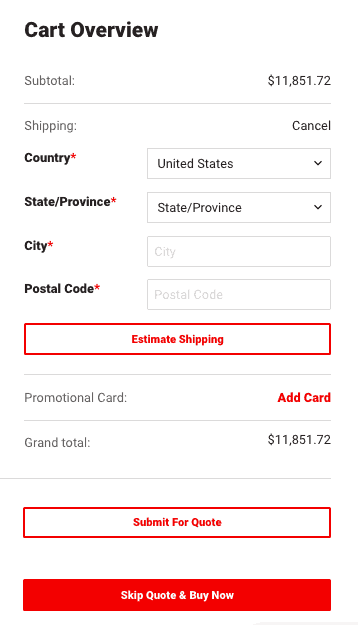 Berlin Packaging's B2B buyers likely appreciate this option. They can pay full price if they need stock now, or they can seek a quote and potentially negotiate it with less urgency.
#10: Optimize Your Upsells for B2B
Many eCommerce merchants allow their eCommerce platform to automate recommended items.
However, we have seen that sometimes these product recommendations aren't relevant to what the customer came to purchase, and so they do not convert. This is even more important with B2B, because buyers often come to your online store looking for very specific things.
In that case, only offer upsells that are relevant to the product in the customer's cart. Since many B2B purchases are for one, or several main items, offering accessories that complement the items in their purchase is a good tactic.
You can establish this in the backend of your eCommerce platform. For example, if your business sells wares to restaurants, show them dessert plates and salad plates in their cart if they already added a dinner plate: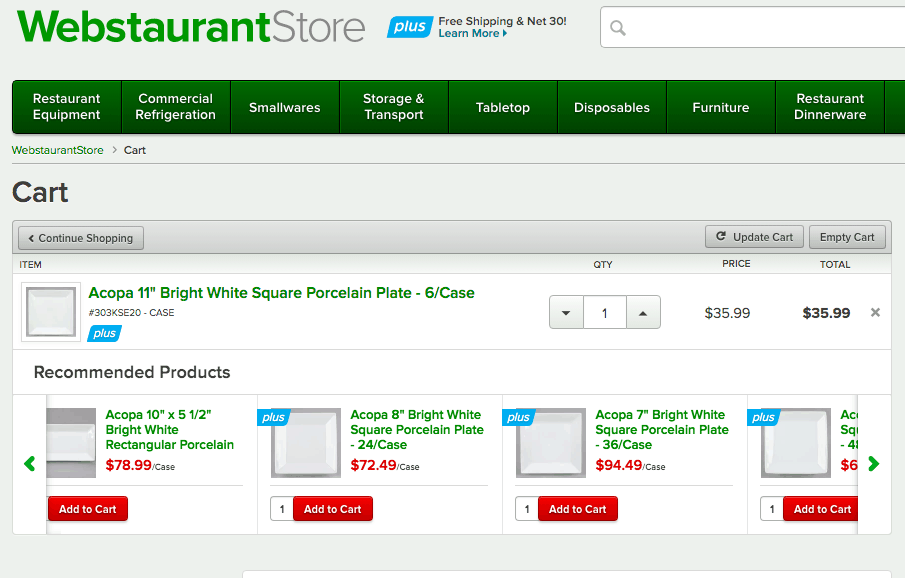 Webstaurant offers other white porcelain dishes of different types if you have one type of white porcelain dish in your cart.
#11: Make Sure Tracking is Accurate
As a general rule, the more you track on your website, the more information you have to view and optimize.
For example, we recommend that you or your developer sets up site search tracking by connecting site search to Google Analytics. This lets you see what people are typing in the search bar of your store. Those are often the things that people aren't easily finding on your site. You can then make sure those products and pages are easy to find in your site's navigation.
You also want to make sure that you can properly track calls, quotes, and contact forms. For that, we would highly recommend linking Google Ads Conversion Tracking to your Google Analytics account. Knowing exactly what conversions are happening on your website and where helps you to find specific things to leverage.
We've written before about why it's important to get inbound call conversion tracking in place. For example, you may not be seeing enough sessions come through Google Analytics based on the click traffic, but there are calls that come in directly from the SERPs (if your number is displayed there).
While B2B buyers may very well shop and order on their own, you want to know at what point they are calling in to your sales representatives. CallRail is a good call tracking tool to implement.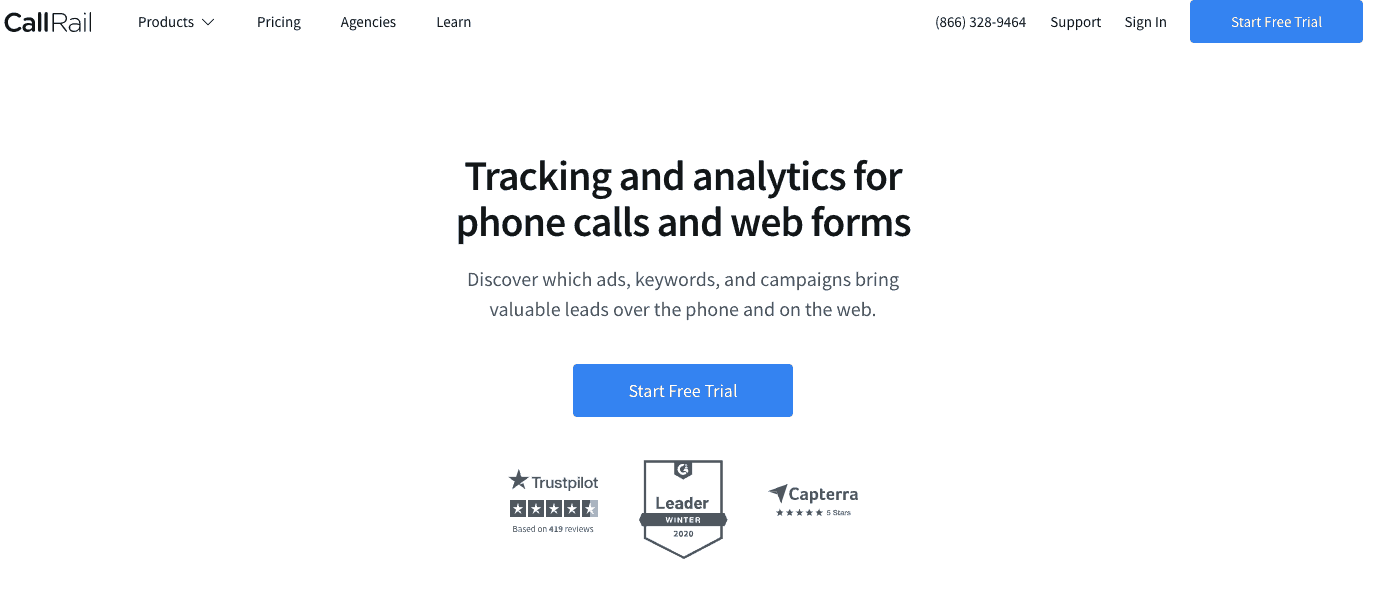 Try These B2B eCommerce Strategies Today
The common thread between all these strategies? Make sure the B2B eCommerce website is up to B2C standards.
A B2B buyer today buys much like a B2C buyer. In many cases, they prefer to shop through an eCommerce platform and call you only if they have further questions. That means customer service is still very important.
Competing as a B2B brand online means being able to get your brand found by decision makers and providing an experience that drives them to purchase.
These strategies work (as evidenced in our client case studies), but they are by no means exhaustive. For example, email marketing is still an important complement to these other strategies.
You can go even more in-depth on B2B eCommerce marketing strategies by looking at the additional marketing content on our Inflow Insights Blog.
Note: Want to hire an eCommerce B2B marketer to help you implement the strategies in this post? Get in touch.