For all the time and effort you spend crafting meticulous marketing materials for your products, your customers can make or break your success in just 30 seconds with a simple review.
In the digital age, online reviews are the most valuable social proof out there. In fact, 9 out of 10 customers want to read reviews before they purchase a product, making your review strategy an integral part of your sales and marketing efforts.
So, what can you do to ensure you get great product reviews — ones that will spread positive word-of-mouth about your brand and convince your customers to spend their hard-earned cash at your eCommerce store?
In this article, we'll show you how by covering:
What recent Google product review updates mean for your website
What makes a good product review (including screenshots of good examples)
What strategies you can use to gather better ones for your eCommerce brand
Recent Google Product Review Updates
You've probably noticed more and more content related to product reviews appearing in the search results over the years. It makes sense; Google wants to provide top-quality results to users' search queries, and oftentimes, product reviews are a crucial part of shoppers' decision-making process.
Unfortunately, because of this trend, the web has been inundated with sub-par roundups and review articles over the last decade.
Because product reviews, buying guides, round-ups, and similar content rank so well, it's been easy for content producers to game the algorithm. With a clever SEO strategy, websites have been able to rank highly in the SERPs — even if they've never even used the products they're writing about! 
To combat the frustrations caused by this mountain of disappointing content, Google has rolled out a series of new algorithmic updates over the last year, aimed at helping customers more easily find the value-forward testimonials they're looking for.
While Google won't give marketers all of the in-depth details, we do know that Google's new updates are intended to reward those with high-quality content, meaning content with:
Proof that an actual product test or usage has occurred
Honest feedback by the reviewer
Unique copy (not just reiterated content from the product page of the brand's website)
Unique product photos (not manufacturer's photos from another website)
For a full timeline of the update rollouts, check out Search Engine Land's coverage here.
Should Your eCommerce Business Be Worried?
When many eCommerce marketers hear the words "product review update," they worry that their sites may be affected by this algorithmic change.
The good news is that most eCommerce websites won't be impacted by these updates. In fact, none of our clients have seen an impact on their organic performance so far.
That said, if you produce "Best of" lists, buying guides, or FAQs from customers, or if you work with affiliates/bloggers for marketing your products, you may want to pay special attention to these algorithm changes.
Pay special attention to E.A.T. principles — expertise, authoritativeness, and trustworthiness — as you're publishing to your online store. Using unique content and images, demonstrating the author's experience and know-how, and even giving them a well-built author page can go a long way in creating high-quality content for your audience.
When it comes to external review sites, it's in your best interest to know which sites are linking back to yours — and how high-quality they are. If a review site gets penalized for poor-quality reviews, your eCommerce website may lose authority tangentially if its content links to your products in those reviews.
Therefore, be sure to encourage high-quality reviews from any affiliate marketing company you choose to loop into your overall strategy.
If you think that these updates have affected your eCommerce website, start with our step-by-step guide to pinpoint any potentially impacted areas.
Regardless of whether or not your business is directly affected by these algorithm updates, you should still be actively gathering high-quality reviews from your customers. In addition to improving your eCommerce SEO and conversion rate optimization (CRO), they'll provide your customers with a much better shopping experience.
In the rest of this guide, we'll show you how to do so.
What Makes a Good Product Review?
When it comes to collecting top-tier online reviews for eCommerce sites, there are a few key elements we encourage our clients to focus on.
These are:
Below, we'll go over each of these in detail (and provide examples of good product reviews that include them) to give you more clarity on what to look for and encourage in your customer feedback.
Remember: Above all else, you want to collect high-quality reviews that benefit your customers. The right content will heighten your trustworthiness and provide a host of other UX, SEO, and CRO benefits.
In short, any user-generated content that adds value is going to help not only shoppers but also your rankings.
1. Star Ratings
Star ratings are one of the easiest ways to communicate customer satisfaction — and one of the first things people notice when browsing your store.
If shoppers can see in an easy visual what other customers thought of your products (including which are the most popular on your site), it helps them narrow down their final selection from the very start, giving them more confidence in their purchase journey.

In the example above, you can easily see how many customers have reviewed the products and what the average level of satisfaction was. This proves to potential customers that the products themselves have merit and are worth looking into more deeply.
Product reviews also provide an SEO bonus. By using schema markup to show the star ratings of your products, you can potentially take up more real estate in the search results pages.

You can go one step further with the star rating system by breaking it up into different elements. By asking customers for an overall star rating and additional star ratings for both "Quality of Product" and "Value of Product," you can diversify and capitalize on customer feedback. 

Adding these elements to your product page design can have a big influence on your users' experience.
But how exactly do you acquire more (and higher) star ratings in your customer product reviews?
We recommend using post-purchase emails, account notifications, and other touchpoints to remind and encourage your shoppers to share their thoughts.
If you make it easy for your customers to leave a review — such as letting them leave a star rating without requiring additional feedback or giving them ample space to share their experience if they feel so inclined — you'll be more likely to collect the kind of reviews you're looking for.
(We'll dive deeper into this later.)
2. Detailed Descriptions
Ideally, the reviews you collect from your customers will provide high-quality, crawlable content for search engine bots. The more detailed the reviews are, the more context Google has when serving up your website in the search results.
Today's customers want to know all of the ins and outs of a specific product before they choose to buy it. Reading the experience of a peer who has purchased and used your goods will give a new customer more confidence and peace of mind.
Here is a good product review example that shows the impact of detailed descriptions for shoppers: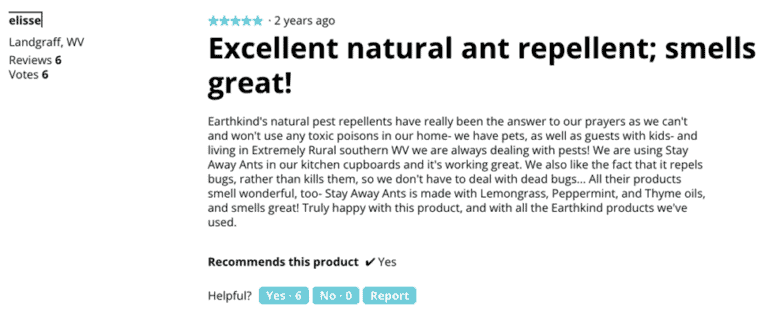 Hearing about the product from a customer's viewpoint will also provide more natural, valuable keywords to your product pages. The words that a customer uses in their reviews could differ from the copy you've carefully selected for the product description, which will also help Google provide more accurate search results to potential new customers.

When you're sending post-purchase emails, be sure to ask open-ended questions to generate thoughtful responses from your customers. You can also give them examples of good product reviews to elicit higher-quality feedback.
3. Photos & Videos
Good product reviews are not just about the things that customers write in their feedback. As the age-old saying goes, a picture is worth a thousand words.
Your customers know that your branded photos are meant to show your products in their best light. Seeing candid, realistic photos of your product in their peers' homes is a great way to share the reality of your offerings.
In the following product review examples, you can see real-life usage, which gives customers a better idea of how that product might function in their own homes: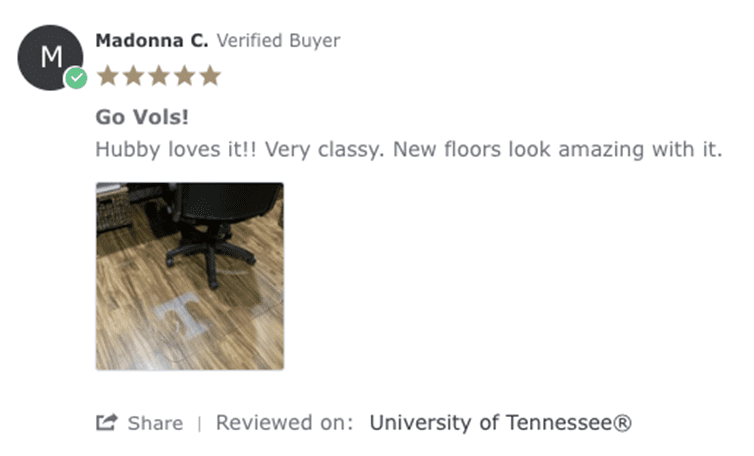 In its ongoing effort to provide high-quality content, Google is beginning to favor original photo and video content in reviews over any found on creative commons. Therefore, including as many user-generated photos and videos as possible can boost your eCommerce product page SEO.
You can encourage your customers to leave reviews with photos by making an "add photo/video" option prominent in the review submission process.
4. Size/Fit Feedback Options
One of the most annoying parts of online shopping? Receiving an item that doesn't fit quite right. Even with detailed schematics and ample measurement information, a garment's true fit is nearly impossible to predict.
So, make the customer experience more enjoyable for your shoppers by letting previous buyers share how they feel garments fit.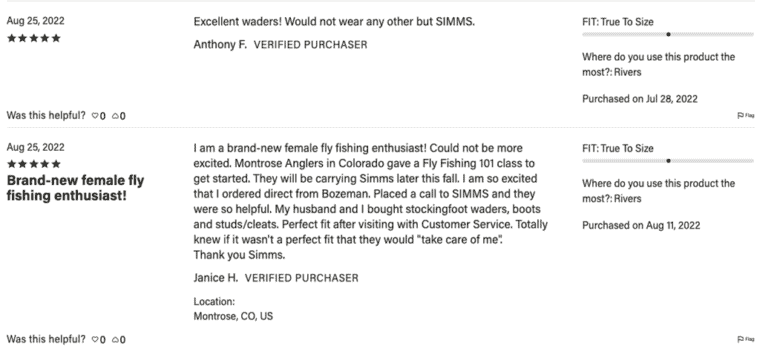 Some brands run large, others run small, and some run true-to-size. All bodies are shaped differently, and each country has its own sizing systems in place. For these reasons, it's far more informative to see how other users feel apparel fits than to rely on professionally modeled photos alone.
To get feedback from customers on their subjective fit opinions, add this capability into the review process.
The more fit options you give buyers to choose from, the more accurate a representation you'll have to share with future customers. For example, a brand that offers "Runs Small," "True to Size," and "Runs Large" will have fewer data points than a brand that adds in options between those: "Runs Very Small," "Runs a Little Small," "True to Size," "Runs a Little Large," "Runs Very Large."
Other Strategies to Gather Good Customer Reviews
The elements outlined above are great ways to make sure that the reviews you receive are high-quality. However, enticing customers to take the time to leave such a review can be a challenge.
So, below, we'll share four of our top tips for gathering these good product reviews on your eCommerce site.
1. Reward your customers.
People want to feel appreciated. Offering your customers a token of thanks for leaving high-quality reviews can go a long way in building your collection!
Of course, you can't "pay" customers for positive reviews, but you could offer them other incentives to spend a few minutes of their time sharing their experiences. Some such rewards may include a discount on their next purchase, a sneak peek at future items, or some other creative, insider deal.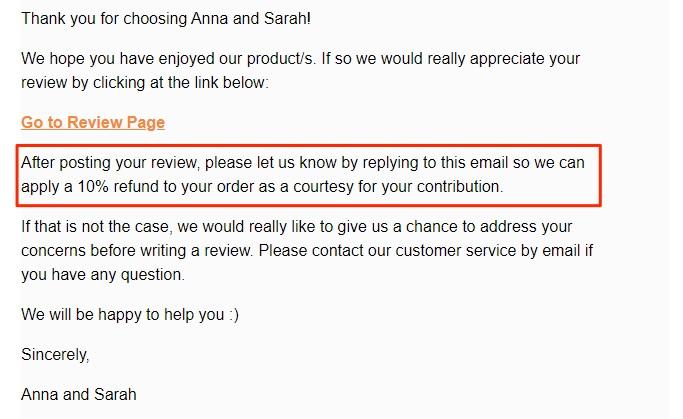 Another option is to create an ambassador program wherein the more products a customer reviews, the better coupons or special offers they will get. This kind of incentive can build a sense of exclusivity and camaraderie amongst your most loyal fans.
Note: If you do run a review-gathering campaign and give people free or discounted products in return for reviews, make sure that customers are including that information in their reviews on your/their site.
2. Follow up with buyers.
Every eCommerce site should have a post-purchase email flow to remind customers of their purchases and solicit feedback and reviews.
Depending on your brand strategy, you may want to send only one or two emails. Other eCommerce companies can get away with sending more.
If you're going to send more than two emails asking for a review, consider including additional rewards as the number of follow-ups increases.
3. Make it as easy as possible.
Unless they're angry, customers don't want to spend more than a few minutes writing a review. It's in your best interest to streamline the process in every way you can.
Automate leaving feedback with a template on the review page that includes pre-suggested star ratings, fit scales, and photo uploads. Including a form without a character minimum will encourage written feedback at whatever depth the customer feels is appropriate.
By requiring as few elements to be addressed as possible, you make leaving a review easier for shoppers, which is always the goal. And, with added elements that aren't required but are encouraged, you're more likely to collect additional information from motivated users.
In short: The more quickly your customers can get on with their day, the more likely they will be to leave more reviews for additional products in the future.
4. Use syndicated reviews.
Another way you can collect feedback for products on your site is to use a syndication service to gather reviews left on other platforms.
Syndicated reviews are those that have been submitted to other sites, like the manufacturer's website, other retail sites, Amazon, Yelp, or social media platforms.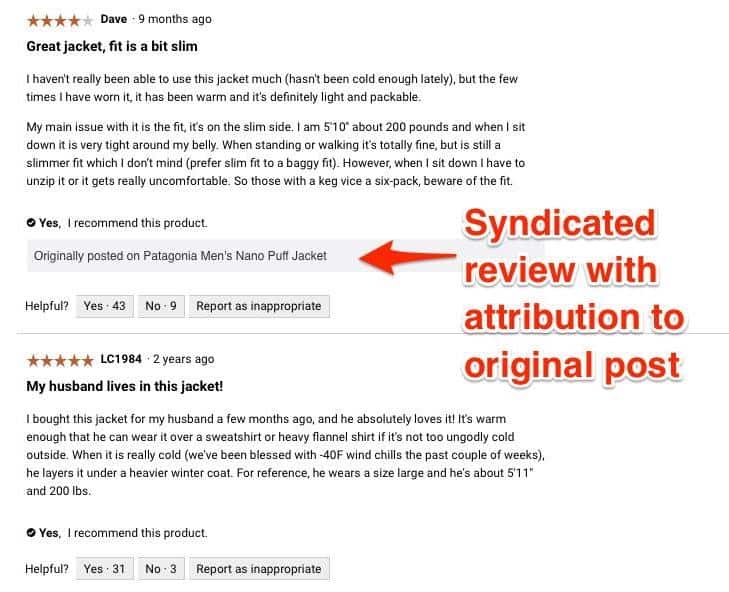 Even the happiest of customers are unlikely to leave reviews in multiple places. If you're selling products that are available elsewhere on the internet, you can "borrow" those reviews for your own purposes to demonstrate the quality of a product.
That said, syndication shouldn't be your only source of product reviews. While Google can usually identify the difference between syndication and duplicate content, unique content will always be best.
For that reason, you'll want to put more effort into gathering your own unique reviews than relying on syndicated ones. However, syndication can be a great way to augment if you're just starting your review-gathering campaigns.
Create Your Product Review Strategy Now
It goes without saying that product reviews are so important to eCommerce success.
As the digital version of word-of-mouth marketing, they build valuable trust with your customers. Positive and negative reviews/testimonials can not only support your customers with their purchasing decisions but can also enhance your SEO and CRO efforts and help your brand bring in more revenue.
By setting a high standard for reviews and showing customers what will make a review helpful for others, you can acquire added details that benefit both shoppers and your company. For more examples of elements to include, review Wirecutter's industry-leading standards.
Many of our clients employ the use of product review software to help them collect reviews from their customers. If you want a more in-depth, personalized strategy, you can also work with an agency to build a more customized approach for your brand's goals.
Want help developing an effective product reviews strategy for your online business? Contact our team anytime to get started.