When it comes to advertising your eCommerce products on Facebook, the old adage rings true: You have to spend money to make money.
Unfortunately, we still see too many online businesses today hesitate to invest in their ad spend — most often than not because they simply don't know how to do it properly.
Let this case study be the proof you need: With the right digital marketing team by your side, you can absolutely scale your ad spend without losing profitability.
Today, we'll share an example of an eCommerce clothing store that had been spending a not-insignificant amount on their Facebook ad campaigns, with a mediocre ROAS — and how we helped them achieve their highest-revenue month ever with the assistance of well-designed Facebook and Instagram ads.
Keep reading to learn:
What was missing in their initial social media ads strategy
Which changes we implemented (and why)
And how you can apply the same concepts to your Meta advertising campaigns
The Client: CCO Menswear
Among all the eCommerce industries out there, fashion and apparel are one of the most competitive. For a clothing line to be successful, it needs to be ready to push the limits, test new ideas, and (above all) invest in its advertising.
The team at CCO Menswear had all of these attributes and more.
Also known as Clothing Connection Online, CCO is a family-run business that aims to bring fashionable, high-quality, and affordable men's clothing to customers throughout the United States. In addition to its online store, CCO hosts a brick-and-mortar retail location in Aurora, CO.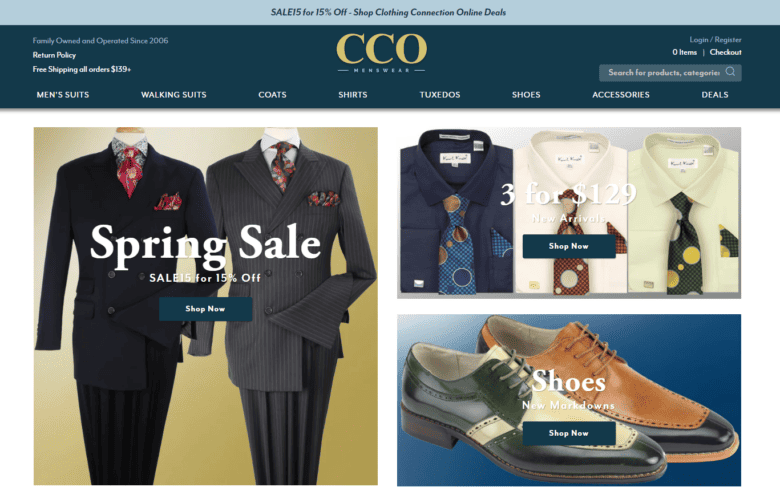 The Challenge
When CCO first came to Inflow in the fall of 2022, they knew they needed to invest better in their social media advertising strategy to find new customers, grow their brand awareness, and boost their historically slow sales seasons.
While their ad performance up until then had been decent, it lacked the comprehensive, detailed strategy to further scale and develop their business (not to mention the in-house expertise needed to make it happen).
Fortunately, CCO's team understood their brand's potential from the start. They were ready to dive in with a refreshed strategy — and the budget required to back it up.
Our eCommerce Facebook Clothing Ads Strategy
Here at Inflow, we lean into the "See, Think, Do" model for Facebook advertising — that is, targeting users at different points along the funnel with specific messaging and creative to keep them engaged (and keep creating sales).
You can read more about that strategy in our case study on furniture Facebook ads.
But, before we could deliver on that strategy, we had to first address a few huge opportunities for CCO.
Investing in Interest Audiences
Upon our first audit of CCO's marketing campaigns, we discovered that the brand had only been targeting lookalike audiences, missing out on the thousands of potential customers that broader, interest-based audiences could provide.
A side note here: While lookalike audiences can perform well for brands that have already built substantial custom audiences (based on followers, email lists, etc.), the privacy restrictions of iOS 14.5 (and Meta's attempts to copy TikTok's interest-based algorithm) make that much more challenging nowadays.
As many shoppers choose to turn off third-party tracking on mobile devices, the once-trusty lookalike audience is subject to shrinking data (and, thus, diminishing returns).
Fortunately, the team behind CCO is incredibly business-savvy. They knew exactly who their target audience demographic was and how that would relate to interest-based targeting on Meta's advertising platforms.
For example, based on their recommendation, we tested "sports" interest audiences for our top-of-funnel ads. Because CCO sells fun and unique suits like those worn by NBA and NFL players during team drafts, we knew the ads would be eye-catching for new potential shoppers.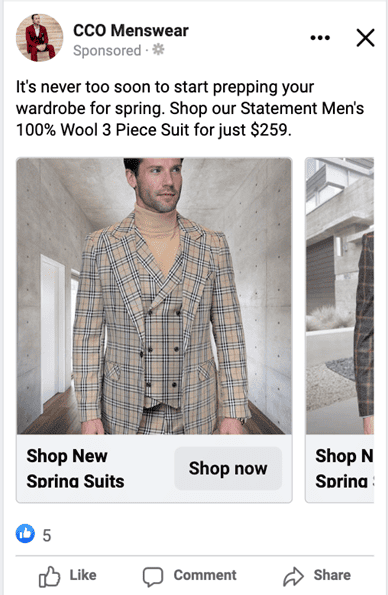 By throwing in a seasonal spin (targeting golf interests in the spring, football interests in the fall, and so on), we saw CCO's TOFU campaigns quickly take off — delivering average returns of 8x on money spent.

Using a Variety of Quality Creative
High-quality product creative is important for any eCommerce brand selling on Facebook and Instagram. But product catalogs alone, while good performers for bottom-of-funnel audiences, won't typically generate interest for those top- and middle-funnel audiences.
To open up CCO's targeting to those new interest-based audiences, we needed appropriate creative — and CCO had plenty ready to go from its enthusiastic organic social manager.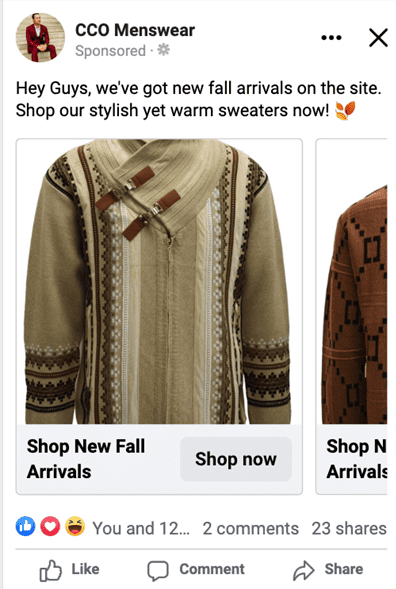 Our paid team works hand-in-hand with CCO's organic team to closely align the two strategies. Creative that works on organic social also tends to perform well for ad audiences (and vice versa), leading to a consistent bettering of each channel's campaigns and results and a variety of engaging graphics, video ads, and carousel ads.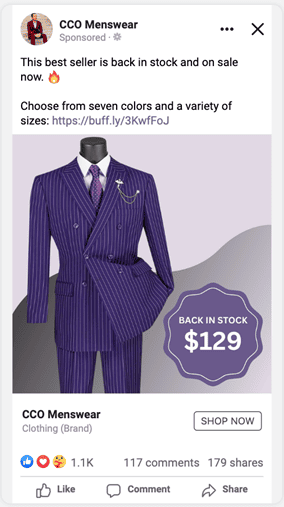 Of course, it also helps that the brand brings in a lot of new products on a regular basis — helping to keep the catalog (and ad creative) fresh and new items flying out the door!
Testing Facebook's Automation
Lots of online businesses have been historically wary of Facebook's automation offerings, but machine learning has vastly improved over the last few years. As long as you can provide sufficient ad creative and budget, Meta's automation can deliver great results.
After our initial few months of success with CCO's ad accounts, we tested moving the brand's TOFU campaigns into Advantage+ Campaigns. By taking the winning creative from previous campaigns (and adding plenty of compelling social proof and user-generated content [UGC]), these new campaigns have produced a consistent 8x ROAS since their launch.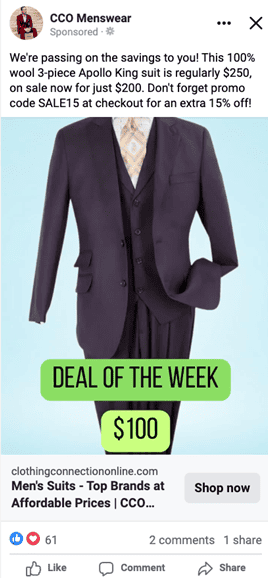 Using Meta's automation offerings is actually one of our six recommended social media advertising strategies for succeeding in 2023 — and thus, one that your eCommerce brand shouldn't sleep on.
(Need help implementing this automation efficiently? Contact us today for our team's assistance.)
The Results: Record-Breaking Revenue
Putting these changes together with our tried-and-tested "See, Think, Do" approach, it didn't take long for CCO Menswear to see results. In fact, two months after our partnership began, overall site revenue had already increased by 11%.
Six months later, CCO saw its best sales month ever, blowing away previous records and having its busiest sales day in brand history.
In total, our Facebook ads for this clothing business have contributed to:
219% increase in social ad revenue (with only a 50% increase in spend)
5.7x average monthly ROAS
33% increase in total site revenue YOY
Running Facebook ads for clothing brands doesn't have to be complicated — but it does require an open mind and (in most cases) an open pocketbook. But, with the right approach, that investment will return sales in spades.
If you need help developing the strategy that will work for your fashion brand, reach out to our social media marketing team today. We can evaluate your current performance, identify your opportunities for improvement, and apply our proven marketing strategies to help your brand grow.
Until then, check out some of our other fashion ads case studies below: