You don't need us to tell you that the digital marketing ecosystem is changing — but perhaps nowhere is it more prevalent than in the realm of social media advertising.
For many years, brands could invest a few hundred dollars into Facebook advertising with subpar creative and still deliver a stunning return on investment (ROI).
But, like dial-up internet and iPod nanos, those days are now gone forever.
Unfortunately, we still encounter too many eCommerce brands using this outdated mindset in attempts to grow their brand presence and online sales. Living off the expectations of old, they don't understand how and why their results keep slipping, and so they turn to us for help.
Today, I'll share with you what I share with them: my honest take on how your team should really be using social media advertising in 2023 to maximize your return — and set your brand up for future success, no matter what happens to social in the years to come.
Want our team to personally evaluate your social media account performance? Contact us anytime to request a free audit and proposal.
A (Brief) History of Social Media Advertising
In years past, almost every ad you ran on Facebook could deliver results, no matter how hyper-targeted the audience, basic the creative, or small the budget.
For example, you could run any old ad on Facebook to a limited audience — and still get a return that justified doing so again and again.
It's this approach that many of our prospective clients are using when they first come to Inflow for paid social services.
However, as ad competition on the platform has skyrocketed over the last few years (and ever-shrinking reporting windows make it harder than ever to prove results), this outdated approach no longer works.
If you want to see similar results today, you have to be a lot smarter, especially with Facebook advertising.
And you've got one big update to thank for that.
The Turning Point: iOS 14.5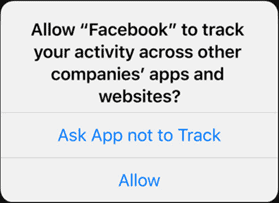 In the spring of 2021, Apple dropped a bomb that forever changed the way social media marketers could work: iOS 14.5.
In addition to usual software bug fixes, the update included a new privacy setting that allowed iOS users the ability to opt-in or opt-out of third-party data tracking by mobile apps.
In other words, the crucial data that social media marketers needed to do their jobs.
Within a few weeks, our eCommerce clients saw their audiences shrink immensely. Conversions were no longer attributed properly, and delayed attribution made reporting trickier to do (and understand) than before. Reliable lookalike audiences failed to deliver the results they'd become known for, leaving social teams scrambling for alternatives.
While certain attribution and reporting capabilities have returned to Facebook since then, our audience data has not — making it impossible for brands to cheaply target audiences across the platform as they had done before.
The results: More work for fewer results.
Which brings us to 2023.
How to Succeed at Paid Social Media in 2023
To continue scaling and delivering significant ROI with their accounts, brands need to turn their paid social approach on its head.
Here's what we recommend, based on our decades of experience working with eCommerce clients in this field:
1. Get comfortable with Meta's automation.
If you want to see success with your Facebook advertising campaigns, you have to learn to trust its automation systems.
There's often an initial hesitancy from our clients when we suggest using Facebook's algorithm to target audiences and optimize campaigns. They (understandably) worry about their valuable ad dollars being wasted with broader audiences, especially when they're used to having such a tight rein on their campaigns.
But Meta's algorithm is more intelligent than many give it credit for — and often knows your potential customers much better than you think!
Facebook has taken many steps to give advertisers the tools they need to help their campaign performance (and take the guesswork out of a post-iOS-14.5 advertising environment). With marketing tools like Advantage Audiences and tailored sales campaigns, Facebook's AI can smartly apply the right social media ad format to the right customers across a broader, higher-potential audience.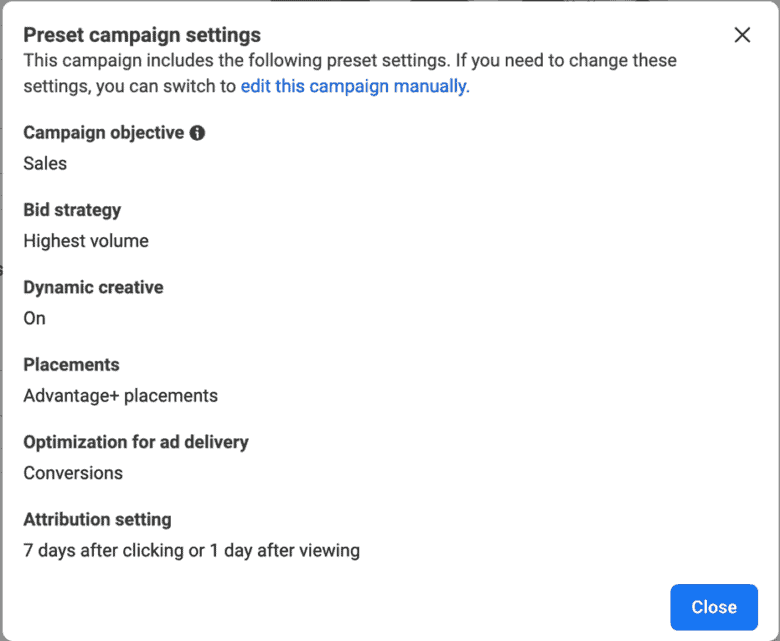 If social media content is a constant struggle for your marketing team, you can even use Meta's dynamic creative options to optimize your ad appearance and copy to your target customers — letting their robots do all the work and giving your team time for more strategic analysis and reporting.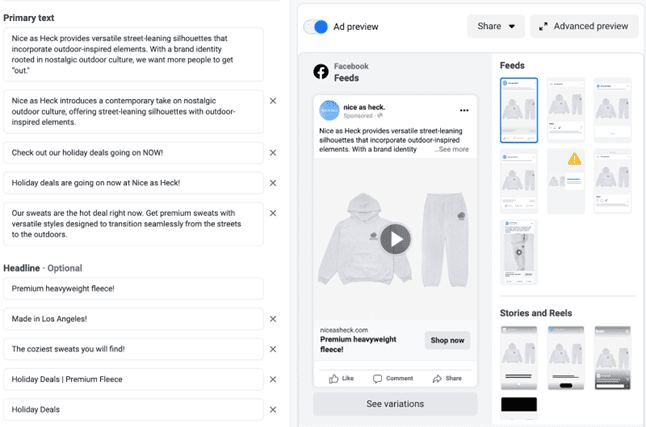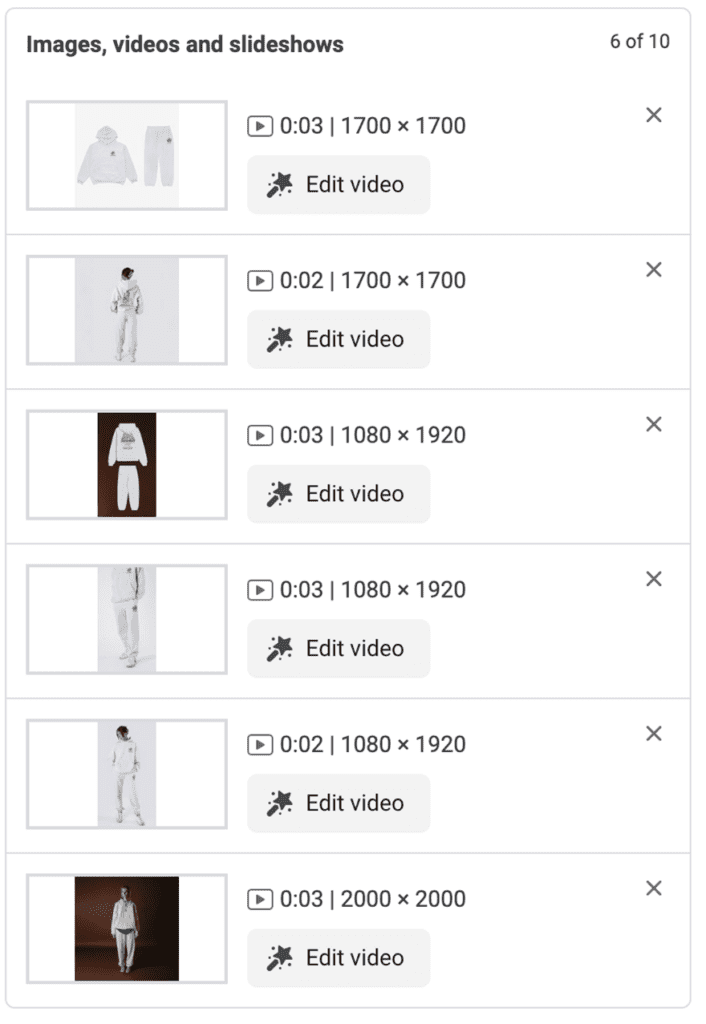 And, contrary to what average ad spend indicates, your brand can still use these tools effectively with a small budget, too!

There's a reason why Meta's automation is first on our list of recommended strategies. It's a great option for both large and small businesses, working independently or with an agency, to deliver better results.
(Of course, like with any automation, we recommend pairing this machine learning with an expert human marketer to get the absolute best returns for your online business.)
2. Use blended metrics as your one source of truth.
iOS 14.5 didn't just limit audiences for social media marketers. It also made it much harder to report on your campaigns, a trend we're seeing across many paid advertising channels.
With a focus on user privacy, platforms like Google Ads are giving less data to marketers. Combine that with the delayed attribution and limited reporting offered in Meta's dashboards, and brands relying on basic, automated reports no longer get a full picture of their success.
That's why, in today's social media marketing environment, you need to use blended, omnichannel metrics to evaluate your performance.
As an example, our former client Tactipup's target audience frequently traveled back and forth between paid social and paid search channels before making final purchases. We had to create a blended report to see how efforts on those channels affected each other's success.
If we had looked solely at Facebook-attributed sales, we'd have been missing out on these crucial buyer insights.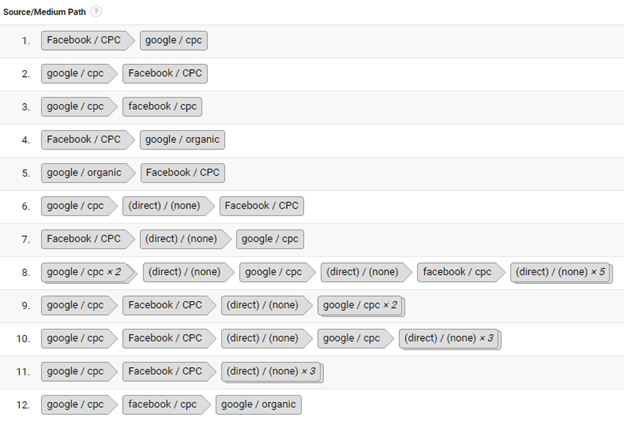 When it comes to creating a "single source of truth" for your reporting, we're not just talking about sales. You'll also need to consider how brand awareness raised through social media advertising could have an effect on your on-site conversions.
Our clients frequently see lifts in website conversion rates in correlation with our social media campaigns, meaning our efforts are working even if Facebook-attributed sales are down. However, without reviewing a client's internal metrics on revenue and sales, those effects may have gone unnoticed — and frequently do among teams that only look at Meta's reporting platform.
That's why, if you want to continually invest in social media marketing (and justify that investment to your stakeholders), you'll need a blended report to evaluate your true performance.
Need help creating an omnichannel reporting dashboard like this? Contact our team to get started.
3. Diversify your platform portfolio.
In days past, Facebook was all an online business needed to succeed in the paid social realm. But, as audiences shrink and more advertisers saturate the platform, results will continue to diminish.
Our recommendation: Diversify your efforts to new and exciting social media channels like Pinterest, Reddit, LinkedIn, and more.
It seems like every day there's a new social network gaming for your audience's attention. By diversifying your advertising channels, you can meet them where they are (rather than stagnating on a platform losing engagement by the second).
Of course, advertising on platforms like TikTok and Snapchat requires experimentation before jumping in headfirst. An experienced digital marketing agency can test the channels that hold the most potential for your business, without wasting your valuable ad spend on dead-end opportunities.
Your business's ideal media mix will vary based on your audience's buying journey, your business goals, and more. But, by getting ahead of the crowd and investing in channels like programmatic advertising now, you'll avoid spending your money on tapped-out audiences and social media platforms with ever-diminishing results.
4. Invest in first-party data.
While shrinking third-party data is a hindrance to proper social ad targeting, there is a solution: beefing up your own first-party audience data.
Not only is good, clean first-party data a stellar insight into your target demographic and their buying behaviors, but it's also data that platforms can't take away from you. It's your brand's property, to analyze and deploy as you wish in the months and years to come.
First-party data (like email lists) are also the missing piece to creating successful lookalike audiences in the post-iOS-14.5 era. If you have substantial amounts of this data, you can still create marketing campaigns around these audiences and expect to see pre-iOS-14.5 results.
You can collect first-party data through:
Your email subscriber list
Account signups
Chatbot flows
Progressive form fills
Loyalty programs
Note: Whether you're using first-party data for your social campaigns, email marketing, SMS campaigns, or other efforts, make sure that your brand messaging remains consistent — to provide the best advertising experience possible for your customers.
5. Consider other marketing channels.
Today's customers are omnichannel beings. They become aware of products, research them, and purchase them across a variety of platforms, including organic search, social media feeds, Google Ads, and more.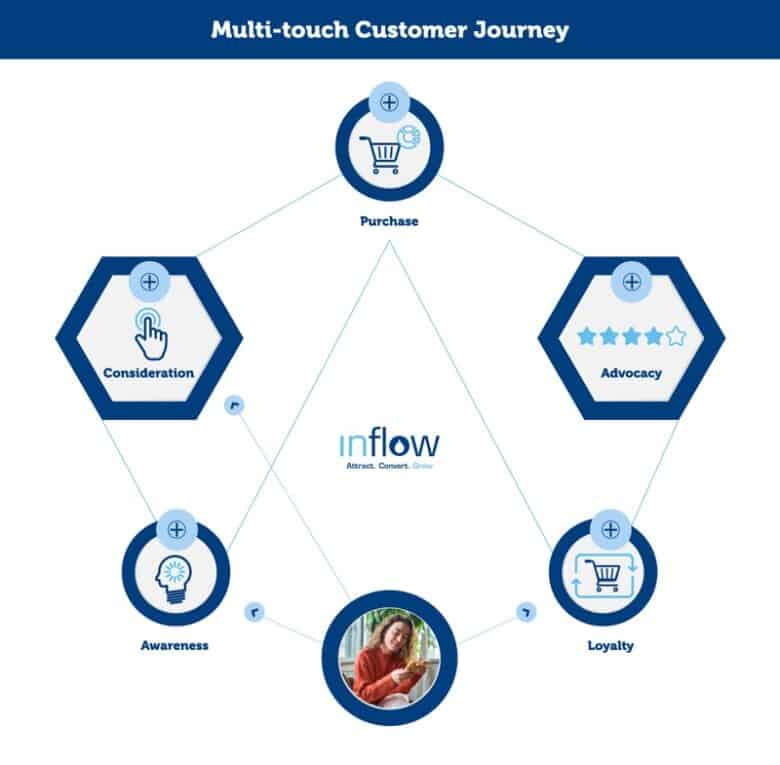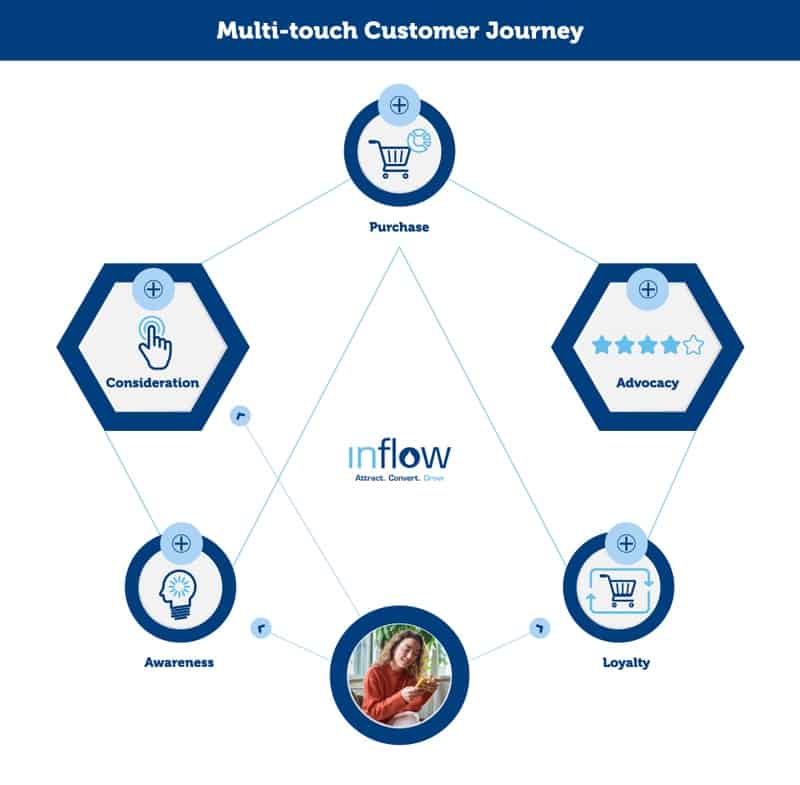 To reach those audiences where they currently are, you'll need to expand your reach beyond paid social media alone.
Strategies like search engine optimization are crucial for driving traffic and new customers to your site in the first place, allowing you to gather more first-party data which you can later use for paid social targeting. Sure, SEO isn't as "flashy" as paid social when it comes to results — but, when done well, the return is well worth it.
We recommend working with an expert (like our agency) to determine which marketing channels will deliver the best results for your brand. Then, you can work together to create an omnichannel strategy that keeps your ideal customers moving through every stage of the funnel — an approach in which social media marketing remains integral.
Building a Paid Social Media Strategy for 2023 and Beyond
Remember that old adage about the definition of insanity — doing the same thing over and over again and expecting different results?
That's where we're at right now with social media advertising.
If you keep following the strategies you've used in years before, your campaigns will continue to underperform while your competitors race ahead.
In other words, it's time for your team to revamp your approach.
The social strategies presented in this guide are great starting points (and ones we recommend to any online business struggling with its social media marketing efforts). Use them to outline your business's new social media marketing plan, and start experimenting today to see what works for your campaigns.
Of course, if you need help creating a future-proof social media marketing strategy that actually drives results, our team is always happy to help.
Get a free audit and strategy proposal by contacting us today. We'll be happy to craft a custom approach to help you get the most out of your social media advertising campaigns in the modern age.