The iOS 14.5 update in April 2021 pulled the rug out from under all of us. Whether we were running social ads on behalf of clients or internal stakeholders, the thick pile of third-party data we'd gotten comfortable with was suddenly gone.
Shrinking audiences. Fewer data. Plunging ROAS and rising CPAs.
For a while there, it felt like we were free-falling, with no idea how far we'd go.
But, all data is not lost — and there are solutions that can help.
Here at Inflow, we've been identifying and investigating options for our eCommerce clients since last spring, and we're finally ready to reveal our recommendations for social media advertising teams still struggling to gain a foothold in this brand-new world.
Today, get ready to learn:
The current state of social media data tracking
Solutions for tracking data in a post-iOS-14 age, including:

Improving first-party data
Making the most of Facebook's reporting
Gleaning what we can from Google Analytics
Bringing in third-party platforms
The Current State of Social Media Data Tracking
It's no overstatement to say that the world of social media advertising changed completely with the launch of the iOS 14.5 update — and the outlook hasn't gotten much better in the last 18 months.
Since 2021, 88% of iOS users worldwide have opted out of third-party data tracking, with 94% of US users choosing to do the same. The result: A massive reduction in the data we can collect and subsequently use to target potential customers for our clients.
A quick recap of the biggest changes:
 7-day attribution windows (instead of 28-day windows) [Note: As of November 2022, Meta appears to be reinstating 28-day click attribution for certain accounts]
40%–80% of conversions underreported
Attribution delays up to 72 hours
With this more limited data, advertisers' ability to optimize audience targeting (using demographics like age, gender, device, country, etc.) is much narrower. Smaller audiences mean lookalike functionality has taken a hit, as has automatic target campaigns.
For most clients, this meant longer extended learning periods, with more investment required for quicker results.
Simply put, our post-iOS-14.5 Facebook strategies had to change.
Your Solutions for Tracking Data in a Post-iOS-14 Age
Clearly, these new data problems make a business-as-usual approach to social media marketing untenable.
With weak data, it's hard to distinguish winning campaigns from losing campaigns, which can lead to wasted spending and a loss of client/stakeholder confidence.
To regain back some of those lost advantages, we recommend the following:
1. Invest in your first-party data.
In the marketing world, first-party data has always been best. However, it can be difficult to collect, which is why so many brands have relied on data from third-party cookies and other platforms in the past.
Alas, hindsight is 20/20 — which also means there's no better time than now for launching your first-party data collection strategy.
Start by:
Prompting your customers to create accounts
Using personalized chatbot flows
Adding progressive form fields
Implementing a loyalty strategy
While we're talking social media, don't forget about its utility as a tool to build first-party data, too.
Lead generation campaigns, while expensive, are a great way to build your email list. By focusing on this lower barrier to entry (in comparison to making a sale), you can quickly develop a list of interested shoppers and use that as a powerful remarketing tool — a strategy that often yields a high ROAS for brands.
2. Make the most of Facebook's reporting.
Obviously, Facebook reporting is not all it used to be. However, that doesn't mean it's completely worthless. There are still some good nuggets of data to be found, if you're willing to sift for them.
Our recommendation: Manually review your campaigns and scale up those that seem to be doing well. Then, keep a close eye on them to make sure they're still working.
It's more labor-intensive, and the rewards are less substantial — but, if you're not ready to invest in another reporting platform, Facebook is better than nothing.
Remember that the best minds at Facebook (take that for what it's worth) are aware of and reviewing these challenges. They've been regularly adding new tools and strategies as workarounds for social media marketers with no other solutions.
3. Glean what you can from Google Analytics.
Here at Inflow, we believe in an omnichannel marketing approach — that is, seeing how your channels are interacting with each other, rather than siloing reporting for each one.
Google Analytics is useful for this, especially when it comes to underreported social ad campaigns. By incorporating tracking URLs in your ads, you can more easily see those customers pop up in your website sessions. From there, you can follow their interactions to better estimate clicks, conversions, and average order value from your paid social efforts.
Due to data restrictions and a different attribution model, Google Analytics will unfortunately undercount conversions from Facebook. We recommend using these estimates to get a more accurate picture of your metrics:
One-third of "direct traffic" conversions likely belong to Facebook
One-sixth of conversions from other channels likely belong to Facebook
Of course, this formula will vary based on your brand's investment in social media and other channels. For a better understanding of your reporting, ask our team to audit your analytics today.
Bottom line: While Google Analytics can offer an incomplete picture on its own, by piecing its data together with what Facebook is reporting, you'll get a decent understanding of your campaign performance.
4. Bring in a third-party platform.
In our experience, the best solution is to bring in a third-party platform that can gather as much data as possible about your paid social media campaigns.
Over the last six months, we've been researching (and testing) a few options for our clients. Here are a few we believe can provide the best data tracking for your campaigns.
1. Madgicx
Madgicx is billed as a comprehensive ad management tool. It uses server-side tracking (also called server-to-server tracking) to sidestep many restrictions on cookies and data collection.
How It Works
By moving your website cookies to a cloud-based server, they are changed from third-party to first-party — which has significantly fewer privacy restrictions and allow you to collect much more data.
Madgicx also utilizes the Facebook Conversions API Gateway. (You can use this on your own, but it's often hard for the layperson to integrate.) In a similar manner, the API Gateway uses server-side tracking to more directly attribute ad conversions to your Facebook campaigns. Using offline conversions, Madgicx helps restore the 28-day attribution window, and it allows for the deduplication of conversions to provide more accurate results. 
Pricing
$89 a month for an annual plan; $149 per month for a monthly plan
Our Opinion
Madgicx is powerful software that dramatically increases your ability to track social media campaigns. It also comes with lots of built-in tools to analyze your ads' effectiveness.
However, it can be difficult to learn and has a steep learning curve. Some users report the ad-making tools to leave something to be desired. You can send in briefs to get "optimized" ads designed in 24 hours, but you don't have tools for making your own ads in the software.
The video below is hosted on YouTube. If you need assistance with viewing the video, please contact [email protected].
2. RedTrack
As a software service, RedTrack focuses almost exclusively on the tracking and attribution aspects of advertising.
How It Works
Using server-to-server tracking, RedTrack will give you accurate data about your ad campaigns and their results. The program and its data are GDPR and CCPA-compliant. 
Pricing
Starts at $124 per month
Our Opinion
While it lacks some of the creative analysis tools of Madgicx, RedTrack offers equivalent tracking features and presents its data in a unified view that is easy to use.
Despite having fewer features, RedTrack is a little more expensive than Madgicx (when bought on an annual subscription). The setup is more tech-intensive, so users who can't handle coding might look to another option. 
The video below is hosted on YouTube. If you need assistance with viewing the video, please contact [email protected].
3. Hyros
While Hyros' site leans hard into a dark aesthetic, there are good reasons to cuddle up to this ad-tracking platform. 
How It Works
Hyros uses what it calls "print tracking": a 10-dimensional data array that charts your customers' actions to give you detailed information about them. Like other tools, its server-side tracking sidesteps many privacy tools and ad blockers.
Pricing
Starts at $199 per month
Our Opinion
Hyros costs about twice as much as the other tools we've talked about so far, but it has a 90-day satisfaction guarantee. (Also notable: Customers report high satisfaction levels with their customer experience team.)
Consider trying it head-to-head with other software (some of which offer free trials) to see if the added cost is worth the extra services Hyros provides.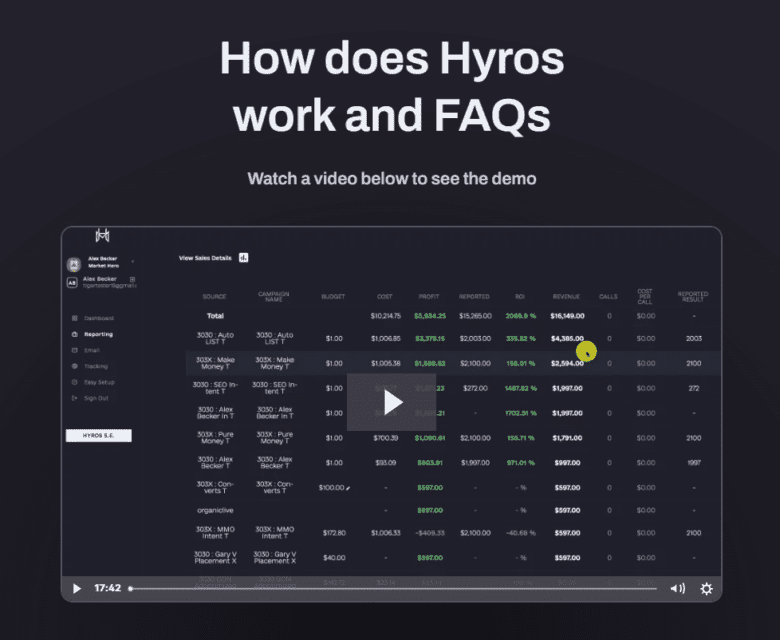 4. WickedReports
WickedReports advertises itself as a software that combines all your marketing data from several channels into one single reporting platform.
How It Works
WickedReports uses server-to-server tracking to build what it describes as multi-touch attribution. This customer funnel visualization lets you evaluate how your deep marketing efforts are working to bring customers through their entire journey toward conversion. 
Then, you can use that data to maximize every stage of your advertising to improve ROI on your entire ad structure.
Pricing
Starts at $200 per month
Our Opinion
WickedReports doesn't publish their agency rates — which means your costs might be prohibitive, depending on your tracking and reporting needs.
While many users like the data analysis they get from WickedReports, others report dissatisfaction with the interface. Still others have said that delayed reporting sometimes reduces the effectiveness of the data they receive.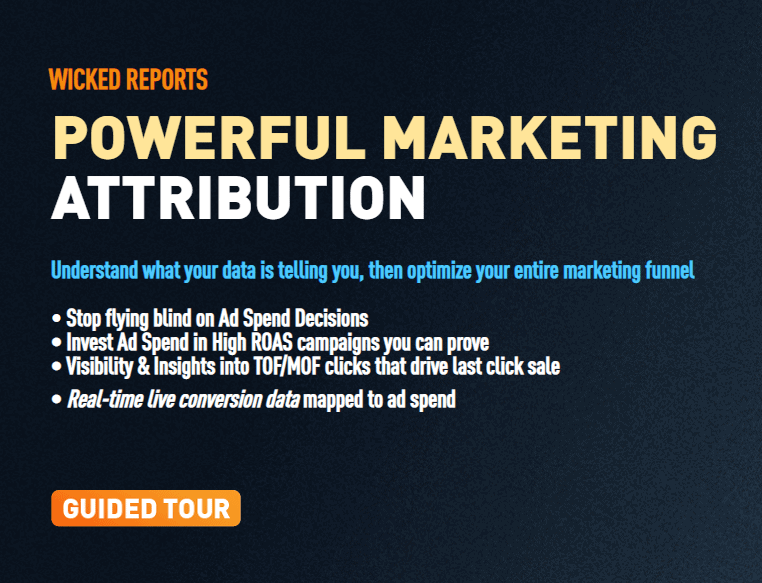 Creating a Social Ads Strategy For the Future
iOS-14 and other privacy changes (including Google's eventual phase-out of third-party cookies) continue to present serious challenges for paid social marketing teams. If you want to be successful, you can't just keep practicing business as usual.
Our recommendation: Use what you have by collecting more first-party data, closely analyzing your Facebook data, and carefully reviewing your Google Analytics insights. If you're still not satisfied with the results you're getting, some powerful third-party tools are available to fill in the gaps.
If your brand is struggling with the basics of iOS 14.5, we encourage you to review our introductory guide. While there are still more questions than answers in this field, our blog can give you the grounding you need to make effective decisions about your marketing campaigns.
Finally, if your Facebook Ads campaigns continue to disappoint, even after implementing some of these tactics, then it may be time to rethink your data collection strategy.
Our team has guided dozens of eCommerce clients through these waters, and we're ready to serve as your skipper, too. Request a personalized proposal from our experts to start improving your data tracking and online sales today.