With an average ROAS of 200%, paid search advertising (PPC) is a great investment for any brand, but especially for eCommerce sites.
But, exactly how much can you expect to spend before achieving this average return — both in terms of ad budget and management costs?
The average cost of running a pay-per-click campaign is hard to say and depends on a multitude of factors, including the competitiveness of your industry, your audience's level of awareness, and the expertise of your campaign manager (just to name a few).
So, if the plethora of articles outlining PPC campaign costs has you confused, you certainly have the right to be.
In today's blog, we'll help you understand the aspects of modern PPC pricing to help you make the best decision for your brand's budget. Keep reading to learn:
What average costs of PPC ad spend and management are
Which factors will influence your personal PPC costs
And what you should consider before investing in this marketing channel
Table of Contents
How Much Does PPC Advertising Cost?
Simply put, PPC costs cannot be summed up in a pretty little package to cover all instances and industries.
Instead, to understand the realities of your investment, we recommend viewing it as two separate silos:
Ad Budget
Management Costs
The numbers we've listed below are averages based on what we've seen in-house and across a multitude of industries (including eCommerce). While they will give you a better understanding of the overall required investment for this channel, remember that your actual costs will vary based on several factors.
All that said, brands spend an average of $9,000–$10,000 per month on PPC costs, including ad spend and management.
Now, let's break that figure down.
Average PPC Costs: eCommerce Campaign Budgets
We could write a whole article about what PPC campaigns cost, but today, we'll just cover the basics.
"Ad spend" is the total budget you use to keep your campaigns running — in other words, the advertising spend used to target certain keywords, retarget customers, etc.
Because the popularity/competition of keywords varies so greatly across industries and verticals, your average ad spend will vary, too. (For a better idea of what your eCommerce products will cost to advertise, review Google Keyword Planner.)
Your ad spend can be broken down into three main categories:
Cost Per Click
Cost per click (CPC) is a pricing method in which your brand is charged when a potential customer clicks on your paid ad after a Google search. This bidding model is ideal for brands whose main focus is getting people to their websites.
The average CPC across all industries in 2022 is $2.69. The most expensive of these industries include consumer services, legal, and technology, with eCommerce CPCs averaging $1.16.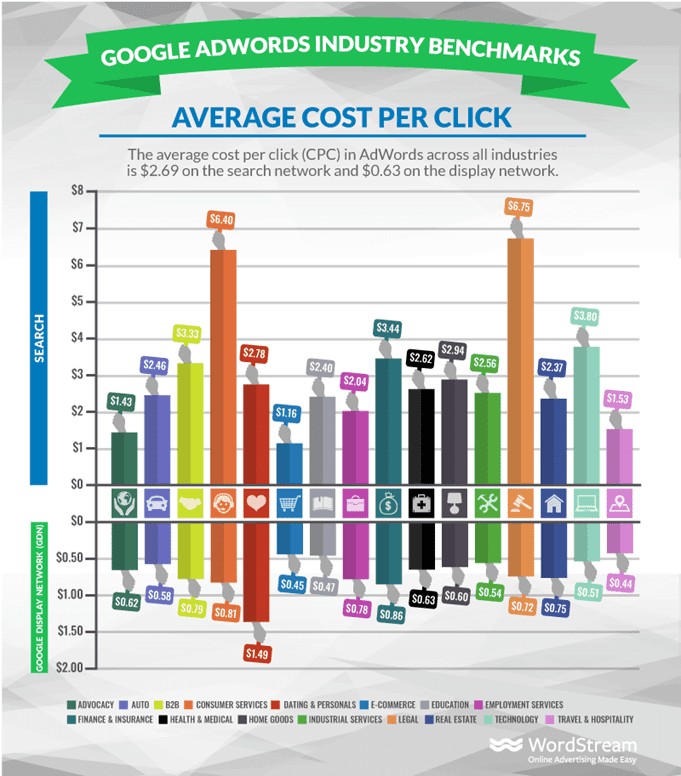 Cost Per Mille
Cost per mille (CPM) is a model that charges per 1,000 impressions (either in the SERPs or, in the case of paid social, in the news feeds). It's a great option for brands looking to raise awareness about their company, a product, or a specific campaign.
Average CPM across all industries is about $3.12.
Cost Per Action/Acquisition
Cost per action/acquisition (CPA) is a model that charges for the action that a customer takes after viewing your ad. For eCommerce brands, this typically means making a sale — which is why CPA is higher than CPC.
The average CPA across all industries in 2022 is $48.96 for search ads, with eCommerce averaging $45.27.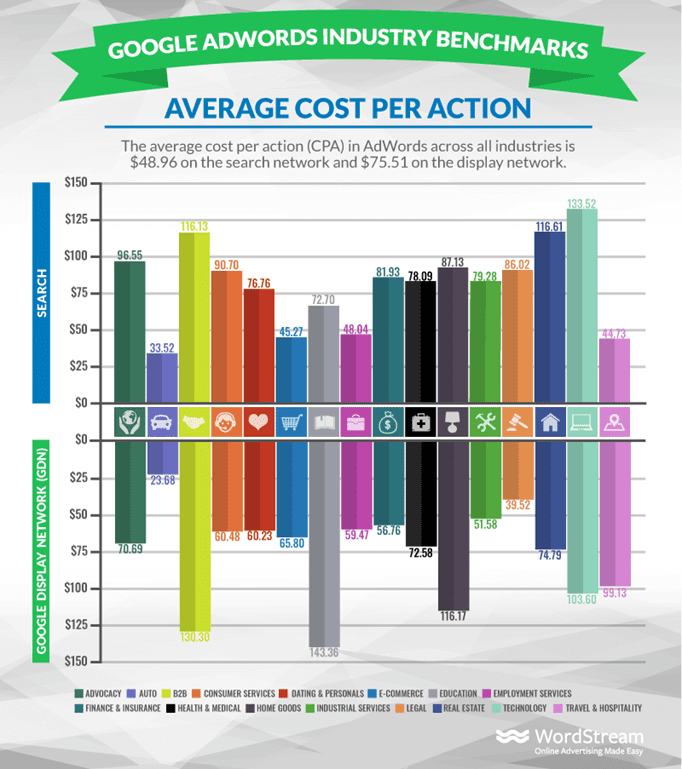 Retargeting/Remarketing
Because 96% of people leave a website without making a purchase, allocating some of your PPC budget to retargeting is crucial to improving your eCommerce conversion rate.
Remarketing costs often run slightly less than CPC costs. Most businesses spend around 10% of their budget on this channel.
Average remarketing costs in 2022 range between $0.66 and $1.23 per click.
Average Costs of PPC Campaign Management
Now that you understand the budget required to get your PPC ads seen, let's talk about the budget required to launch and maintain your account — typically, by hiring a PPC professional (agencies, freelancers, in-house experts, etc.).
We'll start by focusing on the cost of the first, breaking down average PPC management costs into several tiers.
Keep in mind: The costs below cover the management aspect of your campaigns and are in addition to your ad budget.
Tier 1: $1,000–$2,000 per month

This tier is typically designed for small business and start-up eCommerce sites that need basic PPC services to get their campaigns off the ground.

Tier 2: $2,000–$7,000 per month

This tier is typically designed for small to mid-size eCommerce brands with historical PPC performance and a desire to take their campaigns to the next level.

Tier 3: $7,500–$10,000 per month

This tier is typically designed for midsize to large eCommerce sites that want full-service PPC for campaigns with a history of success.

Tier 4: $10,000+ per month

This tier is typically designed for industry-leading eCommerce sites with large advertising budgets and quantities of products that want a dynamic, hands-on approach to PPC.
Note: Many agencies set management fees as a percentage of ad spend. Others charge flat fees, and still others take a hybrid approach. (Read more about these pricing models below.)
In addition to these management fees, be prepared to pay certain one-off costs: account audits, analytics configurations, initial launches, and more.
Such projects are often charged on an hourly or per-project basis, separate from an ongoing PPC improvement program.
Beware of these Pricing Red Flags
While every PPC pricing proposal will be different, watch out for a few warning signs that could spell disaster for your brand.
The "Too Good to Be True"
In our experience, anything below a $1,500 monthly fee (for starter budget) or a $3,000 monthly fee (for full account management) will not provide the service level needed to see a significant lift in results.
Low quotes like these usually mean some pieces of full account management are being missed, such as:
The agency or freelancer is not providing enough dedicated time to the account to really drive results.
The person working on the account is not a highly qualified PPC expert.
The "Cookie-Cutter" Quote
The "flat fee" package can be an enticing one for brands that are just starting out with their PPC campaigns. The promise of a certain number of campaign changes and bid adjustments per month can seem like an efficient (and budget-friendly) way to enter the paid search scene.
However, we strongly advise against flat-rate packages like these.
Successful PPC tactics are always changing, especially with Google's push toward automation and its endless algorithmic updates. To accommodate these shifts, you need a responsive strategy, not one that's set in stone.
Don't get drawn in with a project rate that promises "x" amount of deliverables. Instead, consider working with a professional who takes a flexible approach — adjusting their devoted time each month to the highest priority for their clients.
The "Guaranteed Results" Quote
Similarly, be wary of any professionals who "guarantee" results.
Nothing can be guaranteed in this industry. Even with an unlimited monthly budget and the freedom to experiment, search engine algorithm changes and upcoming competition can (and will) impact your best-laid plans.
Instead, look for a professional who gives you a range of expected results and metrics, not a near-impossible guarantee to which they'll hold your campaigns.
The "Budget-Dependent" Quote
As you research the costs of PPC management, you'll find that some experts will charge you more for larger budgets. Others will base their fees on your ad spend estimates, usually as a percentage cut of what your brand is spending.
However, not all of these professionals provide differing levels of services for different ad budgets. Instead, they use this percentage-cut method as a way to skim more off the top of your agency fee.
Unless a professional can justify increased management charges for larger budgets, look for a professional that bases their quotes on services provided, not how large your campaign budget is.
Why eCommerce PPC Pricing is Unique
While these suggested pricing tiers provide a decent starting point for understanding the costs of PPC, your eCommerce-specific PPC strategy can involve a lot more than the run-of-the-mill fees outlined above.
For example, you can't just run Google Search Ads for your online products. You must also manage your Shopping data feed and run Shopping campaigns. In addition, with products continually going in and out of stock, you can't just "set and forget" campaigns as other brands might. Instead, you'll need an online marketing agency with a more dynamic approach.
With seasonal sales, constantly rotating products, and an ever-changing landscape of digital advertising systems and strategies, the ability to nimbly customize campaigns and strategy is required for effective eCommerce digital marketing.
Of course, that will often come at a higher price.
Factors Affecting Your Overall PPC Costs
As with all digital marketing services, your exact PPC costs may be higher or lower depending on your unique goals, industry, and paid search campaign history.
Other major factors that influence overall PPC costs include:
1. Industry & Competition
When it comes to your PPC campaign budget, the majority of your expected costs will depend on the competitiveness of your industry and products.
For example, if you're in a very competitive space (like the legal or travel industries), you can expect to spend more than average than brands in less competitive industries (like employment services).
Let's not forget the impact that current trends can have! Our strategists have seen wildly fluctuating rates throughout the pandemic — like clothing/apparel ads experiencing a 50% CPC decrease in just one month.
In short, if there's more competition, you're going to have to budget more for your bids. If there is less competition for your wares, you'll be able to spend those funds elsewhere.
2. External Tools & Resources
The extreme DIYer can technically run PPC campaigns using only free tools like Google Keyword Planner and Analytics — but results may be limited.
To perform more technical and detailed analysis and experimentation, you'll likely need to invest in more comprehensive paid tools.
Note: If you work with a professional, they'll already have subscriptions to all the tools needed to do their job successfully.
Feed Management Tools
In eCommerce, feed management is the process of optimizing and administering product data to different sales channels. With PPC advertising, this means your Google Shopping product data feed.
Feed management tools help you keep track of not only your changing product data, but also important information like inventory levels, shipping details, and more.
Popular feed management tools include:
These tools range in price from $40 to a few hundred dollars a month, depending on your package.
Automation Tools
When it comes to PPC automation, there are a plethora of tools that can make your bid and campaign management more streamlined. When used in conjunction with a professional, dynamic management strategy, these tools can be well worth their cost.
PPC management software can range from just $15 per month to over $800 per month, depending on which and how many tools you're using. Some options include:
Google also offers an increasing number of automated bid strategies directly within its advertising platform. This system can make it easier for some brands to "set and forget" their PPC campaigns, but this approach doesn't always work best for those with smaller budgets and fewer campaigns (and could actually end up doing more harm than good!).
Keep in mind: When you rely solely on automation to manage your accounts, you lose the agile flexibility we've recommended above. That's why our team recommends a hybrid approach to automation — using it where it makes the most sense, but also incorporating manual bidding for important human oversight.
Keyword Research Tools
Most research can be done and managed within the Google platforms, but we recommend using additional tools for a more comprehensive understanding of the search term landscape.
There are many free and paid keyword research tools available to you, including:
Bonus: You can use these tools for your organic SEO efforts, as well.
3. PPC Channels
The top two channels for PPC marketing are:
Google Ads (formerly known as Google Adwords)
Microsoft Ads (formerly known as Bing)
Each search network has its unique pros and cons. While some brands should absolutely take advantage of both, not every company needs to run ad campaigns on each platform — especially if they have a smaller marketing budget.
As the leader of the pack, Google receives a significantly higher search volume. While this means your potential audience is much larger, it also means your bid prices are also going to be much higher.
In contrast, Microsoft Ads has a smaller audience and typically lower bid prices due to less competition.
From a budgeting aspect, we recommend that all eCommerce companies run campaigns on Google first. Once those are running smoothly (and if you have any leftover budget), then you can branch into Bing Ads, as well.
The more channels you advertise on, the higher your PPC ad budget and management budget should be. Think strategically when it comes to advertising on Google vs. Microsoft Ads, and consider speaking with an expert to determine the best approach for your brand.
4. PPC Professional
When it comes to hiring an eCommerce PPC consultant, you have a lot of options when it comes to professionals to choose from — and even more variety in the fees that they charge.
As with most things, the cheapest option may not always be the best for your business.
When it comes to PPC management costs, you often get what you pay for in terms of investment to results.
Agency
The average management costs listed above are largely for agency programs.
While we're obviously biased toward working with an expert agency, there are some pros and cons to consider when making the right decision for your business.
Some signs you might be ready to hire an agency include:
Wanting to keep your PPC and other digital marketing efforts in the hands of one company, rather than in disparate systems and professionals.
Wanting to work with professionals who know the PPC landscape inside and out and are abreast of algorithmic changes as they roll out.
Contractor/Freelancer
If you have a lower budget/number of products, you might want to hire a contractor to handle your paid search needs.
For many smaller businesses launching their PPC initiatives, a freelancer can provide a lot of value in terms of handing off your campaigns to a professional rather than learning about the strategies from the ground-up in-house.
Most contractors and freelancers will charge between $75–$250 per hour.
In-house Expert
If you prefer to keep all of your digital marketing in-house, hiring a single jack-of-all-trades marketing expert or a small team of tight-knit professionals might suit you.
Typically, this person/team will work solely on your brand's strategies and campaigns. They'll live and breathe digital marketing for your company and your products alone.
The hardest part of this path: Finding a highly-qualified individual to bring into the fold. You can't loop paid search advertising in with all your other marketing if you want to see the best results; it takes a full-time professional (and, therefore, a larger budget) to do right.
Remember that the external tools mentioned above will be extra "costs" of this option. Even if you hire an in-house specialist, you'll need to invest in those tools to help them do their job.
5. Goals & Desired Results
Finally, your business's goals (desired ROAS, target keywords, etc.) will affect the overall pricing of your PPC investment — both on a campaign and management budget perspective.
Rule of thumb: If you want to outperform your competition, you'll need to invest more.
Testing is a big part of PPC; the better results you want, the more you'll need to allocate to these tests early on (without any guaranteed results from them). The faster you want those results, the more money you'll need to invest early on.
Otherwise, you could waste thousands of dollars with nothing to show for it.
Is Your eCommerce Brand Ready for a PPC Program?
Even with a solid average ROI of 200%, paid search advertising isn't right for every single brand.
Fortunately, there are varying "levels" you can dip your toes into before committing to a six-figure budget and management program.
So, before you launch your PPC program, ask yourself the following questions:
1. Do you understand the budget requirements for your industry?
As we've said before, different industries and products have different bid requirements. If your brand isn't ready to play hardball and really invest, you'll just be throwing away money on your PPC campaigns.
For reference, we recommend a minimum of $4,000–$5,000 starting ad budget per month for 90% of the industries/verticals that we work with. Any lower than that, and you simply won't get results worth the money you're putting into your ads.
In addition, if you aren't able to invest in the right professionals to help you launch, optimize, and manage your campaigns, it might not be the right time for you to dive into this segment of digital marketing.
2. Are you comfortable with testing new ideas?
Pay-per-click advertising requires a testing budget and may not produce results right away, which can be scary for some businesses. However, you can minimize that loss by managing your expectations and working with an expert team.
On new accounts, we usually expect three months of spend before seeing closer-to-expected monthly results.
While your chosen professional will want to achieve results quickly (and do everything possible to make it happen), you should be financially prepared for two to three months of low sales prior to seeing any significant return on investment.
3. Do you have historical PPC data?
While it's not a deal-breaker to come into PPC with no brand experience or historic data, it can make it harder (and more costly) to get started, especially if you're working with an agency.
The more data you have, the better your team can hone in on the most effective keywords, bidding strategies, and overall strategies.
If you're not bringing any historic data to the table, make sure you're comfortable with three months (or longer) spent with little to no results as your team figures out the best approach for your brand.
Get Custom PPC Pricing Today
As we've hammered home ad naseum, the cost of PPC management and ad spend can be variable and will often depend on your industry, the professional you choose, and your business's individual needs and goals.
If you're still not sure that hiring a PPC agency is the right move for your business, continue your research — and consider starting small with your pay-per-click campaigns. Experiment, see what works and what doesn't, and then take the next step with a qualified agency when you're ready.
If the time is right to take that final step, our team of experts stands ready to assist.
Learn more about how a PPC program can help your online business — and get a custom quote for your needs — by contacting us today. Request a free proposal today to get started.