We recently wrote about why product reviews are essential for every eCommerce site: they boost conversions and can positively impact your organic SEO.
And, most importantly, your customers expect them. Over 80% of adults check product reviews before making a purchase.
But these benefits depend on you actually having reviews — and not just a few. You need consistently full review sections across most or all of your products.
Empty product review sections can be seen as a distrust factor for your brand and can harm conversions.
And herein lies the problem. Customers expect and use reviews but don't tend to leave them. Sourcing enough customer feedback to fill out your site can be very difficult.
But there's a solution.
Using syndicated reviews, brands and retailers no longer need to rely solely on their own customers to have extensive review sections.
Instead, they can use review syndication services, which grab reviews from product manufacturers (and sometimes other retail sites).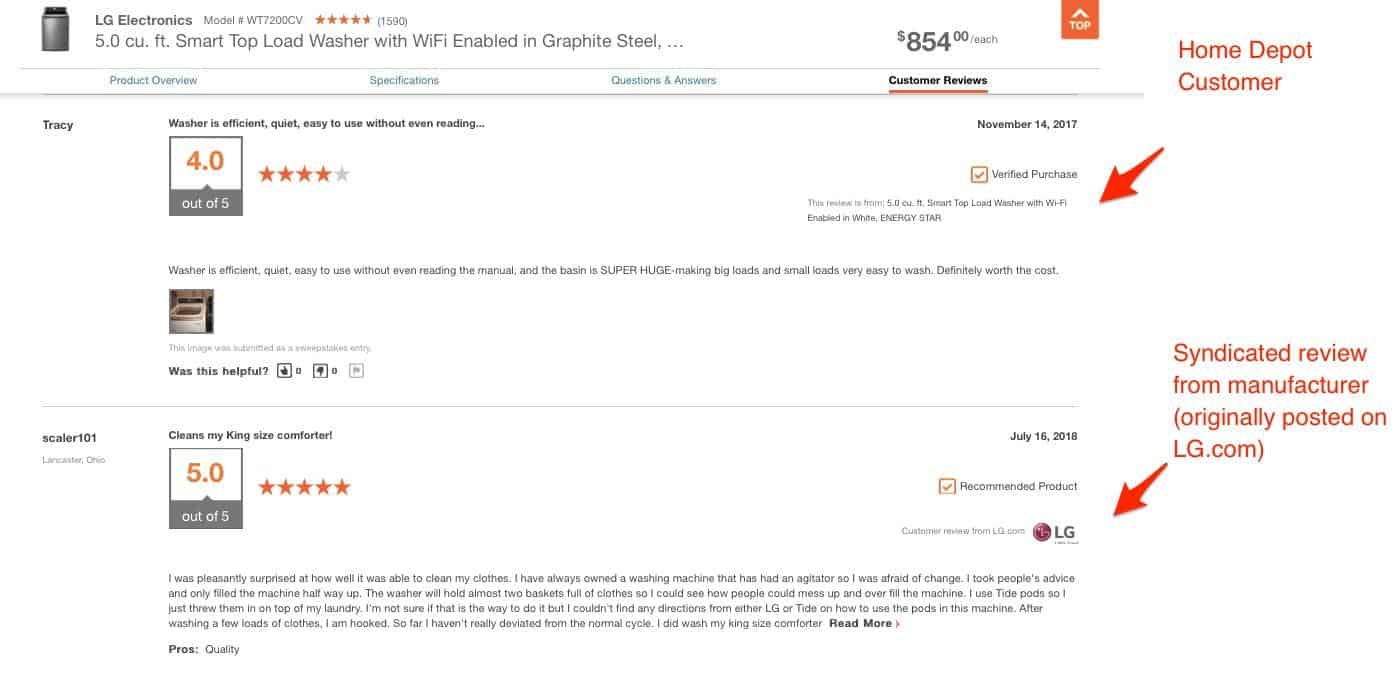 But there are a couple of risks.
The biggest one: when implemented poorly, syndicated reviews can be read as "duplicate content" and can have a negative impact on your product page's search rankings.
So how do you avoid this problem, and are syndicated reviews worth the hassle?
In this post, we'll explain what eCommerce sites need to know about review syndication from both an SEO and CRO perspective and how to ensure you're implementing syndicated reviews correctly.
Note: We've worked with dozens of eCommerce companies to strategically integrate product reviews into their site. Contact us here.
Syndicated Reviews May Increase Conversions or Harm Trust in Your Brand
Will syndicated reviews boost your conversion rate and make you more money?
Here's what you need to know.
More Reviews = More Conversions
According to research done by BazaarVoice, a leading product review platform, products that went from 0 to 30 reviews saw a 25% increase in their median order rate. Products jumping from 0 to 100 reviews saw a 37% lift in orders.
Larger sites that have significantly more shoppers have a much easier time sourcing new reviews. This, in turn, helps future sales. For smaller sites or those new to product reviews getting even a couple of reviews per product is a chore.
Syndicated reviews increase the number of reviews per product, thus probably raising conversions. But that's not the entire picture.
Retailers Need Original Content to Stand Out
According to Reevoo, another product review platform that offers syndicated reviews, not using a syndication service leads to inconsistencies in the product's rating between sites:
"A product reviewed on Retailer A's website may show five stars, while the very same product, reviewed on a different retailer's site by different people, may show two stars … For brands, this can be a major problem, because the types of educated consumers who are most influenced by reviews are also the most diligent in their research. Finding wildly different reviews and scores for a product will make them immediately suspicious, and devalue any trust mark displayed alongside the reviews."
This can negatively affect brands who want consistently positive reviews across the web. However, we're not so sure this is a problem for retailers.
For some sites, displaying different ratings than another retailer can be an advantage. If people turn to your site because they trust your brand and want reviews from people that feel the same, they'll expect different ratings. Reviews from another site might be from people who use the product differently or have different standards.
Having different ratings and reviews can help your site stand out. And if your site is filled only with syndicated reviews, you won't.
Syndicated Reviews May Improve SEO (If Done Correctly)
The main risk of syndicated reviews is that Google might read them as duplicate content and penalize your site.
So do syndicated reviews negatively impact your SEO rankings?
Answer: Probably not, if done correctly.
Google is cagey about the impact that using syndicated reviews might have on a site's rankings. When an eCommerce manager asked about this on Google's webmaster forum, Google employee responded:
"Think about the intent of this duplicate content: ensure there is no manipulation of Search and that there is no violation of our Webmaster Guidelines. Hope that helps!"
The Webmaster Guidelines cover rules about a site's content that can impact its search ranking. In its guidelines around duplicate content, Google explains to "syndicate carefully":
If you syndicate your content on other sites, Google will always show the version we think is most appropriate for users in each given search, which may or may not be the version you'd prefer. However, it is helpful to ensure that each site on which your content is syndicated includes a link back to your original article. You can also ask those who use your syndicated material to use the noindex meta tag to prevent search engines from indexing their version of the content.
Not everyone is worried about this. Here is what BazaarVoice says about duplicate content and syndication of reviews:
"Bazaarvoice syndicates content across hundreds of brands and retailers and is not concerned about duplicate content causing issues. When content is duplicated or syndicated between a brand and a retailer (in either direction), it is beneficial because it provides a good user experience, causes no issues with Google, and accounts for the delay in syndicated content."
Syndicated Reviews Add Keywords to Your Product Pages
BazaarVoice also reports that syndicated reviews can assist with SEO by adding more user-generated content (UGC) to product pages.
But the SEO impact may be more significant for smaller sites. For instance, REI and Best Buy both use syndicated reviews, but for each review originally published on a manufacturer's site, they have a dozen original reviews.
When so little of a page's content is from syndicated reviews, it won't dramatically impact their keywords.
For smaller sites, however, the majority of reviews found on a given product page may be syndicated.
Electronic Express, for example, is a much smaller electronics retail site that uses syndicated reviews. On their product page for Bose surround sound speakers, all of the reviews were originally posted on Bose.com.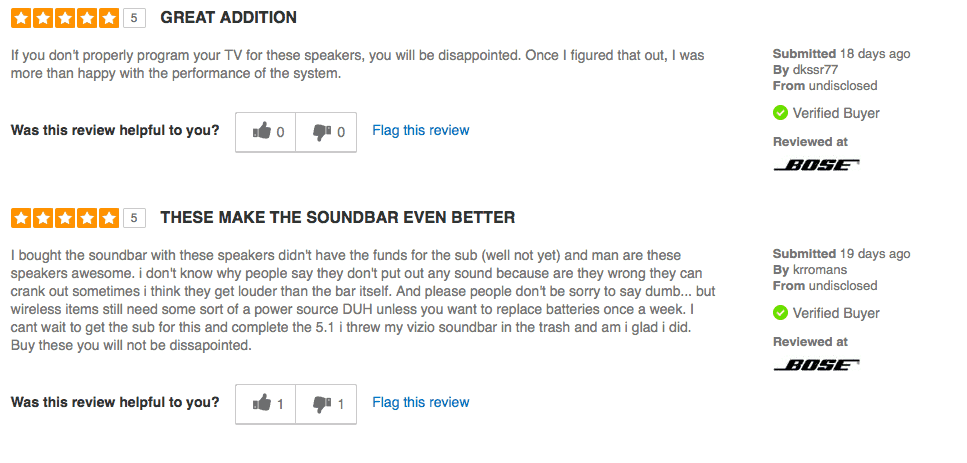 Even though the page contains no original reviews, it still ranks well in Google search results: #10 for "bose wireless surround sound speakers" and #12 for "bose wireless surround sound."
First page results on both searches are populated by listings from the brand (Bose) as well as much larger retailers, including Best Buy, Target, eBay, and Amazon. It's difficult—maybe impossible—to compete with these sites.
However, Electronic Express manages to rank higher than other smaller retailers that don't use syndicated reviews, such as Crutchfield, and even larger retailers like Walmart offering fewer reviews.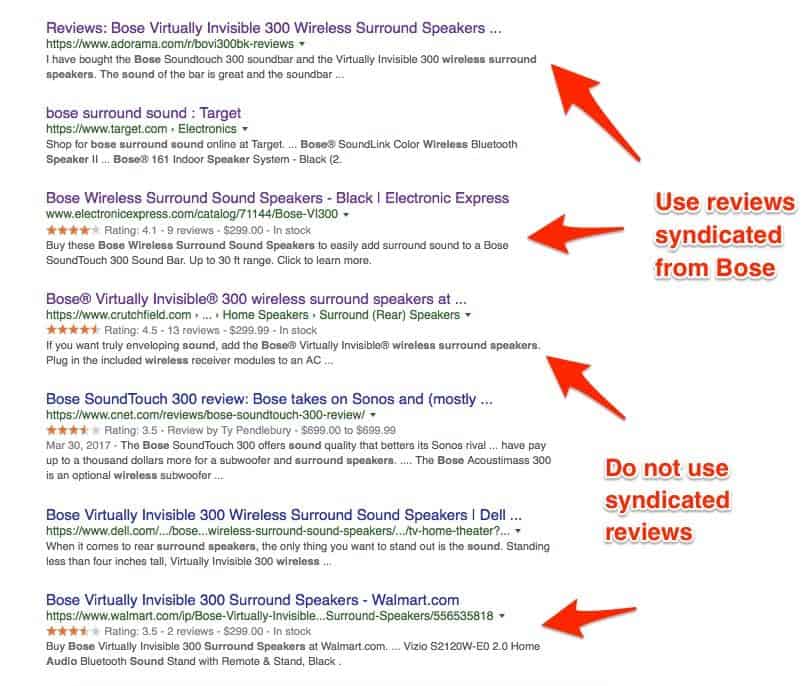 Of course, other things may impact the search ranking of these pages: such as rich product descriptions and SEO-friendly URLs. But having robust review sections can help add organic keywords to your pages, a must for SEO.
We know that Google is searching these reviews on Electronic Express' product page and responding at least somewhat positively because when we search for a direct quote from one of the syndicated reviews, their site ranks second.
If you decide that the potential benefits outweigh the risks, what follows are recommendations for how to avoid the "duplicate content" problem and other best practices for adding syndicated reviews to your site.
Part Three: Best Practices
1. Use Syndicated Reviews to Jump Start Product Review Sections
When our clients are new to collecting and displaying reviews, we advise them to only show syndicated reviews while they're sourcing feedback from their customers. During this time, using only syndicated reviews will show consistency across their site.
It typically takes about six months to source enough reviews from your customers to have consistent reviews for most or all of your products. Then you can integrate your own reviews into the syndicated ones for fuller review sections.
2. Ensure Syndicated Reviews Link Back to Their Original Post
A good syndication tool will do this automatically. PowerReviews, for instance, stated in a blog post that they always include information about where the original review was posted. This attribution can help with site relevancy — a factor that weighs heavily in a site's search rank:
"When retailers are properly attributing content back to the brand's original site, Google knows where the original content lives and associates both the brand and retailers as places for relevant content."
Often this attribution is visible, such as this example from REI which uses reviews syndicated by BazaarVoice.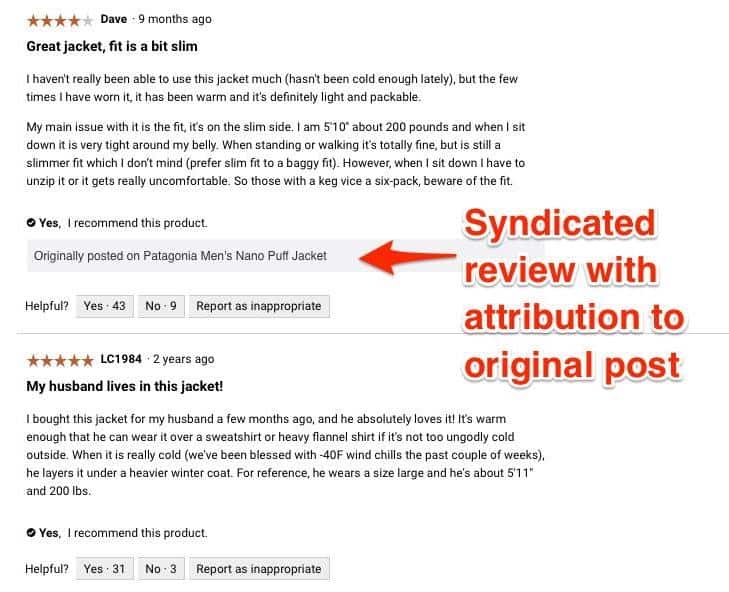 3. Make Sure Reviews Are Indexed In Only One Place
Sometimes reviews aren't just aggregated from other companies. International companies and companies with huge sites can aggregate their reviews to be shown on different pages.
This becomes a problem when those reviews are indexed and searchable across multiple pages.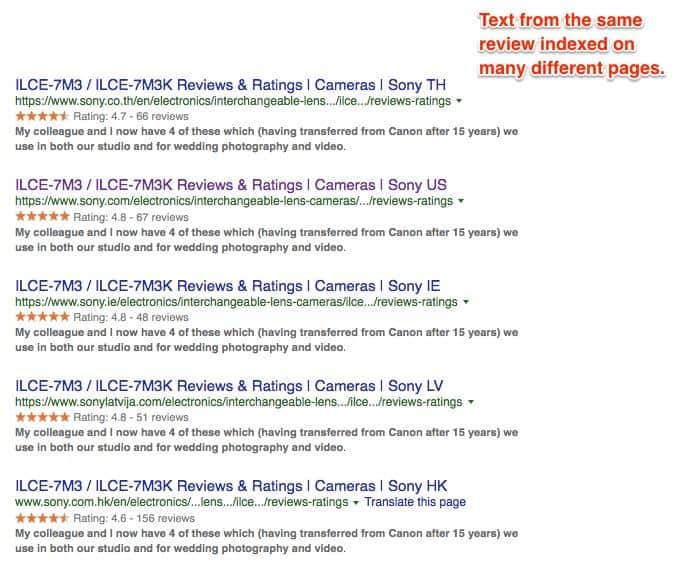 Regardless of whether you choose to use a syndication service, it's important to make sure that all of your product reviews are only indexed in one place on your site. Having reviews found on both category and product pages can be read as duplicate content by Google and other search engines. They may choose to ignore the reviews from one of the pages.
If you need reviews listed in multiple places on your site, make sure that all but one of the pages uses the "noindex" meta tag. Another way to stop robots from crawling (searching) certain pages is to specify those pages within the robots.txt file.
4. Don't Give Your Reviews to Other Retailers
Brands want to offer retailers as much information as possible about their products, and this includes reviews. But a brand's site should also be the hub for information about their products.
In two-way syndication, reviews flow both ways between a brand or manufacturer's site and their retailers' sites. This is perfect for brands.
However, retailers might not want to syndicate their reviews to other retail sites or to review sites, such as Testfreaks, that aggregate reviews from all over.
To maintain a competitive advantage as a retailer, we often recommend that eCommerce sites not share their reviews with these review sites or other retailers — in order to have more unique and useful product information than other sites.
Ensure that you're only receiving reviews and/or sending reviews to a manufacturer (and not other retail sets).
The Big Picture
Syndicated reviews can make a positive impact on conversions and SEO when done correctly. But there shouldn't be a replacement for sourcing reviews straight from your customers. When combined, your business provides more valuable information and transparency for your customers.
If you're ready to get started with syndicated reviews (or product reviews in general), check out our comparison of product review platforms. We've helped dozens of clients get started and optimize their product pages. Contact us to learn more about optimizing your eCommerce site for search ranking and conversions.
Note: We can create and implement a product review strategy uniquely tailored to your business. Contact us here.