Long gone are the days of developing content for content's sake. Generic articles such as "10 Ways to ABC" or "8 Reasons to XYZ" don't cut it with consumers any longer. Content marketing now, and in the future, must strive for a high level of relevancy, personalization and either solve a consumer's problem or provide outstanding value in return for their attention.
Before we get into the most popular marketing trends of 2017, let's look at Content Marketing Institute's definition of content marketing:
Content marketing is the strategic marketing approach of creating and distributing valuable, relevant and consistent content to attract and acquire a clearly defined audience – with the objective of driving profitable customer action.
I believe CMI's definition is one of the best definitions of content marketing in our industry today. Businesses not only need to create valuable and relevant content, but also be able to consistently do this time and time again for its existing audience and for future consumers of their information or products.

2017 Marketing Trends Big List
There are several marketing trends that are important to be familiar with in 2017 and beyond. Check out this list and I'll discuss some of the major ones from a variety of industry perspectives:
Native Advertising
Storytelling
Personalization
Specialized & Niche Content
Videos & Visuals
Mobile
Influencer Marketing
AI & VR
Email Marketing & Automation
Newsletters
Content Upgrades & Offers
Live streaming
Free Content
Social Engagement
Live Action Customer Support
Native Advertising
Native advertising is going to be one of the most prevalent and profitable forms of content in 2017. Everywhere you look (or should I say read), native advertising is in your face. Traditional native advertising is even going beyond articles on a website! Just in the past week, I personally encountered a variety of sponsored content in several emails. For instance, I subscribe to Mindful magazine and get regular emails about their latest online news and articles. Last week, I got this email (I took the liberty of using a red box and arrow to point out the obvious):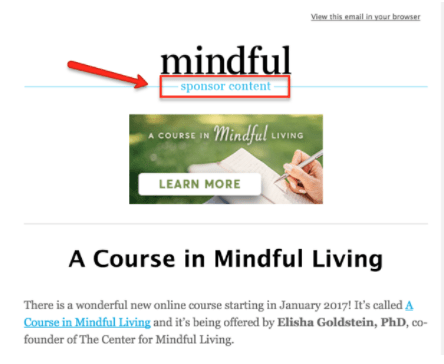 And then a few days later I got this from Amazon: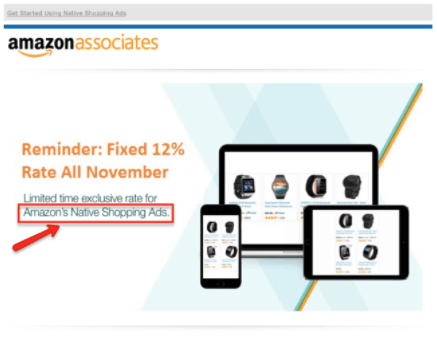 In this 2017 marketing trends article, Skyword reports on how big businesses like the New York Times, Buzzfeed and The Atlantic get a significant portion of their revenue via native advertising. Even on a smaller scale, I was conducting some guest post outreach for a contact lens client on small fashion and makeup sites and they wanted us to "pay to play."
Native advertising is already here, but as I can tell from my recent personal and professional online information consumption, it is going to be a big player in the months and years to come.
Personalization
As I mentioned earlier, creating content for content's sake doesn't work anymore. Unless a company knows its target audience in great detail, it's like shooting in the dark trying to connect with them. Content strategy needs to take into account as much information as possible about a target audience and its individual segments. Information like:
Demographics
Socioeconomic status
Interests – both personally and professionally
Common problems and challenges
You have to be able to meet the potential consumer or client where they are. In fact, I'd say you have to be one step ahead of them to really be effective. To be truly remarkable, you need to know what their needs will be in the future.
Pro-Tip: A great way to find out what types of questions your customers are asking is to visit Question/Answer websites or forums, such as Quora or Reddit. Another strategy is to look at product reviews.
Videos and Visuals
This might seem like a no-brainer to anyone in the digital marketing industry, but it must be mentioned again for 2017! Using video has been on the Trend lists for many years now and it's here to stay. If you are an online business and don't already have a video marketing campaign in place, you are not only falling behind your competition, but you also are losing out on promoting valuable brand recognition, an opportunity to connect with your audience and incurring a huge loss in potential conversions and revenue. VidYard.com recently produced a study on Video Content Marketing and they had a lot of great takeaways. First, they state that more than 30 percent of the companies they polled for the report reported producing more than 100 videos annually. Secondly, the report said that 70 percent of respondents reported that video content produced more conversions than other non-video content. And finally, of all the businesses they surveyed, a whopping 86 percent of them reported using measurement tools to gleam the effectiveness of their video marketing campaigns. This report shows video content is working and businesses are invested in it. You can check out the full report here.
If you are an online marketer, it is nice to see data backing up particular marketing strategies and campaigns, but gauging video marketing effectiveness from a basic 21st century human level understanding, we all know that video is effective in garnering our attention. How many times have you watched or shared videos via YouTube, Facebook or SnapChat? Why read a 2,000-word article when you can get it in a form of a video? When you get an email newsletter with an embedded video, how likely are you to click on it versus reading the transcription below it? How about reviewing products or researching product features? Isn't it better to see an actual visual of the features instead of reading about them in 12-point font?
I'm not going to drone on about how important videos are for marketing a brand, product or service. Every digital marketer already knows this and most business owners do too, though they might need a little nudging to get started. If you are new to video marketing, take some notes from this video and be sure your video content is clear and concise.
Mobile
Smartphones, tablets and other connected mobile devices are the preferred method of surfing the web and landing on many of our clients' websites. In fact, many of the clients I work with get well more than 50 percent of their visits from mobile devices. I have a funny story about a client from a few years ago. The client wasn't the most technological savvy person around and he didn't even own a smartphone. He owned a small eCommerce site and it was not responsive or mobile-friendly when I came onboard. I finally convinced him of the importance of a mobile-friendly site through two ways. 1) I told him Mobilegeddon was soon to be released and 2) I showed him the Google Analytics traffic data for devices on his site: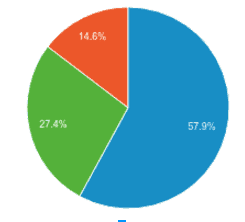 Blue = Desktop visits
Green/Red = Mobile visits
The magic was in the numbers. He couldn't believe how many people were visiting his site via mobile, and the worst part of it was his site wasn't the least bit mobile-friendly. So all the people visiting the site via a mobile device were having a terrible user experience. After this presentation, a mobile-friendly website was made top priority.
In essence, the mobile trend for 2017 is about user experience. It really boils down to Mobile First. In October 2016, Google announced it would not be splitting its index in two – desktop and mobile indexes, but that mobile would take priority. A few months prior, Google put out the word they were going to start cracking down on mobile pop-ups and intrusive interstitials. More on this in the What's Dead bonus section at the end of this article.
In 2017, you have to think of producing content for mobile first and I believe the companies that do it best will reap the benefits from the positive UX they provide to their visitors.
Pro-Tip: Design ALL new content with mobile in mind. Optimize and use titles, headers and call-to-action buttons smartly. There is only so much real estate on a mobile screen and it's a fine balance between design and content.
Email Marketing
For years people have been saying email is dead. Even this article by Inc.com from last year says email will be obsolete by the year 2020. We'll have to wait and see if that becomes a reality, but for the time being, companies in every industry are cashing in on email marketing. Go to virtually any website nowadays and the chances of you getting hit with a pop-up or CTA asking for an email is very likely.
The key to great email marketing is automation and scale. This isn't a problem for enterprise level businesses but definitely a tricky area for smaller ones. From my experience with small businesses, they either don't have the budget for a solid automation platform or they don't have the staff to get it started or keep it functioning properly over time, which is essential for successful email marketing campaigns. The good news is if you can't afford a robust Inbound Marketing platform like HubSpot, most small businesses can utilize MailChimp, Constant Contact or other relatively inexpensive email marketing software (EMS) to conduct their email marketing. But, as I just mentioned, you definitely need a dedicated in-house person or hire a consultant or agency to plan and execute the automation strategy to see the benefits and ROI.
What types of automation emails are currently popular and what can we see more of in 2017? Check out this list of drip email marketing campaign ideas:
Special Events
Timed Purchase (send reminders when its product/service is running out)
Post-Purchase
Cart Abandonment
Welcome

New Products
Sales
Anniversary of First Purchase
Birthday
New baby
Etc.

Win-Back
Loyalty program for MVP customers
Last Ditch Effort (for non-responsive contacts)
Pro-Tip: Email marketing requires great subject lines, very personalized content and enticing offers to motivate CTR's and CTA's.
Live Action Customer Support
The last 2017 marketing trend I would like to discuss before wrapping up is Live Action Customer Support. According to an Econsultancy.com article, 83 percent of online shoppers surveyed said they needed some form of support during their online journey. And then they go on to report that half of online shoppers will either try once or give up immediately when seeking help before an online purchase. Econsultancy also had some very helpful graphs that I'd like to share to justify the need for more live customer support in 2017. The first is a graph on why shoppers abandon their carts: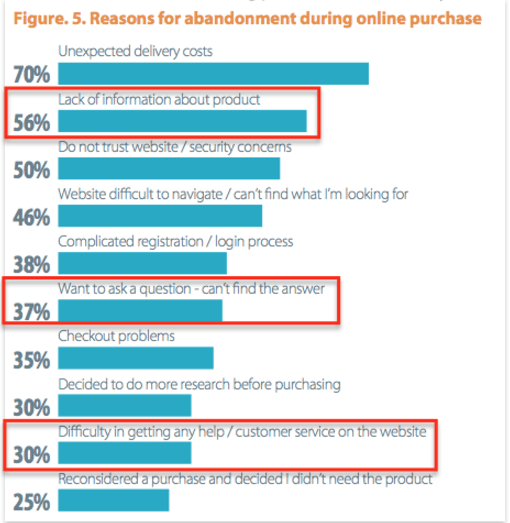 (source)
As you can see, the online stores above could have easily improved their customer's buying journey simply by having a live customer support component or software program like Zendesk.
And this graph hits home the need for immediate customer support. Seventy-one percent of customers expected online help in five minutes or less: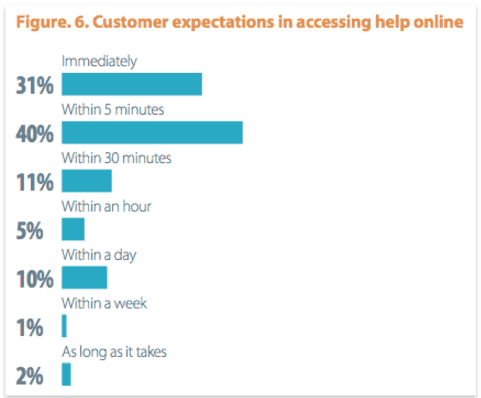 (source)
Are your potential customers or clients part of the 83 percent that wished they would have had some help during their shopping experience on your website? On the one hand, implementing live customer support is simple math; can your business not only get ROI, but also profit from adding this extra level of service? On the other hand, how can improving your customer user experience help your brand image and trust in the long run? Maybe a consumer doesn't buy today, but they remember how helpful your online associates are and will remember this the next time they are ready to purchase.
Bonus: What's out in 2017: Dead Content Marketing Tactics
Interruptive Marketing
Gated Content
Interruptive Marketing
Interruptive marketing is not an area I am strong in professionally. I just know as a consumer, I loath it! I mean, let me at least spend a few seconds on your site before you hit me with a pop-up wanting my email. To me that's like going on a date with a total stranger and asking for a French kiss the minute I pick her up. I guess it's possible, but chances are it's just too soon!
I believe pop-ups and CTA's can be done smarter, and I know our CRO department could probably rattle off a list of them in their sleep, but I'm not relying totally on my own personal judgment on this to back it up. Google has already talked about the use of pop-ups and interstitials in this article but here's the TLDR version:
"Pages that show intrusive interstitials provide a poorer experience to users than other pages where content is immediately accessible. This can be problematic on mobile devices where screens are often smaller. To improve the mobile search experience, after January 10, 2017, pages where content is not easily accessible to a user on the transition from the mobile search results may not rank as highly."
Gated Content
This is another area where I'm going on record more from personal experience than professional. In the age of personalization, transparency and building trust with customers and clients, I believe gated content will drastically decrease. There are tried and true reasons to use gated content and businesses should know the value ratio needed to ask for something in return for access to this content. The Content Marketing Institute wrote an excellent article on whether a business should gate content or not. I resonate with this snippet of the article:
Today, so much information is available for free that many businesses feel if they aren't the ones giving it away, the audience will be likely to turn to their competitors for it… There's a time and a place to gate your content — it's up to you to know where to draw that line for your business. (source)
Putting it All Into Action in 2017
I always tell clients it's never too late to start doing the right thing. So what if you haven't made a single video to date, so what if you don't have great email marketing campaigns, and so what if you don't already have live customer support. The key is it's never too late – you have to start somewhere and I believe if your business can start implementing any of these marketing trends (or these tips) in 2017, it will be well on its way to a more successful year than 2016. Good luck, and if you feel like your company could use some professional help with any of the trends I've discussed today, drop us a note and we'll see what we can do for you.