When it comes to large scale eCommerce, Amazon is typically top of mind. The online giant continues to grow in size year after year and there are no signs that it's about to stop. Amazon is not only known for selling their own products, it's known for being a massive online marketplace where anyone can list and sell.
However, it's a little less well-known that not only does retail-giant Walmart have an online marketplace, it's also growing in popularity and size at a rapid clip. In fact, Walmart saw a 63% gain in Q1 eCommerce sales this year. If that's not something to pay close attention to, I don't know what is.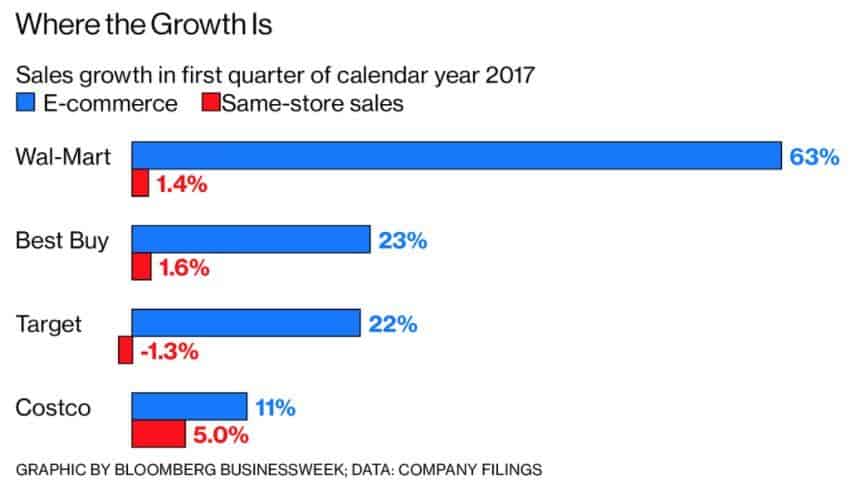 Since Walmart launched its third-party marketplace in 2009, they've added over 50 million items. And, at the moment, they're entering and expanding existing partnerships with full-service solution providers like Geekseller, CommerceHub, and SellerCloud. There are also a variety of integrations available through popular eCommerce platforms including Shopify, WooCommerce, and BigCommerce.
Based on this, and a variety of other reasons as discussed below, Walmart might just be one of the best opportunities available to eCommerce merchants.
Why Sell on Walmart's Marketplace?
Higher barrier to entry
While just about anyone can sell on Amazon, Walmart is a little pickier about who can participate in the marketplace. Sellers have to apply and be invited by Walmart after a lengthy review of their performance on other sites like Amazon and eBay. They're looking for things like a low order defect rate (under 1%) and incredibly high seller feedback. Your odds are even better if you sell private-label products, electronics, apparel and accessories, and home goods.
That might initially seem like a deterrent, but consider it a benefit because it ultimately results in a lot less competition, making it much easier to stand out. Just compare the number of sellers on each platform: Amazon has two million third-party sellers whereas Walmart currently has only a few thousand third-party sellers (and only a few hundred are added each month).
Take Advantage of Walmart's Partnership with Google
Recently, Walmart and Google announced that Google would soon start offering a large portion of Walmart's inventories on its Google Express shopping site as well as Google Home and Google Assistant through voice shopping.
By connecting their Walmart account to Google Express, users will now be able to reorder products they've previously purchased and make new purchases with Google Home. This is similar to how users can currently make purchases using Amazon's Echo devices and Amazon Alexa.
Although voice shopping is still relatively new and not yet in major use, by selling through Walmart's marketplace, these deals hold the potential to provide merchants with yet another voice-based shopping channel from which to sell their products once voice shopping begins to play a larger role in the world.
Lower fees; simpler fee structure
Walmart's seller fees are the same as or less than Amazon's in just about every one of its 36 product categories (overall, the average is 13%), and the fee structure is simple and straightforward.
In comparison, Amazon not only charges fees based on a more complicated fee structure (overall, their fees average out to about 15%), but there are minimum referral fees that have to be paid (typically $1 in a handful of categories). Sellers also have to pay a monthly subscription fee just to sell in the marketplace.
Multiple potential fulfillment options
While Amazon relies heavily on its fulfillment centers— in addition to Merchant Fulfillment Network (MFN) and seller-fulfilled Prime — Walmart is opening new eCommerce fulfillment centers, leveraging its existing store distribution centers, 4,500 stores, and the company's own transportation fleet in order to ship online orders. It's also worth noting that Walmart has also started offering free two-day shipping on orders over $35 to compete with Amazon's shipping speeds.
Huge growth potential
In 2016, Walmart was the second most popular eCommerce site in the U.S. based on traffic (92 million unique visitors each month, according to their last annual report). So, there's plenty of reach. And with all the investment that Walmart is making in building up the marketplace with upgrades and new developments, you can bet that they're getting ready to really try and give Amazon a run for their money.
What are your thoughts on the Walmart marketplace as a potential channel? Do you sell there already? We'd love to hear from you! Be sure to comment below, comment on our Facebook page, or send us a tweet at @GoInflow.