Editor's note: This blog was originally published in 2021. It has been updated for accuracy and to reflect modern practices.
"It's the most competitive time of the year…"
I know: It's too early for carols.
But what it's not too early for is your eCommerce holiday email marketing campaigns.
We're just a few months from the start of the busiest shopping period of the year. If you want successful holiday email marketing campaigns, now's the time to get your strategy in motion for Black Friday, Cyber Monday, the new year, and the rest of the shopping season.
By planning today, you'll avoid spending your energy making last-minute tweaks while other valuable sales opportunities slip by — especially if you're a small business making the most of the limited staff you have.
Today's guide will help you get your eCommerce email marketing campaigns ready with all the trimmings before the holiday season starts, by explaining:
Why holiday email marketing is crucial for your brand
What you should consider when designing your holiday email strategy
And 10 proven strategies for successful eCommerce holiday email campaigns
What are the Benefits of Holiday Email Marketing?
Email marketing is not only great at creating brand awareness, but it's also the most cost-effective way to increase sales.
Most online marketing — like PPC and paid social — is intrusive. With email marketing, you've been invited into current and future customers' inboxes with express permission.
These shoppers already want your brand to be a part of their lives, so take advantage of it.
Create a powerful connection between your brand and the holiday experiences and rituals that are close to your customers' lives. If you can make that connection, you're locked in for higher holiday sales for years to come.
Think about it: Most brands are limited to one-line ads designed to grab attention on social and in search engine results. (Are you sick of "It's just not [holiday] without [brand]" yet?)
Email marketing, on the other hand, allows you to deliver a longer, more enticing message that packs a bigger punch than a banner ad or a social media post. And, with a well-designed flow, you can build that engagement over several emails.
Finally, from a revenue standpoint, nothing beats email.
The email inbox is your inside track to conversions. Conversion rates for email campaigns are nearly double that of social media campaigns, and customers spend more when reached via email. Combined, these factors give email marketing a huge ROI: around 3,600%, according to multiple studies.
That's not a typo. Successful email marketing campaigns regularly bring in $36+ of revenue for every $1 spent on advertising.
The point: If you're not using email marketing, now's the time to start.
How to Create an eCommerce Holiday Email Marketing Strategy
When planning your holiday email marketing strategy, consider these factors as the foundation of successful campaigns.
Consider Brand Strategy
Start by determining which holidays align best with your brand's presence and personality. Not all brands are Christmas brands. Some are Halloween brands. Some are Thanksgiving brands. Some are brands of a different season altogether.
Here's an example: Our client Vitrazza built a super-successful email campaign for Memorial Day. By using their "Made in the USA" tagline to appeal to patriotic feels, they brought in more than $90,000 in sales over the three-day holiday.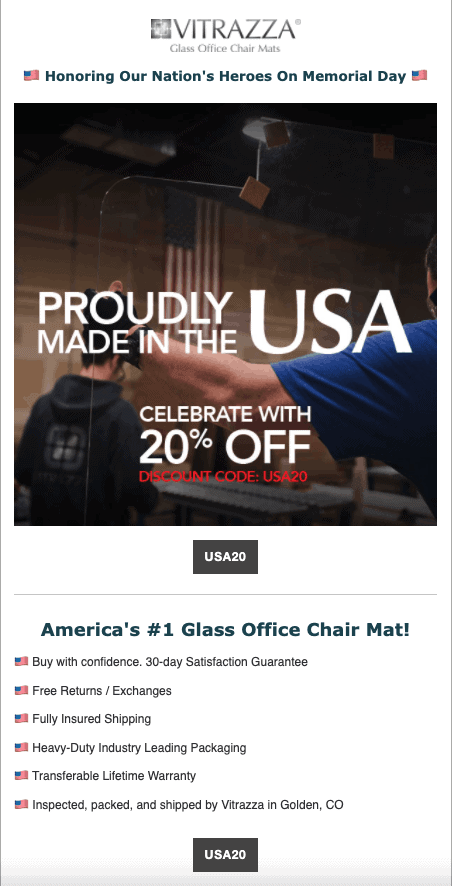 Understand Customer Demographics
In the same line of thought, think about which holidays are most important to your customers, based on demographic trends.
You might not know which holidays they celebrate, but you can look at their historical purchase data to know when (and what) they tend to buy. Then, you can segment your email audience to hit those customers who are most likely to buy for one holiday or another.
This can also help guide the language you use in your email content. Some customers might be turned off by the assumption that everyone is Christmas shopping, while others will respond favorably to Christmas-themed marketing.
Dive into the data, run some audience focus groups, and collaborate with your audience marketing team to streamline your approach this season.
Hit Historical Data Hard
We brought up historical data already, but it bears repeating: Historical data can give you important insights into how to target your advertising dollars.
Use it to learn which holidays customers identify with your brand, based on when they tend to buy. You can also discover which customers tend to do their shopping around Black Friday (or before) and which ones tend to be last-minute shoppers — and target them with marketing appropriately.
Review statistics like:
Open rates
Click-through rates (CTRs)
Unsubscribe rates
Conversion rates
Bounce rates to landing pages
And more
Don't forget to analyze how these metrics differ between desktop and mobile devices, too.
Remember that the last few years have been strange for all of us (thanks, COVID). Make sure you look at several years of data for a more complete prediction (we recommend looking at 2019 and before), and don't just rely on last year's trends to guide your strategy.
With enough historical analysis, you'll probably see what we've been seeing for years — customers are starting the holiday shopping season earlier than ever.
Build on Successes and Learn from Mistakes
Don't forget to review data from previous campaigns when designing your new campaign.
We're not just talking about email campaigns, either; look at how ad campaigns have performed on other platforms, especially social media. Identify the aspects of successful campaigns (Emojis? GIFs?) and incorporate them into your emails.
You should also look at your failed campaigns from the past. Identify what went wrong, and avoid those issues in upcoming efforts.
10 Strategies for Your Holiday eCommerce Email Marketing
Now that you've laid the groundwork for your campaigns, it's time to start talking about strategy with these holiday email marketing tips.
We've also included some email examples to kickstart your brainstorming process.
1. Start scheduling emails now!
Like the perfect holiday dinner, different parts of the email campaign need longer or shorter periods of time to prepare. Starting now ensures you can get all the elements in place to come together at the perfect time.
Some of that work can be rushed — but some of it (especially creative) takes time if you want to get it right. And, if you want to get your campaign right, you must leave yourself time to do A/B testing on holiday email subject lines and calls to action (CTAs). Test these on select parts of your audience to know which are the best ideas to roll out on a larger scale.
In short: There's no time like the present to start putting your campaigns together.
2. Emphasize discounts, sales, and promotions.
Customers have a lot of shopping to do over the holiday season, which means they're looking for ways they can stretch their dollars.
Take the time now to identify your company's "sweet spot" for discounts. This is the point where discounts optimize your revenue — by increasing sales without decreasing returns too severely.
Pro tip: Your sweet spot might not be a discount of a certain percentage or dollars off. It might be a coupon or special offer like BOGO or "buy X, get Y."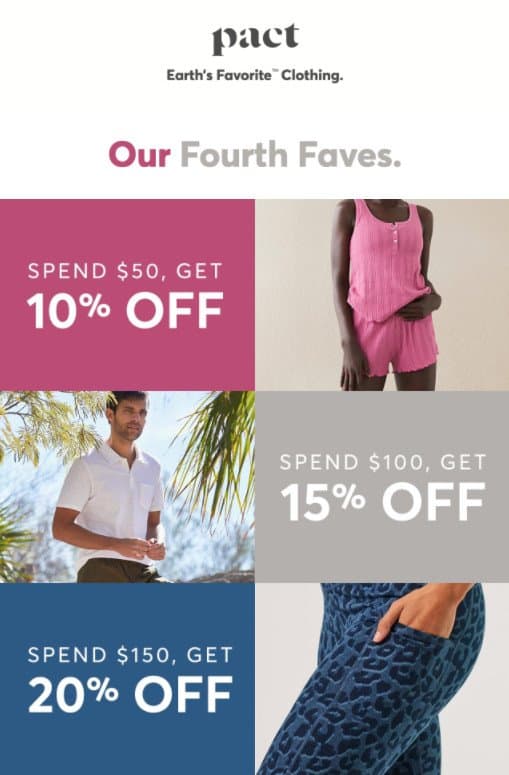 You could also reward certain behaviors, like giving extra discounts to early-bird shoppers or discount codes that people can share with friends. This is another place where A/B testing can make a big difference in the effectiveness of your campaign.
3. Feature your popular holiday products.
One of the biggest lessons for email marketing: You always want to build on what works. This includes featuring items that always sell well over the holidays.
You might object: Why should I spend advertising dollars on what I already know will sell?
There are two very good reasons.
First, success builds on itself. It's possible to exponentially increase your sales by emphasizing your already successful items.
Second, leading with or including your successful items lets these products carry less successful items on their coattails. People might open your email for the more common item but end up buying other less popular items, too.
Win-win.
4. Use attractive, on-brand (and on-holiday) creative.
At certain times, it might pay to get under your customers' collars with visuals and text that challenges them.
But everyone's a little stressed during the holidays, and they don't have time or energy for that right now. If you're not talking to the heart, you'll probably be talking to the hand.
Let the fairies sprinkle a little extra sparkle on your email design, subject lines, and copy to give your customers what they want. (Of course, your brand and target audience will determine whether these are sugarplum or dank weed fairies.)
5. Consider a personal appeal to customers.
Remember what we said above about talking to the heart? We meant it.
The holidays are the perfect time of year to get real with your customers. What form that takes depends on your brand and the holiday.
I'm going to use Vitrazza as an example again here. In addition to the patriotic appeal, their Memorial Day Campaign also included a direct appeal from President and CEO George Pardo.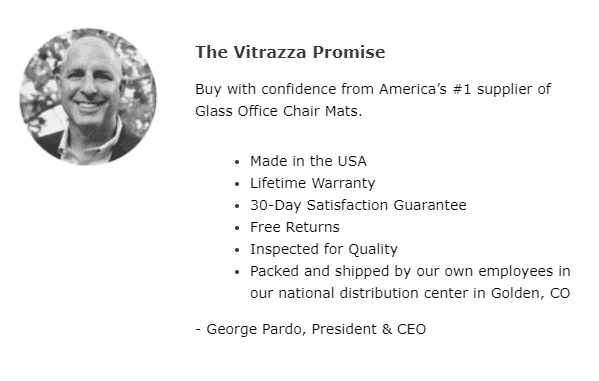 You can incorporate personal appeals in several ways: with user-generated holiday content, reviews and other testimonials, and more. Experiment with what feels right for your brand — and, of course, don't forget to test it!
6. Highlight your brand strengths.
Just as you're giving your customers what they want, you also want to make sure you're highlighting the strengths of your brand.
Historical data (there it is again!) from campaigns will help you understand what people really love about your brand. You can also analyze social media posts and user-generated content to see the aspects of your brand that people find attractive enough to share.
Don't take it for granted that people have heard the message and are tired of it; you want to remind them of what your brand stands for.
Build these strengths into your email campaigns ASAP.
7. Emphasize the urgency of holiday sales.
If you don't close a sale during the holidays, you risk being forgotten. Your messaging will be buried under the constant stream of advertising customers are exposed to.
To close your sales now, emphasize that holiday deals are for a limited time and need to be taken advantage of before they go away forever. Some basic examples: "For today only!" or "Buy Now!"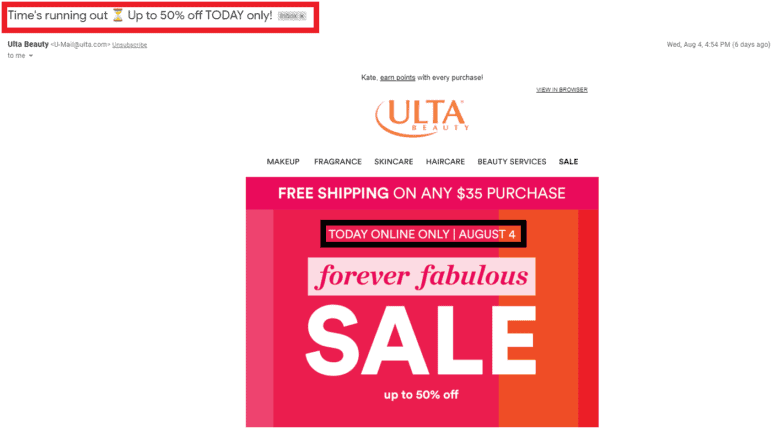 You might also consider putting a countdown clock on the product page, depending on how your audience would respond to that type of pressure. This strategy increases in effectiveness when last-minute holiday shoppers feel the pressure of buying for loved ones.
Make sure you are especially clear about any hard deadlines, like shipping and handling times for delivery by key dates.
8. Segment audiences based on past performance.
Your customers all have one thing in common: They buy your product.
But that might be the only thing they have in common.
Segmenting your audience lets you customize emails and messaging to different groups of customers that might have more in common with each other than they do with the audience as a whole. This can be very successful; segmentation can help email campaigns perform almost 80% better for average revenue.
Looking at your historical customer data allows you to see who has (and has not) purchased during past holiday seasons, giving you ideas for which types of copy might appeal to which facets of your audience.
9. Set up cart abandonment flows.
People abandon items in their carts for many reasons. Sending email flows to follow up on abandoned cart items can target the most common reasons and increase the likelihood that shoppers come back for the final purchase.
Some consumers just need reminding, while others might respond to a personalized appeal. In some cases, you can close a deal by offering a discount on the product or shipping.
Always run your cost-per-acquisition (CPA) numbers to make sure these offers are profitable before rolling them out.
10. Build your list for next year.
We understand how all-consuming it can be to try to maximize sales now. But don't focus so much on sales that you neglect other aspects of your email marketing.
For example, as you do year-round, keep growing your eCommerce email list during the holiday season. The email subscribers who join your list this year can be your new customers for next year.
And, if you have well-designed welcome emails, you might even close some sales with a few people who just signed up.
You also want to make sure your email campaign isn't so aggressive that people unsubscribe. Not only are you not making those sales this year, but that's also a permanent loss of potential revenue for future years.
Truly successful eCommerce holiday email campaigns lay the foundation for continual growth year after year.
Start Building Your Holiday Email Marketing Campaigns Now
When you make your email marketing part of a comprehensive eCommerce holiday strategy, you can wrap up your holiday campaigns and put a bow on the end of the year with some tidy profits.
We know eCommerce campaigns can be complicated for online retailers to design and execute properly. So, we recommend starting with the strategies above to set your business on the path to significant improvement in holiday revenue this year and for years to come.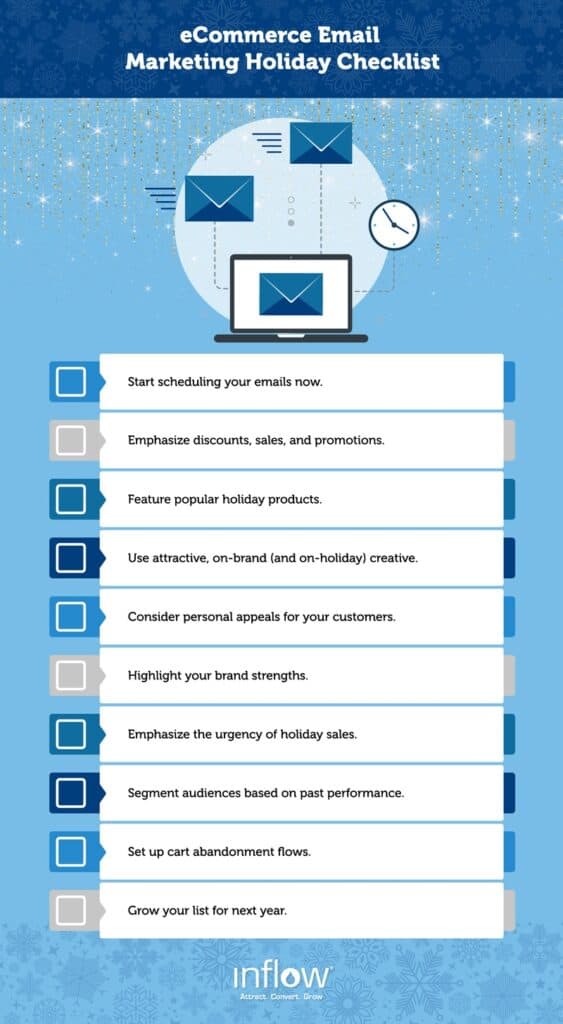 If the strategies above make you say "Bah, humbug!" you don't have to lose the holiday spirit. Our team of experienced eCommerce email marketers can help you build the campaigns of your dreams.
Request a free proposal anytime to see what we can do for you.
For more holiday digital marketing ideas, check out the other blogs in this series: