Paid search advertising can be a huge boon to your business during the holiday shopping season, but it can be difficult to know exactly where to put your money to beat out competitors and increase customer purchases.
Good news: By planning your strategy now, you're giving yourself plenty of time to figure it out.
In today's guide, we're sharing 10 of our proven pay-per-click strategies, developed from years of working with leading eCommerce companies across the globe.
As you prep for this year's holiday season, use this list to maximize your eCommerce PPC efforts and revenue:
Keep reading for more details, or request a free customized paid advertising proposal from our team anytime.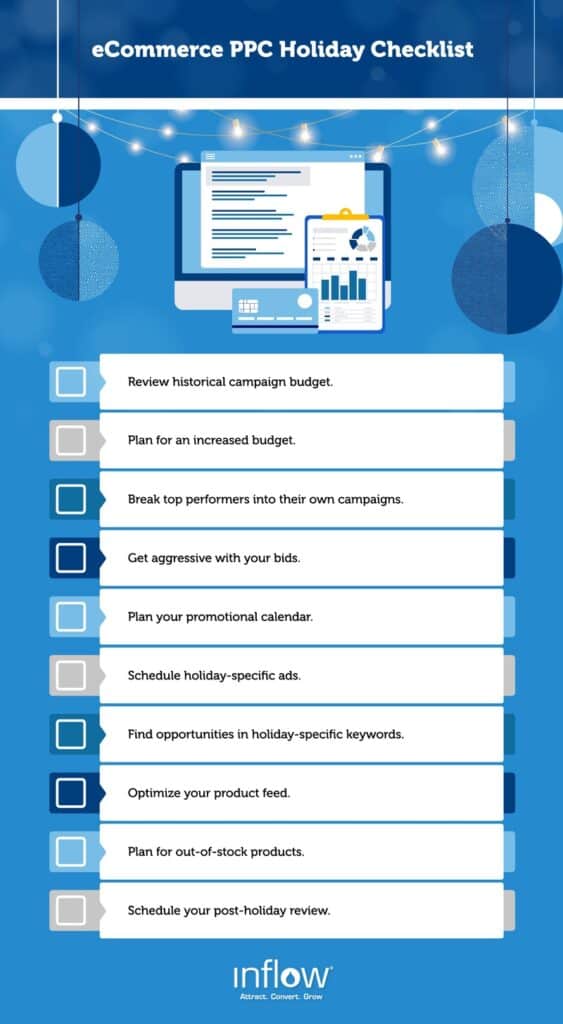 How to Create More Effective Holiday PPC Ads
It's no secret that potential customers behave differently during the frenzied shopping season, which seems to grow longer every year. To find success, your paid search ads campaigns should be optimized differently, too.
Here are the strategies we recommend for our eCommerce clients during the busiest time of the year:
1. Review historical campaign budget.
The last few years have been a ride for eCommerce PPC strategists. Between COVID-19, the boom of online shopping, and the economic crunch of the last year, you can bet that 2023 will be just as unanticipated as years past.
However, you can (and should!) still prepare by looking at historic performance, especially your ad spend.
For a more comprehensive understanding of your optimal budget, we recommend looking at your holiday spend from 2018–2022. Review how much your campaigns spent and how they performed — and remember that eCommerce (especially mobile eCommerce) will continue to grow into a larger share of the holiday shopping market.
Don't forget to review historical data for your Google Ads competitors and specific industry, too.
As long as all the evidence supports it, start planning for an increased marketing budget for your holiday paid search campaigns (which we'll talk more about later).
2. Plan for an increased budget.
Because the advertising space gets crowded during the holiday season, you need to ensure that you're maximizing your ads' exposure with the right budget and bidding approach.
Start by looking at last year's search impression shares, both around Black Friday and Cyber Monday and throughout the rest of the holiday season. Did your competitors outbid you last year? Did you have high ROAS campaigns that had low search impression share?
Either is a sign that you probably left money on the table.
This year, stay ahead of the competition by proactively making sure your campaign's bids and budgets won't result in you missing out on high-value traffic — even if that requires a larger investment from your digital marketing team.
Don't have the time to manually manage your budget fluctuations? You can set up automated rules in Google Ads to increase or cap your budget during the holiday season. Learn how to do so in Google's guide.
3. Break top performers into their own campaigns.
Holidays mean increased traffic to your ad campaigns. As a result, your campaigns will often run out of budget (and way earlier than expected!).
When traffic is heavy, you don't want your top performers to be restricted by budget. Otherwise, you'll be missing out on key purchases and site visits.
If they're not already, consider breaking your existing campaigns into smaller ad groups to maximize their reach this holiday season. By separating your top performers into unique campaigns, you get more control over specific budgets, meaning you can easily adjust your spend for the best return possible.
Not sure if a top-performing product deserves its own campaign? Download our free campaign budget analysis tool to see how campaign breakouts and increased budgets may improve your marketing results.
4. Get aggressive with your bids.
Traffic isn't the only thing that will increase during the holidays. Competition will, too — which means it's time to turn up the heat on your bids.
Cost-per-clicks will rise over the next few months for popular products and keywords, and your bidding strategies will need to adjust to keep up.
We highly recommend using automated strategies to amp up the aggressiveness of your bidding to maintain your positions in ad results. Relying on manual bidding alone could result in your campaigns missing out on important traffic during this peak time.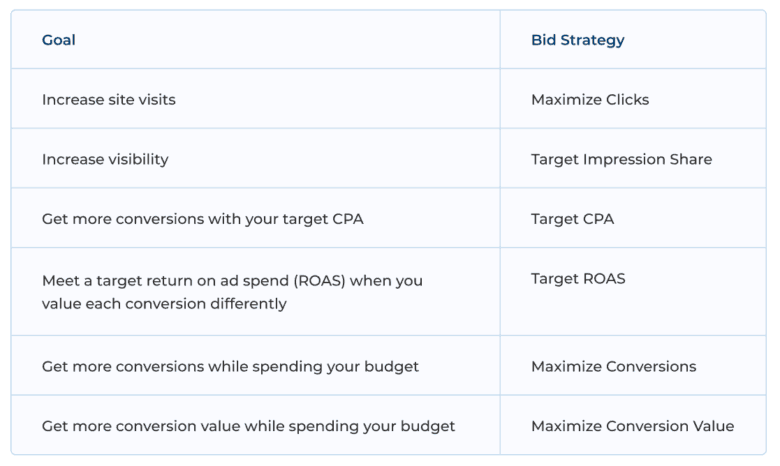 Start by reviewing your current implementation of automated campaigns, including Performance Max. Many of these require a learning period to perform their best, which means you can't expect to turn them on a week before BFCM and get great results.
For more information on optimizing your PMax campaigns, check out our complete guide or watch our video below:
The video below is hosted on YouTube. If you need assistance with viewing the video, please contact [email protected].
5. Plan your promotional calendar.
Don't have a promotional ad calendar yet? Make that your first priority.
Decide which products you're going to promote when, based on the holiday calendar and your historical performance data.
Once you've spoken with your promotional team and have your calendar in hand, prep your holiday PPC campaigns accordingly. Set up your promotions in Google Merchant Center and ensure your promotion extensions are live, too.

6. Schedule holiday-specific PPC ads.
You can't rely on your everyday product ads to pull double-duty for the holiday season. If you want to maximize your results, you need to invest time and energy into holiday-specific ad copy. 

Consider what's important to holiday shoppers, and incorporate those phrases and ideas into your ad copy, along with power words and holiday phrases. Some examples:
"Buy Today for Pre-Christmas Arrival"
"Holiday Sale: Up to 50% Off"
If you sell products that could be used for holiday gatherings, add that into your copy, too (like "Holiday Party Napkins").
Of course, don't forget to create ads for any new holiday products you're launching, too.
Pro tip: Work with your SEO and social media teams to make sure your messaging is aligned during this crucial time.
7. Find opportunities in specific holiday keywords.
As you're creating holiday-specific ads, conduct keyword research on potential search queries that you can target.
This is more than just keywords like "gifts"; they can get as granular as you want, based on factors like search volume, CPC, and your brand's past performance.
Say you sell dog toys. You could (and probably should) run ads for keywords like "gifts for dogs," but you'll likely also find success with keywords like:
"Christmas dog toys"
"Dog toys Christmas sale"
"Holiday dog toys"
The best part: Many eCommerce businesses forget to target these keywords in their holiday PPC strategy, so they could have less competition — and a higher return for your brand.
Note: If this is your first holiday season bidding on these new keywords, be extra careful about CPCs and plan to monitor your efficiency more than usual. You don't want to be caught off guard when entering this market, especially when you're not used to these keywords and their performance.
8. Optimize your product feed.
Your Google Shopping feed should always be optimized. But, if you haven't already done so (or it's been a while since you last looked through your feed), make sure to update it long before holiday shoppers start their browsing.
Every listing should include the bare minimum to help shoppers find your products:
A Global Tracking Identification Number (GTIN)
The right keywords
A specific product category
An optimized product description
Descriptive product titles (with the most important keywords at the front)
Attractive, original product images
We also recommend that you check your shipping prices. Make sure they're accurate, up-to-date in Merchant Center, and reflective of any holiday deals. You don't want to be flagged at the last minute by Google with any shipping inaccuracies (one of the most common GMC violations).
Finally, spot-check your product landing pages (PLPs) to further ensure accuracy and to avoid any Google warnings or suspensions.
Get started now with our Google Shopping data feed optimization guide.
9. Create a plan for out-of-stock products.
eCommerce brands have been plagued with supply chain issues since COVID-19 first emerged. Though many businesses are now dealing with an overabundance of product, you should still make a plan now for how your ad strategy will change should your top-performing products go out of stock at any point in the shopping season (but especially early on).
Some strategies you might consider:
Featuring a similar, backup product on the out-of-stock product's landing page
Identifying another product category to use the out-of-stock product category's budget
Using a low, catch-all campaign to find other well-performing categories
Testing against new categories and products
10. Schedule your post-holiday evaluation.
By the time the new year rolls around, you'll be ready to take a breather — but make sure to look back on your performance before putting the 2023 holiday season behind you.
Your holiday search campaigns will be fresh in your mind, so now's the time to debrief with your team. What went well? What could have been improved?
We recommend looking at a few factors in particular:
ROAS: If your campaign ROAS was high throughout the holiday season, it's likely a sign that you could have spent more. You can use this to justify a higher budget in 2022.
CPA: Similarly, if your campaigns were blowing your CPA targets out of the water in a good way, you probably had opportunities for more spend.
If either of these metrics surpassed your expectations, take a look at your search impression share. That should confirm any suspicions about your spend — and, if there was room for increases, exactly how much.
Design Your Holiday PPC Advertising Strategy Now
With just a few months until the holiday shopping season kicks off, now is the time to start evaluating your 2023 paid search advertising strategy. Invest the time and energy into reviewing historical data and making a plan today, and you'll see it pay off in dividends when you most need it to.
Want an expert to review your current strategy or to craft a personalized plan of action for your goals and budget? Reach out to our PPC experts anytime to request a free audit and strategy proposal for the 2023 holiday shopping season.
You can also review our other holiday marketing to-dos by downloading our free Black Friday & Cyber Monday Digital Marketing Checklist, full of our recommendations for every channel from PPC to SEO and more.
Download Our Black Friday & Cyber Monday Digital Marketing Checklist now.
In the meantime, review our other digital marketing holiday guides at the links below: