eCommerce Link Building: What You Need To Know 
With link building, as with anything, it's a garbage in = garbage out rule. Taking the time to build high-quality, valuable links will yield a promising level of ROI. Conversely, lazy, spammy links can result in penalties and even loss of revenue in some cases.
In this post, you'll learn the high-level strategy of building eCommerce links and their importance. Later this month, we'll break down the tactics of link building, including the way to decipher a link that can be beneficial vs. one that can be harmful.
The Challenge of eCommerce Link Building
eCommerce businesses often depend on domain authority (a metric created by Moz that is calculated according to all link quality metrics combined) and PageRank (a basic metric created by Google that is used to determine the importance of a domain or page), trickling down to product pages for those pages to be indexed and ranked. That's usually not enough to get product pages to compete.
Competing With the Big Guys
When it comes to eCommerce link building, a common question is "How can I compete with Amazon (or Buy.com, Walmart.com, etc.)?" At a product level, you will never compete unless you get links to your category and product pages, but the good news is that everyone, even major online merchants like Amazon, have trouble getting links to product pages, which means building links to category pages and just a few links to your product pages can get them to show up in the top search results.
Making Your Website Link Worthy
To get links, you have to provide content that makes people want to link to you. Many eCommerce businesses have nothing more than a homepage, an About Us page and a massive catalog of category and product pages. Usually, none of this is link worthy, but there ways to fix that.
Consider:
Creating a blog

Adding a resource library

Creating a research guide

Creating a Q&A page

Building a forum

Adding Linkbait to category and product pages

Product-focused giveaways
Buying Guides
If you want to attract links, you need to add useful content to your website—not any old content will do. Google's Panda algorithm update put a stop to "thin," low-quality content back in 2011. Thin content won't help you rank and nobody will link to it. Be mindful of what content your personas want and create that. 
What is Link Building and Why Should I Care?
Not all links on the Web are created equal. One of Google's major algorithm updates, Penguin, targets sites that have suspicious link profiles. This includes profiles with low-quality links, links with keyword-rich anchor text (or with overly optimized text), links from low-quality sites, paid links and sites that are not topically relevant. More info about links that violate Google's Webmaster Guidelines can be found on their links schemes pages here. 
Sites deemed to have low-quality link profiles by Google are penalized and often see massive drops in rankings in the search results or removal altogether.
In the same manner, a link profile with a lot of high-quality and relevant links can boost a website to top rankings in the search results. Links on relevant websites also offer the additional benefit of driving customers who are actually interested in what a website has to sell.
What Makes a Quality Link?
With Google's Penguin algorithm update, in addition to the manual actions Google is also taking against sites, you can't just go out and build links to your site from any website that will place them. If you do, you're likely to get your site penalized, which is something many businesses are dealing with right now after years of low-quality link building. Understanding that, what constitutes a quality link?
Is on a relevant site/page

Is on a quality site/page

Is natural

Is often found within content

Comes from authoritative sites

Is hard to get

Drives traffic
Relevancy: Google is able to determine whether or not links to your site are on topically related websites or pages. It's fine to get links from non-relevant sites if the links are natural, say, for example, if a parent blogger writes an article about child safety online and then links to an antivirus company website, but you typically don't want to seek out links on sites that are not within your niche. Too many links like those can throw a red flag to the search engines.
Site/Page Quality: A great way to judge the quality of a link is to look at the quality of the site and page. Does the site have content that mentions things like payday loans, Viagra, gambling or other questionable content often found in spammy circles? Does the page have a lot of ads on it or a ton of links to other sites? If you wouldn't be happy to find a picture of your face and name on that page, you shouldn't be happy to find your website listed there either.
Natural Links: I would consider a link to be natural if it seems organic. An organic link is usually editorial, placed within a piece of content by the writer as a useful reference to his/her readers using non-keyword rich anchor text. This is the type of link you want and should be trying to get.
Link Placement in Areas of the Template: Google is able to see when links are contained within templated content, which includes top navigation, sidebars and footers. Google is also able to discern links from within blog comments and bio sections. This means that if you want the most powerful links, you should strive to get links from within the content. Those are the most difficult to get and the ones that will provide the most value to your website.
Authoritative Sites: Would you rather get a link from crappyblog01.net or CNN.com? Authority sites with well-researched content written by expert authors are the hardest sites to get links from, but if you prove to be an expert in your industry (writing authoritative blog posts, doing interviews, being active on social media), you can get natural links on sites like these without even trying.
Beware of Easy Links: You don't want links on sites like easylinkdirectory.com or submityourarticle.com. Anybody can get links from those types of sites and they are huge targets for spammers. Other commonly spammed sources include blog comments, blogrolls, forums and press releases. This doesn't mean that links from these places are always bad. A link from a blogroll is fine if someone in your industry placed it on their site because they legitimately feel like your site is a useful resource to their readers. A link on a forum thread is fine if it was mentioned only to provide useful information to the discussion. Also a link within a press release is fine if you have actual news to share. But if you're seeking links in any of these places as a way to manipulate the search engines, it's eventually going to catch up to you and could possibly result in a heavy penalty.
Referral Traffic: A lot of people get caught up in only trying to get "followed" links because they believe "no-followed" links don't help a site increase rankings, but that's not totally true. Lets say you get an editorial link from Dailymail.co.uk, one of the most popular news websites in the world. If you check, you'll see that they add the no-follow attribute to all outgoing links, which means the links will not provide a ranking benefit, but that link to your site has the potential to be seen by millions of people (20.2 million monthly unique visitors according to Dailymail.co.uk's advertising page), which can send a ton of people and potential customers to your site. And an added benefit is that although the link is no-follow, people seeing your site could link to it from their own websites and they might not use the no-follow attribute.
Other Link Features: The "Reasonable Surfer" model was Google's attempt at trying to figure out which links were more trustworthy than others. The patent was filed back in 2004 and none of us really know how much Google still relies on the model, but it's very helpful information to keep in mind. Based on the Reasonable Surfer model, Google might look at a variety of features of links, such as the font size, font color, number of words, the context of the words surrounding the link and the location of the link on the page.
How to Review Your Own Link Profile for Quality
Google knows the quality of your links, but do you? Download a list of your incoming links from your tool of choice and filter it by "followed" links if you can.
Before building more links, you should have a good idea of what your link profile already looks like. This can help you figure out where your link profile is lacking or where it needs work. If you have too many links of a certain type, you should lay off trying to get more of those links for a while, to prevent your link profile from looking unnatural, even if it already is.
Here are some things you should look for:
Keyword rich anchor text

Sitewide links

No-follow vs. followed links

Reciprocal links

Links from homepages

Directory links

Comment spam

Internal pages with a lot of links
There's no hard and fast rule for any of the above-mentioned problem areas. You just want to be on the lookout for strange patterns.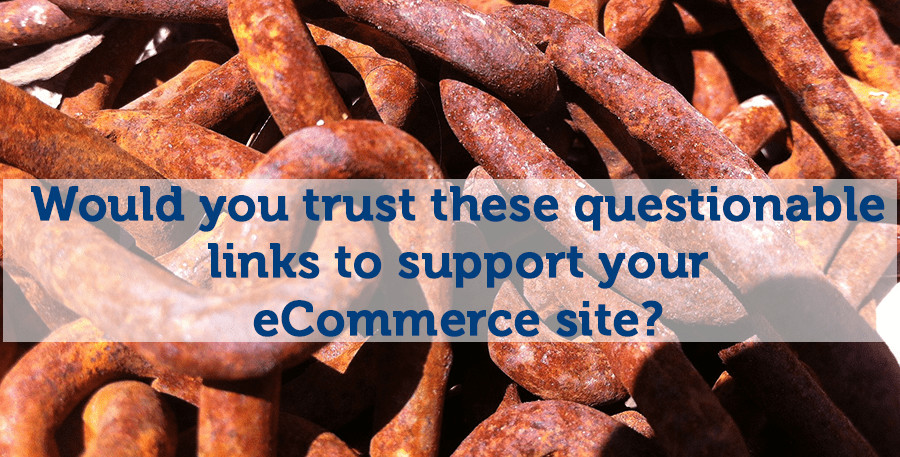 Keyword-Rich Anchor Text: Too much of the same anchor text is going to look very unnatural and is likely to lead to a search engine penalty. People don't naturally link to pages using keywords. People link to websites using brand names, URLs or with phrases such as "click here" and "check out this page." The majority of your anchor text should consist of natural anchor text (phrases and words that logically make sense in the context of the article). If you see a page on your site with a large percentage of keyword-rich anchor text, you should consider contacting the linking sites and asking for the text to be "updated" or build more links to the page using natural anchor text in hopes of offsetting the damage that might have already been done.
Sitewide Links: Sitewide links aren't always bad, but they can be if your link profile is full of them, especially if they are on non-related sites or if they also have keyword-rich anchor text. The thing about sitewide links is that most sites don't offer them unless they have been paid for. Google knows this and  are likely to devalue those links and take action on sites who are abusing that tactic.
No-Follow vs. Followed Links: A natural link profile will have both followed and no-followed links. There isn't an exact ratio that anyone knows of that the search engines consider natural, but if all of your links are followed and none are no-followed, that could make the search engines think that something funny is going on.
Reciprocal Links: Some people believe that reciprocal links are bad, but that's not always true. In many cases, it's entirely dependent on the industry. In some industries, it might be common to see a lot of reciprocal links, for example, charities or educational sites. In those cases, Google is usually pretty good about determining if those reciprocal links are natural or not.
It might help to compare your link profile with others in your industry. You can use Open Site Explorer to review your site against four other sites at a time.
People naturally reciprocally link to each other all the time, but they are likely linked to people they know, who work in the same industries and the links are usually on quality pages.
If your reciprocal links are on low-quality pages that list hundreds of other non-related websites and the page is named "links.html," you might have something to worry about.
Links From Homepages: Unless it's on a blogroll, people don't normally link to other sites from their homepage. Why would they unless they've been paid?
Directory Links: Directories used to be the go-to link building method for quick wins, but they've been so heavily abused, and since they don't have anything to offer that is unique or compelling, the search engines took action on them. Most directory links have lost their value.
Low-quality general directories, the kind that will list any site that wants to be listed with the anchor text of their choice, are best to be avoided, but there is still some good niche and/or paid directories that won't look bad in your link profile.
Most general directories are terrible, but if it's a directory with high editorial standards, it might not be so bad. Niche directories are fine too. For example, if you sell boat equipment and you find a directory that lists only other boating related businesses, you'd probably want to be listed there.
High-cost general directories, such as Best of the Web and the Yahoo Directory, are good too since they are also editorially reviewed and not typically full of spam. A fly-by-night spammer isn't going to pay $300 for a listing for a site they know will be banned by the search engines eventually.
Comment Spam: Comment-based link building is practically useless these days. The links don't carry nearly as much value as they would if they were in the content of the article. People have gotten wise enough to the tactic that most bloggers will simply delete a spam comment before it gets through. Comment spam is so heavily moderated these days that it can be hard to get a legitimate comment through unless it provides real value to the conversation. You can find comment spam by scanning your links for footprints like "wordpress.com" or "blogspot.com." Free blog services like WordPress can be more lenient in moderating spam than other sites, so it's likely you'll find comment spam links that have gotten through on those sites.
Internal Pages With a Lot of Links: You can quickly check how many links the pages of your site has by looking at the Top Pages feature of Open Site Explorer. If you notice that some of your pages have a lot of incoming links, but the anchor text is keyword-rich or the page doesn't seem like something a lot of people would be linking to, it's probably because that page was heavily promoted. If the page is high quality and the links are natural, you have nothing to worry about.
A tool we've found extremely helpful for auditing link profiles is the Link Detox tool from Link Research Tools. It helps us thoroughly audit an entire link profile quickly and accurately.
Now that you know why links are important, which ones to go after and which ones can damage your link profile, we'll explore link-building tactics later this month.
If you have any questions about what I've covered here, please put them in the comments.