Editor's note: This blog was originally published in 2021. It has been updated for accuracy and to reflect modern practices.
---
To help your online store prep for the upcoming holiday shopping season, we're publishing a multi-part blog series full of digital marketing tips you need to implement today.
With Black Friday, Cyber Monday, and the holiday sales season less than three months away, now is the time to start prepping your site's SEO strategy — so you can give it time to work.
Based on our partnerships with dozens of eCommerce sites over the last 15 years, we've gathered 10 tips to make sure your Cyber Monday and Black Friday SEO is in fighting shape.
Check out the full guide below, or use this list to jump to your favorite:
Want assistance creating your SEO holiday strategy? Contact our team anytime for a personalized proposal.
10 Holiday SEO Strategies for Your eCommerce Site
In many ways, your search engine optimization strategy for the holiday season should be no different from your long-term SEO strategy. Your content should be fresh and well-optimized, your site should present a great user experience, and your technical SEO should be in tip-top shape.
However, there are also some holiday-specific strategies to consider. Shoppers behave differently during the gift-giving season (which stretches longer and longer each year), and your site should be tailored to their needs and wants.
Here are 10 Black Friday SEO tips we recommend from our years of experience working with online retailers just like you:
1. Confirm staff and contractor availability.
Before you can create a holiday-specific SEO plan, you need to know when your team will be available to help you out.
Whether you're working with in-house SEO staff or contracting your work through an eCommerce digital marketing agency, get on the same page about timelines and projects way before the fall — or else risk your optimizations never seeing the light of day.
We also recommend specifically reaching out to your website development team. If you want to implement or test certain site changes before the holiday season, you'll need their assistance.
Your developer may be stacked with holiday projects over the next few months; get on their "to-do" list early to ensure your site updates are complete long before the first frost.
2. Plan site migrations and other major updates accordingly.
On the same note, if you do have plans to migrate your site or perform other intensive site updates, now's the time to make it happen — but only if you can get it completely launched before the holidays. If you launch your changes later in the fall, you'll not only have less "fix it" time, but you'll also have fewer opportunities to test your site on shoppers.
The last thing you want is to implement changes that negatively affect conversion rates before the busiest shopping period of the year. If you can't get it done in time, we recommend pushing it off until after Christmas to avoid unnecessary stress (and potential disaster).
3. Identify and refresh any existing holiday website content.
When it comes to holiday SEO content, start with the path of least resistance.
Does your site have existing holiday content that you can spruce up for this season? While it may not have been applicable as it was pre-COVID, you can certainly take the time to update it for this year's customers.
Update your old holiday gift guides with new and popular products, rewrite your seasonal messaging with your brand's social media team, and look for refreshed images to add to your site.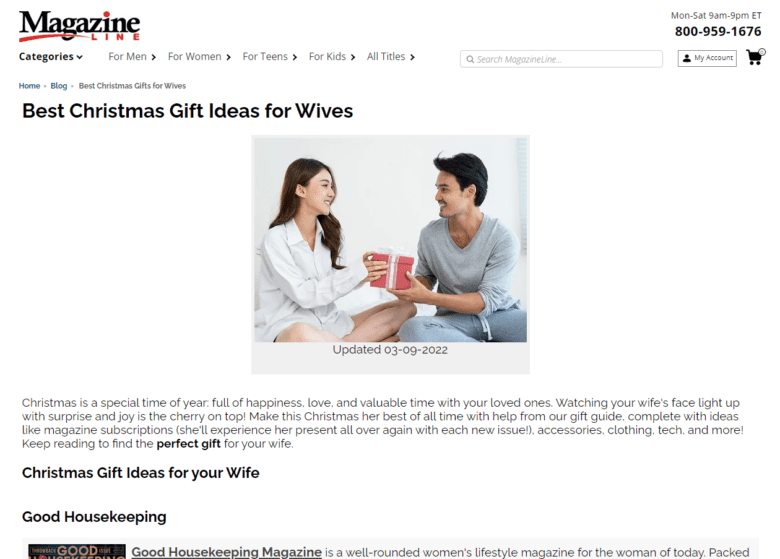 Of course, don't forget to update your keyword research/optimization or review your backlinks.
4. Create new Cyber Monday and Black Friday landing pages.
Don't have any existing content from which to mine?
Gather your copywriting team and get to work now, so that your new pages have time to rank in the organic search results before the holiday shopping season begins.
There are plenty of opportunities for generating holiday sales through SEO content like: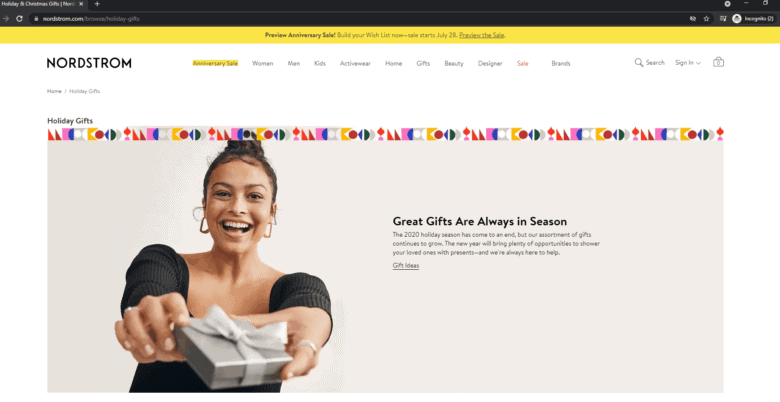 While your long-term content marketing strategy should always help customers find and learn more about your products, it's even more important during the holiday season. Remember: Many shoppers are buying based on others' gift requests, not their own interest in the product.
Short on holiday content ideas? Use SEO tools like Semrush and Google Trends to research holiday keyword possibilities, or start brainstorming with our eCommerce content strategy guide.
5. Create new discounts and sales content.
Similarly, you can also create temporary content for any Cyber Monday/Black Friday sales your business plans to run. The first priority with this strategy is generating holiday revenue; SEO may be secondary, especially if you plan on removing those Black Friday deals from the site later.
For a compromise between the two approaches, consider creating an evergreen "Discounts and Sales" page on your website. That way, you can update it year-round with your current promotions, incorporate it into your link-building strategy, and optimize it for those customers specifically searching for site promo codes.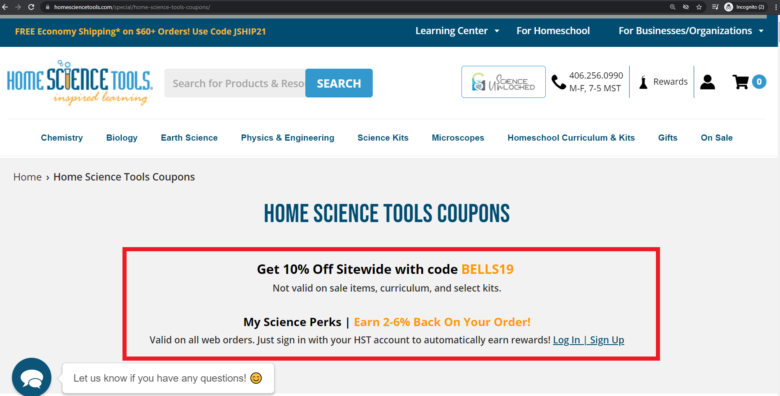 6. Prepare any on-site interstitials.
If you plan on advertising holiday discounts and sales on your website, you'll want to prepare and test any plugins, pop-ups, slide-ins, and other interstitials ahead of time.
Make sure they work far enough in advance, and don't forget to push them live at the right time — or you'll risk losing out on some big revenue.
Consider SEO factors like page speed, Core Web Vitals, and other ranking factors to prevent any negative effects on your organic traffic. We recommend working with your website developer to create a plan that minimizes impacts on your SEO strategy and maximizes visitor purchases.
7. Ensure your local business listings are accurate.
If you have a brick-and-mortar location, make sure your Google My Business listings properly display your address and hours of operation.
If your store will be open at different hours during the holiday season, make sure that is communicated, too. Otherwise, you risk frustrating customers who show up to a locked door with no notice.
Local SEO is important for online businesses, too. Make sure you've claimed your Google My Business listing; this will give you control over your listed contact information in the SERPs. Your GMB listing also allows for Google reviews, which can be a boon to your brand awareness.
8. Create a plan for out-of-stock products.
COVID-19 caused a long-term disruption in the supply chain for many online businesses. And, while many industries have since recovered from these challenges (and are in fact facing an overstock of products), you still need to plan for the possibility that some hot-ticket items will disappear from your shelves earlier than anticipated.
Communicate with your suppliers and manufacturers now to get a lay of the land. Then, decide what steps your team will take to avoid customers turning to your competitors if the product they want is unavailable.
We recommend:
Pro tip: Keep our Out-of-Stock SEO Flowchart handy in the months to come.

9. Create a FAQ/Q&A page.
An increased number of customers to your website will also mean an increased response from your customer service. Head off some of the repetitive questions with a FAQ or Q&A page that's easily accessible from your homepage, if you don't already have one.
Use this webpage to address some of your customers' biggest (and most searched) concerns about your brand, including: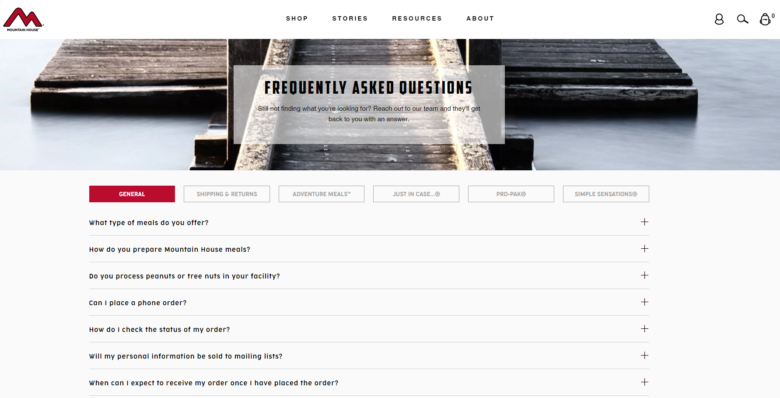 10. Confirm your platform can handle traffic increases.
Finally, ensure that your eCommerce site can handle increased traffic during the busiest time of the year.
While there are plenty of predictions for how this year's online shopping season will go based on last year's Black Friday performance, no one actually knows how (or how much) shoppers will spend. Be prepared for the best-case scenario — that browsers will flood your site — and make sure that your eCommerce platform can handle it.
Speak with your website developers or your platform representatives to discover which preemptive steps you can take to prevent a dreaded site crash.
Kick Off Your Holiday SEO Marketing Campaigns Now
Your SEO strategy will take time to implement and start working, and Google's algorithm won't work twice as hard just because it's the holiday season. So, if you want your site to attract and retain holiday shoppers, now is the time to evaluate your SEO strategy and start making optimizations.
Work with your digital marketing team or agency to identify your biggest priorities before the holiday season, and use our checklist below as guidance when determining your SEO strategy.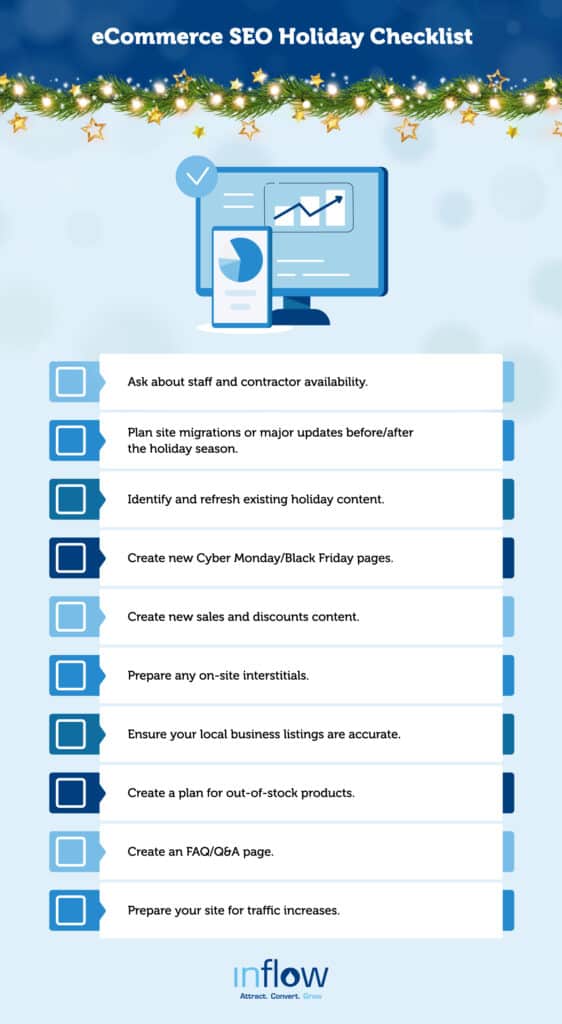 Of course, SEO is just one piece of your holiday marketing puzzle. For the best results, we recommend creating an omnichannel strategy that targets your customers at every step in the funnel.
We've got you covered there, too.
Download our Black Friday & Cyber Monday Digital Checklist for a comprehensive list of your to-dos this season, broken into time-based checklists for all your organizational needs.
Download Our Black Friday & Cyber Monday Digital Marketing Checklist now.
In the meantime, review our other digital marketing holiday guides at the links below: