Welcome to part 4 of our 7 part series on Google Analytics for Local Search. Most local business websites tend to have a Links or Resources page where they link out to other local businesses, vendors, partners, etc. Most of these website owners are not tracking the click traffic they are sending to these other sites. There are many benefits to tracking this traffic, including knowing the types of links your customers like to visit, and knowing exactly how much traffic you are sending to another site. Armed with this information you can place more links that would be helpful to your customers, or use the traffic you are sending to another site as leverage to get a link or something else in return.
The good news is that it is fairly easy to track clicks on outbound links with Google Analytics. The bad news is that you need to add some code to your links in order to do so.  Here is an example of 'tagging' an outbound link so you can track its clicks:
<a href="http://www.example.com" onClick="javascript: pageTracker._trackPageview('/outgoing/example.com');">
Notice the additional Javascript added to the onClick attribute. The value of '/outgoing/example.com' is totally customizable. I recommend you use a consistent prefix for easy identification later. Basically this is code is tracking the click as a page view in Google Analytics.
If you are using WordPress, there is a Google Analytics plug-in available that will tag all of your outbound links for you.  I am sure similar plug-ins exist for other CMS programs.
Now that you have your links tagged, you need to know where to go to see your data. The easiest way to see this data is to click on "Content" on the left hand menu, then "Top Content". At the bottom of the data table you can filter the data to only include URLs which start with '/outgoing' which, if you followed the example above consistently, would be all your outbound link clicks.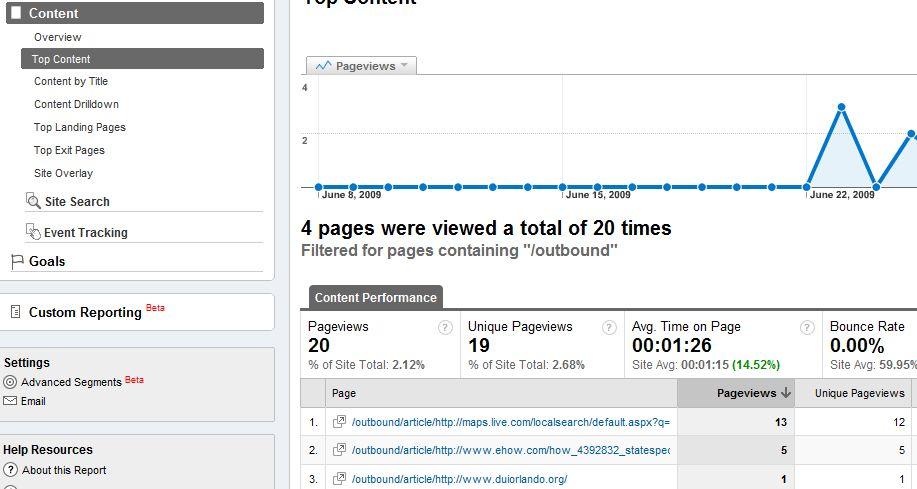 Local Search Services by Inflow
If your local business is not ranking well in Google's local 'ten-pack' when someone is searching for the products or services you offer in your area, you may be missing out on hundreds of customers or more each month. Learn more!