I am always looking for new tools and programs that will help streamline our link building process even further. Recently, I created an account on the beta version of a fairly new release called Buzzstream. Their slogan is "Build Relationships. Build Links. Build Buzz". Sounds good, since that is what we do as link builders! This program has some pretty cool features, but also seems to be lacking some functionality that could make it extremely useful.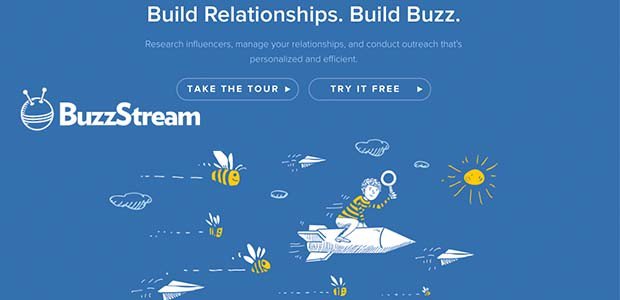 Buzzstream allows you to plug in a competitor's URL and a keyword or keyword phrase. Using these, it generates some automated Google searches such as .edu links and ".org sites to sponsor" that list sites where the tool thinks you can get links. Sounds good- however, the results turned back in the search are quite inconsistent, as you might find some sites where your chief competitors are already a sponsor, greatly decreasing the chance of being able to sponsor that same page for the same desired keyword. In addition, most of these results are not sites that are related to the industry that they keywords indicate. As a sample I used the highest ranking site for "Florida Surf Shop", and past the first four results, it was mostly Florida summits and conferences and such that have sponsors. Certainly you can get some great links here, but don't expect magic from their automated search queries.
The .edu results are a little more helpful, as that same keyword phrase that failed you on the orgs to sponsor will turn back school web sites with colleges that have departments with a resource page, helpful links, clubs, clinics, classes etc focused on the subject matter. These are much more valuable results than the orgs results.
Buzzstream also has a function to see the links coming into the URL you entered. It's nothing fancy- simply the Yahoo Site Explorer tool, which most people already know how to easily use themselves. Still, it's pretty neat that all of this information is consolidated in one place and is only a click away.
One beef is that I do not see a way to assign a particular contact to any of the websites you enter in at the beginning of the process under the "Manage Websites" tab. You can add and save them, but they are nowhere to be seen when adding a link contact. This is problematic when trying to manage contacts for multiple clients. Maybe I am missing this, because I don't see how they cannot have this feature. Also in the "Link Partners" tab, there is no way to assign a particular link partner from the list to a client. You may enter who they are linking to, but it still all appears to be under one "workspace". In short, there is a disconnect in that you may add a client's web site to your list, but cannot assign it to a link partner or prospective link partner. In fact, the web sites you enter under the "Manage Websites" tab are absent from every other page within the tool, which is problematic if you are working on link building projects for multiple clients.
The actual relationship management tools are great.It can pull contact information from a web site, and you can assign an "Overall Rating" from a drop down box, which I assume is your opinion of the site as a potential link target.You can also assign the prospect a "Relationship Stage" to help keep gauge your progress towards getting the link.Buzzstream also pulls some basic site metrics for you that is conveniently displayed just inside the link target's profile.You are shown several things, with the page rank of the site's home page, number of inbound links, and site age being my favorites.
Buzzstream does have some fantastic features, but until there is a way to organize the link contacts and links by client web site, it doesn't seem to make sense to start using.
Right now I would give Buzzstream a B for having some cool and useful tools, but getting graded down for not having some essential functionality.
I have emailed the Buzzstream team with my concerns. Hopefully they will get all the kinks worked out and this will turn into a top-notch link building tool. I'll keep you posted as to their reply!
**UPDATE**
I have since heard back from Jeremy with Buzzstream. He tells me that they are a couple of months away from coming out with an "agency model" that should take care of the issue of managing multiple web sites from a single Buzzstream account. Thanks Jeremy, and I'm looking forward to the full release.
Related Posts
PPC Keyword Planning – Pt. 2: The Awareness Ladder An overall important feature in keyword planning is the thematic build-out and structure of an account (we utilize the "Awareness Ladder" at seOverflow - more on that later.) The thematic […]
Why You Should Build NoFollow Links You can visit just about any SEO blog on the web and you'll find a post telling you to avoid building nofollow links to your website, but that's the advice you should be avoiding instead. […]
Social Markup for eCommerce Sites Made Easy The abundance of social media in everyday life is not slowing down, but rather becoming more consuming. We've now come to know the importance of keeping popular social media channels in […]