Just when we all got used to seeing the page title of a business website's home page as the headline of their result in the local results for web search, Google's changed it up again!
This first came to our attention through Local Search Tool Kit as we noticed that the tool's results did not show us what we expected to see. A few dozen queries later, we realized that Google was sometimes changing the headline of the result depending on the search query. Here's an example showing the query and the result: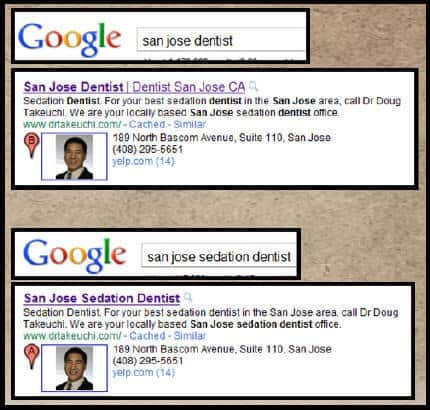 Then, we realized that we were also seeing some interior pages rank in the local results of web search for long tail terms. The pages are obviously optimized for the query san jose invisalign and Google shows the title of the optimized page in the results. Example: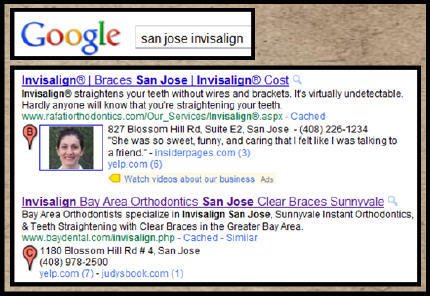 We've long know that website optimization had a clear effect on the local search rankings. In October, when Google put local search through the blender, it became glaringly obvious that website SEO was the place to put your efforts in order to rank better in the local results within web search. Now, website optimization for local businesses takes on even more significance as Google changes how and what it selects to show searchers in the local results.
We've also noticed that the local results for web (Everything) searches and for Places searches align more closely all the time. Meanwhile, the Maps results return a very different set of top-ranking businesses than either Places or Everything search. Example: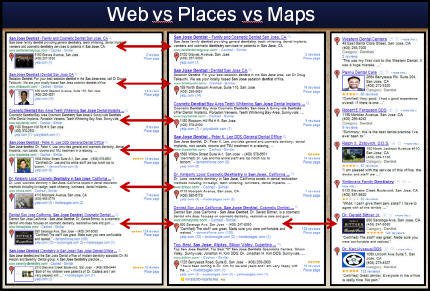 What does this mean? This is just an educated guess, but I'm leaning towards thinking the algorithm is morphing again to rank local businesses mostly by what is on their websites and then supplementing those listings with data from the business' Places listing.
There's never a dull moment in local search, so hang for the ride!