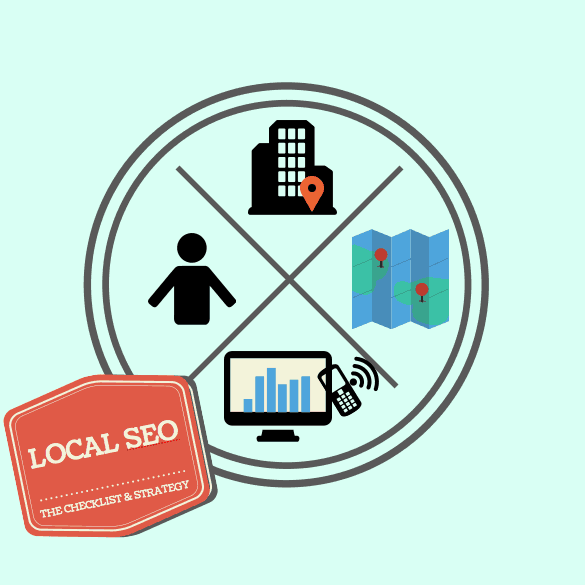 As 2014 winds down and "Local Saturday" is just on the tail-end of next week, the statistics from Google, Deloitte and others have confirmed one thing: not only do brick and mortar businesses need proper local listings, but they need to have a strategy to go with it. We hope to provide some tips and ideas along with excellent resources to make sure your business is ready.
Take inventory

It's easy to assume that you set up shop and things just work out. Unfortunately, that is simply not the case. So whether you are an established business, a new business or one that has just relocated, you need to ask yourself a few questions to kick things off:
Where are you currently?
Where do you want to be?
Where should you be?
Complete a discovery to understand where you currently stand.
Survey your current listings across the major search engines for:
Name
Address
Local Phone Number
Toll-Free Number
Website Address
Email Address
Make note of all deviations.
One important thing to know is that where you want to be and where you should be aren't always going to be the same. A frightening – seriously terrifying – statistic came out recently that up to 40 percent of small business owners don't even bother to have a website. For brick and mortar stores to compete with the eCommerce juggernauts like Amazon, websites are a must and comprehensive local optimization with a strategy is also critical.
Getting Right On Google

No one will deny that a strong presence on Google will make a big difference with your  local SEO.
If you're starting out, heading to Google My business could prove to be a good place to start.
Having a G+ Profile

Be sure to use all five available photos to maximize the carousel
Make sure your service listings and hours are correct
Use your local, not toll-free number
Add a cover photo and logo
Push out deals and other updates on your G+ page to keep it active

Make sure your information is correct on Google Maps
And no offense, Google (because we know where our bread is buttered), but be ready for agony should something go wrong
On Site SEO

Like with any site, you'll want to optimize your on-page elements for good, healthy SEO. Here are some questions to ask yourself:
Are your URLs SEO-friendly (with local search in mind)
Have you used schema markup when possible
If you have a single, or very few page site, make sure you have your NAP on every page
Make sure you have your location in your H1 page
Have a Google map with your location embedded on the page. Example: inflow2016.wpengine.com/contact-us
Use your address in the copy on the page
Your NAP Across The Web

One of the most important things you can do is bring it back to basics. Make sure your name, address and phone number are consistent across the web. This one small thing may prove to be far more important that you can imagine. Especially if you're entering into this process with discrepancies on different assets across the the web and at your physical location.
Data Providers
Once you have set up your locations in Google and Bing it is essential to claim and verify your listings with the four main data providers. These main data providers will provide your information to most of the web. Ensuring the data providers have your NAP listed correctly will save you a ton of headache in the long run. We use Moz Local to tackle this task as some of the data providers have related costs. With Moz Local they foot the bill and update your info at all four sources.
For a visual on how this works, check Davis Mihm's infographic.
And here are the big players in the game to check out:
Social Channels and Local SEO

It is easy enough to remember that you want all of your Google assets to align with the same NAP, but it's also important for other social channels to have the same information as well.
The list goes on depending on your business. Make sure you are connecting with your potential customer where they are on the web, by having your listing there and ensuring that it is correct.


Know the customer experience. The likelihood that a potential customer is researching where to go from their desktop computer is less than 30 percent. Still, it's important to know what the experience is like for them.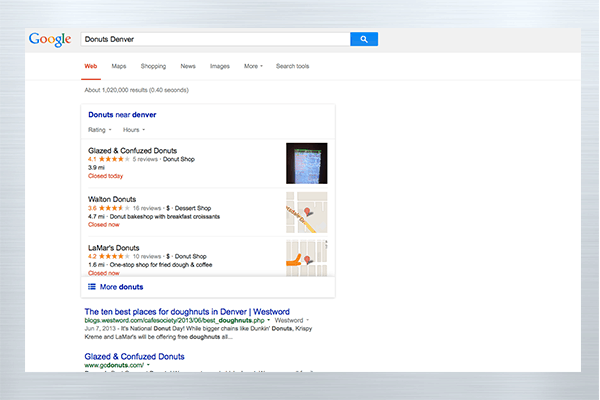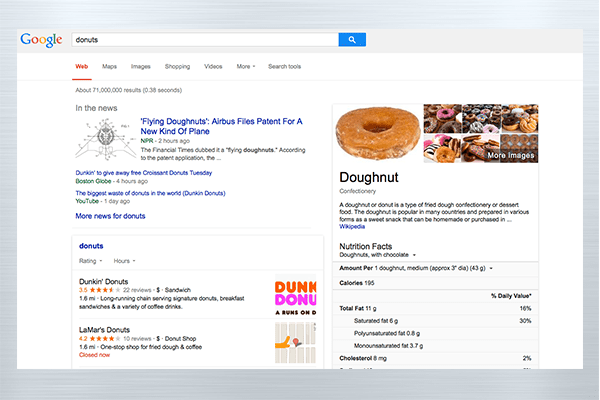 If the customer types in "donuts" vs. "donuts Denver," two different results pop-up above the fold. You can see how coveted those first two local listings become.
Most patrons use mobile devices these days to locate their physical location they want to go to.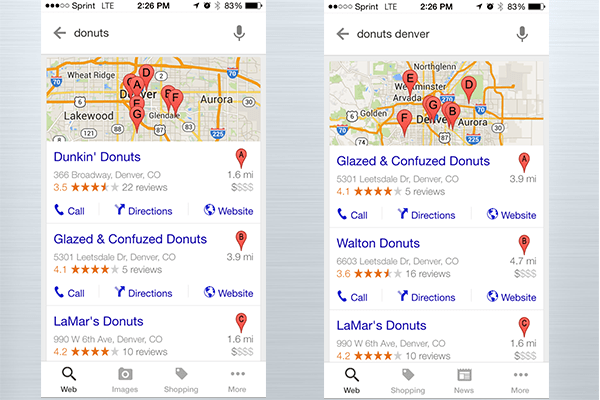 For the record, the donut place closest to us, didn't even show up above the fold.
Depending on brand awareness, customer loyalty, where you show up on search results, you could be missing the opportunity to capture a lot of web and foot traffic. 
Recognize that your customers are not only finding you via their mobile devices, but they're checking out your prices once they're in your store. When it comes to your strategy, you may not be willing to drop prices as low as a big box store, but perhaps be prepared to incentives purchases with loyalty perks or by simply making their lives easier. Even something as easy as a way to help plan a shopping list, or offer easy-to-access customer reviews with relevant and helpful information.

Recommended Tools & Resources
Some of our favorite authorities on Local SEO include: 
So how are you fighting the local fight? What tools, resources and tips do you have to offer?
Related Posts
Typical Causes of Data Confusion in Local Search Confusion about the core data associated with a business on the internet can hurt Local Search rankings. Learn about the main causes of NAP confusion and how to correct it.
Homepage Strategy & Tips Homepage Strategy and Theory are often overlooked. If more than 12% of the visitors to your homepage leave right away, you may need to read this. This is not technical, this is what your […]
SEO Primer for App Optimization App optimization should be a part of any app launch or rebuild. In the same way that neglecting the basics of SEO in your website will render it invisible to a huge audience – creating an […]