Like any form of art, good content marketing can be hard to define — but most of us know it when we see it.
However, replicating that kind of content for an eCommerce site can be daunting, especially when content marketing is a brand-new foray for your digital marketing team.
Fear not: In this blog, we'll provide not just a few but 21 examples of successful eCommerce content that you can easily emulate for your own brand, products, and target audience.
Use them to start populating your eCommerce site, social channels, and more with quality content that meets your business goals.
What is eCommerce Content Marketing? Why Is It Important?
Before we get into details on the types of eCommerce content and how to use them, we need to touch on one important topic: the strategy behind content marketing.
Successful content marketing is about more than just creating beautiful content for your website and social channels. It's a marketing effort that should be strategically discussed, designed, and implemented to reach your customers at every step in the buying journey.
Early-stage eCommerce brands can easily make the mistake of focusing solely on revenue-driving content, like product and category pages. But the truth is, without other strategic content marketing, your customers will never find those pages in the first place — let alone make a purchase on them.
eCommerce content marketing — whether it's long-form article content, video content, social content, or other creative content — is crucial in growing your brand awareness and driving visitors to your site. By creating effective content that speaks to the pain points of customers at every stage in the buying process, you can build a pipeline that keeps your shoppers coming back for more.
In other words, if you don't work on building an eCommerce content strategy before creating your content, you'll be unlikely to achieve the business goals your stakeholders are pushing for.
Therefore, before you start experimenting with any of the eCommerce content types discussed below, we recommend reviewing our extensive guide on developing an eCommerce content marketing strategy around those goals.
21 eCommerce Content Examples for Your Online Business to Try
Now that we've got that out the way, let's get into what you came for: successful and engaging eCommerce content marketing examples.
Below, we'll detail a few different types of content that your marketing team can experiment with, including examples that our eCommerce clients have used successfully in the past.
If you need help building your eCommerce content marketing calendar, our team is happy to help. Request a free proposal from our SEO team today to get started.
Long-Form Informational Content
At the top of our eCommerce content marketing list is long-form informational content. This is content tailored to (and optimized for) different audience pain points, search queries, etc., and typically published on a website blog.
When educated shoppers still aren't convinced of the right product for them, they tend to use long-tail keywords in their search queries. While these phrases are typically low-volume, they can be very high-intent. You can target those phrases and convert those shoppers to buyers through helpful articles and blog posts.
As a general reminder, blogging isn't a strategy. It's simply a means to executing a strategy — in this case, to answer shoppers' specific queries and educate them about a product. Detailed articles and blog posts are a great way to deliver the message.
Crutchfield does an admirable job at this with articles like Choosing Speakers for Your iPod, iPhone, and iPad.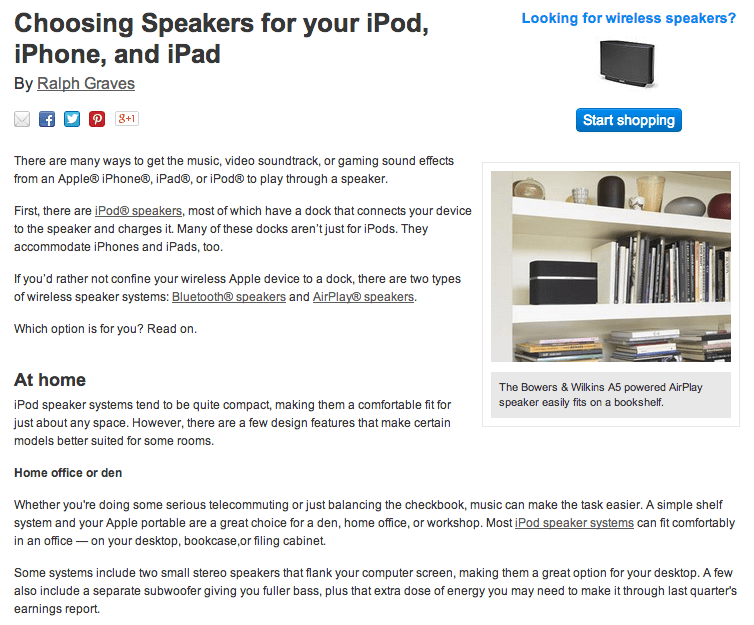 When a user types in a search query like "choosing speakers for an iPod," Crutchfield ranks on page 1 of Google. They are then able to capture this traffic, educate shoppers and lead them down the sales funnel by linking to category pages and displaying related product feeds in the sidebar.
You can create a variety of long-form written content (which can also be repurposed into long-form video content for YouTube and other marketing channels, too!).
Here are a few types of long-form content we typically recommend for our eCommerce clients:
"How-to" Type Content
"How-to" content plays a key role in guiding a customer through their buying journey by answering their biggest questions: How do I choose the best product for my needs? How can I use that product to fix the problems I'm having and improve my life?
REI does a wonderful job at this via web pages like their How to Choose Hiking Boots guide.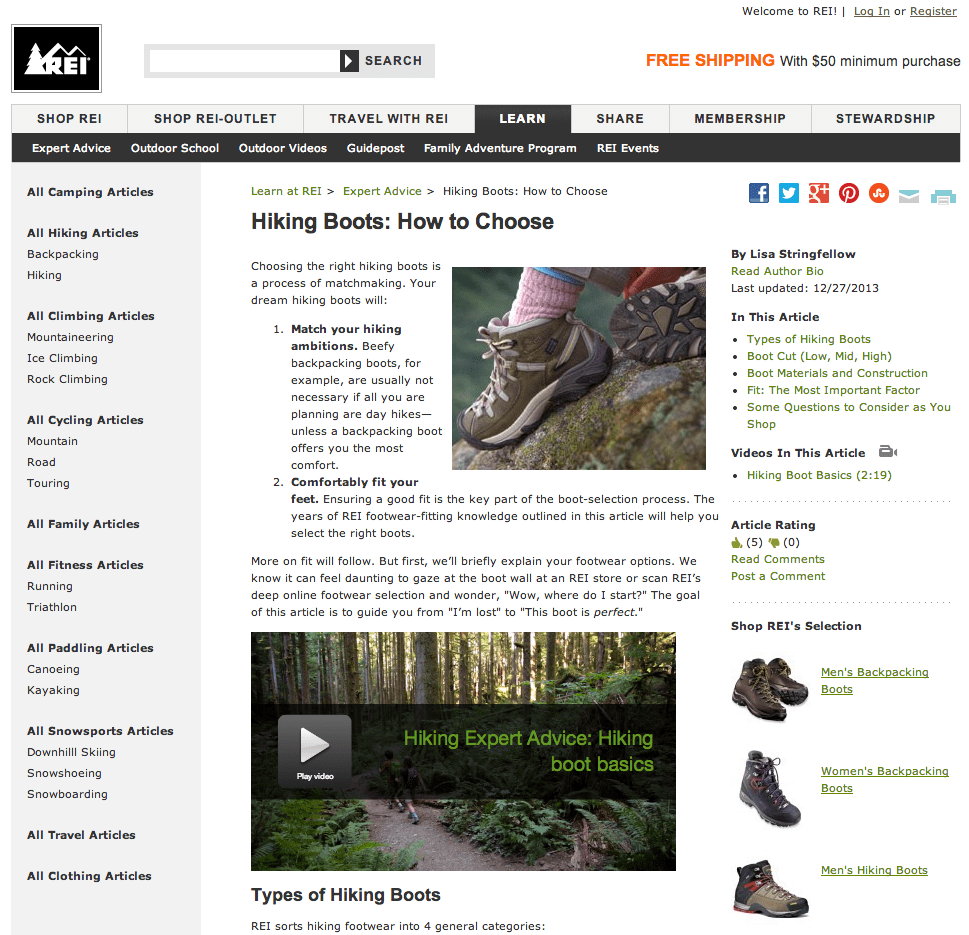 The guide is clearly targeting the keyword "how to choose hiking boots," which is typically used by someone very early in the hiking boot buying cycle. Boot cut, construction, fit, and more are covered in detail, and the user will be much more educated for a purchase decision after reading through the guide.
(Note: This kind of "how to" content doubles as a kind of buying guide for customers, a type of eCommerce content we'll talk about below.)
Static links to category pages can be placed within the context of educational content. Related product feeds can be dynamically generated in sidebars (as shown in the right sidebar of the REI page) or perhaps even in between paragraphs to increase the chance of conversion.
Another excellent eCommerce content writing example is the Driveway Repair Guide from Asphalt Kingdom. This "how to" guide provides preliminary information on driveway maintenance to educate readers, tutorials on how to repair your own driveway, answers to common questions, and even a couple of infographics that make the process more visual.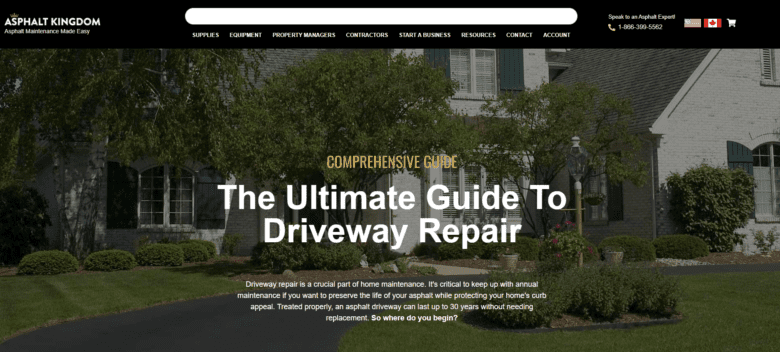 Of course, there are also plenty of internal links to Asphalt Kingdom products, so a reader can purchase necessary supplies right away.
Data- and Research-Based Content
With every eCommerce business out there creating the same kind of copycat content in the SERPs (or using AI to generate similarly banal content), data- and research-based content is a surefire way for your brand to stand out in the feed.
This content can be created using your internal data metrics or from research done by public data platforms. The goal here remains the same: Create content that answers your customers' questions, but does it in a way that compiles unique data into something your audiences will resonate with.
As an example, let's look at this data-based piece from Lucky Pet, an eCommerce company that sells all kinds of pet supplies.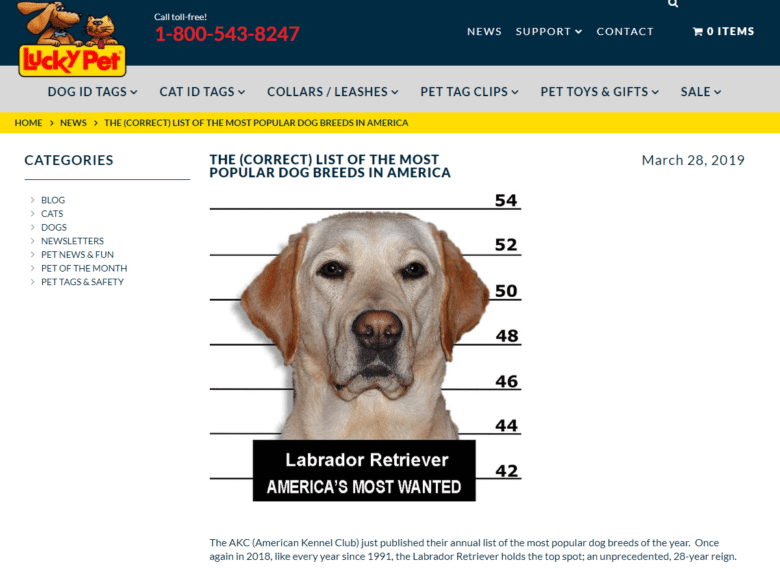 While it certainly could (and should) have been presented in a more visually appealing way, the blog's author takes the 2018 "top dog breed" data from the AKC to conduct their own research. Using Google search trends and other data, they break down the AKC data by state to determine outliers and predict popularity growth in other dog breeds.
This unique approach to eCommerce content marketing is what keeps this blog ranking highly in the search results, even years after it was first published – and likely is driving new potential customers to the online store's site.
Learn more about creating data-based content pieces like this in our guide to eCommerce digital PR.
Articles Containing Expert Input
Like niche-topic articles and blog posts, multi-expert content can be delivered in a blog post or article format.
However, unlike the above-described niche-topic articles (which are often based on online research and common industry knowledge), multi-expert content leverages the opinions of experts about a niche topic in order to provide a more trusted stance — complete with direct quotes and soundbites.
By leveraging the opinions of others, eCommerce websites benefit from the additional promotion that external experts bring via their own audiences.
One example: Gaia published Daily Rituals: 19 Expert Ways to Find Your Everyday Zen, which helped the website drive more traffic from the contributors' own social networks and acquire backlinks in the process: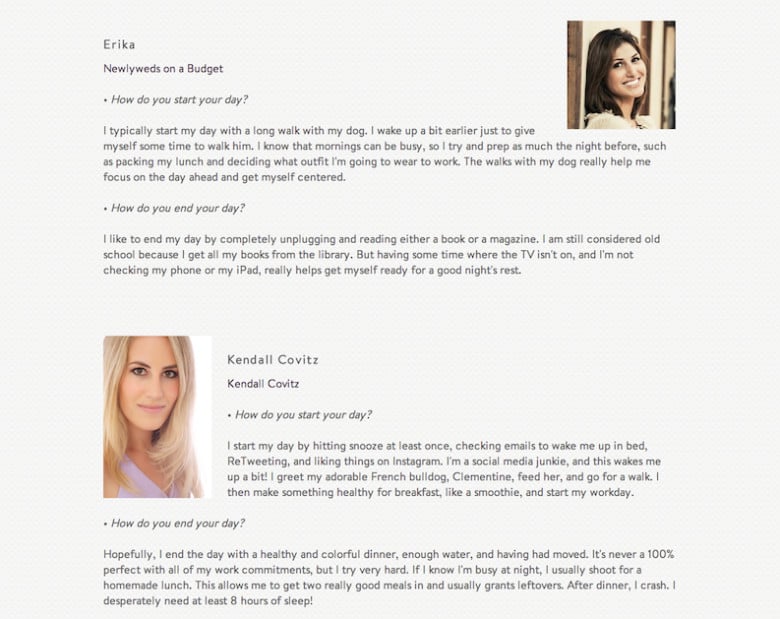 This approach provides additional opportunities for links and social signals, especially when you feature influencers and other popular content creators in your roundups.
Imagine if Crutchfield curated recommendations from the audio industry's top experts on how to choose speakers for an iPod, iPhone, or iPad, instead of writing the article themselves. Not only would this potentially be more attractive to the shopper, but it would also provide Crutchfield the opportunity for additional exposure on the contributors' own websites, Twitter and Facebook accounts, newsletters, and more.
Product Education: Buying Guide, Reviews, and Rankings
While long-form content can be applied to all stages of the customer funnel, product education content typically targets those shoppers in the mid- to bottom-funnel stages of their buying journey. These are shoppers who are interested in buying your store's products — but need that extra push to overcome their reservations and confirm your products are the best choice for their needs.
Typically, these kinds of buying guides and list- and comparison-type articles are best used when promoting your most popular products on your site. We recommend starting with this approach and then saving your less-popular or more niche products for later content marketing efforts.
Buying Guides
While their look and feel have changed over the past few years, eCommerce buying guides remain incredibly useful in helping shoppers discover the specific products for their needs. They offer your brand the chance to target "inquisitive" keywords, educate potential customers, and curate products at the same time.
As mentioned above, buying guides can target both early-stage shoppers (as demonstrated in REI's "How to Choose Hiking Boots) and late-stage shoppers.
Itzy Ritzy, an eCommerce business that sells baby and mom products, has an extensive holiday gift guide section on its website. By splitting up their guides into niche topics like "new parents" (together and separated by gender), "traveling with littles," "seasonal guides," and more, they're not only able to target a wider variety of keywords but also attract a larger number of potential shoppers.
Of course, all the products listed in the guides include internal links — making it easy for shoppers to add-to-cart and complete their buyer journeys.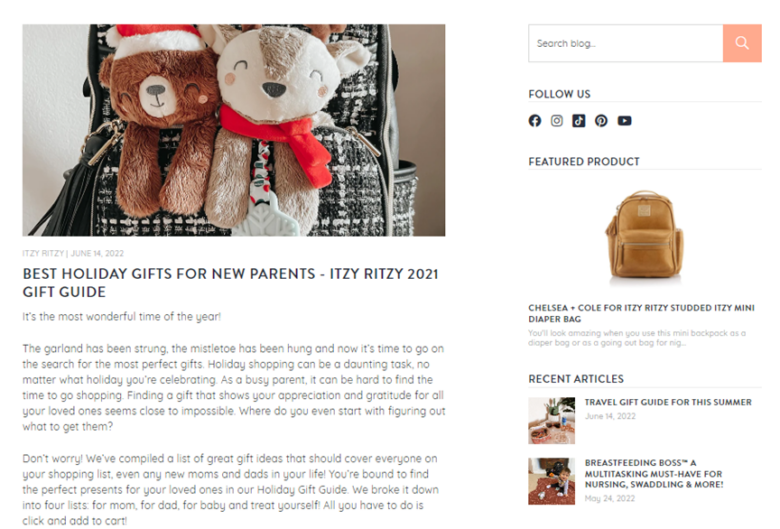 Buyer's guides are also extremely helpful to those brands that sell big-purchase items or items with a more intense research process, like furniture and home goods.
Most customers don't buy mattresses on a whim; they go through a long journey of researching and testing before they drop $1,000 on an object they use every day.
With a buying guide, your brand can aid them through that journey — answering their questions and establishing your online store as a helpful, thought leader in your industry.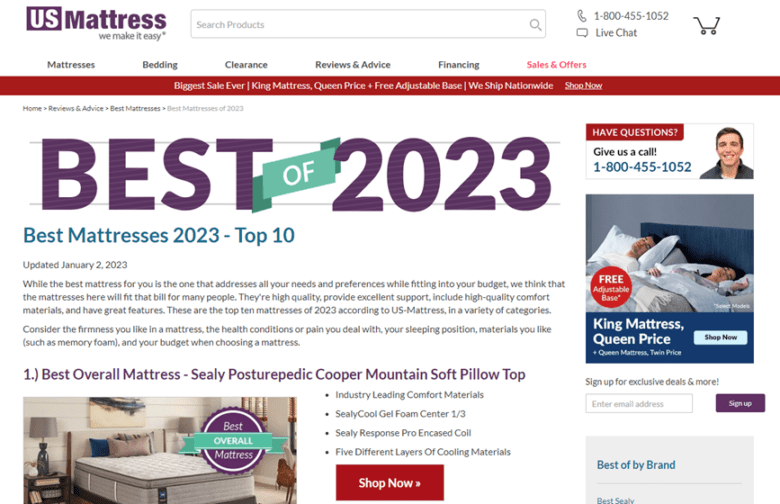 Learn how we created an eCommerce buying guide that led to $100,000 in sales in our case study, complete with tips for creating your own high-ROI content piece.
Product Comparisons & Reviews
Search queries that compare product A against product B are quite popular with educated shoppers who are looking to learn more.
Product comparison matrices, detailed product reviews, and other comparative content targeting later-buying-cycle visitors can be very effective in converting new customers — especially if your eCommerce store sells products at different price levels or frequently replaces older-model products with new ones.
For example, Apple provides a dynamic comparison chart to help shoppers decide on the right iPhone in this handy comparison chart. One of the more interesting features of this chart is that you can compare first-generation iPhones all the way up to current models.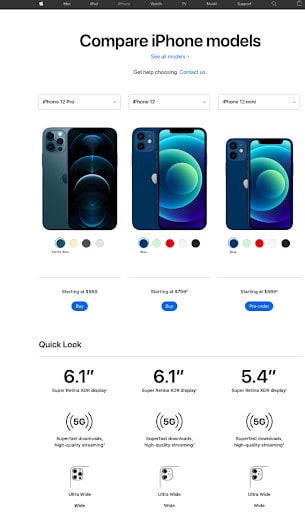 If potential buyers have questions about which model of iPhone is equipped with the right features for their needs, this comparison chart can quickly answer them. Thus, the potential buyer can decide right then and there (on the shopping site) which product is best for him or her — and make the purchase without even leaving the website.
These comparison guides are especially helpful if you have to replace a previously best-selling product with a newer model, as our client Itzy Ritzy did in discontinuing their "Boss Backpack" for a new "Boss+ Backpack."
To address anticipated customer questions and concerns about the change, we recommended creating a comparison page between the two, explaining the differences before the product switch. Then, once the original was discontinued, they could update the page with that new product information, including why they replaced the old model with the new.
Product comparisons and reviews are also highly effective in video format, as demonstrated by the millions of YouTube search results for these kinds of keywords.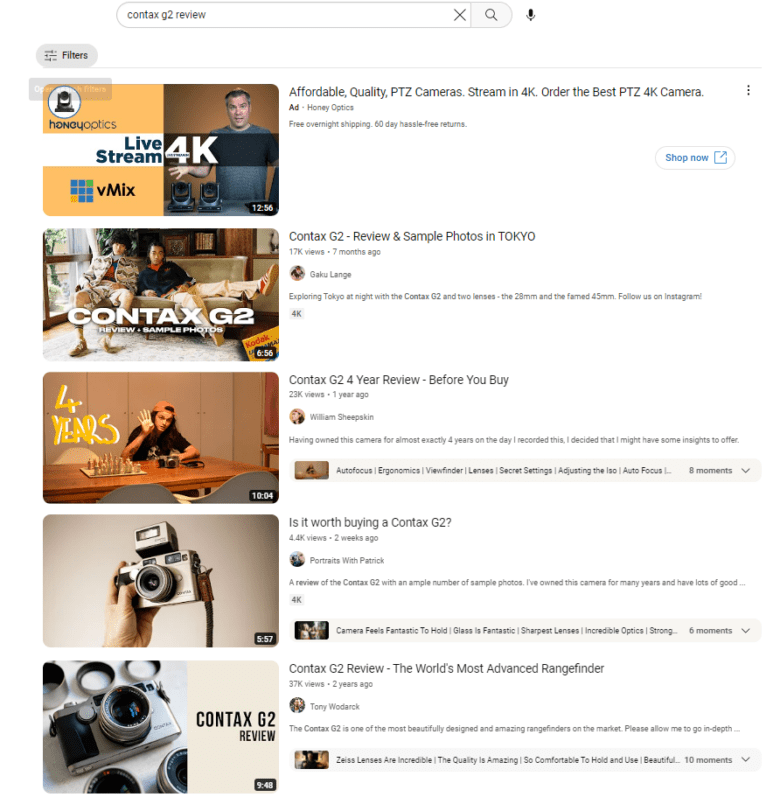 We'll talk more about using video for your eCommerce content marketing below, but know that once you've created a written version of these reviews or comparisons, your team can easily translate those into a video for additional marketing purposes, as our client KEH has done.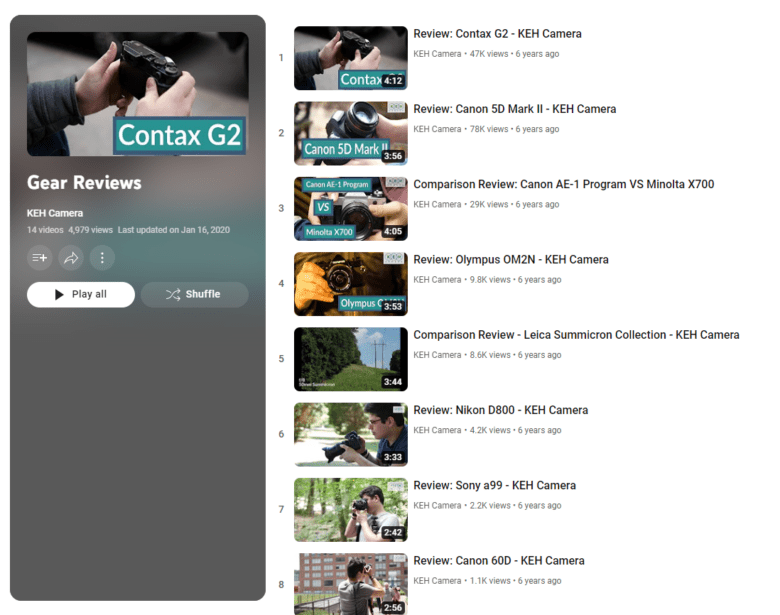 Product Rankings
Looking to other industries for inspiration is always a fun excursion, and there's something to be learned from the fantasy football industry.
Sites like FantasyPros.com combine player rankings each week and produce an aggregated list. The result? Better decision-making for fantasy football players.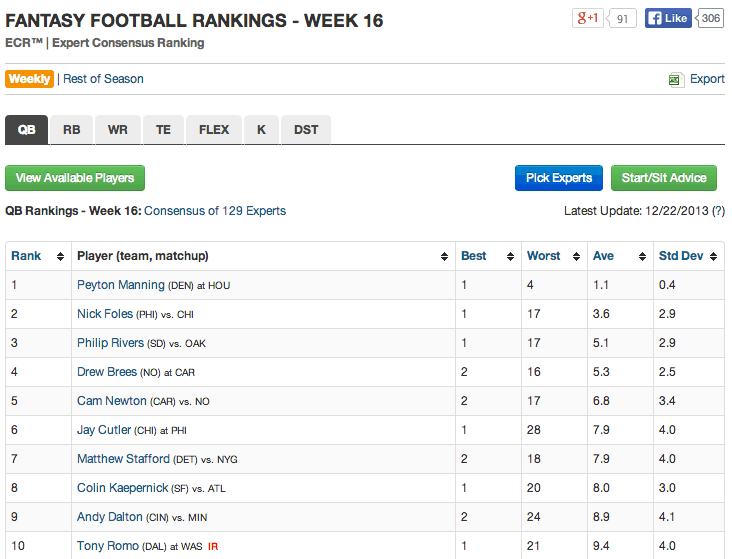 It may seem a bit silly, but even fantasy football can teach us something about eCommerce, such as ranking entities of interest to users (i.e. products) to help them make more informed decisions.
Imagine how this strategy could be applied to an eCommerce store. You likely have ratings, reviews, and data on the most-purchased products in your database. Use that data to create "Best XYZ" pages that list the top 10 products in each category based on rating/review/purchase count, and you'll have a unique way to target the "Best XYZ" keywords — backed up by real data.
Not only will this piece of content drive traffic, but it should also attract links naturally if your site is one of the few providing such uniquely valuable content.
Free, Downloadable Resources & Tools
Offering a free eBook, buying guide, educational white paper, interactive tool or quiz, or some other download (aka "freemium") in exchange for an email address is a great strategy — especially when you list these free offerings as "products" that customers must add to cart to purchase.
One freemium could discuss the pros and cons of different types of products. Another could be an interactive tool that helps users decide what types of products would work for them. While these offers typically satisfy the needs of early-stage consumers, you can use the consumer's information to later sell products through targeted email marketing.
Here's one example from our HR-focused client, Insperity, which acquires emails by offering a free, step-by-step guide to HR outsourcing in a downloadable eBook: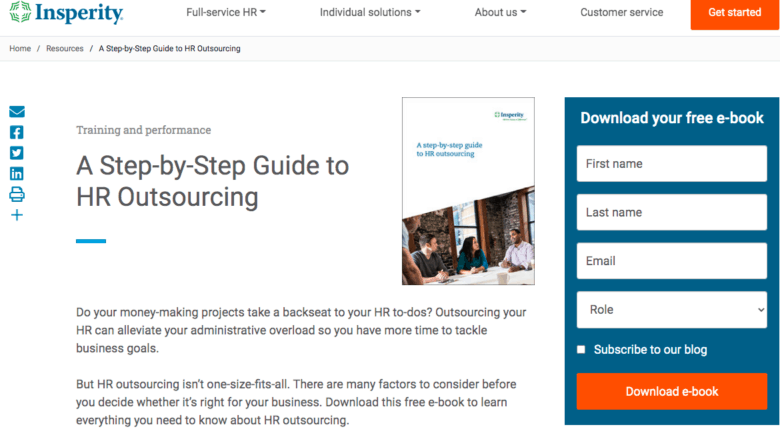 Insperity is funneling new potential customers into their sales cycle by acquiring their email addresses in exchange for a free eBook. In order to attract the right visitors, the business is targeting the keyword "hr outsourcing guide" rather than simply "hr outsourcing" or "human resource outsourcing."
In turn, the page attracts educated visitors who will likely look for HR outsourcing services in the future.
The key to successful freemiums? Attracting the right visitors who have the highest probability of purchasing your products (now or later) once you've educated them and built trust in your brand.
That's why we recommend offering freemiums to buyers who are a little further along in the cycle than an uneducated shopper.
User-Generated Content
Let your users do the content creation for you by mining their social feeds and organizing influencer partnerships.
There's likely plenty of high-quality content out there that highlights your products; you just have to find it.
Remember, many shoppers look for validation from their peers. Is someone they know buying from your company? Will your products help them stand out (or fit in) with the social media community? Having an influencer model or promote your products gets new eyes on your brand and amplifies your reach.
You can also go the cost-effective path by searching social hashtags associated with your brand (if you don't have a branded hashtag, get on that ASAP). Repost aesthetically pleasing and high-performing UGC featuring your products, or curate and embed posts to your website.
Just one example: Mountain House, a brand that offers ready-made camping meals, uses the hashtag #savortheadventure and shares beautiful user content frequently on its feeds:
Even better: The user-generated content that you employ for your organic efforts can also be used to great success for your paid social media marketing campaigns — not to mention potentially increasing your website conversion rate!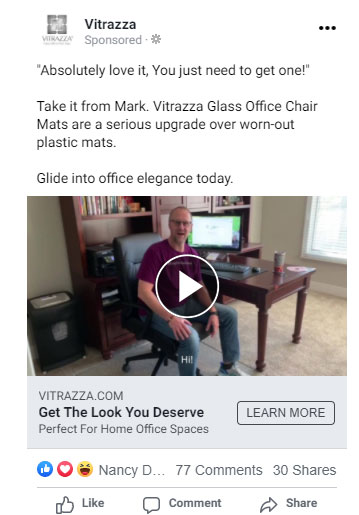 Coupon, Discount & Sale Pages
Every customer likes discounts, even yours.
Most likely, they're already searching your brand name in conjunction with "coupons," "discounts," etc. Why not satisfy them by optimizing your sales page to use these keywords? Even if you don't have a sale going on, why not at least offer a small discount to those lucky customers who find the page?
You don't have to promote it, but if it means making a sale (while retaining a respectable margin), it's probably worth it.
For example, Home Science Tools uses its coupon page to not only share coupon codes (a special code for those who found the page and an email offer) but also to highlight some of its best-selling products.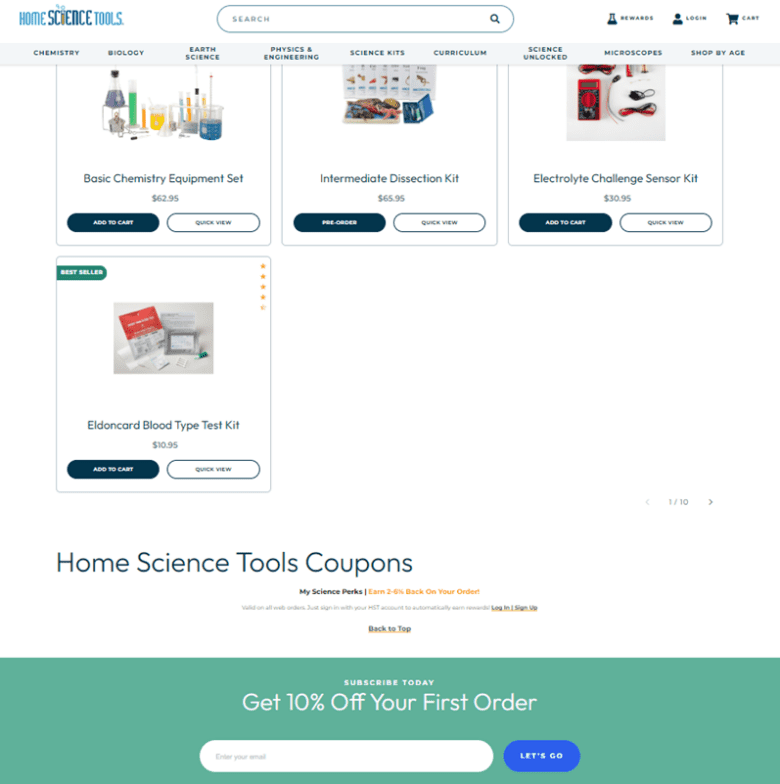 It's a great use of space on this valuable landing page, increasing the chance that a shopper will actually add a product to cart and use the coupons they've discovered.
FAQ Content
Conduct historical keyword research for your website, and find the how/where/why/when/what keywords that visitors have used to find your site. Understand the questions that users are asking, and answer them on your FAQ page.
You can make better use of this page by offering creative answers, thorough explanations, and links to category pages and helpful articles. (Of course, you could always repurpose these questions into short-form videos, too!)
An FAQ page can provide a great internal linking platform to funnel people into useful content and then into the category and product pages. Common topics to cover include:
Return policy
Shipping policy
Contact methods
Customer service options
And more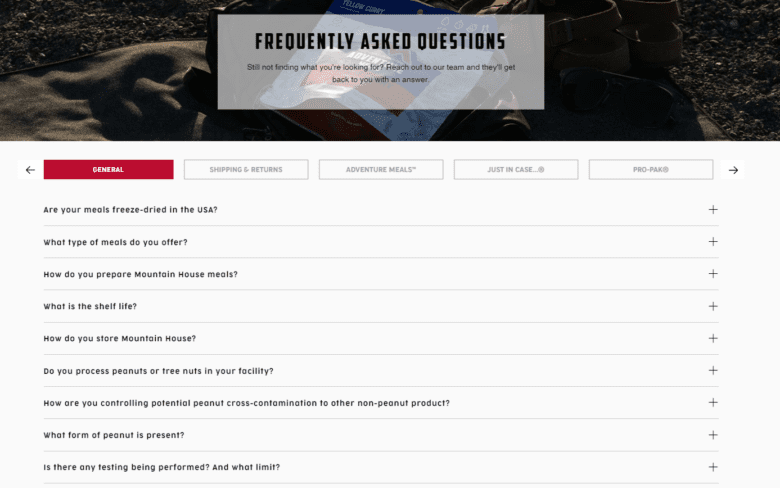 As we can see in this example from Mountain House, the eCommerce brand has not only diligently answered its frequent customer questions but also separated those into easily digestible content categories. Most of this information could likely be found across Mountain House's website (and likely could be expanded upon into helpful longer-form blogs), but placing it all on one page is great for user experience.
Remember: Many visitors to this kind of page could be emotional if they have an issue that needs to be resolved, so be sure to offer help in a nurturing tone and go the extra mile when they end up reaching out.
Some other tips for creating successful FAQ-type content:
Add frequently asked questions to your category and product pages, addressing common customer concerns and removing barriers to purchase.
Use FAQ schema as a signal to Google and to increase your chances of appearing in the featured snippets.
Visual Content: Videos, Images, & Infographics
To keep up with today's visually-minded, short-attention-span shoppers, your brand also needs to incorporate videos, images, and infographics into your content marketing campaigns.
This content performs well across several channels (social and website) and can be a natural extension of the long-form content you're creating on your website.
Videos
In many ways, video is the new king of content marketing — and it's a non-negotiable if you want your eCommerce site to be successful.
Video content not only displays your products and brand in a way that written content can't, but it also can increase your brand awareness and bring shoppers to your site through new channels.
Any of the eCommerce content examples above can be turned into videos. And, in the era of TikTok and Instagram Reels, your videos don't have to be professionally produced to be successful. (However, like with written content, it's a good idea to create a variety of videos to target different audiences and different buying stages.)
You can use video to enhance your company branding, as Simms Fishing does:
You can also use video to inform and educate your shoppers, as KEH does in its above-mentioned multitude of product reviews:
And, of course, you can use video to entertain, as our client EarthKind does on TikTok:
Not sure where to start with your video marketing strategy?
Check out our complete guide to building an eCommerce video strategy to start prioritizing and experimenting with this content form in a smart and efficient way.
Images
It's a no-brainer that your eCommerce site should use attractive product images to sell your wares. But images play a crucial role in your content marketing strategy, too.
From social media posts to in-blog additions, the images you create and share with your audience can enhance their research and shopping experience by communicating ideas and information in a new way.
For example, by incorporating user reviews onto images of their products, glass chair mat business Vitrazza can show off the beauty of its products and demonstrate their value with a single image.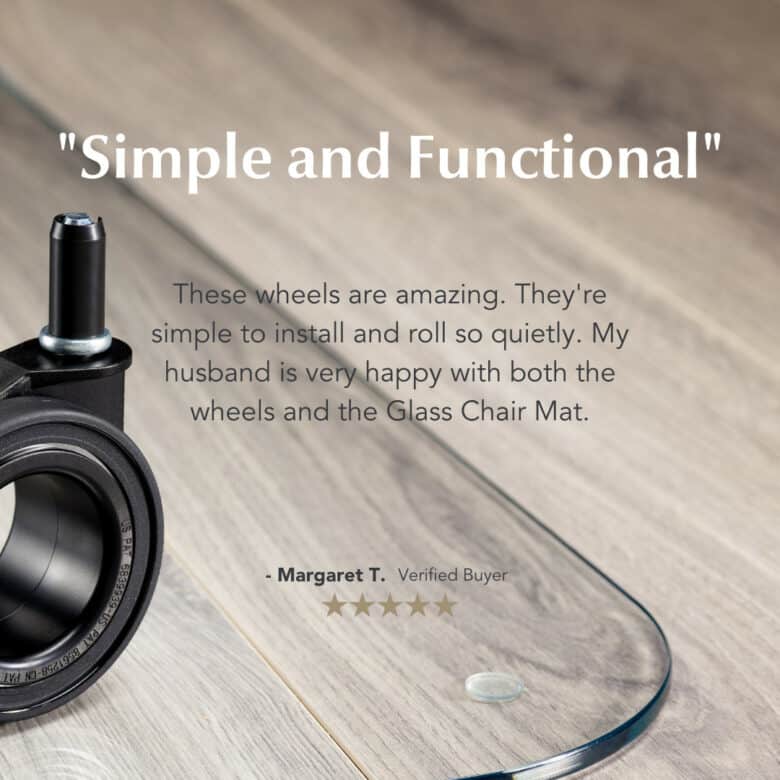 The good news here: You can use a variety of images (both high- and low-production-value) to market your products on a budget and appeal to a wider variety of target customers.
And, as a search engine optimization bonus, using the right images on your website can help with your rankings and visibility in the search engine page results (SERPs).
Infographics
Infographics may get negative attention for overuse, but they're still a type of content that users enjoy.
The key to infographics: Offer unique value to users. Creating very basic infographics or rehashing infographics produced by other publishers is not a good content strategy.
Consider the unique data that you have with your own business and how it might provide value to your audience. You know the most popular items on your website and the most attractive items on clearance. Couldn't you produce a product-focused infographic to help sell?
Coupons.com did just that with its 2013 Black Friday Most Wanted Items infographic.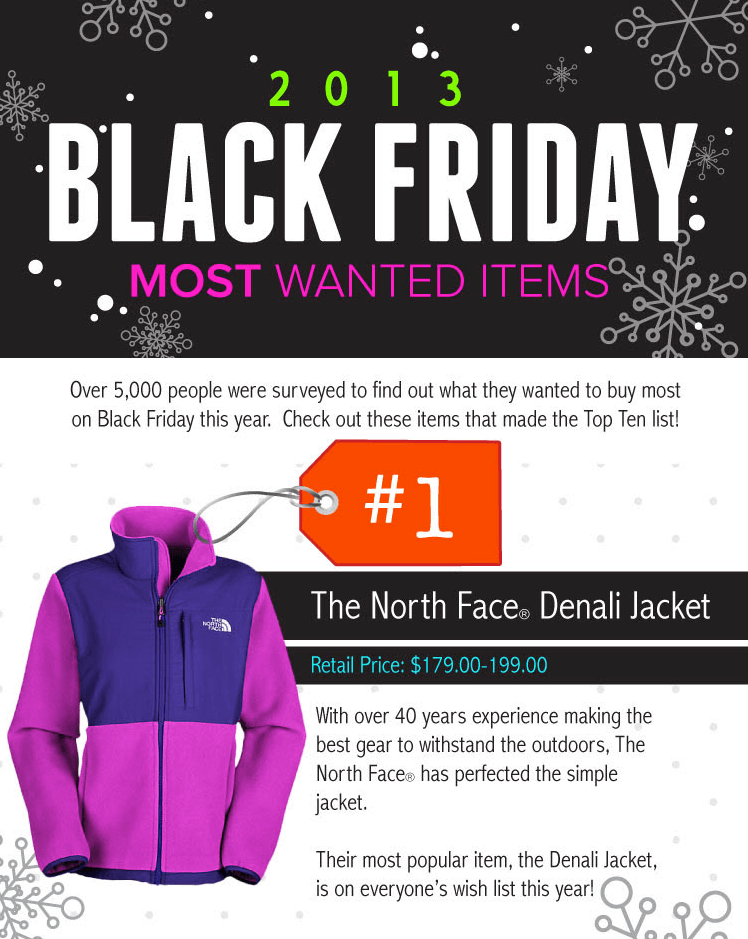 As you're planning your data- or research-based content (discussed above), your team should always think about how you can present that data visually. Creative graphs and charts can grab your customers' attention (and make your content stand out) in a way that a written paragraph simply can't.
You can also repurpose these graphics for use on social media platforms, especially Pinterest.
Planning & Prioritizing Your Content Strategy
This blog has only barely scratched the surface when it comes to types of eCommerce content.
Our advice to marketing teams: Research as many eCommerce brands as you can. See what type of content they're publishing on their websites, their YouTube channels, their social accounts, and more. Take note of those examples that you like, and then use them to kickstart your own content ideation and brainstorming.
Of course, creativity and aesthetics aren't everything. Consider factors like search volume, customer pain points, and the buying journey when planning your content strategy. That way, you'll be more likely to create content that's not only entertaining but also achieves your business goals — whether that's brand awareness, online sales, or something else.
Need help creating that content strategy?
Our team of SEO experts has created full-funnel content marketing strategies for hundreds of eCommerce websites, and they'd be happy to do the same for you, too. Request a free proposal today to get started.