According to HubSpot, there are five core services of Inbound Marketing. Since these were developed mostly with lead-generation websites in mind, we've decided to expand on each of them specifically for eCommerce.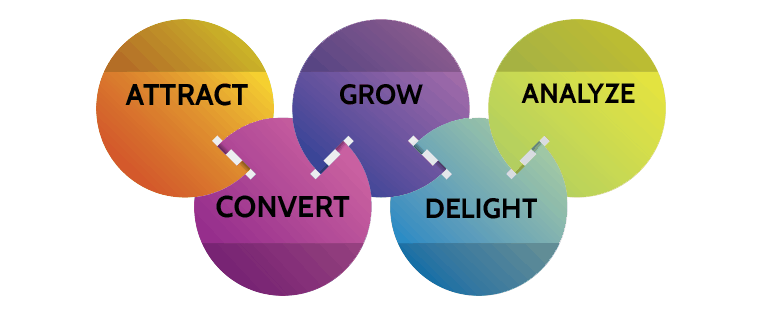 Core Service #1: Attracting More Qualified Visitors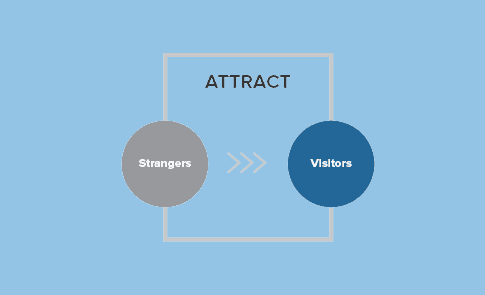 Everyone wants to drive more traffic to their sites, but not all traffic is created equal. You also want the traffic to be qualified.
Build your site to be technically sound and follow SEO best practices. Prune pages that do not drive traffic or revenue. Optimize your category and product pages for relevant, "money" keywords, making sure the content is unique and stands out from competitors.
Don't stop there — expand your keyword footprint! Identify "keyword gaps" and build additional foundational pages. Implement a strategic content strategy to target potential customers at all stages of the buying cycle.
At a minimum, attracting more qualified visitors is a combination of technical SEO, foundational content writing (category and product pages), strategic content creation (blogging, creating 10x content, etc.) and social promotion / management.
Core Service #2: Converting Visitors to Leads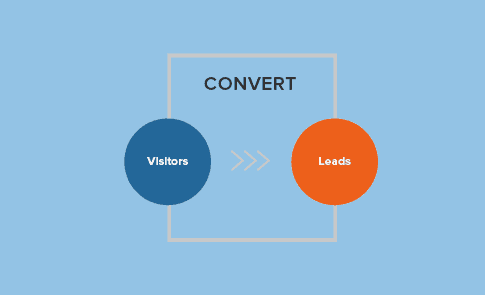 An eCommerce website can take many actions to convert visitors to leads. But first, we need to define what IS a lead for an eCommerce website?
It could be argued that a visitor itself is a lead. You have the ability to track them with a cookie and retarget them using a number of ad platforms. You can engage with them on sites like Facebook, offer them the chance to view content on your site that may be relevant to them, and build your brand voice.
But a visitor really becomes a lead when someone gives you a piece of information that makes them uniquely identifiable. More often than not, that piece of information is their email address, which may or may not be accompanied with other information, such as their name and phone number.
You might acquire an email address by offering a piece of gated content, like an eBook, white paper or webinar. Alternatively, you might get an email address when someone abandons their shopping cart. These two types of leads are NOT created equal. Check out this post to learn more about capturing email addresses before anything gets added to the cart.
Different actions or workflows can and should be triggered based on what type of lead you receive and at which stage of the buying cycle you perceive the lead to be. An eBook lead is likely in the upper portion of the buying cycle, researching what's out there and comparing their options. Help these users solve their problems and move them further down the sales funnel.
Conversely, the abandoned cart email address lead was right there, ready to make a purchase. What caused them to leave? Can they be saved? Strike while the iron is hot and salvage some of those sales!
Getting someone's email address is only half the battle. Now you need to convert these leads into customers.
Core Service #3: Converting Leads into Customers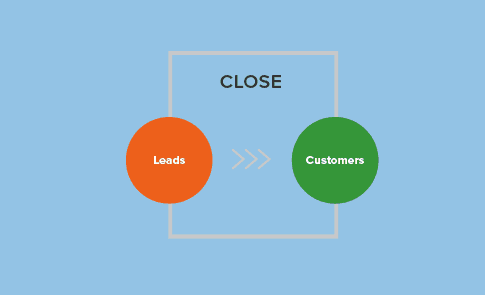 After obtaining a lead, you need to somehow contact them. Having a marketing automation system in place to help you manage and nurture your leads is imperative with an eCommerce website.
If you own an eCommerce website, you should ask yourself a few questions:
Are you collecting email addresses (leads)?
Are you segmenting your leads?
Have you set up automated workflows that can target different types of leads in different ways?
If you cannot answer "Yes" to these questions, you are leaving money on the table!
Here are some types of automation you can implement to help convert leads into customers:
Drip Campaigns / Welcome Series / Onboarding – Once you have a lead (email address), start to engage! Tailor the campaign workflow based on what you know about the user. Follow up with a series of emails to re-engage them; offer additional, related content; and entice them to become a customer with a coupon or discount.
Product Feeds & Recommendations (personalized in emails) – Customize emails you send clients with personalized product recommendations based on their activity on your site.
Browse Abandonment Recovery – Email users who viewed a certain product or page but did not convert.
Geo-Targeting – Target users geographically. This is a good tactic if you have brick and mortar stores.
Cart Abandonment – For the abandoned cart user, immediate action is imperative. Re-engage and stay in front of them in short order. Roughly three out of four shopping carts are abandoned. According to Business Insider:
Initial emails, sent three hours after a consumer abandons a cart, average a 40% open rate and a 20% click-through rate.
Utilizing a marketing automation system on an eCommerce website these days is a no-brainer — don't leave money on the table!
As a user continues to interact with your site, view more products and consume more content, you can build a user's profile over time. For example, HubSpot offers a feature called progressive profiling that lets you use smart forms to continually grow your database of knowledge about your users. The more you know about users, the more personalized you can get with your offers and the workflows in which they are placed.
Whereas a B2B or B2C business may rely more heavily on the "human touch," automating as much as possible for your eCommerce site will help you convert a much higher percentage of leads into customers.
Core Service #4: Generating Promoters from Customers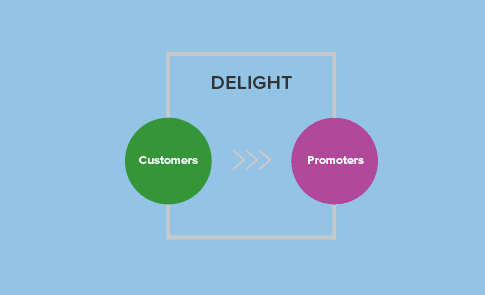 Now that you have a customer, it's time to turn them into a promoter. A brand evangelist. Someone who will promote your brand and products for free. If you can figure out a way to "wow" your customers (and actually do it), you are well on your way to turning customers into promoters.
There are a number of ways to stay in front of your customers using marketing automation:
Post-Purchase Lifecycle – Send personalized, timely messages to customers after they purchase. These could include past-purchase reminders or:
Predictive Replenishment Campaigns – Remind customers when they need more of a replenishable commodity. Better yet, sign them up for a replenishment program. Set it and forget it!
Re-Engagement Programs – Is a customer at risk of becoming an inactive customer? Re-engage them!
Customized Retention Automation – Incentivize your best customers (those who spend the most with you), turn first-time customers into best customers, and re-engage customers who are at risk of becoming ex-customers.
A lot of these tactics will turn first-time buyers into repeat customers and increase CLV (which is great). But how do you turn your customers into raving fans?
One great way to create raving fans is to start with your employees! Treat them well, reward them for a job well-done and make them love coming to work. A happy employee will not only promote your brand outside of business hours, but that spirit will shine through when they're face-to-face or on the phone with customers.
Core Service #5: Measuring, Analyzing and Interpreting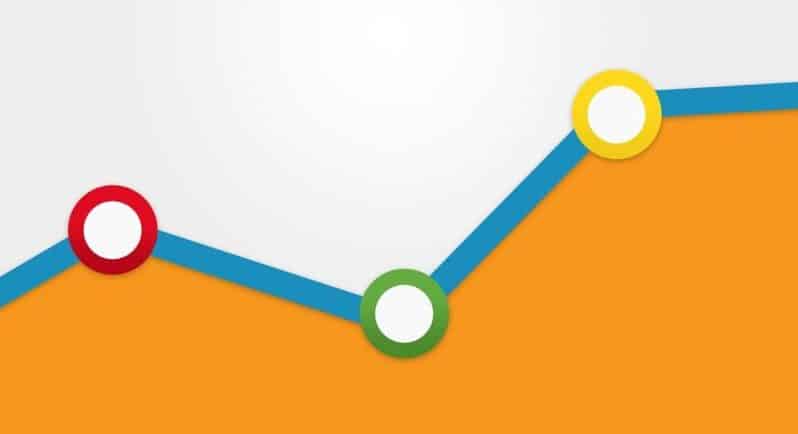 So your site is a well-oiled machine, converting visitors to leads, leads to customers and customers to brand evangelists. Great! Could you be doing better? That's where the fifth core service comes into play.
There are numerous ways to gather and report on data, and with so many things going on at once, it can be a challenge to figure out what's working, what isn't and how you can do better.
Dashboards in Google Analytics are a great way to combine a lot of data into a small space for quick and easy viewing. Marketing automation tools also have varying degrees of built-in reporting functionality.
Wrangling all the data together can be quite the challenge. One of my favorite analytics gurus, Avinash Kaushik, has more than 4,000 words of great advice on best practices for dashboards.
We were only able to scratch the surface of all five core service areas this time. In future posts, we will take a deeper dive into each of them separately. Subscribe to our blog so you don't miss them!