SEOQuake is a very useful Firefox extension which was recommended to me by @CarrieHill on Twitter. I have been using the tool for a couple of weeks now and though initially, the configuration was burdensome and confusing, the tool has become an integral part of the Inflow arsenal. The Seobar version of the tool places a bar that floats at the top of the webpage you are browsing. This is a 'nice to have feature' when actively reviewing and optimizing sites, but after a few days became mildly annoying. I prefer the Seotoolbar version which adds yet another row of toolbar to the upper section of Firefox. From that toolbar I enjoy easy one button access to Yahoo Backlinks, Pages Indexed in Google, Whois Data, Robots.txt, Keyword Density reports, SeoDigger data, and more!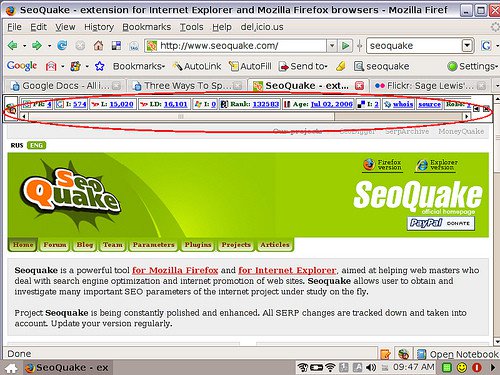 When changing configuration options I recommend setting Load Parameters to 'by request'. This will prevent the tool from constantly hitting search engines such as Yahoo and Google for data and prevent any possible bans as a result of automated use. The plugin also started to modify my Google and Yahoo SERPs pages. To turn this option off click on the SE Plugins tab in the SEOQuake preferences and disable Google, Yahoo, and anything else where you don't prefer the interference.
I highly recommend trying out this tool, but again the configuration does take some patience. I have a feeling this tool offers much more than I have been using already. Also as a side note, the developers of this tool also created SEODigger and AdsSpy which are two other very useful SEO tools in our tool kit.