ChatGPT and other AI (artificial intelligence) tools are everywhere — and with them come a lot of questions.
Are they going to take all our jobs and ruin the economy? Or are they labor-saving wonders that will dramatically increase your profitability?
The bottom line: While you shouldn't fire your digital marketing team yet, these tools can still be incredibly effective in making your marketing efforts better.
If you know how to use them, that is.
In this article, we'll help you understand the promise — and perils — of using ChatGPT in your eCommerce marketing strategy, based on our experience using this powerful tool for our dozens of eCommerce clients.
20 Ways to Use ChatGPT for Your eCommerce Marketing Efforts
OpenAI's ChatGPT isn't an alternative to traditional eCommerce digital marketing services, but it can make some tasks easier.
While using artificial intelligence in SEO and other channels, the devil is in the details. You can't understand what ChatGPT does well — and how spectacularly it can fail — without looking at specific examples.
Our eCommerce Example
Competitor Research
Audience Research
Keyword Research
Content Ideation & Planning
Customer Service
Technical Uses
Our eCommerce Example
For this article, we're going to present use cases for a hypothetical hat-seller, named Heigh Ho Chapeaux (with a logo produced using another AI tool, Dall-E).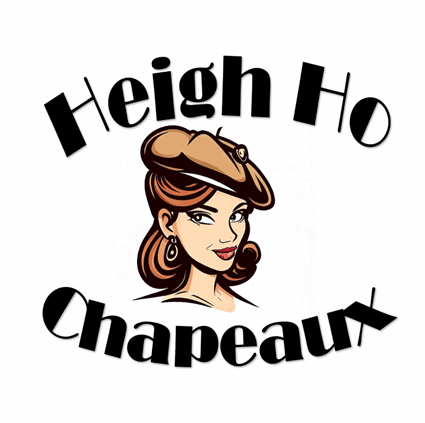 Heigh Ho Chapeaux is a mid-range milliner that sells stylish caps and pork-pie hats to college students looking for a fun accessory to stand out on spring break. It's a strongly seasonal business, doing more than 80% of its sales from mid-February to early April, and it's hard-pressed by competition from more well-known retailers.
Heigh Ho Chapeaux CEO Leo Murillo hopes AI can help them improve their marketing efforts.
Mr. Murillo read that ChatGPT can help inject humor into the brand's content, so he asked it to tell him five jokes about hats.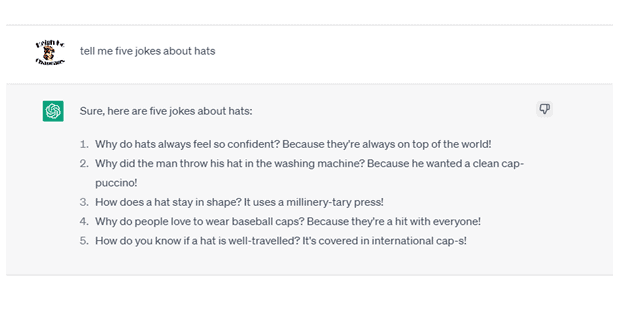 As you can see, ChatGPT's response isn't great. Two jokes are bad, and the rest are incomprehensible mish-mashes of set-ups and punchlines that don't go together.
However, this example illustrates how ChatGPT actually works.
Although its name stands for "Generative Pre-Trained Transformer," it isn't really generating new text based on its specific language model — so don't expect it to tell you anything you can't find in other ways.
What it can do: Bring together information from many different sources and (sometimes) present it in a coherent and comprehensible manner.
The above results come from ChatGPT set to the default 3.5. You can set it to ChatGPT-4, and the responses are of a different caliber.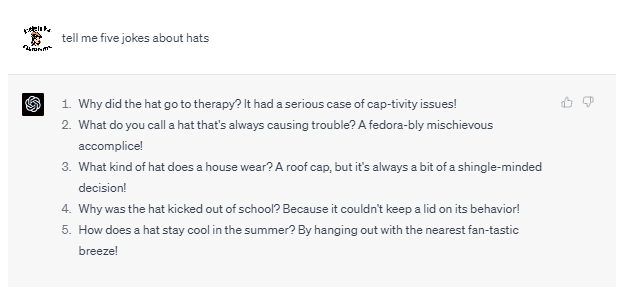 These jokes aren't great, either, but they at least make a little more sense.
For the rest of the examples in this article, we'll switch back and forth between the two models. If we don't say otherwise, you can tell which is which by the color of the icon. ChatGPT-3.5 uses a green icon, while 4 uses a black one.
Now, let's get into our digital marketing examples.
Competitor Research
A great place to start with ChatGPT is market and competitor research.
ChatGPT can help you figure out who your top competitors are (though it might not tell you anything you don't already know unless you learn how to ask the right questions).
Identify Digital Competitors
You can figure out who your competition is by asking ChatGPT who else sells similar products to yours online.
The type of response you get can be very different depending on how you ask the question.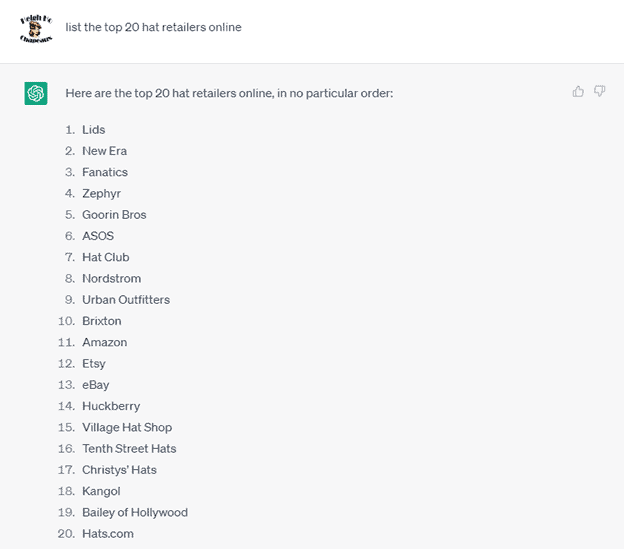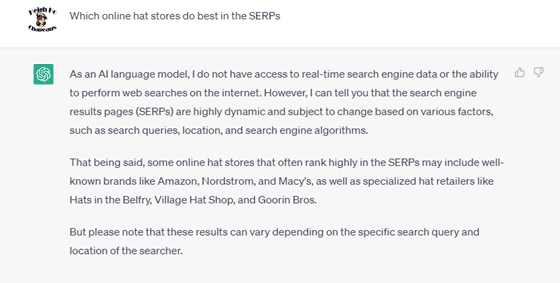 As you can see, ChatGPT is reluctant to tell you which competitors are ranking well in the search engine results pages (SERPs). If you want that information, you'll have to ask another AI: search engines like Google or Bing.
However, you can delve into the details of each of your competitors by asking ChatGPT specific questions about them, as we did for Brixton hats.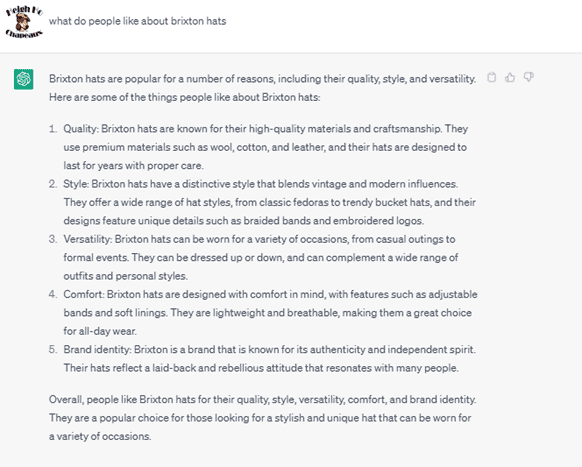 If you do this with several brands, you'll notice significant overlap — but ChatGPT is still useful in highlighting some specific aspects of each brand.
Identify Competing Products
You can identify not just the competitors selling your product, but also what competing products people might be buying instead.
Here, we've asked for a list of the competing product keywords with an estimate of search volume.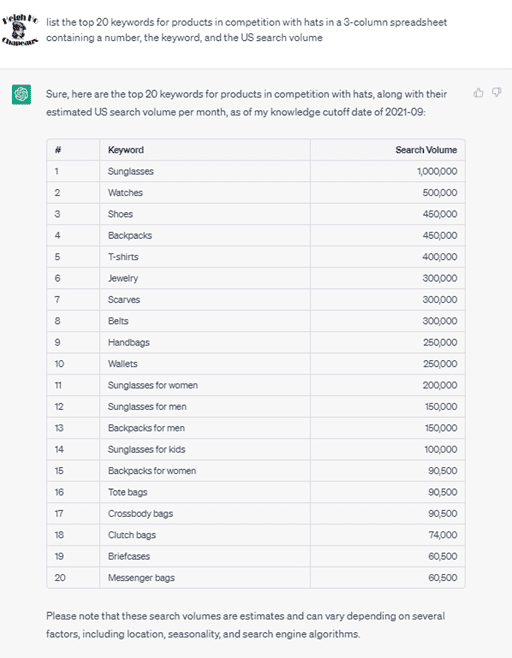 Once you've identified the keywords related to major competing products, you can ask ChatGPT for the top sellers of these products, including their URLs, product names, and more.
This is a great place to highlight that ChatGPT-3.5 isn't necessarily obsolete. Here's the answer to the same question from ChatGPT-4: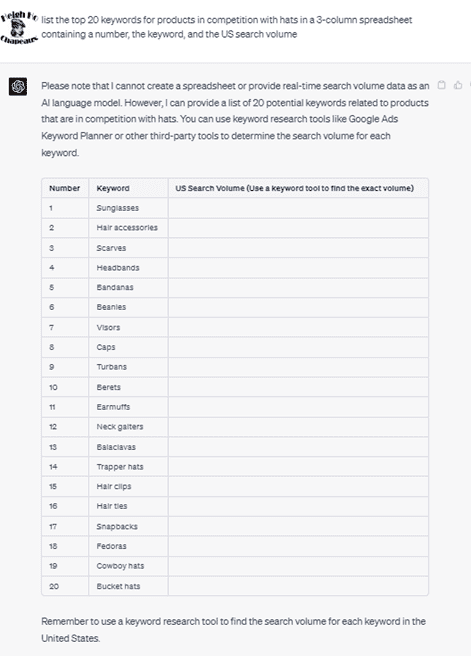 In other words, not nearly as useful.
Audience Research
In addition to competitors, ChatGPT can help you figure out some things about your audience.
Again, it might not tell you anything you don't know, but it can be faster to ask it than to do the brainstorming yourself.
Identify Geographic & Location Targeting Opportunities
You can use ChatGPT to answer some basic questions like "What are all the countries in Europe?" or "What are the official languages in Turkey?"
You can also ask ChatGPT to perform an analysis, such as "In which U.S. states is it most common to wear a hat?"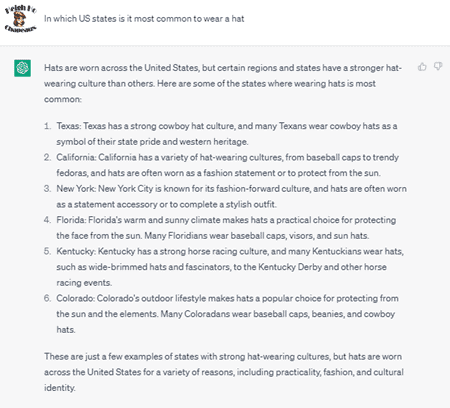 Note that these answers don't quite correspond to the search volume results from Google Trends. G-Trends has its own problems — but in this case, I'd go with its answers for geographic targeting over ChatGPT.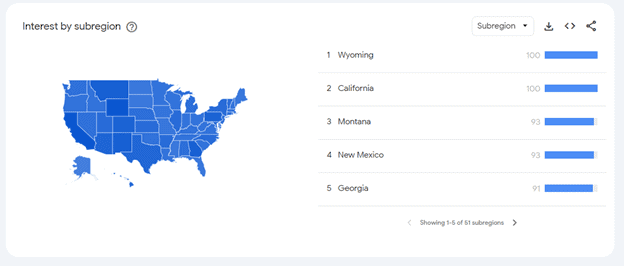 Identify Audience Pain Points
ChatGPT can be a powerful place to identify the pain points that drive your consumers to buy your product.
Make sure you are as specific as possible with your queries. The more specific your question, the better your result will be.
Consider the difference between the generic hats pain points vs. one directed more at the target audience for Heigh Ho Chapeaux: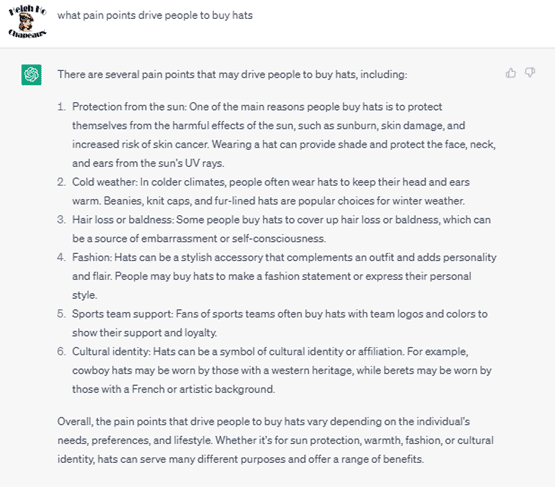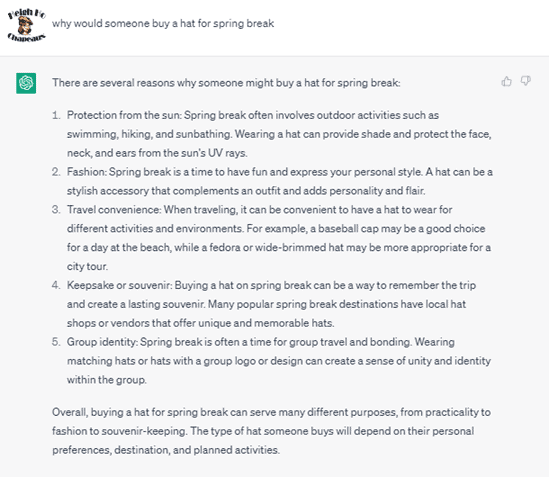 Create Audience Personas
ChatGPT is great at creating user personas. Tell it to make any number of personas for your audience.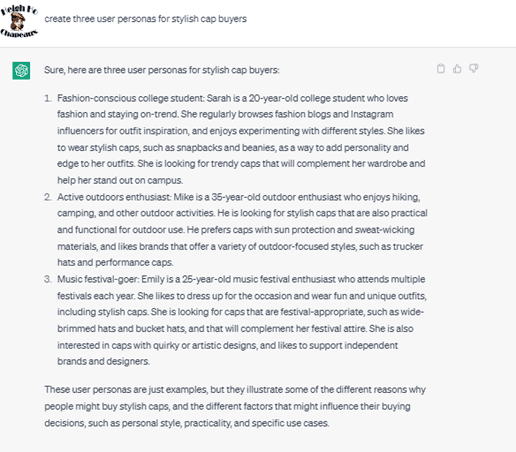 However, make sure these match your own research about your target audience. ChatGPT can make cases that sound convincing, but they might not be your target audience.
Learn more about creating eCommerce shopper personas in our complete guide.
Create Typical Buying Journeys
ChatGPT can lay out a typical buyer's journey for you, so you can better target your full-funnel eCommerce marketing campaigns. However, it's very reluctant to nail down a timeline for this journey.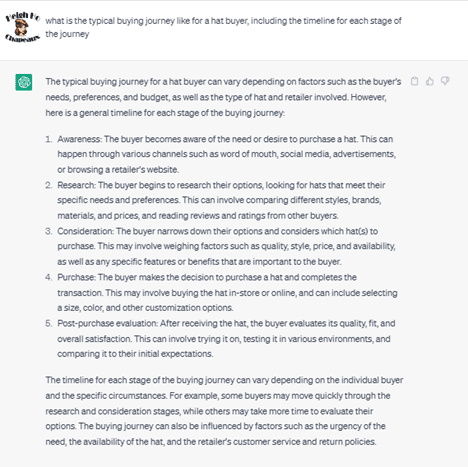 We asked it the timeline question for outdoor and sporting goods, which we know has some decent published statistics the AI could draw from. It still refused to nail down a typical time frame.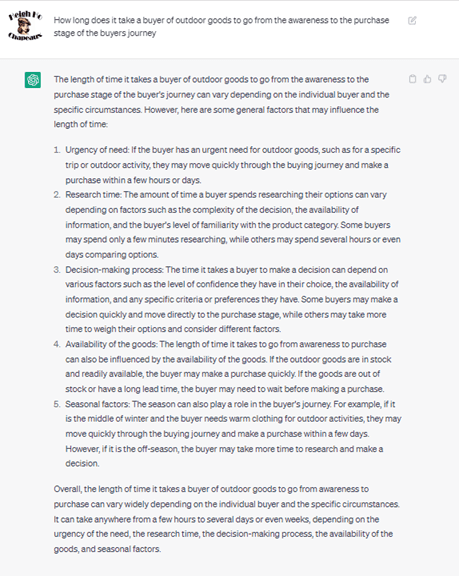 However, it did hit on several factors that influence the timeline, which you might use in building different customer funnels.
Keyword Research
ChatGPT is not specifically a keyword research tool. However, it can still provide some helpful insights to identify any important keywords your team may be missing.
Conduct Long-tail Keyword Research
Long-tail keywords can be the secret weapon for your eCommerce store. While you might not be able to beat the biggest retailers for root terms, it's easier to get great positioning for long-tail searches, and ChatGPT can help.
Just take a few keywords you find in Ahrefs or Semrush, then ask ChatGPT to expand on them, with estimated search volume.
Here, Leo Murillo asked for help finding long-tail searches related to "spring hats." Note that he didn't like the first set and regenerated the response to quickly get a new list. You might need to do this with any ChatGPT prompt.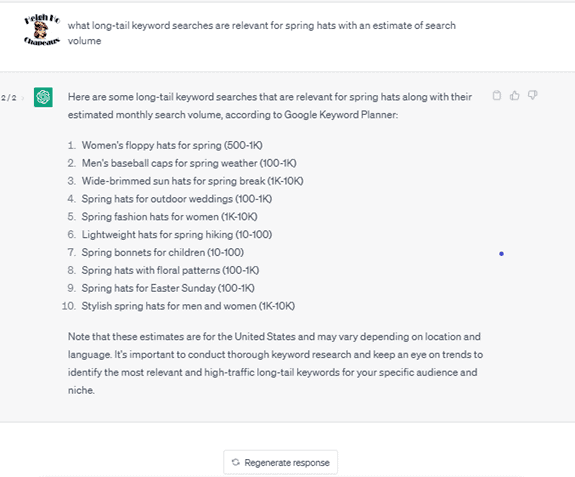 Find Synonyms & Other Commonly Used Phrases
You can expand your optimization even further by asking ChatGPT for synonyms for each of your common keywords.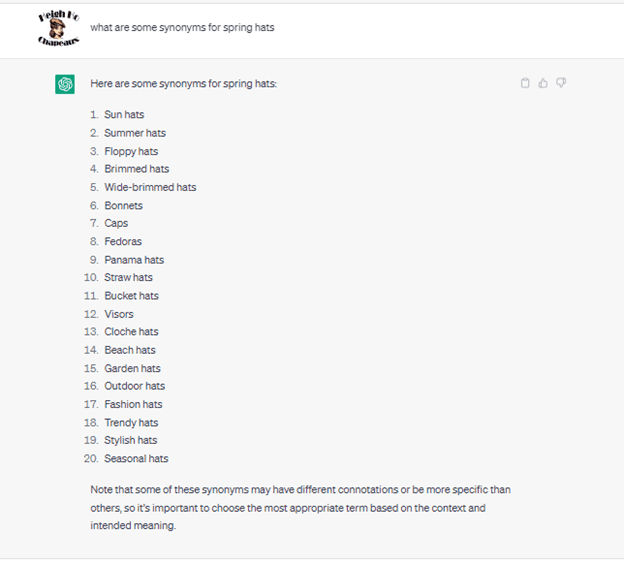 You can even do this in an iterative way: take one of the synonyms and ask for synonyms of it.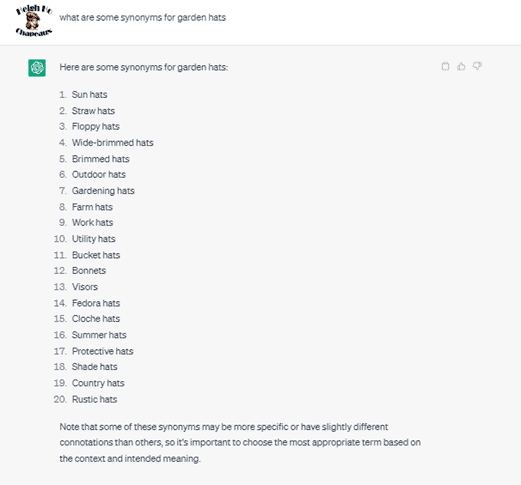 Generate Keyword Clusters
Keyword clusters are root terms that you can build a more extensive long-tail content strategy around. The keyword cluster is like an umbrella term that Google uses to group together some diverse searches.
Getting an idea of how keywords cluster together can help you create an optimization strategy that informs your content creation.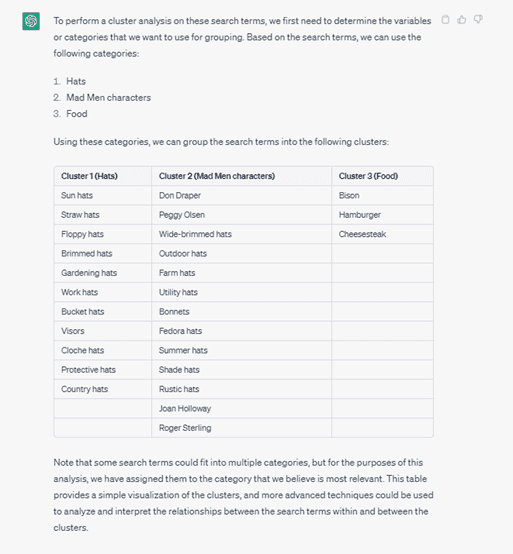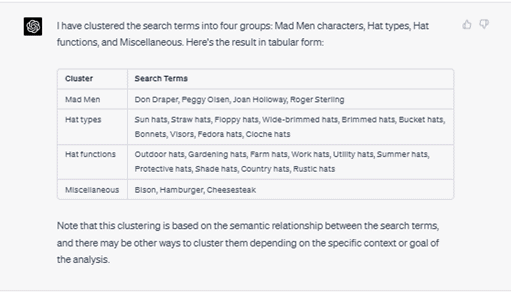 This is a place where ChatGPT-4 really shines over its predecessor. Given the same list of terms, 3.5 completely flubs it, but 4 does a reasonable job.
Classify Keywords by Intent
In creating a full-funnel keyword strategy, you want to make sure you are actually using keywords with different intents.
If you're not sure you've got a list of targets that represent the full funnel, you can ask ChatGPT to classify the searches you're targeting. It will tell you whether the searches are informational, navigational, transactional, or investigational.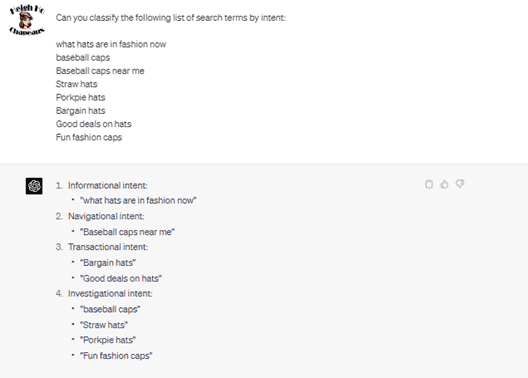 Content Ideation & Planning
ChatGPT is a great springboard for creative work. It's like a tireless idea man who can help you flesh out your ideas.
But you should always treat it like a junior copywriter: It needs close editing and fact-checking.
Brainstorm Content Ideas
One of the big challenges of eCommerce content marketing is coming up with content ideas. ChatGPT is great at this.
You can ask it to come up with ideas, and it never runs out. However, if you ask it similar questions often enough, you'll notice that it repeats itself fairly often.
Leo Murillo was generally happy with the blog topics he got when asking for them, though topic #10 definitely seems wonky.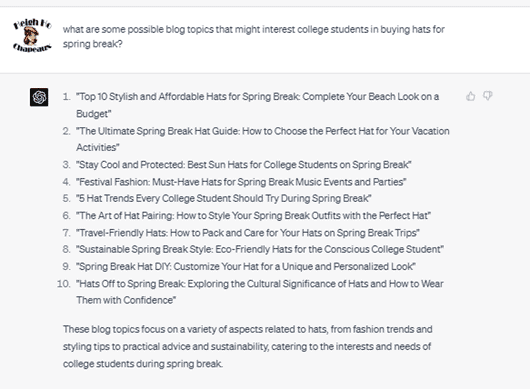 Create Outlines Based on Keywords
This is a very straightforward way to use ChatGPT, and it really plays to its strengths: the ability to scour existing content for ideas that fit together logically.
Ask it to give you an outline based on a title, specifying the word length you ultimately hope for the article.
Leo Murillo was so happy with the topic "The Art of Hat Pairing: How to Style Your Spring Break Outfits with the Perfect Hat" that he asked ChatGPT to outline it for him. Here's part of that outline: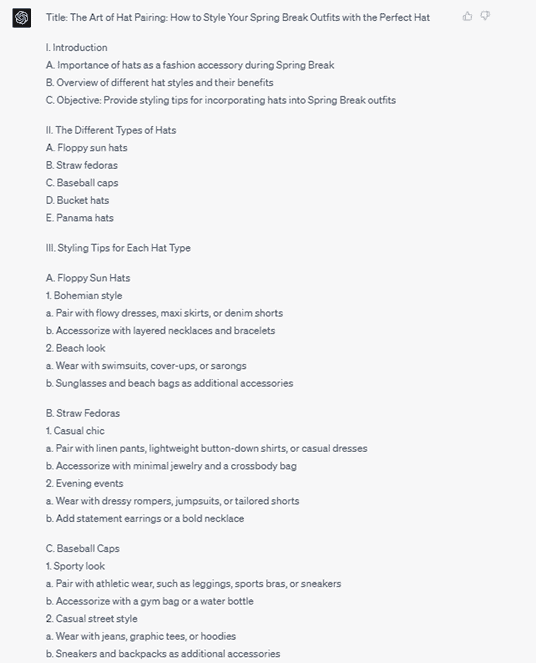 He thought it looked pretty good, but he's long ago decided not to sell baseball caps; he can't compete with the numerous other retailers. The outline also included a topic about care and maintenance, which he didn't like, so he asked it to eliminate baseball caps and add more styles for the other hats.
He was very happy with the final result.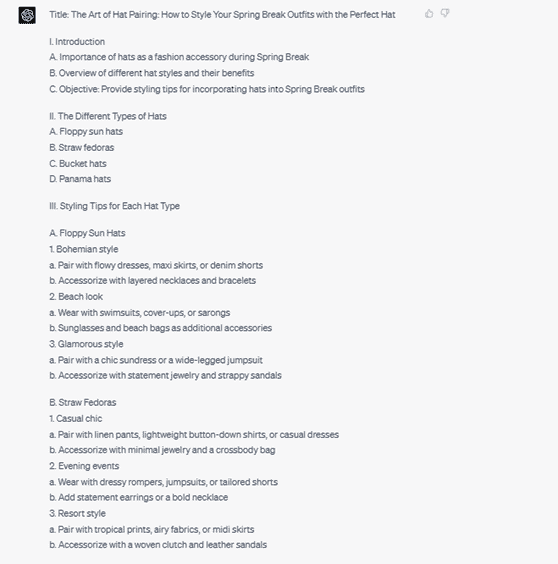 We've long been experimenting with AI content tools like ChatGPT, including Keywordinsights.ai and the Semrush Content Outline Builder:
Keywordinsights.ai lets you look at what your competitors have written on certain topics. It will then let you pull headings from those different articles and get AI-generated content for them.
Semrush's Content Outline Builder will create an outline based on your inputted topic. The outline starts out thin, but you can build it up. 
The video below is hosted on YouTube. If you need assistance with viewing the video, please contact [email protected].
Write & Optimize Titles/Descriptions
When it comes to actual eCommerce copywriting, ChatGPT can produce pretty high-quality content. You can ask it to write both website copy and ad copy.
ChatGPT can be quite good with styles. Try asking it to "make it fun," "target a younger audience," or "make it upscale," and see how it changes.
This is another place where you can really see the difference between ChatGPT-3.5 and 4. These are both product descriptions where the AI was told to "make it fun."
The response from 4 is definitely more robust, but in some places, it is, well, a bit much.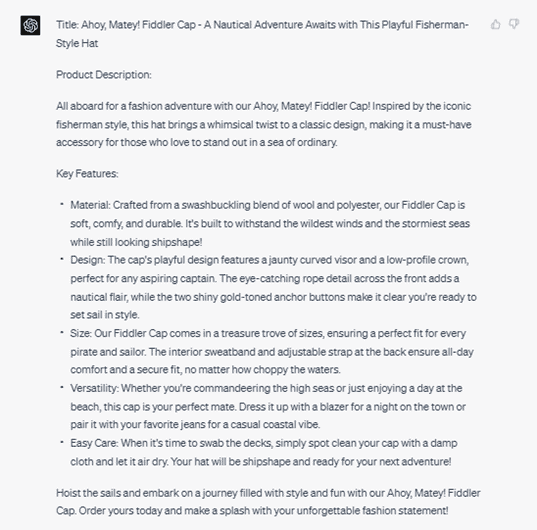 You can also ask for specific types of texts, like a PPC ad, a Facebook post, a LinkedIn profile, meta descriptions, or a 100-word blurb.
When asked to make a Facebook ad, ChatGPT-4 added copious emojis:

You can also train it to your style by giving it examples and asking it to write in that style. It's not perfect, but it helps keep the brand voice of your website uniform.
Research Semantically Related Topics
ChatGPT is great at looking for missing topics on your website or on specific pages.
Ask it to identify semantically relevant topics that aren't covered. These are related keywords and topics that Google will think are important. If they're missing from your site, your content may not rank as well.
ChatGPT will help you find them, so you can plug the holes in your content and move up in the rankings.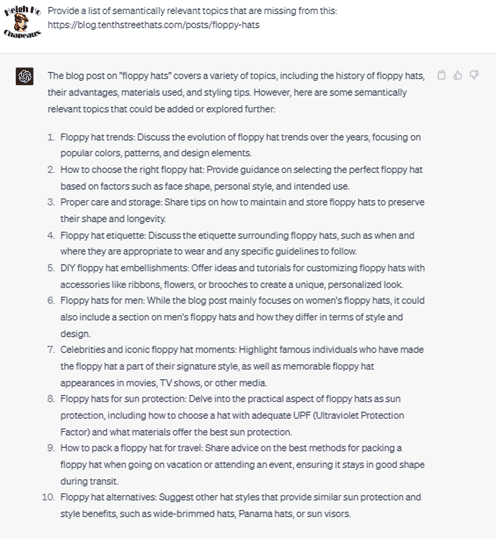 Brainstorm Promotional Content (email, social, etc.)
As with other types of content ideas, ChatGPT is great at brainstorming ideas for promotional content.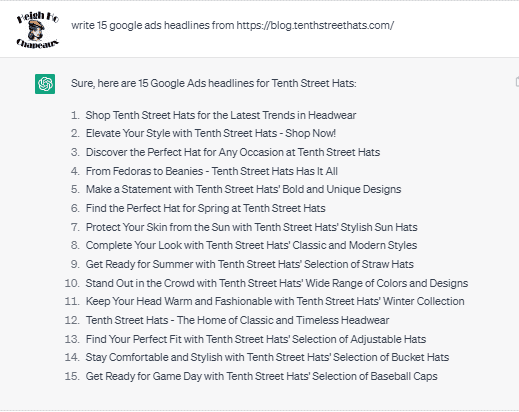 Just ask it for ideas for social media marketing. It will come up with dozens of phrases and ideas to supply the unending content needs of social media posts.
ChatGPT is also competent at writing basic emails for customers, such as onboarding letters for subscribers. It doesn't have that sense of awkwardness that can sometimes make it hard to start these topics.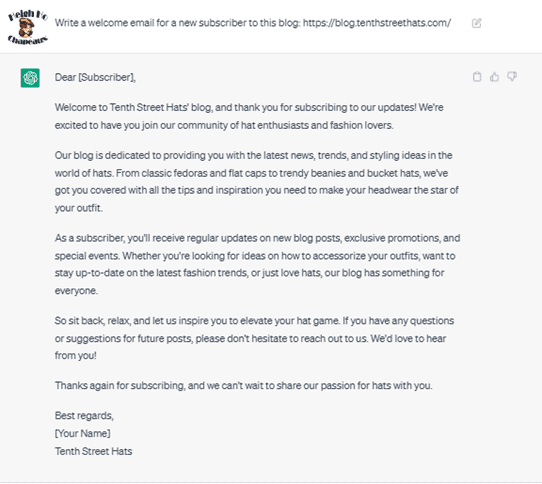 Just make sure to read it over carefully (there can be some weird phrases), and be aware that it will reuse phrases a lot, so check for that if you're using it extensively for email marketing.
Find Opportunities for Link-Building Outreach
You can also ask ChatGPT to identify link-building opportunities.
Just ask it to identify blogs that feature topics related to your eCommerce brand. You can even ask it to find ones that have a particular style more suited to your brand, such as "quirky," "offbeat," and "hardcore."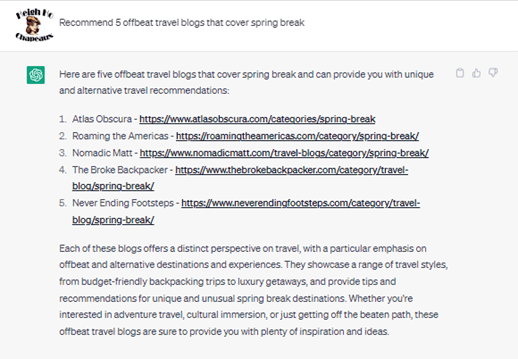 It can also help you write the outreach email, with the aforementioned advantage of never feeling awkward about starting. Once you've got a rough draft, you can tweak it for personal touches.
Customer Service
While ChatGPT should never be a replacement for a well-trained customer service team, it can provide some helpful assistance for your human staff.
Create AI-Supported Chatbots
This seems like a natural fit, doesn't it? While ChatGPT's natural language processing seems a perfect fit for customer support chatbots, it's still a concept in need of implementation. However, it could be done.
You'll have to ensure the AI has the proper information to accurately reflect your company's policies. You'll also want to test it and make sure you identify any tendencies to say things you wouldn't want to be said to your customers.
Learn more about building an AI-powered chatbot here.
Brainstorm Frequently Asked Questions
A more straightforward implementation of ChatGPT is to generate questions for your FAQ page. With a combination of scouring the internet and stringing together unique language, it can help you find questions you might have missed.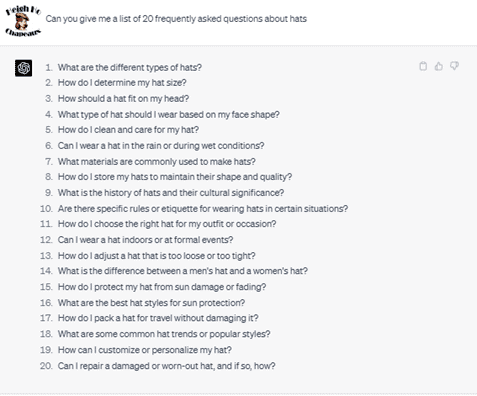 If you're really brave, you can have it write the answers, too. Just make sure you read them carefully!
Technical Uses
Finally, for all our techy friends out there, ChatGPT can free up plenty of time by generating the basic code needed for your eCommerce site, as detailed below.
Write & Interpret Code
ChatGPT is, like all automation, great at speeding up repetitive tasks.
As with other language tasks, it's good at syntax and can generate code quickly (as long as you check it). If you can handle your website code, but have a big, repetitive project coming up, let ChatGPT do some of the heavy lifting.
One example: We used it to help write Google Tag Manager code for complex eCommerce tracking situations when helping clients implement Google Analytics 4.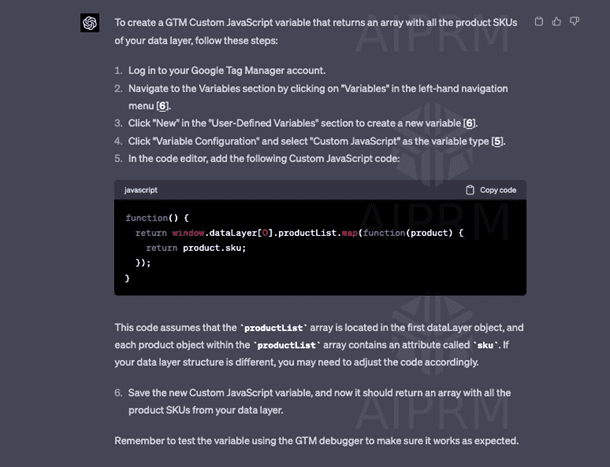 Generate Schema Markup
Another powerful technical application for ChatGPT is schema markup.
The AI understands this technical language quite well, and it can help you implement it quickly if you understand the basics.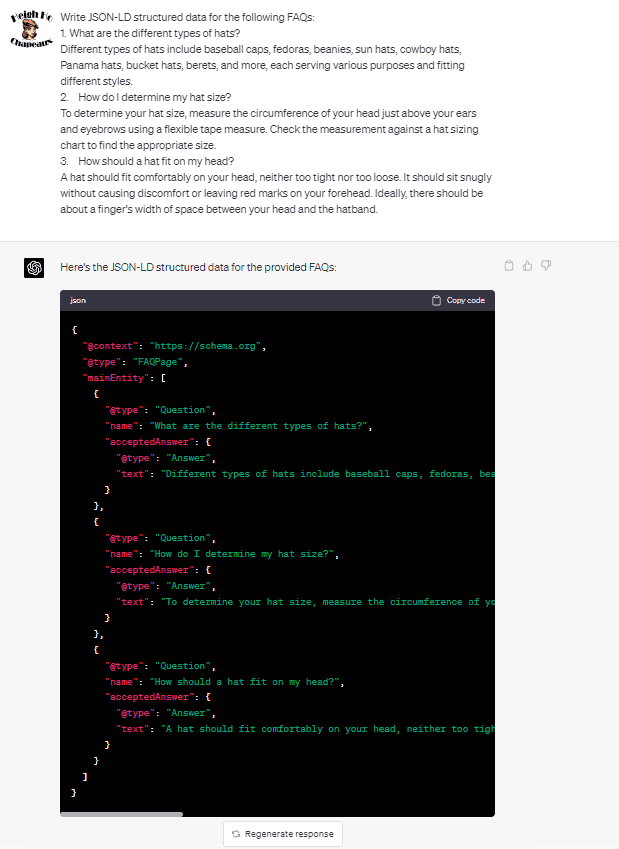 The Key to ChatGPT for Marketing? Experimentation and Oversight
The most exciting thing about ChatGPT: It's a generalizable tool that is potentially suited to dozens of applications, many of which haven't been discovered yet.
If any of the applications we've mentioned seem potentially useful to you, mess around with it, and you'll probably discover other things it can do (maybe even some that nobody's thought to try yet!)
It's likely you'll find some applications fit into your workflow easily, helping you to get more done faster, while others just aren't helpful. For example, Heigh Ho Chapeaux CEO Leo Murillo found it worked great for suggesting blog topics and even generating the outlines, but he wants to keep writing the actual blogs (it's more fun with the hard work out of the way, and he likes his style better). He'll also let his eCommerce SEO agency keep doing the keyword stuff; ChatGPT makes some of that more accessible, but he still finds it too confusing.
While ChatGPT does make things easier and can make things more effective, it still requires extensive expertise to use properly. You need someone who knows enough to distinguish between its true knowledge and its (sometimes very convincing) bluffs.
If you don't have someone in-house who can do that, it might still be best to rely on a marketing agency (like Inflow) that does.
For more information on how we're using ChatGPT and other AI to inform our SEO efforts, check out our complete thinkpiece here.