Despite its fading reputation as the official "start" of the holiday shopping season, Black Friday remains a cornerstone of retailers' profits, especially for those who sell their wares online.
But, with so many brands fighting for consumers' attention during Black Friday and Cyber Monday weekend, it's easy to get lost in the fray.
The solution: Double down on your Black Friday marketing preparation.
As they say, the early bird gets the worm. Those online stores with fully fleshed-out plans of action will be the victors this holiday sales season.
And, in today's guide, we'll help you get started.
Below, we'll share some of the best Black Friday eCommerce tips and tricks we've gleaned from decades of working with retail brands. We'll also provide a free, downloadable version of our 90-day prep checklist, broken into the highest priorities for each month to come.
Download the complete list for free now, or keep reading to learn more about how to prep your brand for Black Friday and Cyber Monday 2023.

What You Can Expect from Black Friday & Cyber Monday 2023
Before we get started, let's set the scene for Black Friday 2023.
Technically, Black Friday is Nov. 24 of this year, and Cyber Monday is Nov. 27 – but if previous years' trends are any indication, customers will begin their in-store and online shopping way earlier than that. In fact, throughout the last two years, more than half of shoppers (60%) began their holiday shopping by early November.
All of this goes to prove that Black Friday sales and promotions are no longer limited to a single day. They're now a months-long state of mind.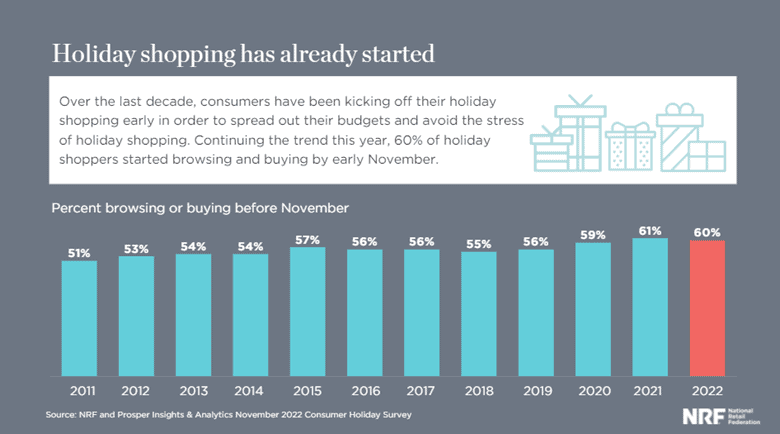 The good news? More shopping days give your brand more time to make an impact, hone in on the right messaging and audience targeting, and convert more customers.
The bad news? Those customers are going to be a lot pickier.
With inflation remaining stubbornly steady, shoppers plan to keep a tight hold on their wallets during Q4. More than half of consumers report that they expect economic conditions to impact their holiday spending, with two-thirds of them planning to either buy items on sale or buy less to overcome financial constraints.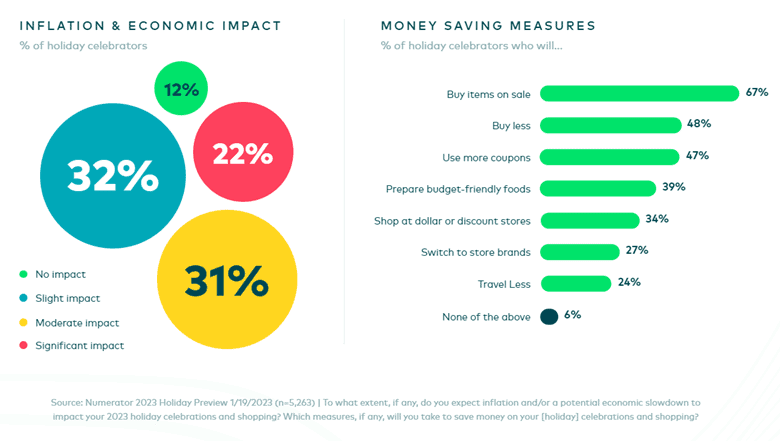 To overcome these concerns, your 2023 Black Friday eCommerce strategy should focus on three main concepts:
Strategic pricing discounts and promos
Brand and product differentiators
Smart audience targeting
Inflow's eCommerce Black Friday Guide: The Quick Hits
When it comes to planning out your eCommerce Black Friday/Cyber Monday marketing approach, follow the strategic process:
Choose your themes and goals, and then get into the nitty-gritty of the week-by-week planning.
We've taken care of the latter for you in our Black Friday & Cyber Monday Digital Marketing Checklist (which you can download at any time below). But, to make our checklist planner effective for your business, you should view it with these bigger themes in mind.
1. Be strategic with your pricing discounts and promotions.
Shoppers are expecting exceptional Black Friday deals, and your brand needs to deliver.
But that doesn't mean offering one generic promotion for all customers. Instead, you'll get the best performance from your Black Friday/Cyber Monday ad campaigns when you're strategic about your customer discounts and coupons.
We're not just talking about your overall product sales strategy (although that's just as important, and should be discussed at length with your team before launching your ad). We're talking about targeted special offers, such as a 30% discount for new shoppers versus a $30 discount for returning customers.
Like with all eCommerce sales strategies, you'll need to think long and hard about which discounts make sense for your target shoppers – and whether your planned Black Friday promotions will keep your profit margins high enough to gain new customers who might buy in the future months.
When in doubt, revisit your historical holiday shopping data from last year (and the previous years, too) to see which discounts generated the most profits. This will be the best knowledge base for developing your 2023 pricing strategy.
2. Determine your brand and product differentiators.
No matter your vertical, your target audience will be flooded with ads and promotions from competitors this holiday shopping season. To make your eCommerce business stand out from the noise, you'll need to double down on your differentiators.
Taking price out of the equation, why should your customers choose to purchase from you instead of other online retailers?
The answer will inform your holiday shopping messaging and should be highlighted throughout your campaigns, from the first touchpoints to the final checkout process.
Examples include:
Your brand values and mission
Your sustainability commitment
Your level of customer service
Your shipping and return policies
Your product quality and availability
With the proliferation of massive players like Amazon, most midsize retailers simply can't compete with the low prices being offered (and nor should you).
Instead, we recommend focusing on your differentiators when building your Black Friday marketing strategy to drive the most online sales from the audiences that really matter.
3. Use smart audience targeting (and retargeting).
Just as there will be thousands of brands competing for your sales, there will be millions of potential customers looking for deals this Black Friday. But not all of them will be worth your brand's valuable marketing focus and money.
For most brands, "sales, sales, sales" is the prime focus during the holiday shopping season.
We'd like to add a caveat: The right sales from the right customers.
Black Friday and Cyber Monday aren't just important for driving revenue. They're also key opportunities to grow your target audience and create loyal customers for marketing efforts in the new year and beyond.
Before you even launch this year's ads, take a long, hard look at your existing customer demographics. Your most valuable customers? Those are the ones you want to draw more of to your site this holiday season.
You can use data from your CRM, your email lists, your previous ad campaigns, and other sources to develop the perfect targeting strategy for Black Friday & Cyber Monday. (Don't forget to create retargeting lists for shopping cart abandonment, too!)
The sooner you do this, the better – and the more effective your holiday ad campaigns will be.
Download Our Black Friday eCommerce Checklist Now
With these three themes in mind, you're ready to start your Black Friday/Cyber Monday marketing planning.
This is no time to hold back. Where time and budget allow, your teams should implement a comprehensive, multi-week marketing strategy to generate brand and product awareness, drive customers to your eCommerce site, and get them ready to make a holiday purchase.
But we know that can be overwhelming, even for the most accomplished of in-house marketing teams.
Enter our Black Friday & Cyber Monday Digital Marketing Checklist.
In it, you'll find helpful to-do lists for the months to come, broken down by timeline and by highest priorities. Follow it closely, and you'll be in great shape come the beginning of November.
Download your copy now:
Download Our Black Friday Digital Marketing Checklist now.
Have more questions about preparing your holiday marketing campaigns? Review any of our helpful resources below, or reach out to our team to see what we can do for your eCommerce store this holiday season: