You can have the best website content in the world — but if your eCommerce site isn't technically sound, your organic efforts will continue to underperform year after year.
Fortunately, even the smallest of tech SEO fixes can make a major difference when it comes to organic traffic, impressions, and revenue.
In today's case study, we'll explain how a post-migration technical SEO audit helped one eCommerce brand increase its organic revenue by more than 100% in just a few months. Along the way, we'll also share the four common errors we found and solutions we deployed to make it happen.
Remember: If you want similar results for your online business, our eCommerce SEO experts are always happy to diagnose and solve the technical issues keeping your brand from organic success. Request an audit from our team today to get started.
Client Background
Quality Woven Labels is an eCommerce business that specializes in creating high-quality woven and custom labels for clothing and other apparel.
They first approached Inflow following a site migration in early 2022, after which they saw a significant drop in site performance — a 33% decrease in sessions and a 40% decrease in users over a three-month period.
Unfortunately, because QWL had completed their migration in-house, the potential for error was much wider than if they had used SEO migration services.
This, combined with the fact that the drop in performance was so closely correlated with the timing of the migration, led us to recommend an in-depth technical audit of the website as a whole.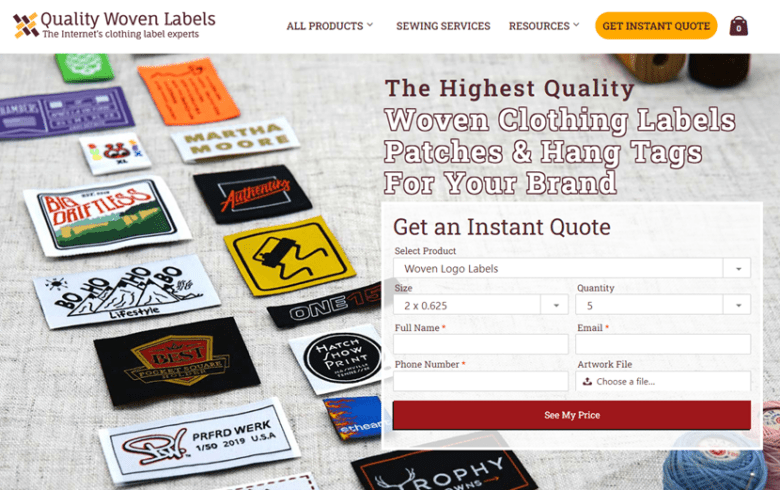 Why a Tech Audit?
A technical SEO audit is often the first step for any new Inflow SEO client. Not only does it reveal some of the biggest errors holding a site back from organic success, but it also helps our team better understand the site's current architecture, content marketing strategy, and more — all of which play a role in developing a custom approach for our clients.
Without finding (and resolving) those existing errors, any future SEO efforts are much less likely to succeed.
In our decades of experience working with eCommerce clients, we've developed an extensive technical SEO audit checklist that identifies some of the most common errors in:
Crawlability & indexation
URL & site architecture
User experience
Google Analytics & Google Search Console integration
On-page SEO & content
And more
We started with this comprehensive checklist to find the biggest areas of opportunity for QWL's site.
The Solution
Keeping QWL's migration in mind, we focused our initial review on technical SEO errors we believed to have been introduced during that platform transition.
From that list, we prioritized those fixes to resolve the following first for maximum impact.
1. Robots.txt & Sitemaps
In our initial review of QWL's site, we discovered their team had originally set up their disallow robots.txt files incorrectly (likely due to a copy-paste error during the site migration). This prevented the site from being completely crawled by Google's search bots.
At the same time, we discovered an error in their sitemap — that is, they were referencing the sitemap for another one of their sites in their robots.txt files. Typically, this reference is handled by a site's CMS system; but, because QWL was using Magento, their team had to include that reference manually and had accidentally listed the wrong site in the files.
We quickly resolved these errors by correctly configuring the robots.txt file and referencing the correct sitemap (which we would later optimize further).

Why It Matters:
Correctly configuring the robots.txt file ensures that search engines can crawl the pages of a site without being unknowingly blocked.
Using the correct sitemap in those files is also necessary to make that happen; otherwise, you'll confuse Google's crawl bots and reduce your likelihood of being featured in the search results.
2. Canonicals
Upon discovering that a substantial amount of pages on the site had missing canonical tags, we provided the necessary recommendations — not just for adding canonicals but also for making sure they were the best ones for the pages.
This error was also a likely result of using Magento. Unlike other eCommerce platforms like Shopify, which automatically adds canonicals to pages, Magento requires web developers to make a rule or add the canonicals manually.
Because of Magento's tendency to use hard coding in the backend, it was likely that QWL didn't have proper canonicals before their migration, either.
Why It Matters:
When similar pages exist on a website, canonicals tell search engines which page is the preferred page.
The best practice here is to include a self-referencing canonical on each page, unless another page is preferred (such as in the case of internal search results or faceted/filtered URLs).
3. Unnecessarily Indexed Pages
Because of the brand's nature as a custom products provider, all QWL shoppers must create a customer account to log in, view product proofs, and approve their orders. However, these login pages weren't noindexed, which means the site was wasting valuable crawl budget on pages they didn't want Google to see.
We provided recommendations to help noindex the existing login pages, as well as a plan for noindexing any other login pages that would be created by users in the future.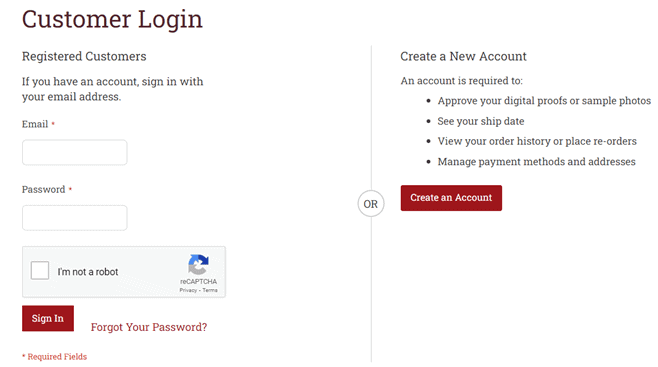 Why It Matters:
Too many unnecessarily indexed pages mean it could take longer for search engines to crawl the site. They could also increase the time search engines take to recognize future optimizations made to the site.
4. Sitemap Optimization
During our initial sitemap review, we also discovered that the site had multiple versions of the "about us" page (10) and homepage (41), all of which were being referenced in the sitemap and, unfortunately, being indexed. While it's not a common error, it is one our team has seen before — often, due to the creation of new landing pages for individual ad campaigns.
Our team quickly removed those duplicate page versions, as well as broken links (404s) and any other non-indexable URLs from the sitemap.
Then, we completed another full sitemap review to make sure everything in the new sitemap was being indexed properly moving forward.
Why It Matters:
Too many errors in a sitemap could make search engines believe a site is low-quality, which, in turn, can hurt rankings in the search engine result pages (SERPs).
The best practice is only including indexable pages in the sitemap for easier crawling and indexing.
The Results
After completing our technical SEO audit and fixing those errors we could (sending the rest to their web development team), we didn't have to wait long to see results for Quality Woven Labels' site.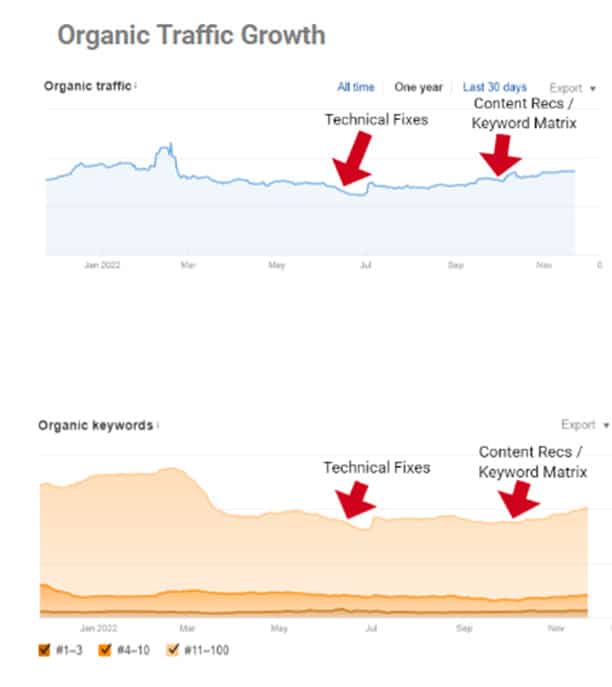 In comparing the first month post-fix to that from the beginning of our audit, QWL saw:
18.6% increase in organic sessions
18.8% increase in organic users
118% increase in organic revenue
Like many of our SEO clients, the Quality Woven Labels team was surprised to see these serious technical errors that had been hiding in their site — and even more pleased when the results of our audit started to roll in.
With these SEO issues resolved, they could now move forward with their planned category page improvements, detailed keyword research, and strategic content, knowing that they had a clean slate to improve their organic search performance.
In short, a technical SEO audit is crucial to laying the foundation for a successful organic search marketing strategy — but only the most expert digital marketing strategists can identify and resolve these issues for your online business.
Learn more about Inflow's approach (including what we can do for your eCommerce website) by requesting a free SEO strategy proposal today.