Building brand loyalty using social media is a task that requires more than just guessing, or throwing it all against a wall hoping something will stick. In this post, we're not going to start from zero.
I'm going to just assume that you've done the obvious here. You have social icons that connect to well-designed social media network pages from your website. You post regularly on at least ONE major social media channel and you engage with customers on your social channels. Now, with that said, this is to help you in building brand loyalty by using those social media networks. And not spend a dime!
However, everything you do on social networks needs to make sense for that particular channel. I'm not going to focus on huge companies successes, but rather those who are making an impression with fewer resources.
#1 Be The Coolest Kids At The Lunch Table
Use social proof to show your audience how much brand loyalty you already have and how you already have a seat at the cool kid's table.
The Clique- Nope, it doesn't end in high school
This post is one of my favorites. There are so many things going on here. First, we have a couple of cute kids that from the description are likely not models. Second, we're seeing that there is a collaboration between two brands: Munchkin and Kid Curated. We have a huge company–Munchkin–allowing Kid Curated to do a "weekend takeover" of their Instagram account. How fun is that? And if you're the right demographic, I bet you noticed that baby girl's amazing banana outfit. Actually, I noticed that way before I noticed the Munchkin brand snack cup. So just as the caption tells me to do, I head over to @kidcurated to get outfit info. Mostly because that looks strikingly like a spring line from one of my favorite baby designers (yes, they exist) that I've been eyeing for my niece.
When I get to @kidcurated's page, I see that I was right! It's Freshly Picked! There's a cluster of other brands too, but the line is clear. The collaboration was with Munchkin, Freshly Picked, and Kid Curated. I'm impressed. And I need to go ahead and get those banana overalls.
Be Envied
Glossier – above the Chanel, next to the kabuki brush is a cabinet full of Glossier products. Some of which you can't even buy in countries where they have Instagram followers. And the rest of the cabinet full of dream skin care and makeup products would cost more than my mortgage. Never the less, they consistently post these envy inducing images and are, for lack of a better comparison, the most beautiful girl in school. She's perfect, but just out of reach. Glossier has built a loyal and rabid (yet not vapid) following by posting image after image that resounds exactly like this one. Just a smidge racy at times, just a smidge what dreams are made of for their audience.  You'll also see that the pretty face barely visible in the pic is called out.
Let's compare with super popular and drugstore brand and household name, CoverGirl:
They want envy, but in a different way. Envy her result from using their product, not from being one of the elite customers. Their brand is a complete opposite from the boutique Glossier. They use high profile celebrities to endorse and sell their product. One for each of their age demographics. And somehow this falls flat. Even the comment telling you this is "defiantly one of the best high street brands out there" makes me instantly snobbish and long for the Glossier brand I can't even afford.
Be The Coolest Kids At The Table
Disclaimer: we all know by now that I love roller skates. The perfection of how well this post is targeted gets me. First of all, our model's face is missing from the picture, giving anyone with the gall a chance to imagine themselves as this woman. The caption calls out that it's a repost, which is one of the easier ways to establish social proof (retweet, share or repost what your fans post about you). And then we get to the products that are being hashtaged. Personally, there are about five too many hashtags for my taste, but we see the brand name in two variations, and the strap holding both skates over her shoulder called out. People that are familiar with the brand will notice that she has blocks on her plates, meaning she probably skates bowls and at skate parks. She is the post-roller derby explosion skater girl. Nothing gets her down and she's the coolest indie girl. Maybe ever. Way cooler than Winona Ryder in Reality Bites. Only Moxi's feed is full of these girls, so fans can always hope the be the next. Moxi fans are dedicated to the brand and will pay a premium to be a Moxi Girl. 
#2 Know Your Audience and Emotionally Bond With Them
Bond Over Your Implied Misery 
Mommy or parenting-centric brands are the best at this! Implied above is that we're all so tired thanks to our adorable kiddos that we wouldn't trade for anything, but for real, we are so tired. And it's sorta true. My husband has actually told me a variation of the quote above just the other day. The Honest Company is great at exploiting those sorts of thoughts for shares, likes, etc. They are very good at addressing different segments of their audiences on different channels. For example, they use Instagram and Twitter largely for social proof while G+ gets mostly the same stuff as Facebook. (Poor G+ really is just a repository for everything. I suspect not much effort goes into it, because we're all just waiting for it to go away.) All of their posts are visual on Facebook and they actually do a lot of customer complaint control on posts. That makes the Facebook a dual purpose for building customer loyalty. Address the haters, dissenters, angry customers, while showing all the other customers how much you care by doing so.  However, by and large they understand and share in the misery of parenthood with you. But they do it with a sort of grace that eases the fact that they are basically just complaining all the time.
Be Inspirational
It's like that scene from Dirty Dancing, where Jennifer Grey does the big move and it works! Only this is some amazing outdoor acroyoga. If she fell, I'm pretty sure it would hurt more than her pride. But whoa! What athletes. How inspirational. Her form is perfect and she is soaring (figuratively) in the blue sky like a bird against those whispers of white clouds. It's beautiful and prAna knows so much of their audience aspires to one day live that pose.
If you're not into yoga, then it's probably a big yawn, right? But here's what makes prAna worth studying: on Instagram, they post these beautiful, inspiring visuals all the time. Switch over to their Twitter feed:
The inspiration here is how to look good and where to get the product. Well done, prAna.
Be Purposeful
Pawstruck is a client of ours, however, we have nothing to do with their social strategy. I've been in love with their Instagram feed for the longest time. What's beautiful about their feed is that you can see purpose and intention. It's not just an intern popping up adorable pictures of dogs. There are products and pups using the products very coyly I may add mixed in with the sweet pictures. It's never over saturation of the product, but just a great mix of the two. Also showing the products in use helps Instagram users ready for purchase take that plunge. There is clearly an amount of planning and scheduling that goes into making this feed resound with intention. You know, and then, puppies!
#3 Deliver The Freshest Content: So Fresh and So Clean, Clean
Give Your Fans The Best Day Ever!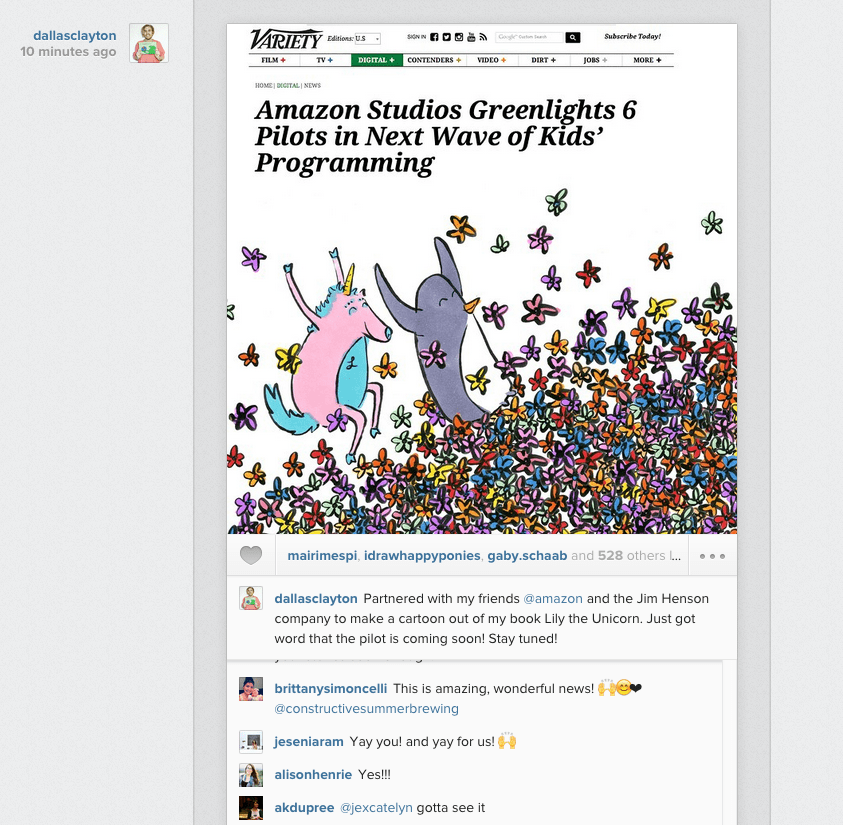 Dallas Clayton, children's author and illustrator and sometimes motivational speaker, has a cult-like following. Most of the time, his content on social networks is illustrations and accompanying messages to brighten your day. Kind of like those motivational posters you see in the breakrooms of corporate America, only his posts don't suck. No matter the case, his posts are fresh and entertaining. But above all, he shares news that all his fans are flat out excited to hear! One of his books is becoming a cartoon! And as Dallas Clayton fans know, he retains control of these projects, so being excited is okay! Lily the Unicorn will not become a watered down version of the dynamic book about differences and friendship. So really, this news is awesome! (So many exclamation points, because it actually is that exciting to his audience.)
Demo Your Product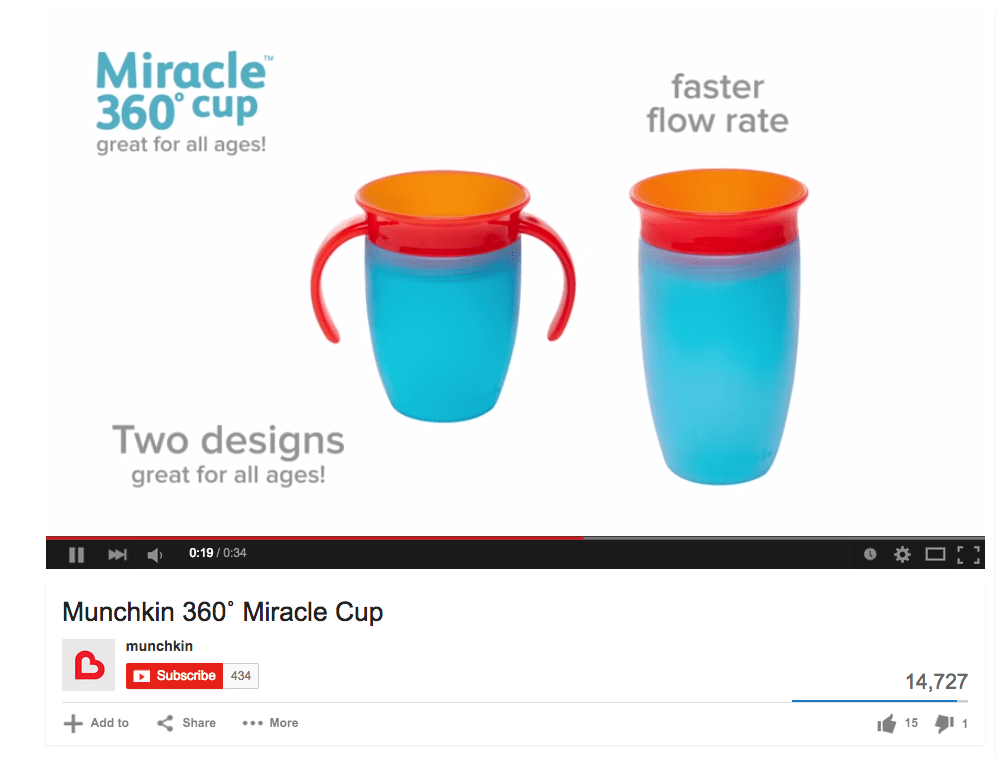 The Munchkin 360 Miracle Cup demo on YouTube, uses a new channel for a great purpose from this company that is all over social media. On YouTube, they have product demos, product reviews and a variety of other content. An aside: seriously, you guys, if you have a youngster, this cup is amazing. Yes, I got one for free at a conference I attended, but I'm not being compensated to endorse it. I just love it that much.
On Pinterest, which they recognize as a non-traditional social site, but more of a social search engine, they are able to show both more social proof and a way that their product was featured. The idea is just a bonus for parents looking for creative ways to host parties or maybe repurpose a product they bought from Munchkin a while ago. In this case, Munchkin is providing valuable information while showcasing how their products can last longer than one might expect. What a fresh, clever and unexpected way to repurpose a baby bath tub.
The greatest lesson from Munchkin is watching what they publish where. They understand their segments and go to where they are online to publish what those segments want to see.
---
By simply watching your favorite brands, both big and small, you can pick up all sorts of tips on leveraging social media to build brand loyalty.
What are some of your favorite examples of brands using their social media channels to connect deeper with their customers?