Don't let the multi-million-dollar marketing budgets of giants like Amazon and Walmart discourage you:
With the right approach, your small business can compete during the holiday season — and even deliver stellar returns that eclipse results of years past.
In today's guide, we'll help you build that strategy, using the knowledge we've gathered from 15+ years of working with small and mid-sized eCommerce brands just like yours. From predictions for Black Friday 2023 to the must-have tactics for your marketing efforts, you'll find everything you need to optimize your campaigns throughout the rest of the holiday season below.
Should you want more tips and tricks, you'll also find them in our free, downloadable Black Friday & Cyber Monday Digital Marketing Checklist.

Download it now, reach out to our experts for help, or keep reading below to see what our digital marketing agency recommends for the 2023 holiday shopping season.
The Landscape for SMBs in 2023
Before we get into our recommended holiday marketing strategies for small businesses this year, it's important to set the scene.
Despite stubborn inflation numbers, customers are still planning to spend big this holiday season. Online spending is expected to increase more than overall spending as customers compare prices and search for deals among online retailers, which bodes well for those brands who can successfully market their offerings during this time of the year.
But you don't need to slash prices by insane amounts to land those shoppers in 2023 (which should elicit a sigh of relief from smaller brands with narrower profit margins).
In fact, price is just one reason why shoppers turn to online buying options, with other key reasons being:
The convenience of finding what they want from the comfort of their home
Fast and free/low-cost shipping
Ability to view customer reviews and feedback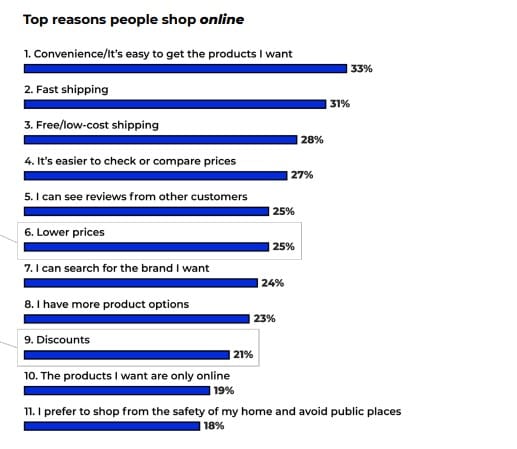 This opens up plenty of opportunities for your small or mid-sized brand to stand out this holiday shopping season.
That said, whether you're a medium or small business, holiday marketing will require an investment. Many of our SMB clients are spending heavily during these last few months of the year. While their advertising budget and sales volume will be smaller than our larger clients, their marketing efforts and commitment to results remain the same.
Bottom line: The holiday ad space is going to be competitive. If you want to compete, you have to be willing to play the game, even on a smaller scale than retail giants.
The more that you can spend, and the smarter you are when using that investment, the better off you'll be this holiday shopping season.
7 Holiday Marketing Ideas for Small Businesses
So, how should your small to mid-sized business be approaching Black Friday, Cyber Monday, and the rest of the holiday shopping season?
Below, we've included our team's highly recommended tips for smaller brands in 2023. These ideas and strategies will help your brand maximize its marketing spend this holiday season, stand out in the crowded advertising space, and lay the foundation for future growth into 2024 and beyond.
If you want a personalized strategy for your brand or would like our experts to review your current holiday marketing campaigns, connect with us now.
1. Extend your holiday marketing calendar.
The majority of people begin their holiday shopping in early November and continue to spread out their purchases throughout the rest of the holiday season.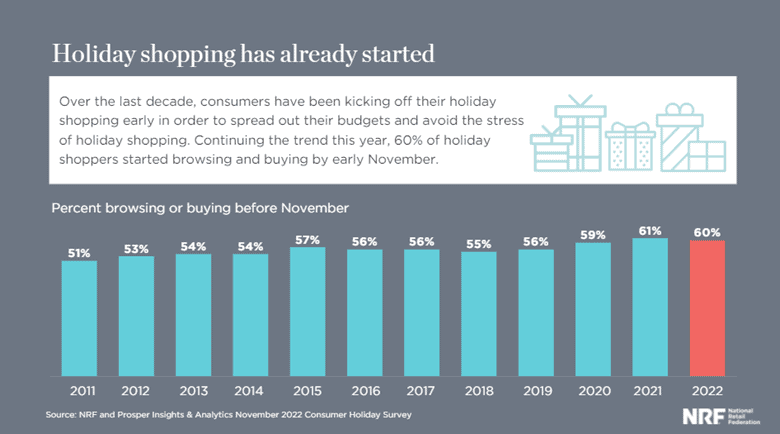 In other words, your brand will be missing out if you only advertise during the weekend after Thanksgiving.
Our clients have been testing pre-Black Friday deals and promotions for a few weeks at this point. Not only does this capture those early-bird shoppers and reward loyal customers, but it also allows our team to evaluate the performance of certain offers, CTAs, and campaigns. We use that data to create the best-performing BFCM campaigns possible — and, of course, carry those learnings through the rest of the holiday marketing season.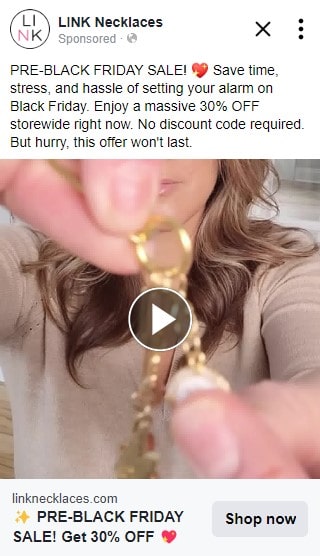 Our recommendation: Don't just focus on Black Friday sales efforts. Run longer campaigns that learn and self-optimize throughout the weeks and months to come. (Performance Max is a good example.)
The longer you can run your holiday marketing campaigns, the more opportunities you have to improve them and capture a wider audience — not to mention identify the best-performing settings for when it really matters.
2. Create a "Small Business Saturday" campaign.
If you choose to leave the BFCM ad battles to the retail giants, you should divert that energy into a Small Business Saturday campaign.
Small Business Saturday, traditionally the Saturday after Thanksgiving, promotes and supports small businesses across the United States by encouraging shoppers to "shop small." With many shoppers valuing and seeking out local, sustainable brands, Small Business Saturday is the perfect opportunity to highlight your product offerings.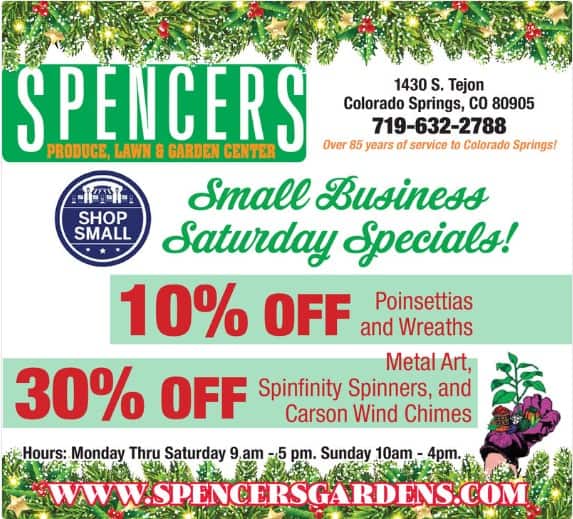 If you're a local business, consider running hyper-targeted campaigns to shoppers in your community. Promote your brand values and small business status in your social media posts, and use your messaging to emphasize giving back and supporting local companies.
You can also consider hosting in-store events, themed pop-ups, and other promotions on Small Business Saturday to get customers into your brick-and-mortar stores.
Similarly, if you operate on an eCommerce basis, use your list of email subscribers to make a personal plea to their loyalty.
3. Maximize your ad budgets with tight audience targeting.
As a smaller business, your team needs to make the most of its advertising budget. Rather than the spray-and-pray method popular among inexperienced advertisers, we recommend a highly targeted approach that finds your most amenable shoppers where they are most likely to make a purchase.
You can still successfully capitalize on your target audience using a smaller budget, as long as you're specific about who you're targeting, where you're finding them, and how you're marketing to them.
This is where an expert paid advertising agency can come in handy. At Inflow, our strategists can take the knowledge gleaned from other clients in your industry to test targeting and hone it into a supercharged campaign during the holiday marketing season.
An example: Our work with CCO Menswear, in which we used seasonal interest-based targeting to deliver an average 8x ROAS for Facebook Ads.

4. Focus on cost-effective marketing channels.
The best way to nail down that targeting and maximize your marketing investment? Using the channels that are most suited to a quick return.
Typically, small business owners find this success with social media advertising, paid search advertising, and email marketing.
The first two will get your ads in front of the right audiences quickly, without as much trial and error as more organic advertising efforts. Platforms like Facebook Ads and Google Ads allow you to hone your targeting and advertise to those audiences already primed for purchase. (It's why we recommend paid ads to every eCommerce brand aiming to dramatically increase online sales.)

From an ROI perspective, email marketing simply can't be beat. Email consistently generates $36 for each $1 spent; if you have a robust subscriber list, it can be the most cost-effective holiday marketing strategy for your small business in 2023.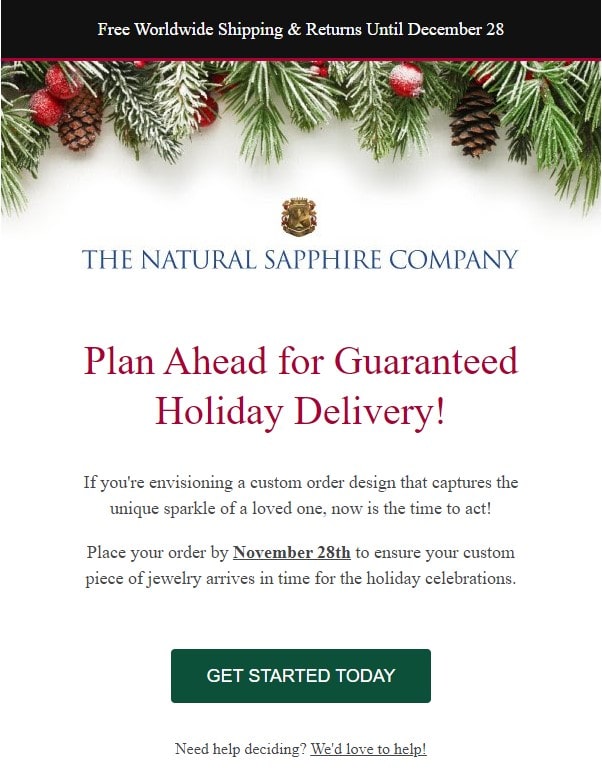 For more tips on building that strategy, check out our complete holiday email marketing guide today.
5. Brainstorm giveaways and special offers.
While shoppers are expected to turn out in record numbers during the 2023 holiday season, many of those will be actively looking for deals. This can make it difficult for smaller or mid-sized businesses operating on tighter profit margins with less leeway for discounts.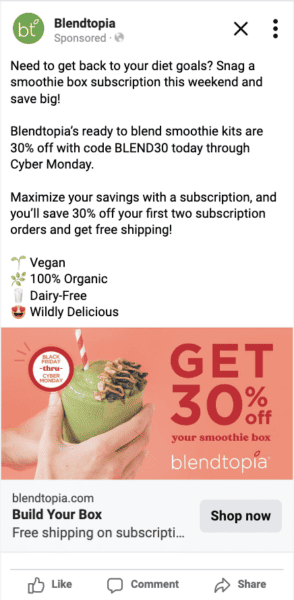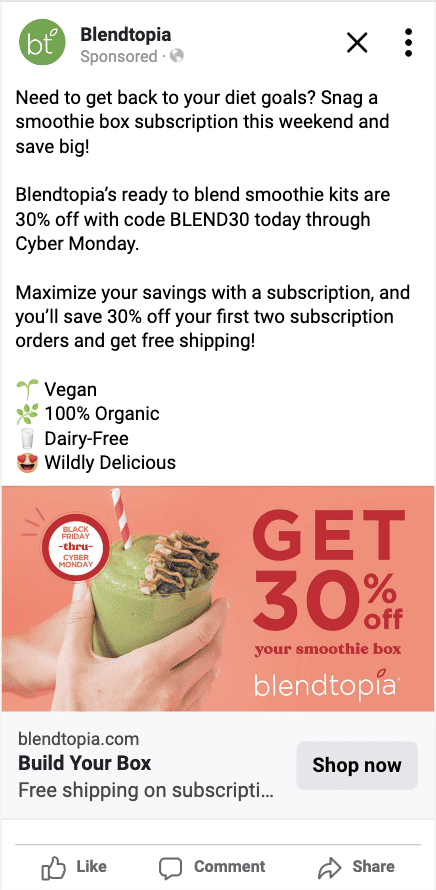 But you don't need to slash prices by dramatic percentages to grab customers' attention. Special offers like free gifts, giveaways, and promotions are just as effective in drawing customers to your site (and increasing the likelihood of their final conversion).
Some offers to consider:
Social media contests and giveaways
Free gifts with purchase (for example, a low-priced item like a brand sticker)
Buy-one, get-one coupons
Free shipping with a purchase minimum
Free gift card with a purchase minimum
Creativity will be on your side here. You don't necessarily need to have the "best" promotion to engage your customers; you just need to market it correctly to maximize your engagement and reach.
If you're looking to improve your holiday website conversion rate with special deals like these, check out our holiday CRO guide now.
6. Prepare for different holiday marketing data.
As you launch your holiday marketing campaigns, remember that the data you're collecting will look much different than in years past. That's thanks to Google Analytics 4, which took over for Universal Analytics in July of this year.
Many of the metrics and data points collected by GA4 won't compare one-to-one with your historical UA data. To get a true comparison of your year-over-year performance in 2023, you'll need to compare data points from a variety of sources and take any GA4 comparisons with a grain of salt.
The video below is hosted on YouTube. If you need assistance with viewing the video, please contact [email protected].
For a clearer view of just how those numbers will stack up, we recommend downloading our Google Analytics Comparison Dashboard — an all-in-one report to view your UA and GA4 metrics side by side.
Other industry updates that could impact your reporting this year:
iOS 17 Update: The latest update from Apple, released this fall, is reportedly disabling URL tracking for certain users. You could see missing GTMs and other UTMs in your customer data. For this reason, we're anticipating server-side tracking to be a priority for many businesses in 2024.
Google's Search Generative Experience: Google is currently beta-testing AI-generated content in the search engine results. Users have the opportunity to opt in to the beta version, which could impact the amount of organic traffic sent to your website.
7. Start planning for 2024.
While most small to mid-sized businesses count on the holiday shopping season to make big sales, the real value of your advertising efforts will be seen in the new year.
The audiences that you find and convert during the holidays can be the foundation for your business's growth in 2024. By adding these new customers to your email subscriber list, you can supercharge your target audiences and dive deeper into customer-centric marketing efforts with strategies like:
Lookalike and similar audience lists for targeting and retargeting high-converting shoppers
GA4's Predictive Audiences capabilities for your Google Ads campaigns
Strategic email lists and flows for enhancing customer loyalty and increasing purchases
We all want to take a breather after Christmas, but that will be the ideal time to analyze your holiday performance and create an optimization plan for moving forward.
If you need a helping hand in doing so, we're actively adding clients like you to our roster for 2024. Contact us today to learn more.
Building Your Small Business Marketing Strategy for 2023
With the right strategy and investment, your small business doesn't have to play second fiddle to big box stores this holiday shopping season. In fact, for many potential customers, your small business status is a benefit — a way for them to "give back" during their regularly planned holiday shopping endeavors.
Don't let that advantage go to waste.
Use our recommended tips above to create campaigns that drive brand awareness, shopper engagement, and holiday sales in the months to come. For more tactics and strategies, read through our complete list of holiday marketing guides below: