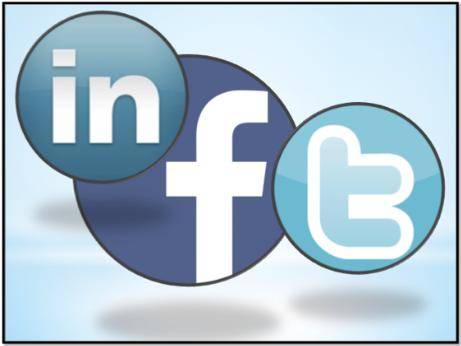 In general, all of your online marketing goals will fall into three major categories: drive brand awareness, drive leads, or drive sales. Paid advertising on social media is no different and the success of these paid campaigns should be approached and measured in much the same way as other tactics you're currently using to increase brand awareness and customers.
While it is possible to directly drive leads or sales via social media–paid or otherwise–it's more often that these efforts will contribute in a more indirect way by increasing awareness of your brand through engagement and potential referral traffic to your website. For many of our clients who are interested in getting started with paid campaigns on social media sites, we recommend an approach designed around testing campaigns on three of the most popular social media platforms: Facebook, Twitter, and LinkedIn. Running a successful paid campaign on each of these platforms is highly dependent on the quality and consistency of your profiles, content, and participation, since in many cases your audience will be looking to engage with you there, as well as through your website or other offerings such as white papers, webinars, or newsletters.
Facebook
Primary Goals: Branding/Awareness and Sales/Lead Generation via Retargeting
There are several ways for you to reach your audience via Facebook: sidebar ads, sponsored stories or promoted posts, and retargeting users who have already visited your website. Sidebar ads and promoted posts work well if your goal is brand awareness or to increase likes to your Facebook page; however, retargeting presents an interesting lead generation opportunity to encourage users that have been to your website to return. Meaning you can show ads on Facebook to people who have recently visited your website with a starting ad spend budget of around $100 a month with the benefit of Facebook Business Manager.
Twitter
Primary Goal: Branding/Awareness
Twitter currently offers three ways to advertise: Promoted Accounts, Promoted Tweets, and Promoted Trends. Advertising on Twitter works best for advertisers that are looking to either a) promote time sensitive events, b) gain brand awareness through exposure to a new audience, or c) increase followers to help build a larger user base for future promotions and engagement. Promoted Accounts are priced on a cost-per-follower basis, so an advertiser only pays for new followers acquired through the campaign. The recommended starting bids range from $.50-$2.50 per click. Promoted Tweets are also offered based on a Cost-Per-Click pricing model. The cost of a Promoted Trend on Twitter is prohibitive for most advertisers with a reported price tag of $200,000 a day in the US.
Another way advertisers are using paid tactics to reach users on Twitter is through sponsorship of tweets made by public figures and other popular influencers. The sponsorship costs for such a campaign could range anywhere from several hundred dollars to several thousand per tweet, plus other potential fees charged by parties involved.
LinkedIn
Goal: Branding/Awareness and Sales/Lead Generation
LinkedIn offers two types of paid campaigns: one based on ads, the other based on sponsored updates. With LinkedIn ads, there are several audience targeting options that make it easy for you to zero in on your potential customers based on their location, company, and job title to name a few. Ads can be great for promoting your products and services in general; however, sponsoring updates presents an interesting way to promote more timely information, such as new job postings, white papers, ebooks, new products, etc., while also allowing you to target users in the same way. LinkedIn recommends a minimum budget of $10 a day to get started, with either type of campaign.
Again, your success in driving brand awareness, sales, and new leads through paid advertising on Facebook, Twitter, or LinkedIn is highly dependent on the quality and consistency of your profiles, content, and participation on each site. With a good foundation in place, you may find that a well-crafted strategy and a starting budget may be well worth your time and effort to experiment with one, or all of these platforms to reach your customers.