By the close of 2014, Instagram had over 300 million active monthly users. It's estimated that around 77 million of those will be just U.S. users in 2015. Male and female users are pretty even in numbers on the network. All that amounts to Instagram being just about the most popular image/visuals-based platform around. And brands are all over it.
Recently, Social Medial Examiner laid out the research and results showing that Instagram Users Are Shoppers. This is critical information for eCommerce sites. Instagram isn't just a playground to interact with brand lovers, but it's also a great place to drive traffic to your site. And not just any traffic. Traffic that is ready to buy what you just posted. Yet, because you can't click through to an outside site by tapping on pictures or "grams," the brands on Instagram really need to step up their game to help those ready to buy users actually buy.
A few have started to pull ahead in the race to make Instagram a support to their eCommerce sites and not just be another social network. Here are some interesting examples:
Giveaways with Big Wins
One of my favorite shoe companies Sanuk has been running a contest/giveaway for users to tag where they're buying one of the company's most popular products. It's a sandal with the sole made of yoga mat material. And yes, they are incredibly comfortable. Sanuk has a robust eCommerce site and also sells in brick and mortar stores like DSW.
In the case of this giveaway, they're raising awareness for consumers of where they can find their shoes offline. It in turn drives traffic to the eCommerce site for those who can't be bothered to go to a store. (People like me.) I came across the company for the first time last year through a similar contest on Instagram.
High five, Sanuk. And wow, I need the Yoga Slinged Up Sandal this year!
Appeal To Style. Always.
Indie boutique shop, idieh design, is great at sharing Instagram content that is perfectly styled. In this instance, it's a picture taken by someone else, but it features a bunch of idieh design products. Really charming products. The Mac reminds me that I'm working really hard these days and, oh hey, I do feel disorganized. Perhaps I do need those notepads to organize my thoughts and priorities. (I did end up buying one of the products featured in this "gram" and then one that was also very similar but with foul language. Disorganization is a constant for me trying to juggle home, work, my son, my husband, our pets who have both decided to have health issues, half our family graduating, getting married or having a birthday this month… Sold!) The sweet "I can't quit I'm too legit" print is just a nice brand reinforcement from this sunny and sweet boutique.
Something to notice in this gram is that the location is set to the shop's homepage. That is one way to move ready to buy users to the right place.
New Releases – Don't Screw This Up, Boyfriend. Birthday!
My favorite comment I've seen in a while is the one calling out the boyfriend, reminding him of the girlfriend's upcoming birthday. So very clearly, she's ready to shop, but you know why buy it yourself when your main squeeze can get it for you? This "gram" is featuring a new release from the Summer Nasty Gal Collection. She's not alone. You can assume from the 12.6k likes on this jacket that quite a few of those girls were ready to buy and did so. I mean after all, just look at how amazing this photo is for the target audience.
The location in this gram is set to the send users to the profile page. It seems really unsophisticated for Nasty Gal. After all, they grew and evolved a brand and an eCommerce empire from eBay sales.
But wait, users get to the profile page, click on the link and–
The #GIRLBOSS Wins Again

Instead of going to the Nasty Gal.com homepage like most brands and eCommerce sites do, the queen of all eCommerce cleverness uses her Instagram link to go to a subdomain:
http://like2b.uy/nastygal
And that allows users to peruse all the recent Instagram content, click on what they liked then be sent to a relevant page on the site while using UTM parameters to track what content is moving what merch.
For example, if you were to click on those fancy Make Love Not War platforms, you'd head to this page:
http://www.nastygal.com/whats-new
utm_source=instagram&utm_medium=smm
&utm_term=like2buy&utm_campaign=instagram_link
Scroll down and you'll see those exact shoes listed for $170 and wham! You can go ahead and buy them. And you'll finally be a nasty gal. That's a good thing for girls who love the brand.
Also worth noting is a space not wasted for a call to action for users to sign up for the newsletter– making Instagram pull double duty as a list builder.
Drop Them Right in The Funnel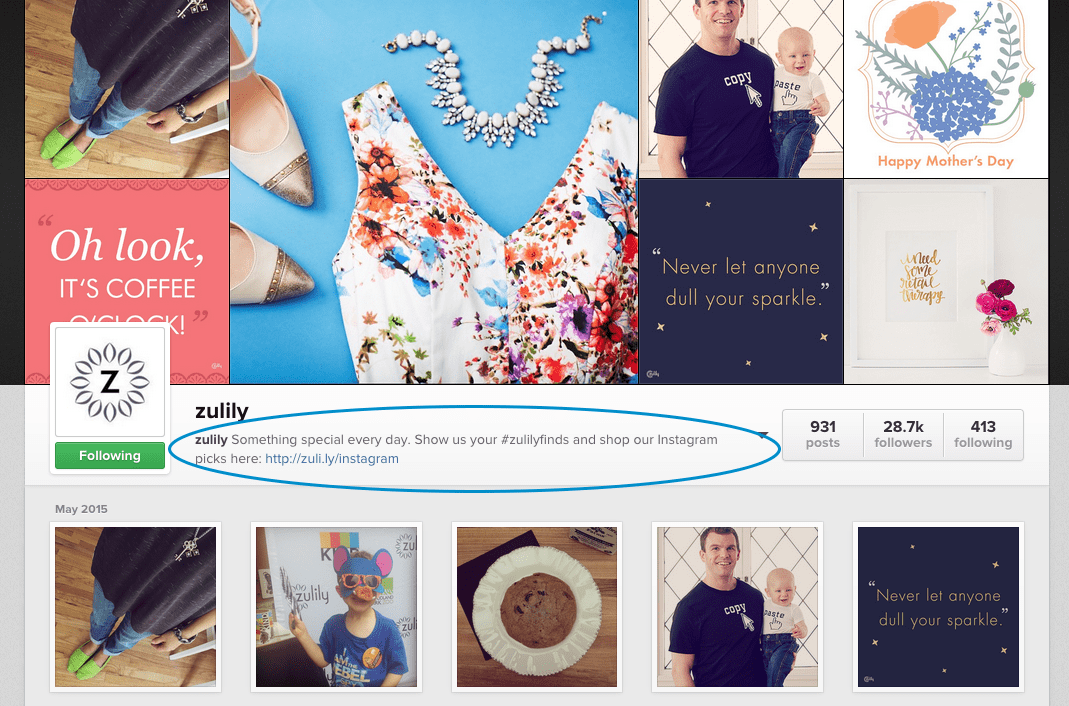 Again, another very smart way of helping users buy from Instagram. On Zulily's profile page, they let users know they can just click on the link and get to buying some Instagram favorites.
Their link is also tagged to track what is driving traffic to merch. Unlike Nasty Gal, they use their own domain in the link, and if you are an online shopper with trust issues, this probably feels nice. Just a little added trust from Zulily.
http://www.zulily.com/e/our-fav-picks-from-instagram-117740.html
?tid=social_instapage_staticlink_profiledescrip_modal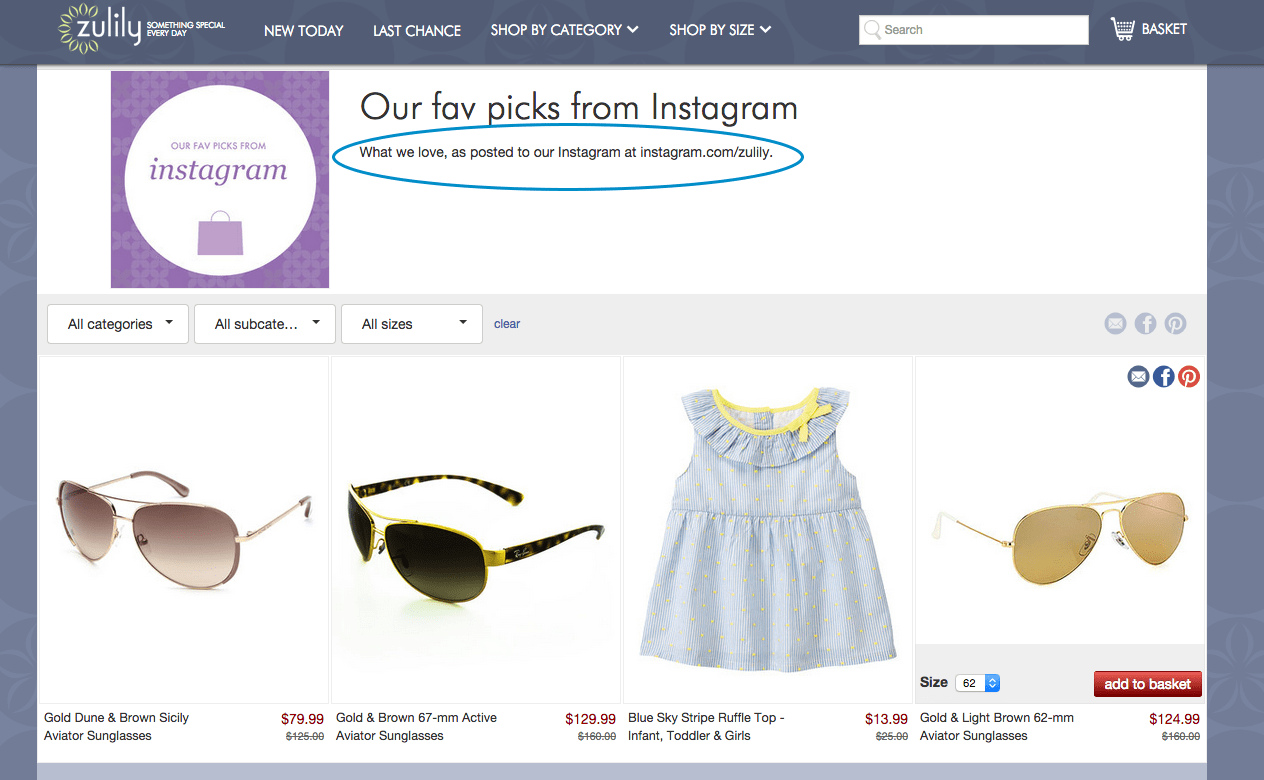 Over on their very cute Instagram picks page, you can see how easy it is to add something right to your basket! That is potentially the fewest clicks I've seen to buy an item from Instagram. And if you're not feeling any of these items, don't worry. Scrolling down this very page, you get their category listings.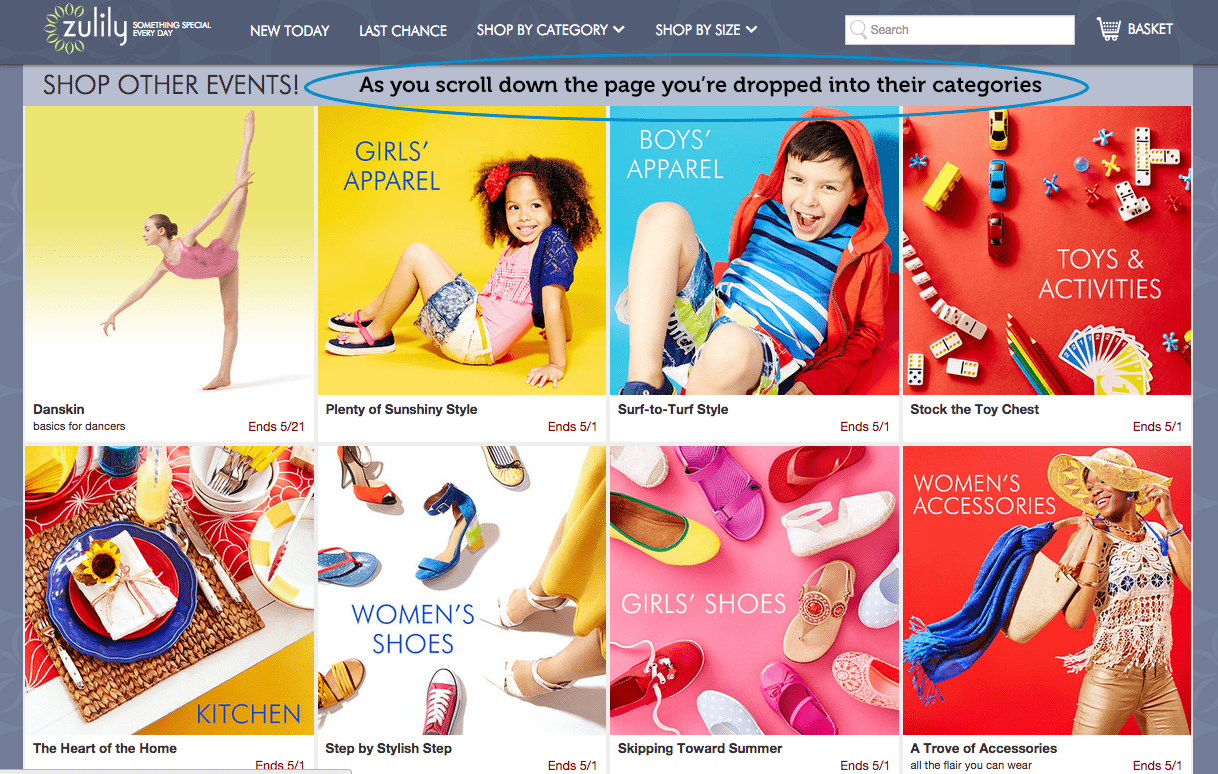 Oh, perfect! Because maybe you actually needed to buy some cute summer clothes for your son or nephew. Or that random kid down the street that dresses like a goober.  <–Don't actually do that.
Or maybe you can shop for your kitchen!
Zulily is an odd bird here insofar as it is a "fire sale" sort of site that hosts one-time/limited-time deals from a variety of brands. Yet, they sure do make it easy to shop from Instagram.
If we head over to The North Face's Instagram profile, we see a couple of interesting things. First, they are featuring products in action.
There is a big obstacle for users to buy, though. Yet, as big of an obstacle it is, more importantly, it's supporting the brand's values and likely resonating with their target audience. 
Instead of putting in a link on their profile page to send users over to their site to buy that great performance tank, the link is going to a fundraising site for relief to aid those affected by recent earthquakes in Nepal.
Using that opportunity to help support those that may need it is a far better use of their link than sending users to an online store. The links can be changed at any time on Instagram, so one can assume that the fundraising link is temporary. In the meantime, their users who are ready to buy are still getting value from The North Face, they're getting a better image of how the brand takes on social issues.
While shopping directly from the Instagram app may currently only be a dream for many eCommerce sites (I'm sure it's on the list for some developer at Instagram), these are some of the best ways to make shopping feasible for those Instagram users chomping at the bit for your products. Gram away and make sure to find a good example for your eCommerce site's size and style.