In this piece we're going to take a systematic look at how we optimize Google Ads (formerly known as AdWords) eCommerce campaigns to find the best performing strategies.
We'll be covering a total of 16 different strategies that apply for Google Shopping ads and Smart Shopping Campaigns, Dynamic Remarketing, Search Ads, In-Market Audiences and finally Dynamic Search Ads.
For each Google Ad type, we'll be covering:
The core strategies we use to get the best return on ad spend (ROAS)
Use-case scenarios where we've seen good results from implementing these strategies.
Some of the newest features and product offerings — and how to make the most of them.
Because these strategies all fall inside two of Google's main product offerings, we've split this guide up into two parts:
Part 1: Google Shopping ads
We'll walk you through 7 different strategies that bring the best ROAS for eCommerce companies. We've gone into a lot of depth explaining how you should be building out and optimizing your shopping ads from scratch.
Part 2: Google Search ads
Here we cover 9 of our favorite internal strategies for maximizing ROAS from search ads. We'll also answer the question: does my company need to run search ads in tandem with Shopping Ads?
Google Shopping Campaigns (or Product Listing Ads/PLA's)
First we'll start with a quick review of the different Google Ads platforms and their use cases. If you know these already, feel free to skip ahead using the links above to get straight to the strategies of choice.
Who We Are: At Inflow, we work with dozens of eCommerce companies to increase traffic, conversions, and sales. You can talk to one of our Google Ads specialists to see how we can help you increase ROAS. Get started now.
What's the Best Google Ads Platform for Selling My Products?
You're probably already using Google Ads (formerly known as Google AdWords) to sell your products, but if you're not, it's important to have a bit of background info on the Google Ads ecosystem.
Google Shopping ads (also known as Google Product Listing Ads, or PLA's) are probably the best fit if you're a B2C selling products online.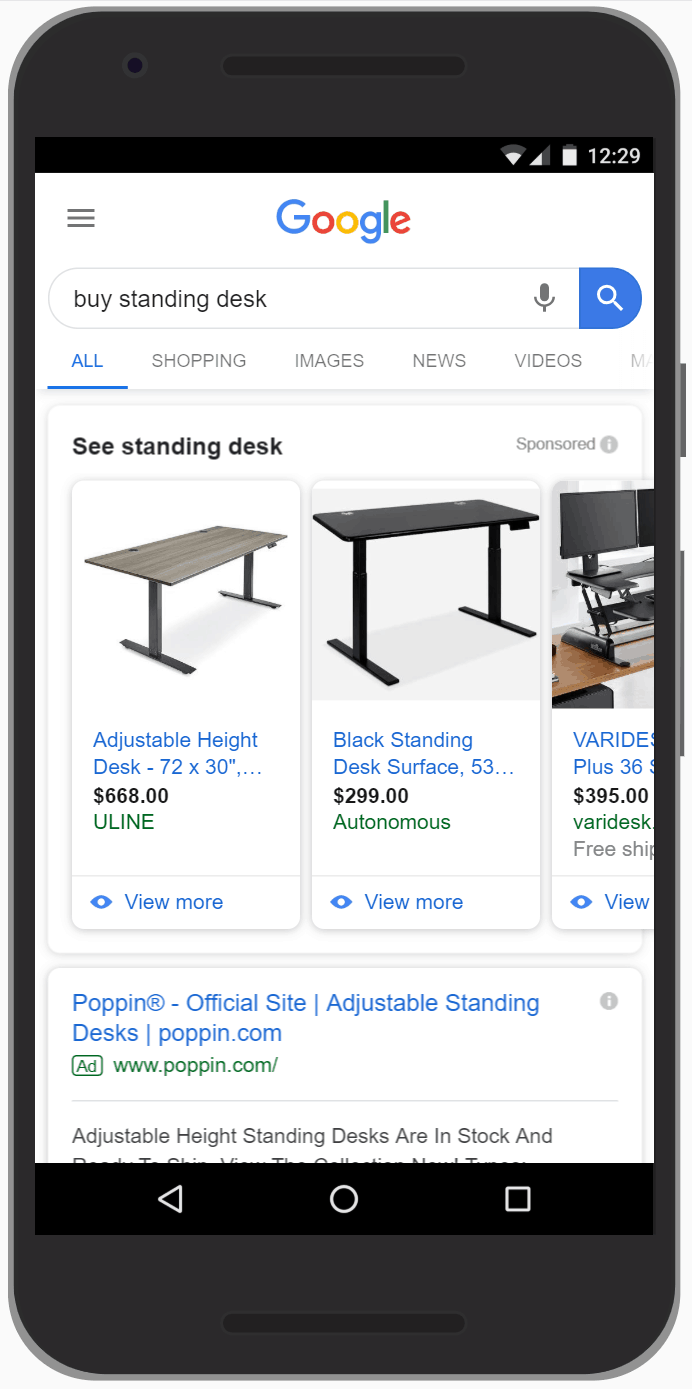 All you need to participate here is a product feed and an eCommerce website.
Google Search ads is perhaps the most well-known of the Ads products due to its longevity and it's where your text ads are displayed when they match keywords you specify.
Search Ads is different to Shopping Ads because of the way the platform operates. Search Ads gives you more control over keywords, and in turn, shows text ads within your Google search results.

Shopping Ads, on the other hand, are based upon your Product Feed — which needs careful optimization to target the right searches. The product feed contains all the necessary information relating to your product: brands, quantities, sizes, colors, and so on.
This renders a shopping-product ad within the Google SERPS, as well as the relevant pricing and review information.
If you're a big online retailer, you'll probably be investing most of your paid ad spend on a mixture of Google Shopping ads and Google Search ads. Participating in both platforms often leads to enhanced product visibility across the customer buyer's entire journey, from research through to purchase.
This is key when you consider how the customer's research and purchase journey spans across multiple devices and is made up of many micro-moments — even if you're only running search ads to cover branded queries.
Our Tried-and-Tested Google Shopping Strategies for Maximizing ROAS
Here at Inflow, we've helped hundreds of online retailers from all kinds of industries to maximize their return on ad-spend (ROAS). This is the number one goal afterall.
What follows are 8 of the strategies that have worked best for us on Google Shopping ads over the years.
Note: Do You Trust the Reliability of Your Google Analytics Data?
It goes without saying that you need to be 100% sure of the accuracy of any analytics data before you start investing in Google Ads — or in any other kind of marketing activity.
We always spend time digging into Google Analytics, or whichever reporting tool is being used, to ensure the historic data looks clean and there are no nasty surprises.
If we can't measure performance to a good degree of certainty, we can't measure the growth we're about to deliver. (Then we can't create case studies like this one.)
Having a reporting tool is not a prerequisite, but we love it when a client comes to us with at least 6 months historic data to delve through. (A full 12 months of data is even better when you're in a seasonal industry.)
1 – Our 3 Tiered PLA Structure: To Bid More Aggressively on Specific Search Phrases to Maximize ROAS
This is by far our favorite way to achieve the best ROAS from a PLA campaign.
In a nutshell, the 3-tiered campaign structure allows you to focus your spend on the search phrases that drive your sales — something which isn't as easy as it sounds.
There's no point wasting spend on non-performers: you want to focus on Search Queries that drive the highest ROAS.
Below we've listed the 3 step approach we take when building out campaigns using the "Negative Keyword Waterfall" approach:
Step 1: Review Your Historic Search Volume to Find the Search Terms That Drive Your Revenue
You need to find the search query themes that generate the most transactions for your company.
The goal here is to create two groups; one that has the high converting search terms, and another with the low – medium converting search terms.
The best performing search queries group will likely contain several branded terms, with specific model names, SKU codes, part numbers, and other searches that show a high purchase intent.
Step 2: Begin with 3 Shopping Campaigns — Tiers 1, 2 & 3 with the Required Priority Levels
We will setup these 3 campaigns with a shared budget, and each with a different priority level.
(Note: When learning this strategy, remember that in this context, priority setting doesn't reflect the group's priority, it's just the order in which Google will cycle-through the campaigns).
Tier 1 will have the highest campaign priority setting, which indicates to Google that search queries should start here.
This tier, like all the others, contains every product available on the site but with many negative search phrases applied (which we'll come to shortly).
In tier 2 (or campaign 2), we'll adjust the priority setting to medium and this is where the average to medium performing search terms live.

In tier 3 (or campaign 3), we'll adjust the priority setting to "low" and this is where the best converting search terms exist.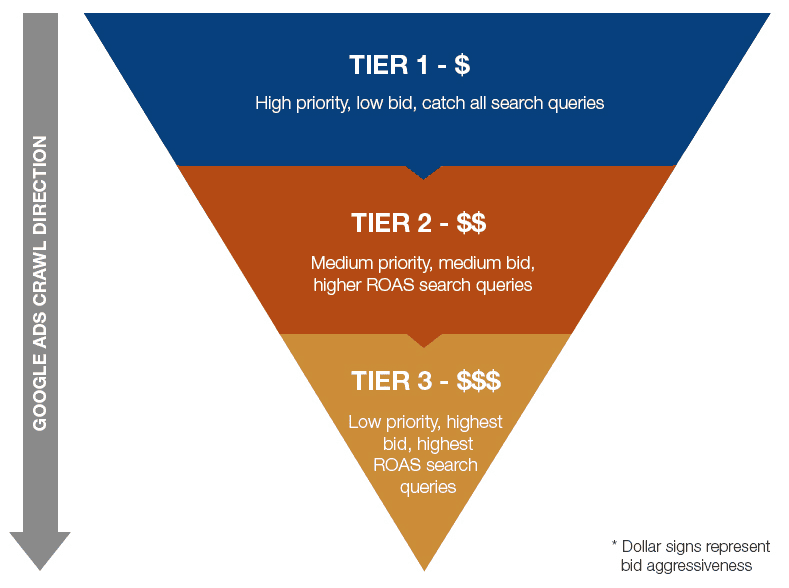 Step 3: Build and Apply the Negative Keyword Lists
In tier 1, we will be applying negative keywords based on the search queries we want active in tier 2 and 3.
By adding these negative keywords to tier 1, it prevents them from landing in tier 1 and pushes them to the next tier in the funnel — Tier 2.
At tier 2, we again add negative keywords but this time only the best performing search terms.
At tier 3, we don't need any negative keywords applied as any of those lower value search phrases should have been filtered out already from tier 1 or 2. This was the ultimate goal — to be able to exclude those lesser converting searches and to bid more aggressively on all searches making it to tier 3.
(Note: We've seen some agencies get a little zealous with the amount of tiers they create and it becomes very difficult to maintain — the smallest change in any campaign can completely wreck the entire system. For that reason, we typically keep it to a 3 tier setup).
2 – Identify Your Store's Best Sellers So You Know Where to Prioritize Your Budget
One of the easiest ways to grow your ROAS is to do a deep audit of your Google Ad campaign to identify historic best sellers — then bid higher accordingly.
You can combine this strategy with the tiered approach outlined above in strategy #1, where you bid your best sellers up on the product or product group level.
Take a look at your historic data (if it's available) and identify those top selling products.
You can also use the likes of Google Analytics to find best sellers and eCommerce conversion rates, plus the relevant ROAS/ROI metrics.
3 – Regularly Audit and Optimize Your Google Product Feed for Better Overall Performance
If you take away just one thing from this piece, it should be this: your Google Product Feed is essential for succeeding with Google Shopping ads.
Auditing your feed is one of the first things we do when working with a client. This is a vital part of the campaign as it's a vital cog in the Shopping ads algorithm, so it deserves a lot of attention.
We recently wrote a more detailed piece on how to optimize your Google Product Feed that explains exactly why and how you should be optimizing your feed and covers how to setup and execute your campaigns.
In short, you need to ensure your feed contains all the required product information. If not, you risk a) not showing up when people are searching for your products, and b) being charged a higher CPC to show your ads.


It's also vital to keep product titles relevant without keyword-stuffing. This not only helps to enhance visibility for those high intent searches, but it also helps to boost CTR from the ads.

4 – Our Mobile-Optimized Strategy for Improved eCommerce ROAS
Our own research has confirmed that mobile shoppers behave differently than desktop shoppers — no surprises there. The actual queries that convert on mobile aren't necessarily the same ones people use from desktop.
But many eCommerce teams don't have a specific approach when it comes to mobile users, aside from reducing mobile bids — which can be a wasteful approach.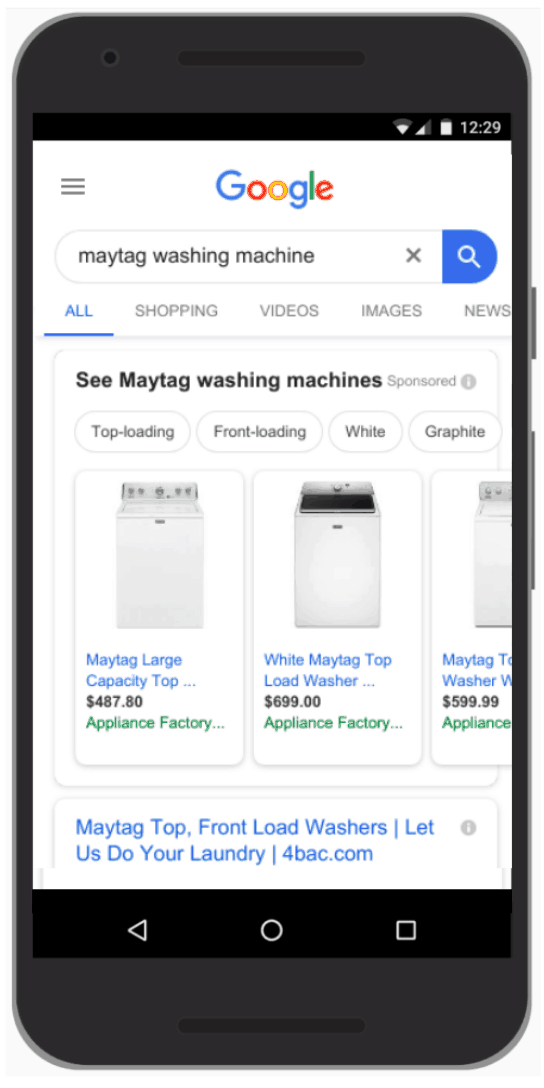 We repeat the search query analysis as mentioned in strategy #1 to segment mobile customers so we can determine a historic mobile-only ROAS.
If we find a gap here, we setup our own tiers with the appropriate negative keywords for mobile users. In the end, we may have 6 tiers setup for a client; 3 for desktop and 3 for mobile.
This beats simply adjusting bids on mobile or desktop. It's a more holistic and strategic approach to optimising for the customer's device at that moment, and for the entirety of the customer's journey.
We find it pays to go into much depth with this.
5 – Seasonality Is Often an Untapped Opportunity (Find Those Crucial Periods for Your Client & Bid Aggressively)
If our client's in a very seasonal industry, it's crucial to keep time of year in mind and bid on products/product groups within the tiered structure accordingly.
For example, you should bid higher on flip flops in the summer and snow boots in the winter—but the tiers will remain the same.
By bidding higher on the best converting products in summer, you can maximize ROAS during these peak months when there's a bigger search demand.
And during those quieter periods in winter, we'll reduce bids but ensure we've still got a good presence — so we often find ourselves bidding differently depending on the time of year.
Take one of our wholesale retailers as an example. They operate in the back to school vertical, so understandably they get peak traffic ahead of the new school year. Search behavior changes in the lead up to these months.
We want to ensure we're visible during periods of high search activity, whilst ensuring budget for the year isn't exhausted.
We've seen this work across a range of seasonal verticals, and it isn't something that we've noticed many other agencies or in-house teams doing.
(Note: It's important to fully understand the 3 tiered approach before diving into this strategy or the mobile specific one. The inventory listed will need to be the same across tiers, otherwise you may experience leakage!)
6 – Let Google Optimize (With Supervision!) When There's No Obvious Tiered Structure or Search Query Tiers
Smart Shopping Campaigns utilize a mix of your product feed and Google's machine learning to take care of campaigns on your behalf.
We like to bundle any products into a Smart Shopping campaign when they don't necessarily belong to another tier as explained in strategy #1 above.
These are the smaller products, maybe those lower-priced accessories, which can be left for Google to deal with. Google will then optimize for best-fit based on transaction history: but it doesn't always mean Google will do the best possible job.
We've witnessed occasions where there wasn't much transaction data for Google to use. Then when we saw a couple of mobile transactions occur Google went very aggressive on mobile — and caused ROAS to plummet.
In this case it would've been best to wait until there was more significant transaction data available before leaving it in the hands of them to automate.
7 – Using Dynamic Retargeting to Boost Your PLA's eCommerce ROAS
As annoying as some people might find them, retargeting ads do convert, and extremely well.
Over time they've been shown to have a great ROI so they really work well to supplement your search marketing strategy.
The dynamic retargeting feature from Google Shopping enables you to automatically show ads to people who came to your site without completing a purchase.
It makes use of your product feed to determine the products they display and can intelligently group these together based on what's likely to convert best.
Using dynamic remarketing is a fairly straightforward strategy to skyrocket eCommerce performance — it's a must for any online retailer.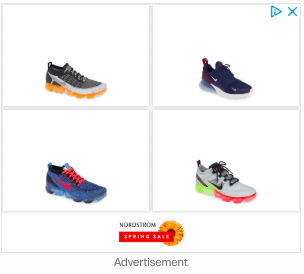 The Best eCommerce Strategies for Google Search Ads
We've covered 7 Google Shopping Campaign strategies above in quite some depth.
But whilst it's easy to forget, running Google Search ads in tandem with Shopping Ads is a good strategy to cover all your bases.
Here are 9 more essential strategies we use to maximize eCommerce brands ROAS from search ads:
8 – How to Best Structure Your Google Ads Account for More Granular Control (And a Better ROAS!)
Often the best way to setup your client's account is to actually just mimic their own navigation menu.
They've gone through the effort to build it out the way they have — so it's probably been made that way for good reason.

If they've got a top-level page that contains a category of products (eg shoes) and then sub-categories that contain brands (adidas, nike) then it probably makes sense to have a shoe category, and individual brand-specific ad groups within your Google Ads account.
Setting up in the way above saves a bit of time when it comes to structuring the account, and will make budget control easy too.
With this approach you can also get as granular as you like when it comes to ad group and keyword grouping.
It will also help when other people on your team need to dive in to manage the account, as well as keeping things clean for the reporting team later.
9 – Deep Link to Best-Sellers Within Text Ads & Make It Easier for Your Customers to Checkout
Often within your store's categories, there will be a handful of outstanding, top selling products.
Instead of directing customers to an individual category page it will often make sense to take them direct to the best selling product page instead — that's usually where they end up anyway.
You could easily have a few text ads setup on rotate which deep-link to a handful of the top-selling products, and simply monitor which ads bring in the most conversions.
You can run A/B tests on this in the background and keep a close eye on the products that really push the needle on your ROI.
This makes the path-to-purchase cleaner for the customer, and helps to improve your Google Quality Score, too.
In this instance, the keyword/search intent, ad text, and landing page experience is all well aligned and optimized.
In the cases where there is no clear best-seller, it would make good sense to direct the customer to the most relevant category page instead. This approach is often used when bidding on the less specific, short-tail keywords.
10 – Have an Industry-Specific (But Agile!) eCommerce Approach and Test Everything
The strategy we use at Inflow for running Google Search Ads will ultimately depend on the industry the client operates in, and of course the eCommerce platform they use.
We're forced to tailor our approach to suit our clients (and more pertinent: their shoppers) so when it comes to strategy we're always flexible to changing our tactics to suit what works best.
It's important to have an agile approach when it comes to eCommerce marketing since things change quickly and the search landscape is constantly evolving. You need to always be open to new opportunities and test everything!
We like to use Google Experiments within Google Ads to test how variations of campaign setups perform versus our original campaign, helping to shape our ongoing strategies.
11 – Don't Neglect Any Google Ad Extensions, Especially Price Extensions
We always ensure that every possible extension has been built out when a campaign goes live. Setting up all eligible extensions will give you a better Quality Score on your account and enhances your chances of taking up more valuable real estate within the SERPs.
The obvious choice when it comes to eCommerce clients has to be the Price Extension. This will highlight the product price within the text ad when someone's shopping for your product.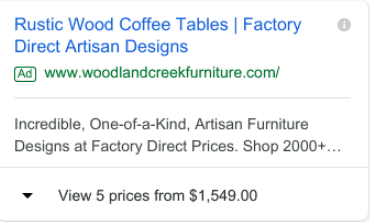 Ensure your account has the following extensions active and optimised:

Callout extensions
Structured Snippets
Promotion Snippets (essential for Black Friday and other sales)
Sitelink Extensions
12 – Product SKU's, Part-Numbers, and Model Numbers Are a PPC Specialist's Dream
When running search ads, you'll want to bid heavily on product SKU and other identifier codes, model numbers, replacement part keywords, and so on.

Whilst these might not have a huge search volume when compared to some other non-brand search queries, they're going to have a super high conversion rate.

Someone entering a search query for "washing machine" or even "best washing machine" is probably going to be fairly high in the purchase process. They're probably still shopping around and trying to come to a decision about the particular model they want.

But what about someone searching for a specific washing machine model, like "Samsung WW70K5413UX"? You should be throwing your money at Google for that type of search query.

We often scrape our clients product feeds to get a list of these numbers or SKU's before using Dynamic Insertion within the Headline of the text ad and the Display URL to help boost CTR, as well as using keyword level Final URLs to send the user to the exact product they are searching for.

13 – Ongoing Scheduled Maintenance and Optimization Is a Must for All Google Ad Campaigns
Let's say your ROAS is ticking over nicely at 300% each month. While that's great, it's not to say it's bringing in the most possible revenue.

You shouldn't neglect campaigns even if they've got a great ROAS (that 300% could all be based on a few branded search terms and nothing else that's going to drive your sales).

Ongoing scheduled maintenance and optimization is vital to ensuring your search strategy doesn't get left to stagnate.

From regularly reviewing the 'Search Insights' report and checking in on the 'Search Impression Share', while verifying that rogue searches aren't eating up your budget — there's always plenty to do.


This goes back to strategies #4 and #5: mobile search behavior is different than desktop search, and seasonality is an important factor to consider too.

Checking how those two variants might affect your search campaigns on an ongoing basis wouldn't go amiss — especially if you've got an old account that has gone a bit stale.
14 – In-Market Audiences Offers Keyword Flexibility (And More Aggressive Bidding Strategies)
In-market audiences can be used within your Search Campaigns to ensure your ads are being seen by a wider audience than normal with a different matching criteria applied.
Let's take an example of an online retailer of car wheels and accessories. If somebody searches for a product that is similar to one that the car retailer sells, Google will place them in a particular audience group.
As an advertiser, you can then choose to target that particular audience group with your own search ads.

It sometimes makes sense to adjust bids according to your audiences, upping them when they match a particular, high-intent group.
It can also give you flexibility when it comes to your keyword strategy — you don't need to be quite as granular, because you know this person is (in theory) already interested in what you're selling.
15 – Dynamic Search Ads Suit Clients with a Huge Product Inventory or No Accessible Product Feed
The penultimate Google Ads type we'll share is our strategy for is Dynamic Search Ads.
This is Google's offering for those with a massive inventory of products to sell, perhaps without the time required to list individual ads for each product.
Using this method, Google's ad crawler will scan your entire website and create ads automatically based upon what it finds.
That might be a bit too much control for some, but for others it can be a real time-saver.
For us, we love to use it as a tool to create keyword lists in the unlikely case we may have missed some good search terms during our own keyword discovery phase.
(Note: If you do opt to make use of a Dynamic Search Campaign, you'll want to ensure you've added your normal search keywords as negatives to ensure there's no overlap.)
Ultimately, Dynamic Ads can be a good low-budget and minimal fuss campaign set to run in the background with low ongoing maintenance required.
16 – Single Keyword Ad Groups (SKAG's) Can Reduce CPC and Grow ROAS
Last but not least, Single Keyword Ad Groups (SKAG's) can be a really simple but incredibly effective way to push out the ROAS.
Using historic conversion data, you can quite quickly identify the few keywords which are bringing in most of your revenue (see the 80/20 rule).
These keywords should be listed in their own individual ad groups (1 keyword per group often gives the best results here) with exact match targeting enabled.
Ad texts are then optimised to match that specific keyword, which helps give a great quality score to Google, and hopefully generates a good CTR too.
In your other Ad groups, you'll want to ensure exact match negative keywords are applied for the terms above to ensure there's no overlap which may lead to bidding against yourself in the Ads Auction.
Often by making use of the SKAG strategy, you will see a reduction in CPC, and over time you can push more and more spend into the campaign; you'll want to cover as much of the search demand as you can.
As with all of the strategies listed here, you'll want to play around and test the above before you jump right in and make any drastic, lasting changes.
Who We Are: At Inflow, we work with dozens of eCommerce companies to increase traffic, conversions, and sales. You can talk to one of our Google Ads specialists to see how we can help you increase ROAS. Get started now.