In today's marketing world, organic search is everything. It's how your loyal customers find you, it's how new customers find you, and it's where you stand shoulder-to-shoulder with your competition.
How you build, organize, populate, and maintain your website has everything to do with your success as an eCommerce business.
By and large, SEO is one of the most important ways to get your brand in front of your audience. Having everything aligned — from your title tags to your content to your internal links to your backlinks and more — is all part of the bigger puzzle that is search engine optimization.
It's a big job. It's an important job. And it's one worth revisiting at regular intervals, so your site's ranking and performance don't suffer.
To that end, we've created this master guide to an eCommerce SEO audit, in the hopes that you'll find answers to all your questions and use it as a starting point for your own audit.
Throughout this guide, we'll also share some of our top toolkits and checklists, as well as case studies that detail the results an SEO audit can reveal for your company.
Ready to start your audit now? Contact our team today to learn more.
Table of Contents
What is an SEO Audit & Why Is It Important?
An eCommerce website audit is a gathering of information about the current state of your online store and how it relates to our present knowledge of search engine algorithms and best practices.
Conducting such an audit can help you better understand where you currently stand and reveal opportunities for improvement.
From there, you can hone in on the best eCommerce SEO strategy for your brand.
There are a few kinds of mini-audits involved in your overall SEO examination, including:
In this comprehensive guide, we'll touch on all of these, so that you have an understanding of the role each plays in your overall strategy. We'll also share some free resources you can use to dive deeper into each of these pieces of the auditing process.
Because there are so many elements to a comprehensive SEO audit, we recommend tackling just one chunk at a time to avoid getting too overwhelmed. Or, when in doubt, bring in an eCommerce SEO agency to help.
When to Conduct an SEO Audit
Although an SEO audit can take time, it should be, at a minimum, a regularly scheduled part of your yearly marketing strategy.
Algorithms and audience needs are constantly changing and shifting. Small tweaks on a regular basis can keep your site optimized for evolving conditions.
Most brands also regularly produce new content — blog posts, product pages, FAQs, etc. — and that can have good and bad impacts on your overall site authority and SEO.
Reviewing your entire website every year can help keep bloat and redundancy to a minimum.
In addition to annual reviews, we recommend that brands complete audits when any number of qualifying events happen — for example:
As part of a site migration process
When new SEOs or marketers are brought onto the team
During rebranding efforts or strategy changes
How to Do an eCommerce SEO Audit
A thorough SEO audit takes time and effort. It cannot be done in a single day or even a single week, depending on the size of your website.
Luckily, it can be broken up into smaller pieces, so that your digital marketing team can tackle it one at a time, making the process much more approachable.
The steps in our eCommerce SEO audit checklist below will give you an overview of all of these parts. Where you focus your energies first will depend on what works best for your team's bandwidth, expertise, etc.
Remember: If you want a full audit but don't have the ability to do a thorough job in-house, it's worth working with an expert team like Inflow's to get the job done.
Step 1: Review Your Analytics Setup.
This project is all about data — but no data is worthwhile without a proper configuration.
In order to trust your audit data, you need to first audit your analytics setup.
While the platforms discussed below won't impact the performance of your site, they do provide valuable feedback and information for the deeper dive we'll conduct next.
To ensure that the analytics are accurate, you need to check a few things:
Google Search Console & Google Analytics
First, you want to confirm that both Google Search Console & Google Analytics are configured correctly and tracking appropriate data for your eCommerce site's needs. Some of these metrics include revenue, sales, and traffic, among others.
Bonus: Now is a great time to audit your Google Analytics setup, because of the upcoming transition to GA4 in 2023. (We've created a custom GA4 eCommerce tracking toolkit to help.)
As part of this step, you'll also want to ensure a custom GTM code is implemented on all your website pages. Without it, you won't be able to conduct a full data analysis. Fortunately, our GA4 eCommerce Tracking Toolkit contains a free GTM container that you can use.
In addition, Google Search Console should be implemented for all versions of your domain. You'll want to double-check for any security issues or manual actions.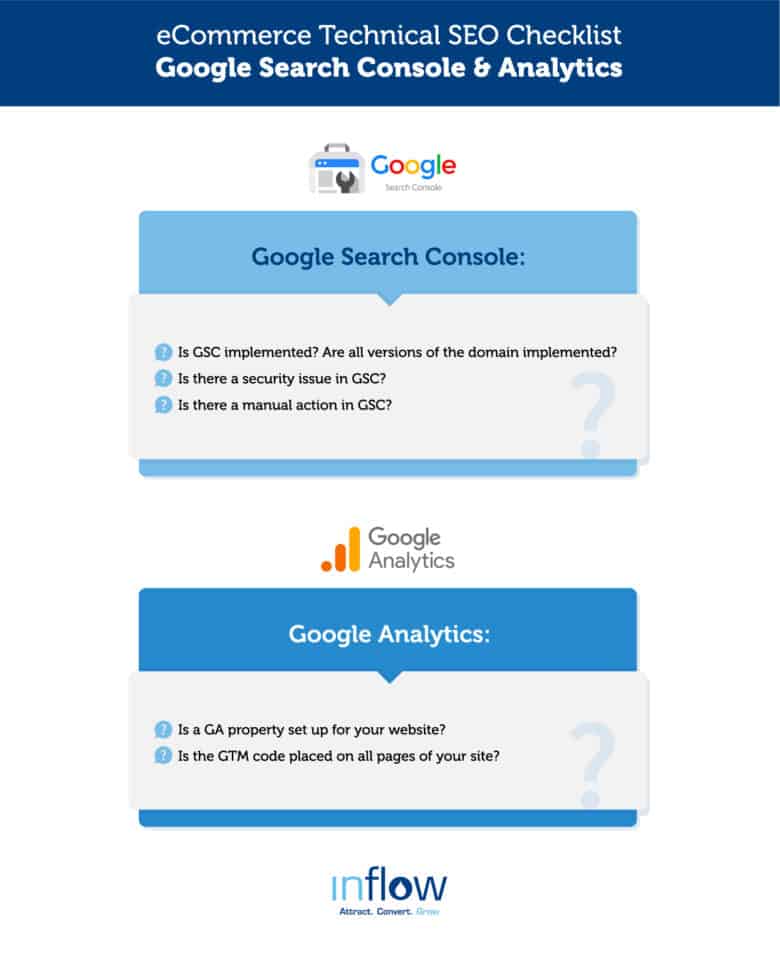 Step 2: Gather Your SEO Tools.
You can't manually crawl and analyze thousands of eCommerce pages on a site. It's simply not a good use of your limited resources.
Instead, you'll need a few different tools to be successful. The best tools will yield the best results, so we've recommended a few below.
Analytics Platforms
As mentioned above, having properly implemented analytics is crucial to determining your best optimization opportunities. After all, an SEO audit is all about data — and your analytics platforms collect that data.
In short, these are great tools to keep in your box.
Most websites rely on Google Search Console and Google Analytics for data, although there are others you can pull in for reinforcements (more on that below).
Your eCommerce website platform may also provide analytics information. We recommend reviewing which resources are available, especially when you're paying for the service anyway.
Site Crawler
Running a site crawl report through a company like Screaming Frog or Ahrefs will give you a good idea of how search engine bots move through your site and what data they see.
This can provide invaluable insight, including which pages are getting lost in the shuffle and what your average crawl depth is (the lower the crawl depth, the better.)
Keyword Research Tools
Keyword research tools can be invaluable for eCommerce companies that feel stuck with their current keyword selection or don't know how to attract more customers.
These tools can tell you what other similar words and phrases your audience is using to find products like yours. They can help provide new content topic ideas or headings to add, and they can also crawl certain aspects of your site.
We'll dive deeper into keyword strategy later in this guide but, as a preview, some of the best tools out there are Google Search Console, Ahrefs, and Semrush.
Organizational Tools
Running all of these reports is great. Collecting all the keyword research is great. Gathering all of the information about your site and ways to optimize it are great.
But, eventually, all this data can become a jumbled mess of disparate file types and systems.
Bringing all of your auditing efforts under the same organizational tools can help you better see the lay of the land and how it all fits together. We recommend using spreadsheet tools like Excel or Google Sheets to aid in that organization.
Step 3: Complete a Technical SEO Audit.
Once you've gathered all of your tools, it's time to get into the details of your SEO audit.
The first one we'll tackle: Your technical audit.
A technical SEO audit looks specifically at the backend of your site. The information gathered here reveals not what your customers see on the front end, but what Googlebot and other search engines see when they crawl and index your pages.
Some eCommerce companies have thousands, tens of thousands, or even hundreds of thousands of pages built within their websites. This is a lot of information to keep track of, and it's easy for things to slip through the cracks.
If pages are getting lost, there are incomplete connections and confusing directions for both bots and your audience. Proper site architecture is critical for allowing search engine crawlers and users to efficiently navigate your site — and can make a huge difference in your organic performance.
Just one example:
After conducting a technical SEO audit for our client Wild West Pool Supplies, we identified some crucial technical, backend solutions to give them a bigger bang for their buck — reducing website bloat, streamlining their pages, and optimizing their existing content.
After these changes, WWPS achieved a 434% increase in revenue, as well as a 216% increase in website sessions, year over year.
And you can, too.
So, let's walk through the pieces of a technical SEO audit to help you get started.
Sitemaps
Sitemaps (specifically XML sitemaps) are crucial for technical SEO. These tools are created to tell search engines how to handle all of the information and pages your site contains.
Because there's so much material on the average eCommerce website, it's impossible for bots to crawl the entire thing. With a sitemap, you give them an efficient set of instructions for moving through and indexing your most important pages.
Be sure to submit your sitemap to Google Search Console and review the coverage report. From there, you can easily see where broken links, missing pages, or improper redirects need to be fixed.
URLs
The combination of having a lot of web pages and trying to give your customers a pleasant, searchable shopping experience can wreak havoc on your SEO if not managed properly.
Filtered and faceted navigation provides a better customer experience for those conducting a site search or looking for products in a specific size or color.
That said, if the resulting URLs are not organized, canonicalized, indexed/no-indexed, and otherwise managed properly, they can disrupt your site navigation and inhibit search engine optimization (for example, being read as duplicate content by search engines).
You should also review your crawl data for other URL issues, including response or error codes, incorrect canonical tags, and more.
Site Architecture
For most eCommerce businesses, site architecture is one of the biggest areas for optimization opportunities. Your site structure is widely determined by your internal linking strategy and navigation setup — both of which need to be intuitive and efficient.
When reviewing your site architecture, ensure that each category and subcategory have a clear purpose (and that subcategories are canonicalized properly).
Confirm that important pages are as close to the homepage as possible, and try to keep your click depth low (no more than four, if possible) for all pages.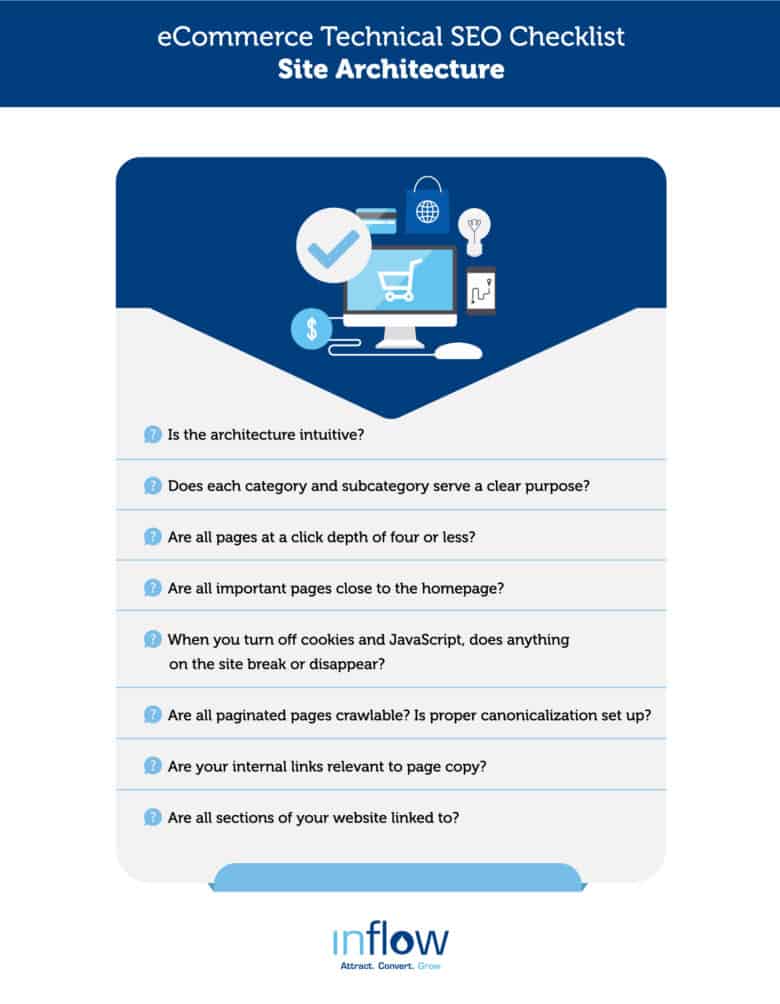 Internal Links
As stated above, internal links are the links that hold your site together and connect the various points within it. They help spread "link juice" from more authoritative pages throughout the rest of your site, and they also give search engines and users a path to follow when looking for specific information or products.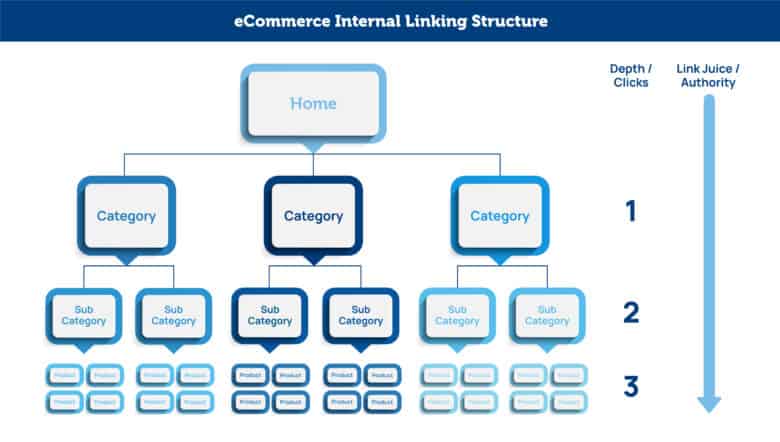 During your SEO audit, spend time prioritizing your pages, so that you can make internal link-building decisions according to this hierarchy. This means that you'll make decisions based on which pages are the most and least important/authoritative, as well as which link should be the first on any given page.
Start reviewing your opportunities with our complete internal linking audit guide today.
Backlinks
Backlinks are those links that come to your website from other places on the internet. They can improve your reach and help boost your site's authority.
External links are often touted as the "holy grail" of improving your organic search result rankings, but there are some kinds that can actually penalize your website, too. If you're spamming content or getting links from irrelevant sites that aren't in your niche, search engines might see these as negative — and make changes to impact your performance accordingly.
The best way to get high-quality backlinks? Create high-quality content that is worth being shared by other websites.
Page Experience
The final piece of a technical SEO audit is reviewing the overall page experience. This includes:
Loading time
Images and videos
Mobile-first indexing
And more
Part of great page experience includes using an SSL certificate. Some browsers, like Chrome, alert users of websites not using such a certificate, which can dissuade your customers from stepping further into your online store. Fortunately, it's an easy thing to fix.
To check your site's page speed, you can run a Desktop Report and a Mobile Report in Google's PageSpeed Insights tool. These reports will show you areas to improve, which will impact both desktop and mobile user experience.
Want to dive deeper into your tech audit process? Check out our technical SEO audit checklist that explains all of these steps in more detail.
Step 4: Complete a Content Audit.
In addition to technical performance, you need to evaluate your content performance. After all, this is what draws customers to your site, either through blog content or product/category pages.
Like a technical SEO audit, a content audit can provide huge wins using content you've already created. No need to reinvent the wheel — just to make the wheel more efficient and functional.
Consider another client example: By simply reworking their existing blog and product pages, we helped Vitrazza reach a 965% increase in strategic content revenue and a 940% increase in non-branded keyword traffic.
Below, you'll find the different aspects to examine during this step of your SEO audit. Be sure to download our eCommerce Content Audit Toolkit to complete this piece of the puzzle with a step-by-step guide.

Keyword Strategy
The first step to creating effective SEO content: proper keyword research. If you're not already using a strategic keyword approach, you need to do so ASAP.
Keyword research and optimization matter. They impact traffic, customer education, and revenue.
Our eCommerce keyword research strategy prioritizes a deeper connection between topical optimization and search intent marketing, rather than search volume:
Start by assigning search intent to page themes. For example, product pages will appeal more to buyers who are close to making purchasing decisions, while blog posts will appeal to buyers who are in the research phase.
After assigning search intent, brainstorm keyword opportunities. To do this, ask yourself questions about what people are searching for, who is doing the searching, when are the searches happening, why are people searching, and where are these people located.
With these answers, you're ready to start your research using tools like Ahrefs, Semrush, and Ubersuggest.
After you've done the research, you can prioritize your short- and long-tail keyword targets, confirm search intent, and start optimizing.
The research step can be a big one, especially if you want to do it right. But, the more work you put into this step, the more efficient your implementation will be.
To find out if your current keyword strategy is working, review your content rankings in Ahrefs or Semrush. If your pages are low in impressions and/or clicks for your target keywords, it's probably time to revisit your approach.
Learn more about our keyword research strategy in depth so you can apply it to your content audit.
Metadata
Once keyword research is complete and optimized, use that knowledge to improve your metadata. This is one of the best quick wins you can use for your eCommerce website, especially if your current click-through rates (CTRs) are less than stellar.
Metadata is found in the source code for web pages. It helps search engines know what page content is about so that they can serve up relevant SERPs to customer queries.
Metadata includes meta titles (AKA title tags) and meta descriptions. 

However, you should also use your keyword research to update other important on-page SEO details, like:
Headings (especially H1 headings)
Body content
Alt text for images, videos, spreadsheets, etc.
Publication date
Duplicate Content
Over years of producing new blogs and landing pages, duplicate content can sometimes occur.
While it's good to provide your users with as much information as possible in as many locations as possible, duplicate content will confuse search engines and potentially harm your organic rankings — because the search engine won't know which page to take a user to.
You can identify duplicate content by reviewing your content list and looking for similar topics or multiple product page URLs. From there, you'll need to prune and consolidate — for example, by canonicalizing your product pages and merging similar blog posts.
Properly pruning strategic content helped us improve a client's strategic content revenue by 64%. What do you think it could do for your conversions?
Outdated, Thin, or Poor-Performing Content
The final piece of a content audit is handling your poor-performing content.
Poor-performing content may include outdated products/articles and thin pages with little or no product descriptions or content of value. In most cases, this content will also have low numbers of sessions, impressions, and page views.
As we've said before, search engines want to provide value to their users. If your site has low-quality content, you're going to be ranked lower than those sites with higher-quality material.
To boost your value, product page descriptions should be as thorough and detailed as possible (without keyword stuffing or redundancy). Each page should have unique content, even if the products are very similar to others on your site.
Similarly, your blog posts should be extensive, informative, and provide education for your readers. Look for outdated or irrelevant existing content on your blog; those will be the pages you'll need to touch first.
Don't forget: If you have outdated pages that are being indexed, add a noindex tag to the page until you apply your updates. That way, search engines won't crawl this content over your other, relevant, updated pieces.
For more on identifying poor-performing content and other optimization opportunities, review our step-by-step eCommerce content audit guide.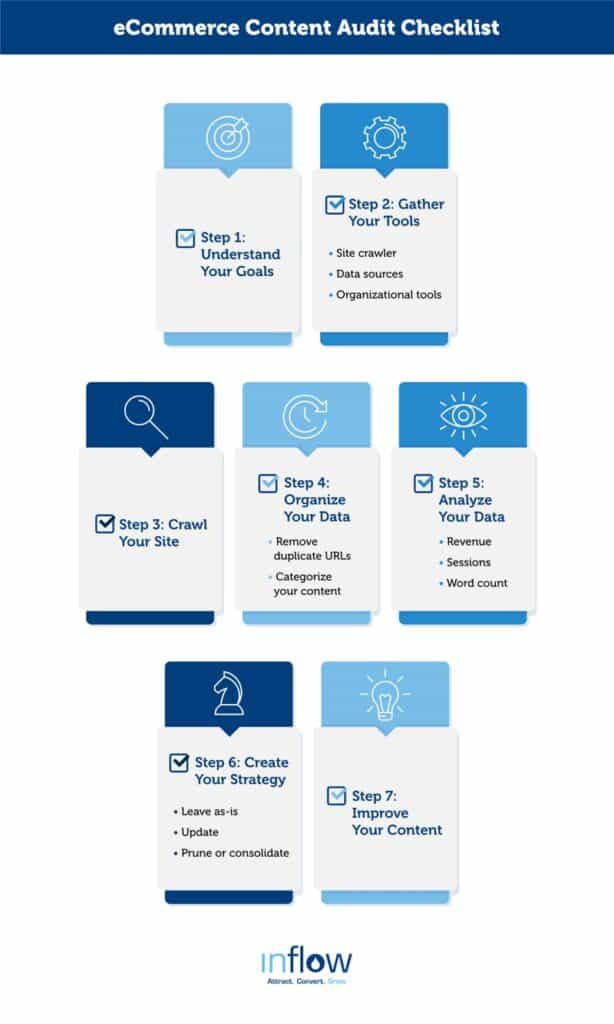 Step 5: Review Your Results & Prioritize.
An audit by itself is useful, but the real value comes from the improvements you make after the data analysis.
Now that you have a host of information about a variety of ranking factors, it's time to identify your quick wins and your longer-term SEO efforts.
Here are a few baseline suggestions from our team:
Go after low-hanging fruit first, even if you don't think it will have the biggest impact on any of your projects. These opportunities (like updating metadata and sitemaps) will improve your SEO the quickest. It can also be motivating for your team to see these results before digging into bigger, longer-term projects.
Work with what you already have before starting to build new things from scratch. If your impressions are low, beef up your best-performing content and leverage that page authority before launching into a brand new content campaign from the ground up.
When in doubt, prioritize your fixes based on the flow of this audit checklist. For example, if you discover that your Core Web Vitals are poor, focus on those first before diving into any content upgrades.
Start Your SEO Audit Today
As you can see, a complete SEO audit takes a great deal of time and effort to complete — not even counting the resources needed to implement changes afterward.
It's a worthwhile endeavor, though, and can significantly improve your search engine rankings, your organic traffic, and your revenue.
Because there are so many elements to SEO audits — from analytics to organization to technical and editorial aspects — it may be easier to have a professional team tackle this project for you.
When it comes to comprehensive eCommerce SEO audits, Inflow has you covered. Our team will review every aspect of your website's performance to provide actionable insights and improvement opportunities. Request a free proposal today to get started.
In the meantime, here are some additional resources to help you DIY your eCommerce SEO audit: