As the CEO, I get to interact with nearly every lead that comes in the door. Noticing that most new clients have similar questions about how our agency works and what they can expect, I've decided illustrate,in great detail, our approach to eCommerce SEO and how that channel fits into our larger goals with Inbound Marketing. I'll also describe what it is like to be an Inflow client, from our sales process and team structure to our reporting and project management systems. With quite a bit of strategy as well.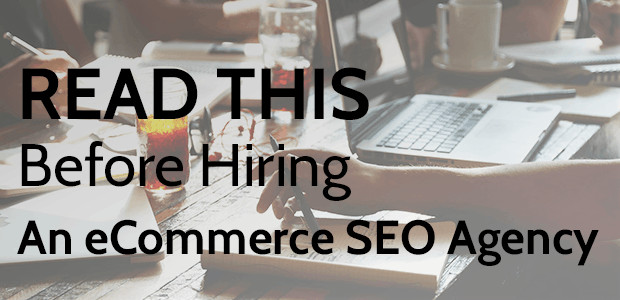 Inflow's clients consist of mostly mid-market eCommerce companies. They want results, and they want their eCommerce SEO agency to be accountable, transparent and effective.
It is rare to find an established eCommerce company that has not worked with more than one SEO agency over time. Most of these businesses come to us after a bad experience with another SEO agency, which usually failed to meet their expectations.
See for yourself.
I've put together a kit, which includes a sample proposal, a sample table of contents from an eCommerce Inbound Marketing Audit, a sample kickoff meeting agenda, and a sample report. Now you can really get a feel for how we approach SEO and what it's like to work with an award-winning eCommerce SEO company.
---
Estimated reading time for this post is ~30 minutes. We recommend bookmarking this page to reference as you access items in the free kit.
The Sales Process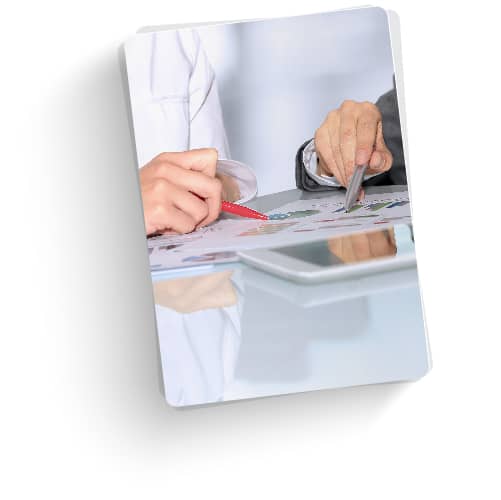 Our sales process? In a word: Consultative.
We don't use a cookie cutter approach to SEO with gold, bronze and silver packages. We LOVE learning about new industries and working with clients who are LOVED by their customers. Your business is unique, and it's digital marketing needs are unique.
Our Initial Conversation
The sales process is very respectful of your time and created to be a worthwhile experience by adding value to the conversation, whether you hire us or not.
The typical sales cycle starts with a request for a call. We set up the call using Calendly to minimize the annoying back and forth of comparing calendars. The first call is typically 30-45 minutes long and allows us to rapidly get to know each other through a focused agenda. Here is a sample agenda we send out before this call: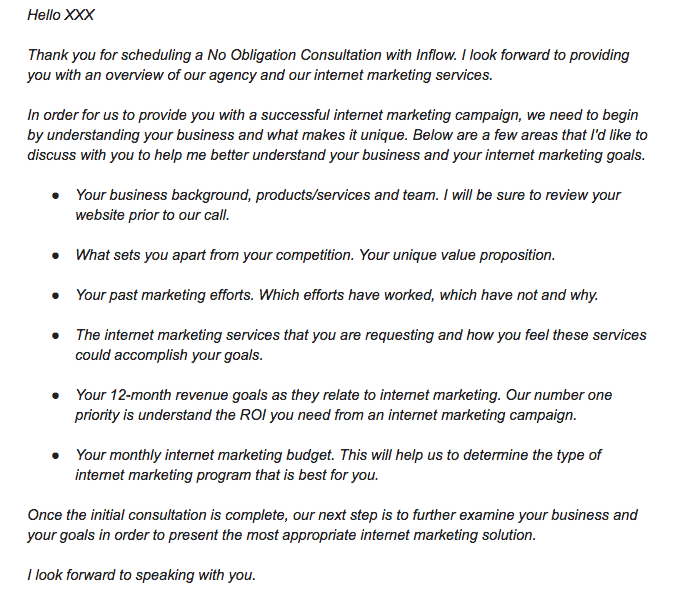 If it makes sense for both of us to move the process forward after this call, we'll move to the next step, which is a longer presentation call scheduled about a week later. It is likely that we'll request Google Analytics and Google Search Console Access at the end of the first call in order to analyze your current situation and prescribe a solution and a budget to meet your goals on our next call. If things aren't quite ready to move to our presentation call, we'll set some next steps for both of us.
Insights, Strategy and Budget Call
We spend significant time analyzing qualified prospect situations and really getting to know the business in the process.
We look from a high level at everything from technical SEO problems to content quality to links and competition. We put together a presentation demonstrating our understanding of the client/program/goals, insights we've uncovered during our initial analysis, a recommended program budget for working with Inflow, details on what our solution includes and how we work. We also give a brief introduction to the team you'll potentially be working with. We will, of course, address any questions you have about the information we present, or anything else regarding a potential working relationship together.
After our more in-depth presentation call, you'll receive a copy of our presentation along with a proposal for electronic signature.
The Right Client
The right client for us isn't just a matter of an eCommerce company of a certain size, budget, need or goals, but rather an already successful business in its own right: profitable, organized and, most importantly, remarkable!
We can help clients put better messaging and execution behind their remarkability, but overall there needs to be a reason they should "deserve" to rank highly in search engines for target terms. We ask questions such as: How is your brand remarkable? Why would someone buy from you vs. your competitors? Might a competitor have the same answer? Lowest price is very rarely enough remarkability, as there is always someone willing to make less money on a sale (i.e. Amazon).
In addition, the client must have goals, and they must be reasonable given the budget and resources available. Good goals DO NOT include:
Ranking No. 1 for all of our target keywords
Growing as much as we possibly can as fast as we possibly can
Building X links per month

We work with clients at the beginning of our partnership to set Specific, Measurable, Achievable, Realistic and Time-bound (SMART) goals.
Starting Up With Inflow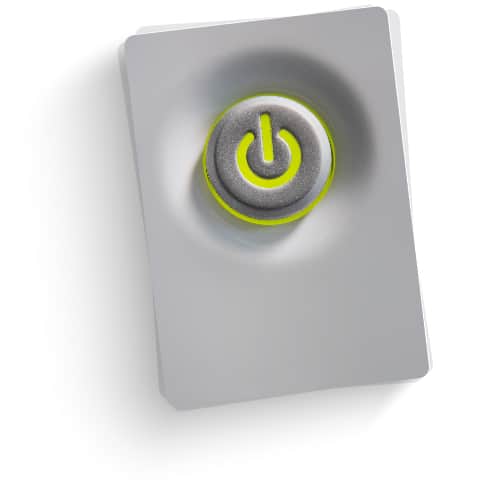 Over the years, we've found ways to make onboarding efficient and productive for everyone involved.
Kicking Off a Project
Once we've received your signed client agreement, that is our signal to crank up the machine! Our office coordinator Delia Valdez will get all internal systems in order by coordinating between the client, the sales team and the Inbound/SEO Director Chris Hickey. Delia will schedule an internal team debrief from the sales process, a kickoff call with you and your team, and will get all the billing details set up and out of the way.
Who You'll Be Working With
Resource availability when you sign your Inflow SEO client agreement is the primary factor behind who will be able to work on your project. If availability is not an issue, we try hard to honor any requests for team members made by our clients. We also try to match personalities and experience of team leads with new clients. All team members are highly trained and have produced significant results for our clients.
The team assigned to your account will consist of two strategists (one of them will be your lead strategist and main point of contact), a marketing coordinator and a copywriter (usually). At the moment, Inflow does not use account managers in the traditional sense with our accounts. Our lead strategists serve as your account manager throughout our engagement.
The Kickoff Call
During the kickoff call, our team will come prepared having been debriefed by the sales team and having done a bit of due diligence independently. We'll have an agenda to be covered, which is customized for each engagement but may include topics such as:
Project Management and Communications
We use Trello as a project management system here at Inflow. Trello is a very simple intuitive card sorting application that allows us to display what efforts we have going at any one time, links to files relevant to these specific efforts or the project as a whole, an archive of monthly reports and more. We update the Trello board weekly as progress is made. You are encouraged to leave comments on the various cards as questions arise.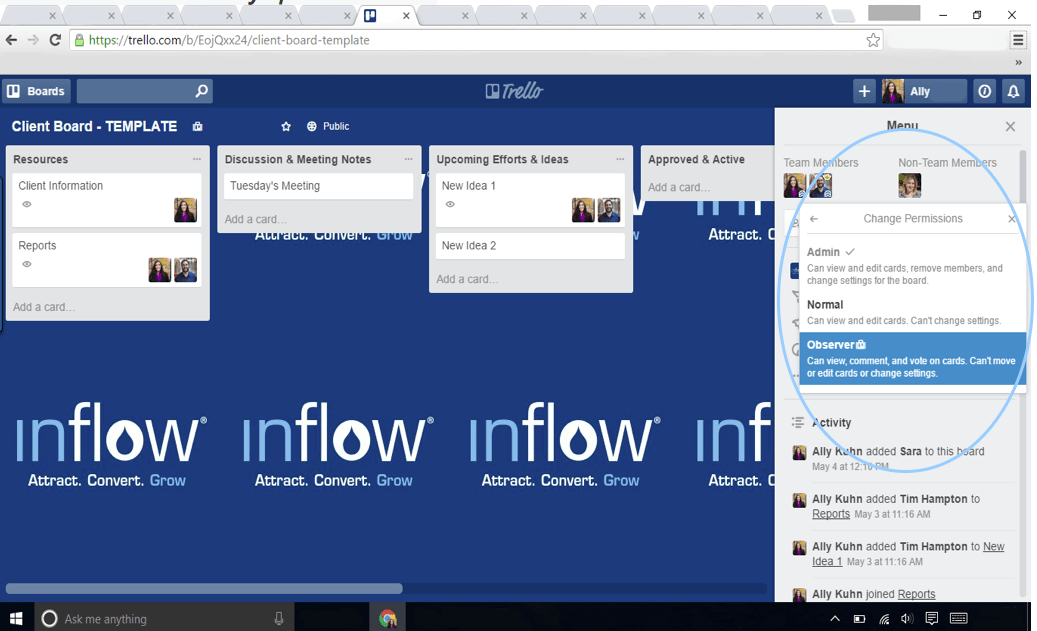 Trello allows us to showcase in real time the efforts Inflow is currently working on, as well as any tasks assigned to clients. We share our Trello boards across departments, so if you are working with our conversion optimization or paid search teams, all of your efforts will be documented in one place. We frequently use Trello to manage editorial calendars for clients as well. Typically, an editorial calendar is in a separate Trello board linked from your main project board.
We also use Google Drive to create and store files, as well as to interact with you on content in the files.
You'll be provided with secure access to a folder where all the assets, reports and files we share will be stored.
Let's Do Some eCommerce SEO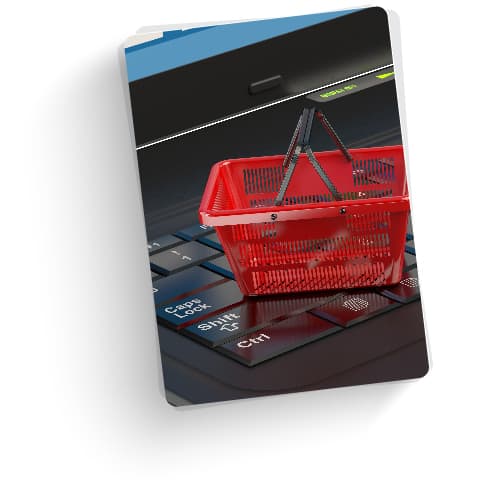 eCommerce SEO is our specialty and our experience goes deep.
Foundational Audits and Strategies
Hopefully, you now understand the steps we take before we take on an eCommerce SEO client. Now let's talk about the really fun stuff — doing the work!
Auditing The Landscape
We typically start off projects by performing an eCommerce Inbound Marketing Audit. This audit helps us quickly grasp the client's business, potential customers, systems and resources. And, of course, it also helps us get to know the site, goals and assets quite well. Here is a screenshot of a partial table of contents from one of our eCommerce Inbound Marketing Audits (download the sample pack to get the full table of contents):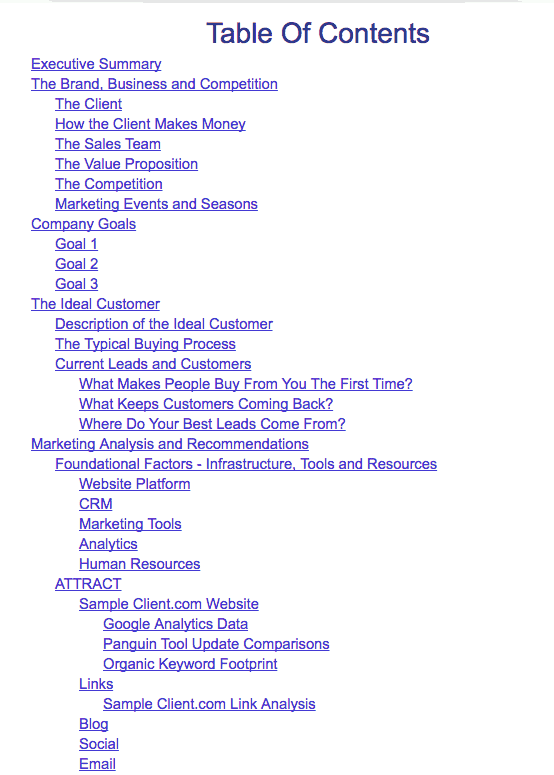 Taking Care Of Super Low Hanging Fruit
In almost all cases, there are a few big pieces of "low hanging fruit" that we identify during the audit phase. We'll work on a few small projects with our clients to review and take care of anything that is fairly easy to fix (taking less than an hour or so), but with a potentially high ROI. Examples of low hanging fruit we've found recently on client sites include:
"Buy now" buttons not working on mobile
Pagination implementation problems with rel canonical tags
Linking XML sitemaps from robots.txt files
Fixing email template design flaws
Improving email subscription sign-up forms
Setting up key goals in Google Analytics
Creating a Roadmap
Inflow's roadmaps lay out our tactical plan for the next six months of our engagement by providing a high-level overview of the different types of efforts planned to help move the needle closer to the goals we've established with our clients in the audit and strategy process. We update the roadmaps every three months during the first few quarters of an engagement and then every six months once the program has stabilized.
Analytics Audit and Enhancement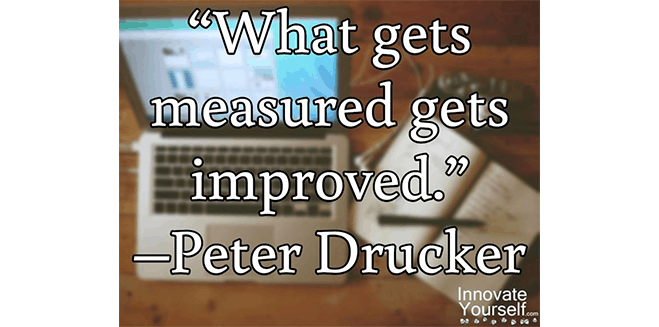 We also perform a Google Analytics audit at the start of each program. The audit points out any specific analytics issues the site is currently experiencing and makes detailed recommendations on what and how to implement to enhance tracking and reporting including any additional goals or events that should be tracked. We work with our clients to implement the recommendations on the site and in Google Analytics itself.
Search Engine Optimization
Technical SEO Audit
This is a comprehensive project that looks into everything from on-page optimization of titles, metadata, image optimization and copy, to technical issues involving pagination, product filtering, page speed and code. The output is a full technical SEO audit document, a "Technical Issues Tracker" project management spreadsheet and a delivery call with your strategist. We'll support your development team in implementing our recommendations and will make sure the highest priority/ROI items are worked on first and verify that everything gets implemented properly.
On-going Technical SEO
There are a series of things we do on an on-going basis to maintain the technical health of your site from an SEO perspective. Tasks include checking on key files, such as your sitemap.xml and robots.txt, on a periodic basis to make sure nothing harmful has been introduced since the last check. We monitor crawl rates and indexation as well, so if there is a problem we can be as proactive as possible. We also frequently consult on upcoming site changes or website migrations from a Technical SEO perspective.
Catalog Content Audit
Many of our biggest eCommerce SEO wins start within our Catalog Content Audit. Even if a site isn't at risk of a duplicate content penalty with Google, more often than not eCommerce sites offer a plethora of opportunities to prune and improve catalog content. Here is how we approach Catalog Content Audits:
Take a complete inventory of all Indexable "catalog" content from the entire domain and all subdomains
Provide recommendations for each URL
Identify systemic issues causing the wrong URLs to be indexed and provide recommendations to fix
Prioritize implementation tasks, focusing on maximum ROI recommendations first
Catalog Content Improvement Strategy
Once our Catalog Content Audit is complete, we can move on to implement the strategies and tactics recommended. In almost all cases, the Catalog Content Strategy will call for building an initial keyword matrix (targeting map) by conducting keyword research. Pages can then be optimized for the terms found in the matrix. Most of the time we start with category pages because of their inherent opportunities, but sometimes we start product page rewrites simultaneously. Other common projects include "pruning" batches of URLs using robots noindex tags or canonical tags, consolidating product pages duplicated for each size and color, and improving in batches top performing category and product pages, thereby going "double down" on those pages to increase their visibility even further. Improving pages can be done in many ways, including conducting keyword research to fine-tune the best target terms, rewriting meta tags, expanding content and much more.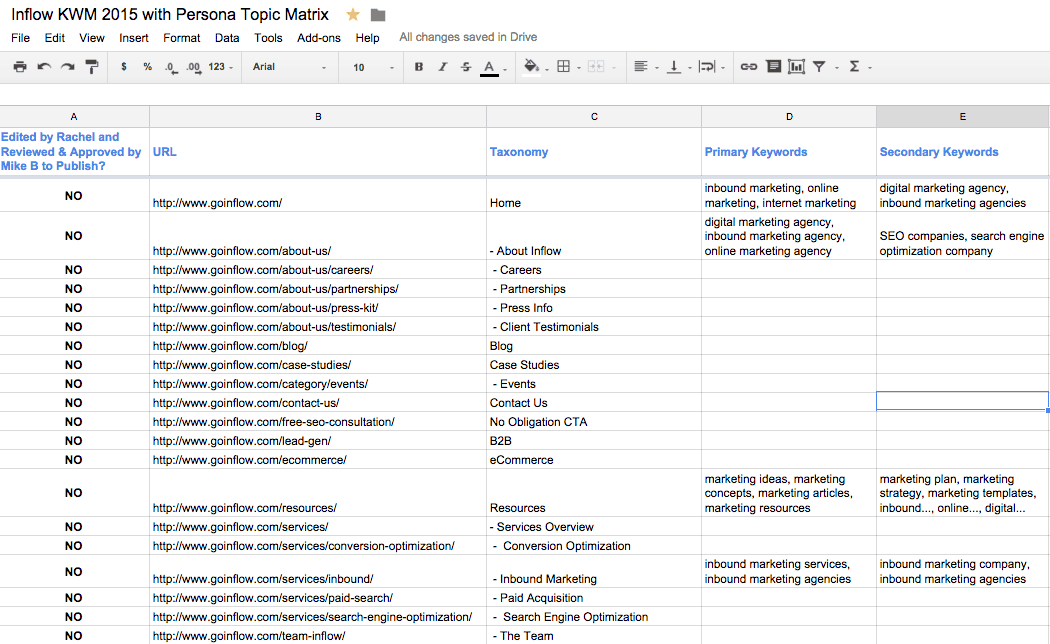 Once the major initiatives from the Content Audit are complete, it is time to move into "ongoing on-page optimization" mode. Common tasks at this stage of the project are identifying opportunities for other keywords not specifically targeted in our matrix, but performing well nonetheless; improving and testing meta tags to increase click-through rate from the search engines; optimizing new product and category pages; and more.
Content Marketing
eCommerce Content Marketing with Inflow involves:
Understanding your audience, their demographics and interests
Understanding who influences the audience and their decisions
Researching, developing and executing a content plan targeting your audience and goals
Content marketing programs may include but are not limited to:
Building a complete Content Strategy, including audience personas, brand voice and style guidelines, and an editorial calendar
Customizing our Content Marketing process for your brand from ideation to promotion
Incorporating tactics, such as consistent blogging, offsite content placement, 10x content for authority building, content upgrades for list building, baked-in content promotion and more
Content production, including copywriting, design and development (where necessary)
Personas
Audience Personas help guide content creation, placement and promotional strategies. In addition, the persona research process itself helps us develop a much deeper understanding of your business and the space in which it operates.
We'll document each of your major personas and work to discover their goals, interests, pain points, media-consumption habits, social profiles, influencers and more.
Content Marketing Audit and Strategy
Once we understand who we're trying to market to via your personas, it is time to take stock of what's been done so far by looking at what is working and what is not, as well as plan for what we are going to do moving forward. Based on your persona's needs, your available resources, competitive analysis and more, Inflow will lay out a comprehensive Content Marketing Strategy moving forward. Here is a sample table of contents from one of our Content Market Audit and Strategy deliverables (format based partially on Buffer's Content Marketing Strategy template):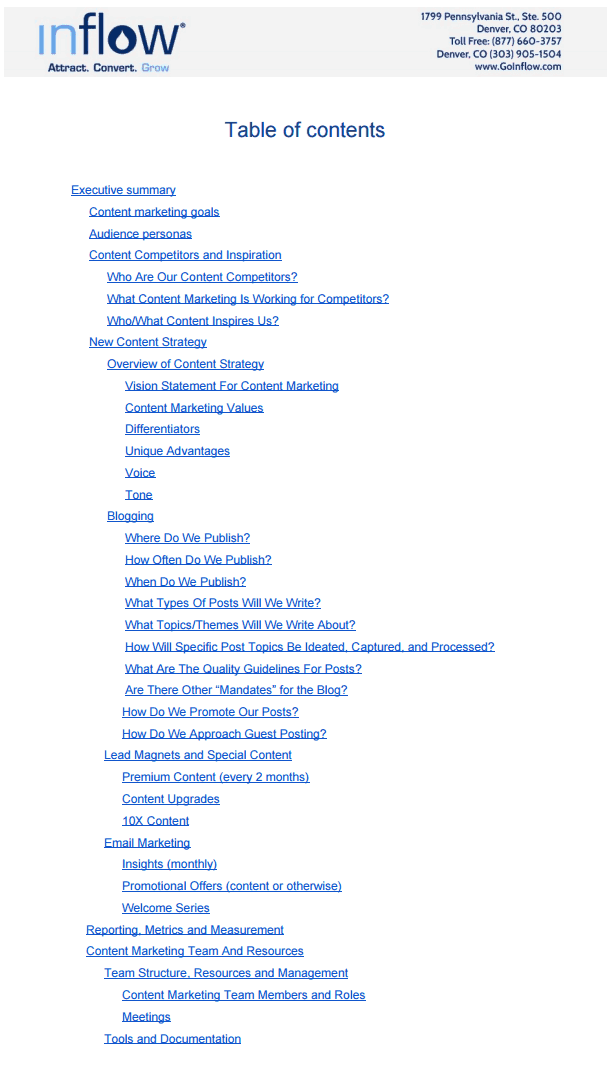 Frequently, our Content Marketing strategies are heavy on blogging, including guest posting (genuine outreach, we don't use fake networks), creating some type of 10x content to build authority and links, email list promotion (of content, not sales promotions), and list building strategies like content upgrades and premium content offers.
Ongoing Content Marketing: Production and Promotion
Now that we have a Content Marketing Strategy in place, it is time to actually do some Content Marketing! Depending on the resources in place with our client already, as well as the Content Marketing Strategy, Inflow can mold to fit where we can add the most value in the process. For example, in many cases, we are "content strategists and managers" managing the content marketing process, but not necessarily producing or promoting the content. In other cases, we handle everything from content planning to production to promotion. Our role will be documented in the Content Marketing Audit and Strategy.
Link Building
No matter what you read, links still drive a very big amount of SEO success. While we make every effort to pay attention to earning links within our approach to Content Marketing, there are other types of safe and effective link building tactics. Some tactics we use include:
Discount Program Link Building (associations, groups, etc.)
Contests
Deal Sites
Broken Link Building
Sponsorships
Hub Link Acquisition
Link Reclamation
Resource Page Link Building
We stay away from anything considered "black hat" or "low quality" when it comes to link building.
Penalty Analysis and Link Cleanup (If Necessary)

In a Post-Panda/Penguin world, it is not uncommon for us to receive inquiries from clients who have experienced some sort of penalty or ranking drop due to past link building efforts. We've executed a number of link cleanup projects that include running an analysis on which links may be causing problems, determining a strategy for taking care of those links (removal, disavow or both), then executing with a link removal campaign and/or disavow file creation and submission. If a manual penalty is in place, we can also compose a detailed re-inclusion request.
Other eCommerce Marketing Success Tactics
Most SEO companies stop at driving an increase (hopefully) in organic traffic. Not us. We work to get the most out of the traffic we drive to your website. Why work so hard to drive traffic and not do everything you can to nurture your relationship with that visitor, subscriber or customer?
Email and Marketing Automation
If you aren't paying attention to Customer Lifetime Value (CLV), you are missing out on finding the profits that will let your eCommerce business thrive! There is no higher converting channel than email when it comes to digital marketing, yet most retailers are getting it wrong, shoving daily (or even more often) promotions down their customers' or subscribers' throats. Inflow takes a more strategic, customized approach to email by focusing on content and behaviors consistent with increasing the all-important CLV metric.
Much of our email strategy relies on Marketing Automation. If the client doesn't already have a marketing automation system in place, we can consult on selecting one that will meet their needs and budget. We then create an Email and Marketing Automation Strategy, which typically consists of some of the following tactics and more:
Emails targeted to specific product or category customers based on last order or overall order history
Welcome series (leads and customers)
Abandoned cart sequence
Order reminder emails
Cross-sell and upsell emails
Brand ambassador campaigns
VIP program based on lifetime value or frequent orders
Win-back campaigns to save churning customers
Once we have an approved strategy, we can start building out the campaigns in your system or working with your resources to manage the process. We continually evaluate the campaigns we work on, improving them throughout the engagement.
Conversion Optimization
Early on in the program during our initial audit, our dedicated conversion optimization team provides a cursory overview of any low hanging conversion increasing opportunities. They are also available à la carte to provide consulting, analysis and even run tests. Many of our clients choose to add a dedicated conversion optimization program (we call it SCOPE) to their retainer with Inflow to enhance the value of their existing and increased traffic throughout our engagement.
Retargeting and Other Paid Advertising
Not everyone is ready to buy on his or her first visit, and sometimes a little reminder can help get a visitor back in the store with a loaded cart. Even for clients who shy away from paid search marketing, retargeting is typically an effective and affordable method for increasing return visits and purchases. Retargeting and other paid advertising services are available à la carte, as well as within dedicated programs from our paid advertising team and are highly encouraged!
Client Success and Satisfaction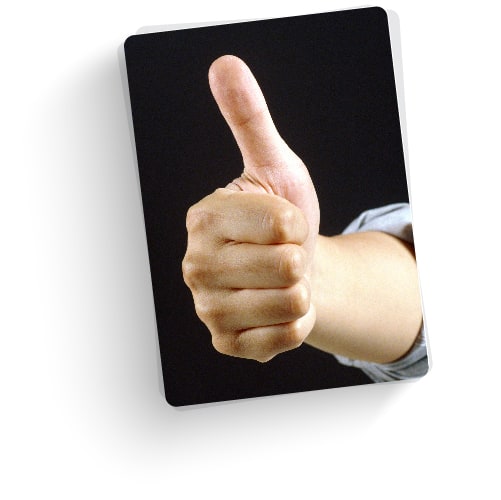 "Make every client a raving fan" is one of our Core Values, which we cover in every all-hands meeting.
Director Level Oversight
While Inflow continues to improve our processes for everything from Content Audits to Content Marketing, it is always helpful to have another set of experienced eyes involved in the project. Chris Hickey, our director of Inbound and SEO Services, provides this oversight and insight for many of our projects. It is also not uncommon for me (the CEO), or our Director of Marketing Everett Sizemore to help strategists follow the processes we've developed, or to solve one-off challenges and contribute creative ideas to the programs we run for our clients.
Reporting
Most of our SEO clients prefer to receive monthly reports. However, reporting frequency and content can easily be customized to meet your needs. Our typical reports include month-over-month and year-over-year data from Google Analytics and Google Search Console (year-over-year is not available with GSC). We also provide a detailed analysis and a list of completed activities for the period and planned activities for next period (also available anytime in Trello). If marketing automation activities are underway, we include details from those campaigns and tools as well. Anytime it is possible, we include actionable takeaways and analysis in our reports. We are available to review results and discuss upcoming plans after the reports are published before the 7th of each month.
Quarterly Client Surveys
In order to gauge how our clients are feeling about Inflow and the results they're getting, we conduct a one-question survey (two if you want to count the optional comments) every quarter. The survey looks like this: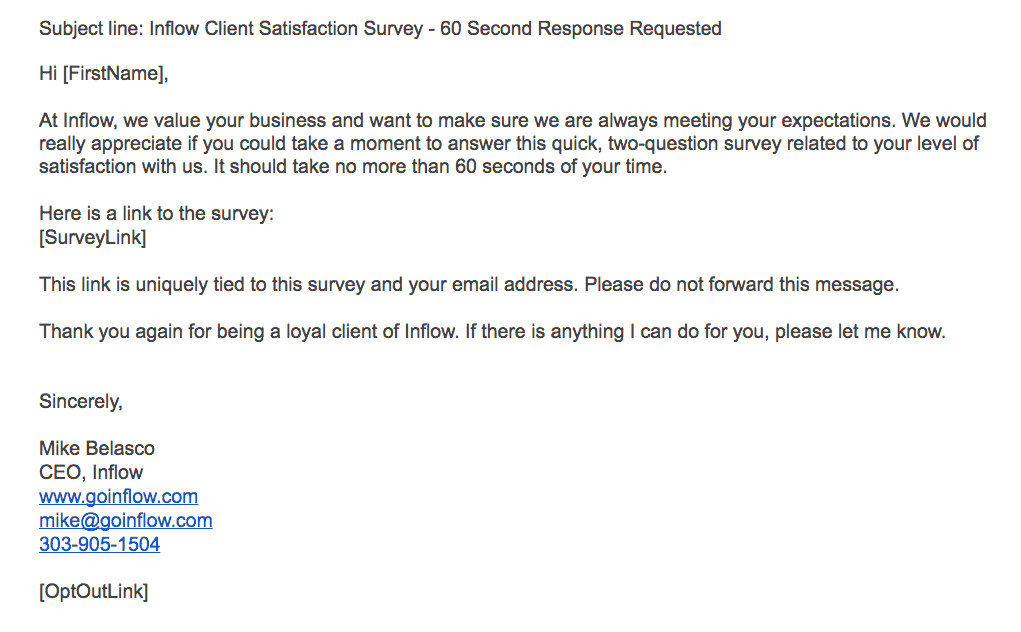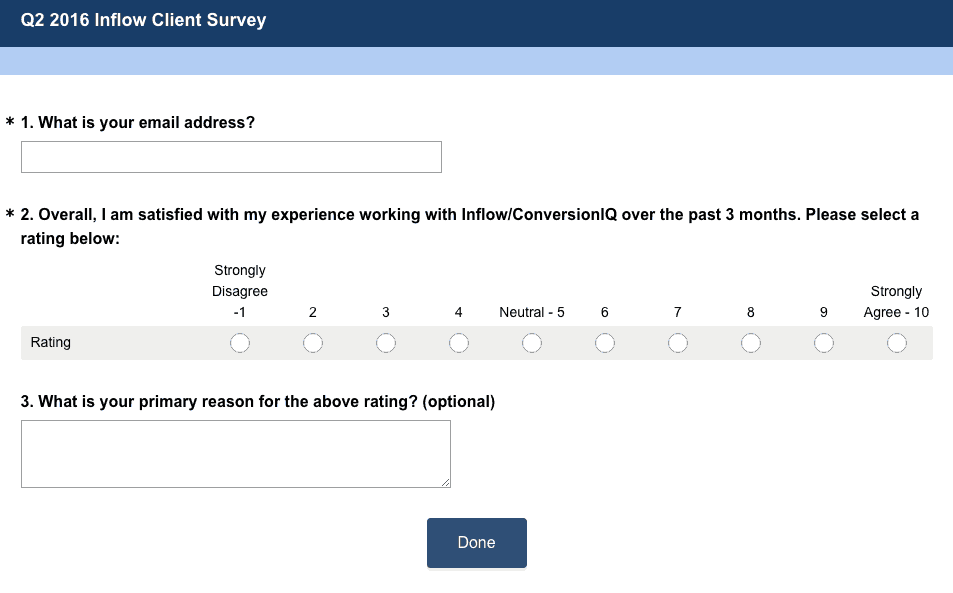 See For Yourself
Now that you have an overview of our processes, we invite you to get in touch and see for yourself what it's like to partner with Inflow for eCommerce marketing.

---