We're well into Q4 and hints of the holidays are starting to show up in everything from coffee cups to product packaging in grocery store aisles. Already, hopes are high for this season with experts from Deloitte predicting that eCommerce sales could reach $114 billion. So, if you haven't already, now is the time to really start kicking off your holiday marketing efforts. We've pulled together a variety of resources from around the web to help you have the best holiday sales season ever!
1. Are your local listings up to date?
If your business is both online and off, you'll want to ensure that your customers will know where to find you, how to contact you, and what your hours are. Moz has created a helpful Local SEO Holiday Checklist that you can use to make sure your local listings are ready for the holidays.
2. Make sure your marketing is visually compelling for those shopping with intent or with curiosity
According to this article from Marketing Land, "Visual discovery is an increasingly important marketing process that, when optimized well, can help drive stronger customer engagement and purchase during the critical holiday time and year-round." So it's a good idea to get a little more granular with your visuals. Be sure to keep important marketing elements like emotion, personalization, and personas in mind.
3. Increase your sales by using seasonal copy, unconventional holidays, and a little bit of creativity.
Marcia Yudkin of Practical eCommerce recommends taking a page from Trader Joe's creative monthly flyer and using seasonal copy to improve your promotions and trigger purchases. She explains that you don't have to stop at the winter holidays, either! Holidays can be the gift that keeps on giving, year round. After all, it can be hard to say no to picking up a taco to celebrate "Taco Tuesday" or turn down a shopping trip for swimwear on "National Bikini Day!"
4. Know what NOT to do when it comes to conversion rate optimizations
In order to give your business an extra edge this year, it's worth it to take the time and make sure your site is optimized for conversions. But if you're not careful, there are some mistakes that could hurt your business. Business2Community wants to help you understand why it's important to use a methodology; continue to invest in acquisition efforts; test based on data; do more than A/B testing; track micro-conversions and granular data; optimize your high performing pages as well as low performing pages; and make sure you start with a good site.
5. If you're considering a code freeze, make sure you've got these projects out of the way
Michael Kuehn is one of our senior CRO advisors here at Inflow and he's created a helpful checklist of projects to take care of prior to a code freeze. Find out why projects like site speed optimization and setting up wishlist or abandonment programs can be risky undertakings this time of year. Be sure to handle projects like this before the freeze or wait until things have slowed down a bit.
6. If you're going to test during such a busy time, be careful!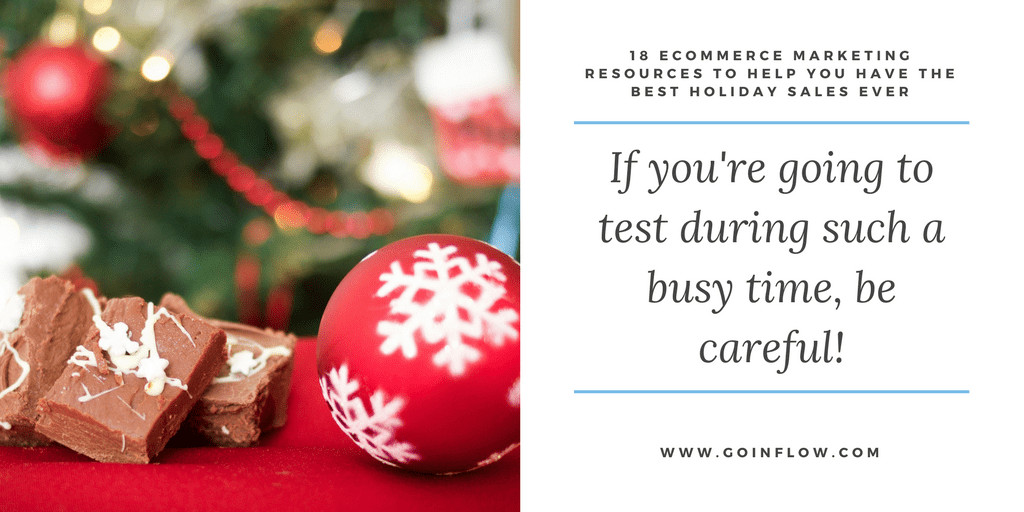 Admittedly, the holidays are not a particularly good time to run tests on your site, but it can be hard to ignore all the extra data. So, if you're going to test, at least make sure you use this Advanced Guide to Holiday Testing from ConversionXL. Shanelle Mullin pulls advice and recommendations from prominent conversion experts to help you determine what to test and how to do it.
7. Does your holiday marketing plan set you up for success?
Holiday marketing planning for eCommerce can get a little crazy but Anna Crowe of Search Engine Journal wants to help you keep the basics in mind with these 8 Tips for eCommerce Holiday Marketing Success. She advises defining performance metrics; creating a budget; establishing a plan around peak promotions; preparing for SEO changes; launching PPC holiday ads; and more.
8. Don't have a holiday strategy? You're already behind but it's not too late!
If you're looking for a place to start when it comes to your holiday strategy, Bitly has a few ideas to share from their joint eBook with AdRoll. The free book breaks down everything from success metrics to improving the success of your ads; user experiences; growing your customer base, and much more.
9. Don't forget to leverage email
According to Kissmetrics, in 2016, the ROI for email marketing was $44 for every $1 spent. So you definitely don't want to overlook using email during the holiday season to boost sales. If you want to leverage email this season but you're not sure where to start, Printful has a helpful overview of 7 email promotions you can run for your store.
10. Don't let sales suffer due to an unprepared shopping cart!
Anyone in eCommerce knows that cart abandonment can easily become the bane of your existence. In fact, the Baymard Institute found that almost 1/3 of people abandon their checkout cart – often, due to a long or complicated process. Luckily, Tom Mucklow at Magento has some tips to help you prep your eCommerce checkout for the holiday season. Some highlights include ensuring that your checkout is mobile optimized, your fields are effectively labeled, and there's a progress bar that lets your customers know where they are in the process.
11. Stay up to date on the latest trends
2017 has been a busy year for the industry and there are a lot of new tech and tools out there that are starting to trend, specifically in the eCommerce space. The Anatomy of eCommerce Holiday Season Sales from Pack and Copy highlights some important things to keep an eye on this year including AI, AR, mobile, cybersecurity, and so much more. Here at Inflow, we especially want to stress that mobile optimization is crucial!
12. Try to get a little more social this season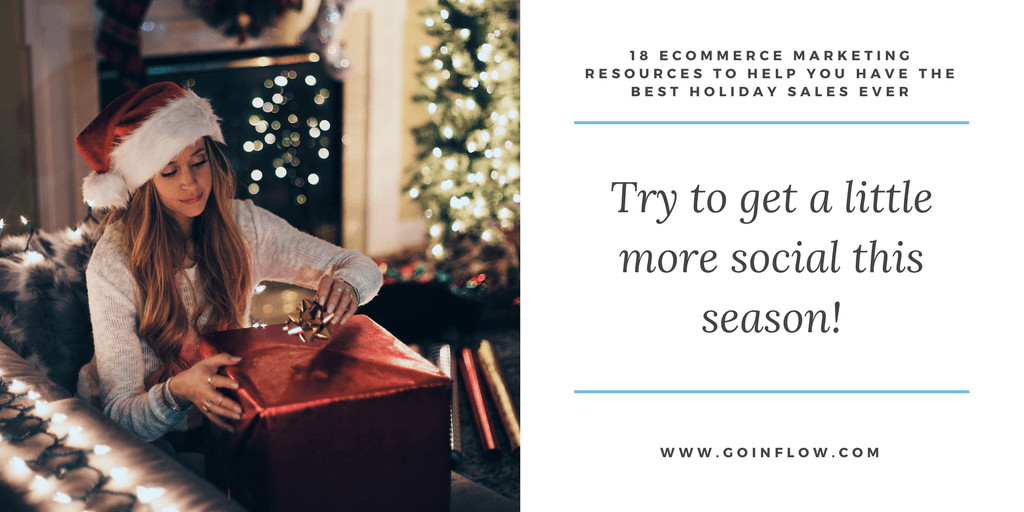 If you're not using it already, social media could give your marketing efforts a big boost. Increase traffic to your website and your audience by using tips from these social media experts. Even just minor things like hashtags, producing holiday themed content, consistency, and audience segmentation can make a huge difference.
13. Don't forget to provide excellent customer service!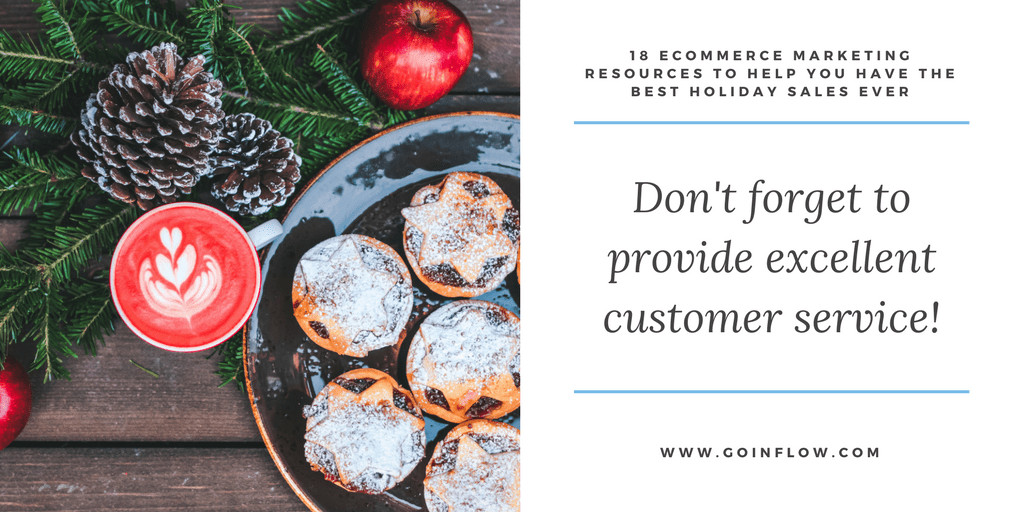 Just because it's the holiday rush doesn't give you an excuse not to provide the best experience for your customers — in fact, it's even more of a reason to do so. The holidays can be hectic the closer you get to major shopping days like Black Friday, Cyber Monday, and the days leading up to Christmas. Between busy shoppers and wanting to let your employees take time to celebrate with their families, you can easily find yourself short staffed and overwhelmed! So be sure to use these 9 tips from Nicereply for handling customer service during the holidays.
14. Additional methods, monitoring, and contingency plays – Oh, my!
Forbes has some pretty basic tips for those heading into the holiday marketing season but tucked under those, you'll find some additional advice that checks in on some trends that can help make things easier for both your customers and your business. For example, using Affirm to allow customers to finance larger purchases; ensuring that you're using a platform that can handle an increase in traffic (the article suggests Shopify but BigCommerce and Magento are good options, too); and monitoring what your competitors are doing by getting on their email lists and visiting their websites.
15. Are you already behind? There are still some things you can do to ensure your eCommerce site is ready for the holidays!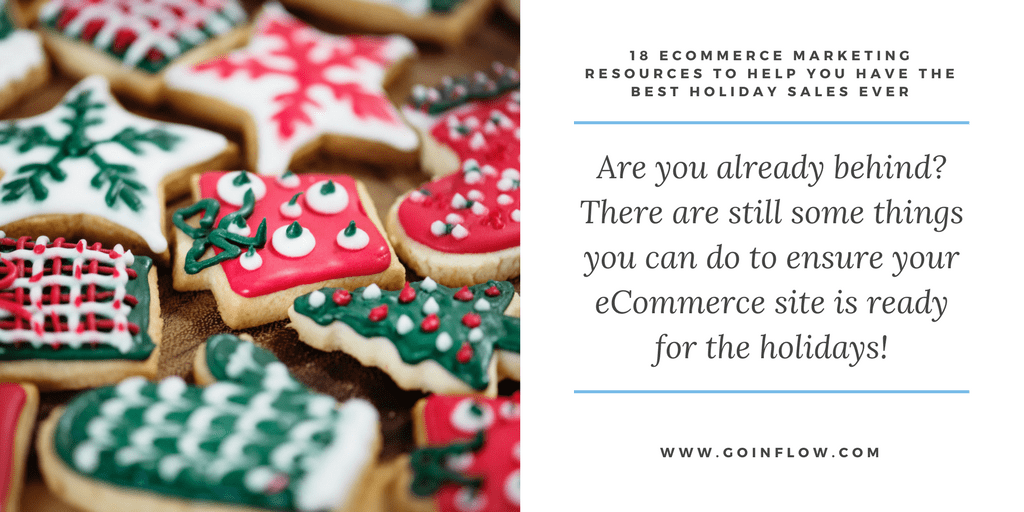 The holidays can sneak up on anyone. If you're caught feeling a little unprepared this season and running behind, Bazaarvoice has a few tips that will help you pull your site together so you're ready to go. Ideas like using customer photos on product pages; proactively producing an FAQ or Q&A page to answer your customers' questions; and taking advantage of the season to collect product reviews are fantastic ways to get ready to respond to the increase in traffic and sales.
16. Check out past successful campaigns
If you're feeling stressed or concerned about your holiday marketing campaign, it can be helpful to take a look at what successful brands have done in the past. Lindsay Kolowich at HubSpot has pulled together a round up of 15 Brilliant Examples of Holiday Marketing Campaigns to help inspire you in your planning for the coming year. And remember, a low budget doesn't always preclude you from marketing success. Even small brands have come up with incredibly successful, viral campaigns in the past.
17. Don't just stop after the New Year. Here's how you'll want to maintain your efforts after the holidays.
You might think that once the holidays end, it's time for a breather. But don't let that holiday hangover set in just yet! BlueAcorn says that now is the time to review what worked, what didn't, and respond to any customer service questions from those who've received your products. You'll also want to start making decisions about where you want to go in the coming year and start planning your marketing for the next holiday.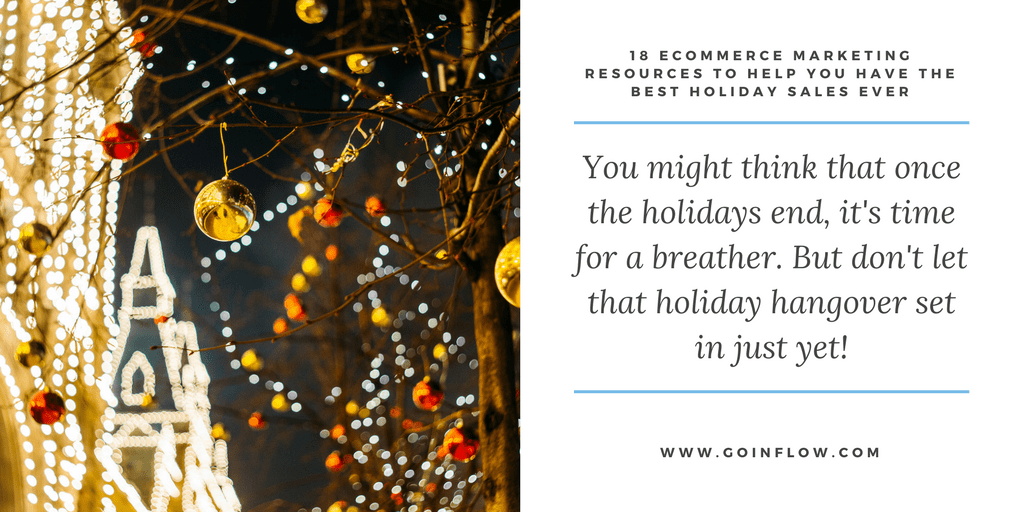 18. Still looking for more advice?
If you're still looking for advice regarding something we haven't included in this list, don't panic! There's no shortage of tips and advice for eCommerce business owners, especially relating to the biggest sales season of the year. BigCommerce has a fantastic roundup of 49 Tips & Strategies for Success Holiday Marketing Campaigns.
Now that you're ready to end the year with a bang, be sure to keep an eye out for our updated Best in Class research matrix for 2018! We're digging into the data in order to find out what works and what doesn't for the most successful sites in eCommerce. Sign up for our newsletter so you'll be the first to know when it's released!